Without further adieu, the first promotional pictures for the upcoming K-drama Athena are out: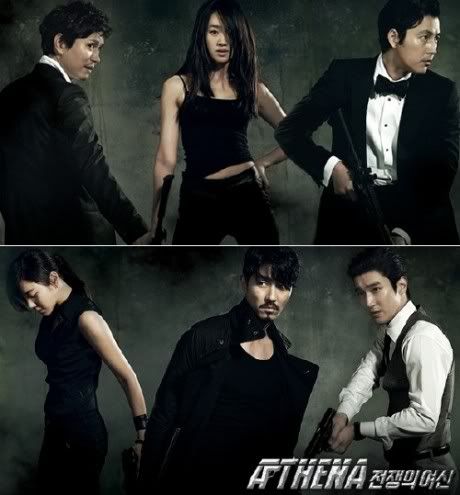 For those of you who have spent the last four months in the North Pole studying polar bear mating habits, one of the biggest new K-dramas was unveiled in Spring of 2010 to the tune of a million squeals of delight and OMGing from yours truly.
Athena: Goddess of War – is the hotly anticipated spin-off of the mega-successful 2009 spy thriller, IRIS, starring Lee Byung Heon and Kim Tae Hee. I never watched IRIS, despite my love for Lee Byung Heon, because of my allergy to Kim Tae Hee. I heard IRIS was pretty good. ZOMG wonderful for some, barf-inducingly bad for others, which I have averaged out to equal pretty good.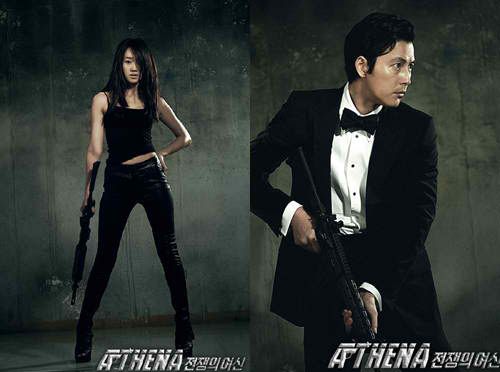 When it was announced that my I Lub You was making his first return to the small screen with Athena, AND it was going to co-star Cha Seung Won (who I spent the entire summer of 2009 adoring to pieces for his masterful performance in City Hall), I went into a state of catatonic shock. I called people, I screamed, I ran around the house flapping my arms like a crazed person.
After I calmed down 3 months later, the cast by then had swelled to include actors that I cannot wait to watch (Kim Min Jong, Choi Si Won), actors I was okay with their involvement in Athena (Lee Bo Young), and actors who I am ready to flay with my sharpened Ginsu knife (Lee Ji Ah).
Even if Athena turns out to be a giant giant suck fest, one thing is for certain. This drama will look very very good. Regardless of acting ability, these actors are gorgeous and can hold a gun at least (unlike Kim Tae Hee, who every time I saw her look menacing with a gun I just wanted to laugh and laugh some more).
What do I think of these first promotional pictures? I like them, but I do not love them. I think they are highly posed and not terribly stylized. But they don't make me want to laugh AT them, which is a huge huge step forward from the IRIS pictures. It does give off the vibe that was the opposite of what I was expecting for our two male leads.
I was expecting Jung Woo Sung to be a scrappy NIS agent, but here he's more James Bond that Jason Bourne. I was thinking Cha Seung Won would be a debonair leader of a terrorist organization, and here he looks rugged and a bit ragged. The two ladies look great, first impression of them character-wise is a win. Our elder statesman NIS agent and his protégée in the final picture, well, I'll reserve judgment until the drama airs. Choi Si Won needs to take his shirt off though. Actually, let me expand that, ALL the men in Athena need to take off their shirts during target practice and take lots and lots of showers of pain and agony.