I just watched episode 1 of Playful Kiss, the K-drama remake of It Started With a Kiss. This is not a recap, nor a full-blown first impression review. This is just some of my immediate thoughts only on what I watched in episode 1, and maybe some expectations to come.
The Good:

Jung So Min! She is absolutely adorable, animated without being OTT, charming without being saccharine, vulnerable without being needy. In short, she is Xiang Qin (Ariel Lin's version of the Kotoko character from the manga) crossed with Shin Chae Kyung (our princess consort from Goong).
The writer did indeed make this version's female lead less stupid and bumbling, and more a daydreamer and somewhat scatterbrained. Me likes! And Jung So Min nails it, she's endearing and totally believable (Mo Nae who?).
I loved the cinematography and music (it's Hwang In Roi, so no surprise), and the major supporting cast looks primed to deliver the goods. Special mention must go to Lee Tae Sung (who plays the second lead who is in love with Jung So Min's Oh Ha Ni), who is funny and interesting to watch right off the bat.
The Bad:
Please don't hurt me! But Kim Hyun Joong is just wallpaper right now, and very flat wallpaper at that (but very pretty wallpaper to be sure). Please don't tell me he's a newbie (he's not anymore, BOF was a major drama and he played a major character), and please don't tell me he plays a cold, arrogant character (check out Kim Seung Soo playing a cold, arrogant, distant guy in I Am Legend and see the mile-wide difference in technique).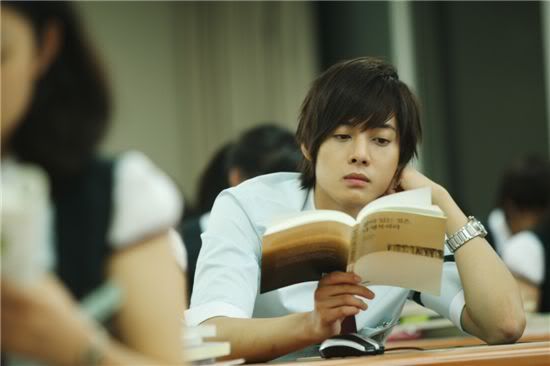 So far, Kim Hyun Joong is quite flat in his portrayal of Baek Sung Jo. But you know what, I like that he appears to be connecting with this character more than he did in BOF, and that he really didn't have much to do in episode 1 except star in some daydreams and pop up a few times to drop a few lines of dialogue. Still, he could have done more with his few scenes, but I like him enough that I'll cut him some slack.
The Weird:
This drama looks, feels, and positions itself like it's Goong 2 (having wooden Kim Hyun Joong lurching around in a school uniform is seriously giving me Joo Ji Hoon in Goong vibes). Hwang In Roi even snuck in his teddy bear closing credits! But that's not a bad thing. As uneven as Goong was, a lot of the problem was on its wacky writing.
Since PK is based on a manga story that is pre-written, it's much less likely to fall off a cliff. Yes, Goong was also based on a manga, but said manga was only half-way published when the drama aired, so the writer took HUGE creative liberties with the story in the second half.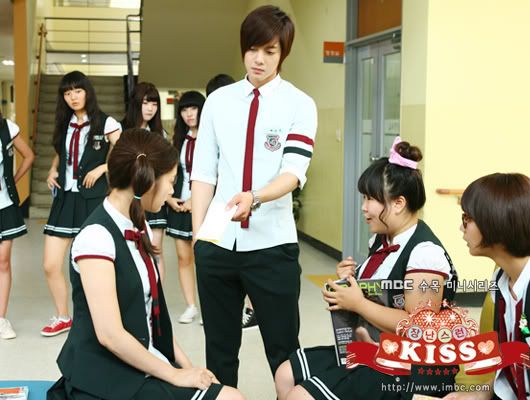 The Verdict:
I am watching this baby until the bitter/happy end. And I will no longer critique Kim Hyun Joong any further, unless his performance gets worse, because if it simply stays at this level and doesn't improve, I can live with that (though I am disappointed). Jung So Min is carrying the drama so far, and doing a swell job. She's the real deal, people.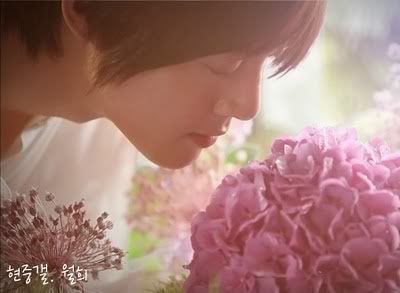 I really loved the Taiwan version of It Started With A Kiss, which had two equally matched actors playing the leads and sparking off one another. I found that Ariel's character was so unbelievably dumb that it took me awhile to love her (and led me to dislike Ariel the actress for awhile, because I thought she was equally hare-brained in real life – she is not, she is one of the smartest TW actresses working today).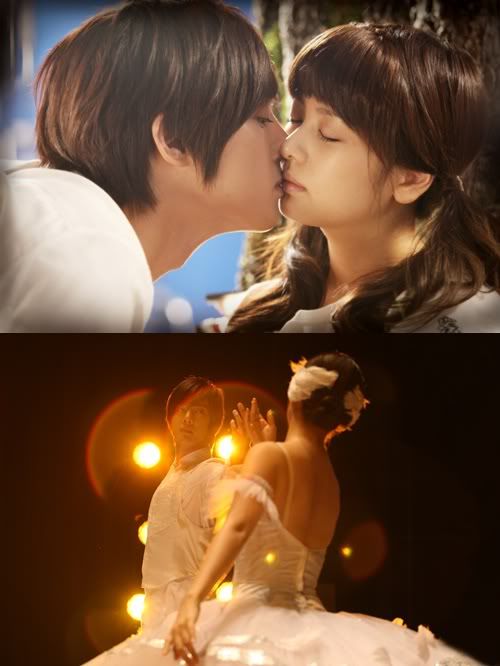 So far, I enjoy all the major characters in PK, and look forward to seeing their version of how opposites attract and sparks fly. Below I've embedded a teaser for PK which I like a lot, which shows Kim Hyun Joong more animated and their characters interacting more. I enjoyed episode 1 of PK as a whole, and really I am quite easy to please with it comes to this cute story.
Teaser Preview of PK:
http://www.youtube.com/watch?v=TIY7qKPwZHQ