For someone who doesn't give a flying fig about anyone around him because he's just so darn smarter than everyone else, Baek Seung Jo sure does notice Oh Ha Ni. A lot. Playful Kiss (Mischievous Kiss) is like a slow burn.
Anyone expecting angst and plot twists look elsewhere. I am loving this slow and steady development of Ha Ni and Seung Jo's relationship, like two moths circling a candle flame.
Episode 3 Recap:
Everyone standing in the school foyer is chanting for Seung Jo to piggyback Ha Ni. Ha Ni tries to demur, but Seung Jo insists since otherwise Ha Ni will have to tell everyone they live together and he tutored her. However, adorably jealous Ha Ni-shipper Joon Gu comes barreling out and forcibly piggybacks Ha Ni to the school yard, while Seung Jo looks on, with a curious expression.
Ha Ni enters the Top-50 self study classroom, and she is a source of fascination and is promptly ostracized. Of course, Ha Ni only has eyes for Seung Jo, and watches as yet another girl pretends that she needs his help while trying to Oppa Pout Wiggle him. Seung Jo rebuffs the female advances, as usual, and Ha Ni turns from seething to laughing out loud at the proceedings.
The teachers decide to hold a classroom athletic challenge in order for the kids to let out some steam and participate in friendly classroom rivalry on the field. As Classroom 3- 7 is practicing for their relay race, Seung Jo walks by and taunts Ha Ni and her class for being pathetic and taking this so seriously, since Class 3-1 only tries hard at academic achievements (seriously boy, you need to clue yourself in – that if you'd even bother wasting a breath talking to Ha Ni, it's cuz you can't seem to ignore this little ball of silly adorableness).
Ha Ni replies back that there is nothing pitiful and pathetic about trying one's best and working hard. She says Seung Jo is pathetic for not caring about the athletic tournament and losing on purpose. The two of them stare daggers at each other, oh I love it.
At the athletic competition, Ha Ni first dresses up in a mascot suit resembling a cross between a duck, a carrot, and a turnip. As the DuckTurnRot walks by Seung Jo, she suddenly turns around and attacks Seung Jo by sticking two fingers up his behind. Then she attempts to run away but falls down and can't get up, requiring Seung Jo to assist her.
Seung Jo pulls her DuckTurnRot head off by the nose, and when he sees that its Ha Ni, he pinches her cheeks and is about to go postal on her. But then he just gets exasperated and takes off. So. Cute. This sequence perfectly encapsulates their budding hate-love relationship.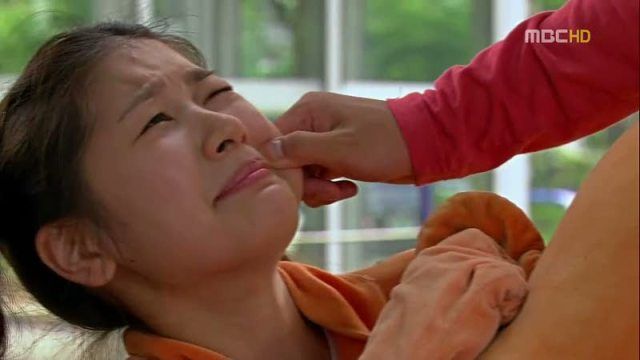 At the first event, it's clear that as dumb as Class 3-7 is, they've got a tight comraderie. Whereas the smartie pants kids in Class 3-1 just stands around all awkward and listless.
At the tug-of-war competition, Seung Jo's Mom arrives surreptitiously to take pictures of her beloved kids. Class 3-7 also wins the tug-of-war. At the relay race, Ha Ni jumps up to grab the baton her teacher throws at her, and takes off running. Seung Jo and Joon Gu are the final leg and are waiting to receive the batons, respectively.
Seung Jo smiles at the incoming Ha Ni and causes her to become disoriented and confused, merging Seung Jo into Joon Gu and she tries to pass Seung Jo the baton instead! As Seung Jo brushes past her, he calls her a fool. Oh Seung Jo, you are so shady. Class 3-7 loses the relay race and Seung Jo is the hero of Class 3-1.
Gah, I LOVE how underhanded Seung Jo is turning out to be. Ha Ni puts on her DuckTurnRot head and her classmates start thumping at her for her boneheaded move. Mom is super-pleased at how the two kids performed, and is getting all warm and fuzzy that Seung Jo is becoming more human the more time he spends around Ha Ni. Mom treats Ha Ni's class to pizza even though they lost.
That night, Ha Ni is all sore from the day's activities and runs into Seung Jo in the living room. Seung Jo is surprised that Ha Ni tried so hard, and she states that is all she can do, try hard. Ha Ni is surprised at how fast Seung Jo runs. Seung Jo matter-of-factly states that he simply excels at everything. Ha Ni tells Seung Jo how happy his Mom made her by coming to cheer her on, take pictures of her, and treat her class to pizza, since Ha Ni does not have a mom and longs for a mother's support and encouragement. Seung Jo asks her what the DuckTurnRot is supposed to be, when she says that it is Fart Leader, Seung Jo tells her it's cute.
The entire family goes out to eat, and the Dads sing a duet together. Seung Jo spends the dinner checking his cellphone, while Ha Ni mentally reminisces about her long-standing crush on Seung Jo. Ha Ni's dad tells everyone that Ha Ni's nickname is the Snail of the Ark (otherwise known as Noah's Snail), since even the snail must've made it slowly to Noah's Ark on its own.
Ha Ni gets drunk after the family wants the heroine of the day to drink, and rants at Seung Jo for looking down on her all the time. Ha Ni tells Seung Jo that she hates him now. Seung Jo then proceeds to quote her entire love letter to him, which states how much she likes him (comparing him to a wood nymph and how she can't stop thinking about him). Now both parents know that Ha Ni had a crush on Seung Jo. Ha Ni states that she has gotten rid of her old feelings for Seung Jo.
The parents ask Seung Jo to piggyback Ha Ni home. On the piggyback ride, Seung Jo states that Ha Ni finally got him to piggyback her. He also deflates her announcement that she doesn't like him anymore by pointing out that he can hear and feel her heart beating so very very rapidly as her chest is pressed against his back.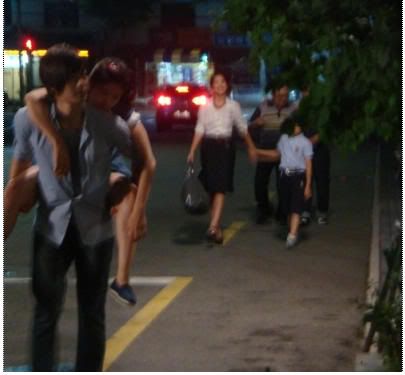 The next morning, Mom sneaks into Ha Ni's room and slips a picture of Seung Jo and Ha Ni sleeping on the table after a late night study session into Ha Ni's book. At school, Ha Ni's classmates see the picture! The picture goes viral and soon all the computers in the self study classroom have the picture up, which is when Seung Jo sees it. And he is furious. At Ha Ni, who he thinks purposely leaked the picture. Seung Jo gives a little argh of frustration, musses his perfect hair in annoyance, and looks like he's about to go throttle Ha Ni.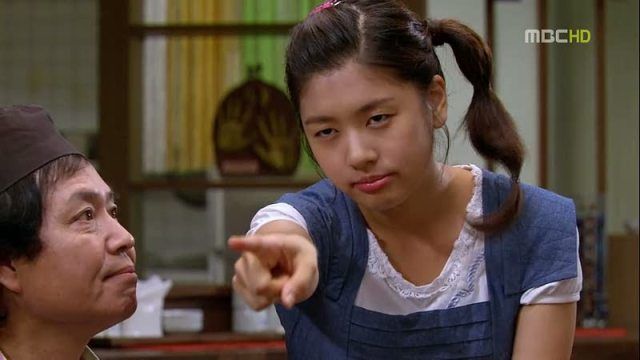 Thoughts of Mine:
I continue to enjoy PK, probably more than most people watching it. I think this version of It Started With A Kiss is the most whimsical in matching the tone and mood of the original manga source material.
It's official in my mind that I am happy with Kim Hyun Joong's performance as the Naoki character. He will not win any awards nor give Joe Cheng a run for his money, but that isn't a bad thing since Joe's performance was spectacularly awesome. But I love angry, annoyed, exasperated, and sneaky Seung Jo, because that is when Kim Hyun Joong comes alive in his acting – and when his character gets more and more interesting.
Jung So Min, on the other hand, continues to amuse and shine as Oh Ha Ni. She is perfectly cast. What I love about PK is that Ha Ni changes and affects Seung Jo simply by being herself. By having Ha Ni around him, Seung Jo starts to actually give a damn about something, anything, other than himself. And before he realizes it, he cares about Ha Ni, too. I can't wait for the genius to discover his heart and where it resides.
[credit: the few pictures here are culled from various news articles].