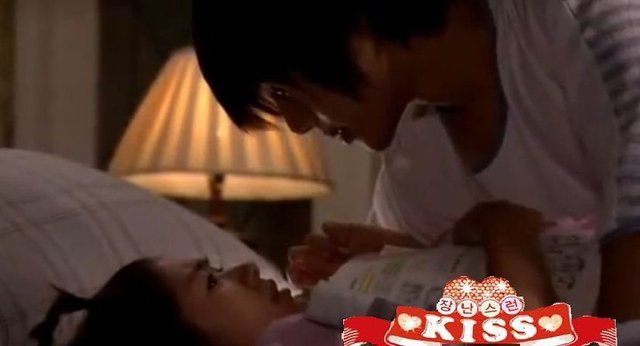 For those of you who didn't know this, the manga source material for Playful Kiss (Mischievous Kiss) is based on the manga writer's real life love story with her husband. The story has a bittersweet ending, because while manga writer did indeed marry her Naoki, she also died very young, of a sudden illness, leaving behind a husband and young child. Itazura na Kiss the manga remains unfinished to this day because of her sudden passing.
I enjoyed their love story very much when I first watched the TW-drama version. But after reading about her real life story, I wholeheartedly love the story with a passion of a thousand burning suns. Because the story is so very raw and real – how two totally dissimilar people learn to love each other, and that together they complete what is missing about themselves.
Seung Jo is a perfect specimen of a man, I'd contend NOT actually. He's all brain, no soul. A man who doesn't even know he has a heart, much less how to use it. If we knew a Seung Jo in our lives, we'd call him an "asshole" despite his handsome looks and exceptional I.Q.
Ha Ni fills the void in his empty accomplishments, makes him human, makes him vulnerable, makes him socialize with the world around him. They are the epitome of the "you complete me" adage. And Ha Ni makes him realize the value in needing to work hard, even if things come easy for some of us.
Episode 4 Recap:
Ha Ni shows her friends Seung Jo's house, where she and her dad now live. The friends marvel at the grand lodgings, and run up to the gate to point and gape. Ha Ni wants them to leave quickly, but Mom comes out to get Ha Ni, and invites the friends into the house. She prepares dessert for them all and they proceed to have a girly bonding session.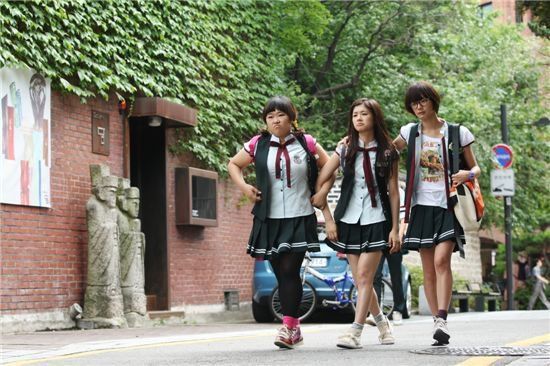 Seung Jo comes home to find the girly session and is furious at Ha Ni for intruding into his and his family's life. Joon Gu teleconferences his uncle to get some advice about his love woes pursuing Ha Ni. Seung Jo continues to insult and yell at Ha Ni for causing his trouble at school. Ha Ni cries in the bathroom because she didn't do anything on purpose to Seung Jo.
Seung Jo overhears Ha Ni on the phone, and finds out the truth that she didn't released the picture. Both of them sit in their respective rooms and look out the window, as the camera frames them in the same lens. The next day, the family decides to take an overnight beach vacation, and Seung Jo gets dragged along. Also, Ha Ni's girl friends and the bitchy girl who likes Seung Jo tag along.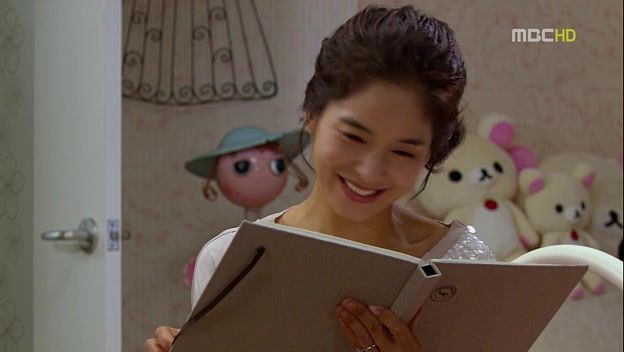 Joon Gu finds out when the teacher eagerly tells the class that Ha Ni is absent because she is on an overnight trip with the Baek family, including Seung Jo. Joon Gu freaks out in his usual dramatic way (let me just say that I absolutely adore Joon Gu), and runs off to protect his beloved Ha Ni from the clutches of Seung Jo after borrowing his uncle's scooter.
During the RV ride to the beach, bitchy girl tries to mack on Seung Jo as well as diss Ha Ni. At the beach, the girls all change into their swim suits. Seung Jo hands Ha Ni some rolled up socks, who totally gets that the socks are a taunt by Seung Jo for her having stuffed socks into her bra earlier in the week (which was in response to Seung Jo teasing her about her flat chest when he was piggybacking her).
She goes to confront him and falls down flat on her face in front of him. When Seung Jo asks her if she's alright, she screams at him and then chases him around the campground. Are they not the cutest bickering couple? Yes they are! (And you can totally see how Seung Jo seems to enjoy getting chased by Ha Ni).
Joon Gu's scooter breaks down, and he stupidly ignites his lighter to check out the problem. Predictably for clumsy Joon Gu, his lighter falls into the gas tank and his scooter blows up. Mom calls the kids in to eat watermelon, and Eun Jo takes the moment to taunt Ha Ni. As Ha Ni chases Eun Jo, he runs into the water and starts to drown. Since no one can see Ha Ni waving for help, she runs in after Eun Jo. Finally, Seung Jo sees them both drowning and runs out to save them, which annoys him greatly.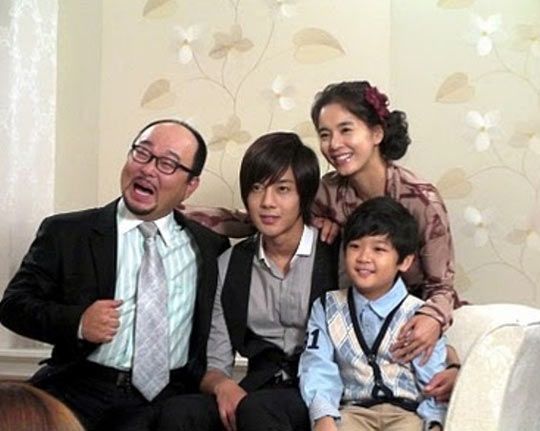 That night, everyone is happy Ha Ni and Eun Jo are alright, and Seung Jo comes by to offer Ha Ni some hot beverage to warm her up. Ha Ni's dad thanks Seung Jo for saving his daughter's life. Seung Jo sits down to rail at Ha Ni for stupidly jumping into the water (seriously, every time he doesn't just ignore her, I'm simply laughing at how oblivious he is to the fact that he seeks her out time and again). Suddenly, a scream tears through the campground, everyone freaks out at seeing a charred and staggering man walk into their midst. It's post-scooter explosion Joon Gu!
Later, as Seung Jo plays the guitar, Joon Gu sits by his side and tells him that he came all this way for Ha Ni. Seung Jo marvels that Joon Gu will do anything for Ha Ni, and Joon Gu happily agrees. Joon Gu says that he and Ha Ni are the same types of people and are meant to be together, whereas Seung Jo and Ha Ni are from different worlds and clearly not suited. Seung Jo agrees, and Ha Ni sadly overhears this entire conversation.
Back to school, Ha Ni's friends are dejected at how low they continue to score on tests. As the girls study in Ha Ni's room that night, they see that Ha Ni's book is filled with scribbles about Seung Jo, hearts, and doodles of his face. The girls want Ha Ni to get Seung Jo to help them, but Seung Jo initially flat out refuses. He reluctantly gives in and helps her out with one problem. But then all night long Ha Ni continues to bother Seung Jo with one problem after another needing his assistance.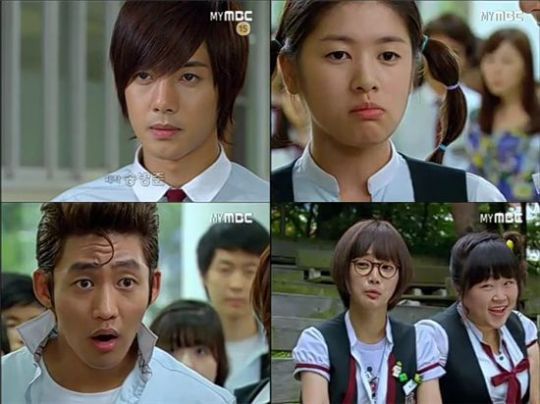 The next day, the entire Class 3-7 shows up in Seung Jo's house asking him to tutor them, calling him "teacher." He agrees, but is quite exasperated by Ha Ni and her classmates. That night, Mom fairly drags Eun Jo out (they go eat at Ha Ni's dad's sushi restaurant), and tells Ha Ni and Seung Jo they have to make dinner themselves. Ha Ni makes some inedible food (but her meat patty is in the shape of a heart!), and smokes up the kitchen in her attempt. Seung Jo ends up making dinner for them both.
Later in the evening, Ha Ni can't find her school book that has all her scribbles about Seung Jo in it, and she realizes she left it in Seung Jo's room. She sneaks inside to get it after Seung Jo is asleep. Of course the almighty Seung Jo is NOT asleep and catches her in the act, calling her a thief. He pulls her down into his bed and he looms over her, teasing and taunting her about whether this is why she came into his room. Then he leans in, and Ha Ni scrunches her eyes closed.
Thoughts of Mine:
I continue to love Ha Ni so much, which is surprising since I really disliked Xiang Qin in ISWAK (Oh, I love Ariel Lin's performance as Xiang Qin, but didn't like her character). But my love for Seung Jo is not surprising at all since I adored Zhi Shu to pieces in ISWAK. What is happening, though, is that quickly my love for Seung Jo is racheting up the charts that it has a high chance of surpassing my eternal adoration of Zhi Shu. Now that I want to see happen.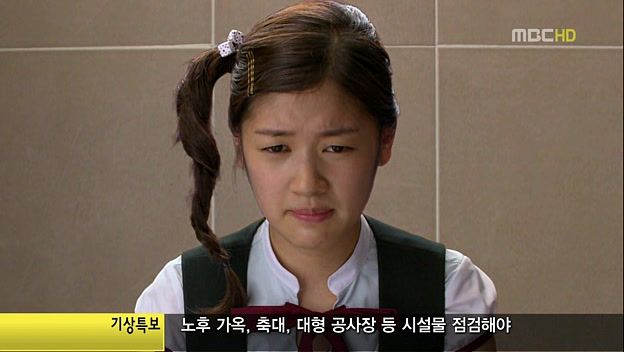 I continue to love the pace and execution of PK. It's a series of interactions that string together to form a journey, from point A (strangers) to point Z (OTP). If you are not as invested in the source material as I am, perhaps it might seem plodding or unoriginal. I find myself grinning wildly and laughing out loud when I watch each new episode of PK, even though I know what I am going to see and what will be forthcoming.
I pretty much adore all the major secondary characters, especially everyone's favorite Mom and Joon Gu, the most steady-hearted bumbling lovesick swain in the history of K-drama. The k-version of Mom is perfection, gorgeous, girly, and caring to the max. And Joon Gu might be a Busan-male-version of Ha Ni, but he is endearing and sincere in everything he says and does. He's like a giant walking id.
I think the next two episodes will wrap up their high school years and we're off to college where all sorts of shenanigans will arise. But not before we get the first KISS of the many many kisses in this story. It's not called It Started With A Kiss for nothing .
In fact, a considerate soul counted all the kisses in the TW version of the original ISWAK and its sequel TKA (They Kiss Again), and counted a whopping 43 kisses! To be sure, most of the kisses are from TKA, after they get married. But my favorite kiss in both dramas happens at the end of ISWAK, and I have faith PK can deliver something as heart-palpitating.
[credit: the few pictures here are culled from various news articles].