This is the first episode of Playful Kiss (Mischievous Kiss) I've watched since the rather slow episode 1 that didn't leaving me giddy as a gopher dug a new hole. Don't get me wrong, I still really liked it. But PK can do with upping the intensity and the pace more, as it remains rather languid in its execution.
I worry people are going to check out of PK, because there is still little excitement from scene-to-scene and episode-to-episode. PK has a lot of endearing moments, but no real urgency in its forward momentum. I had a tweet-discussion with Javabeans yesterday. With the ratings for episode 5 being at 3% (OMG, give me a second here, that still hurts to see it and write it), I was afraid there would be a cut from the bigwigs at MBC. JB doesn't mind a cut, as it might speed the story along.
The more I think about what I am really concerned with, it became crystal clear to me. What I am worried about isn't a cut per se, but that a cut would cause the story to end pre-maturely. I don't care if its 20 episodes (as it is scheduled to be), or 16 episodes (as most trendy rom-coms end at), as long as the ENTIRE story is told, i.e. we see the wedding and the aftermath with the OTP dealing with struggles of married life and their future together. With that said, let's get to the good stuff, shall we?
Episode 6 Recap:
Ha Ni is at the hospital, and she apologizes to Seung Jo for causing him to miss the exam. She says he should have just left her there, and Seung Jo wryly says that might be what he should have done. She says that she really is a nuisance in his life. No, worse than a nuisance, she is a disaster. Seung Jo doesn't seem terribly upset actually. Ha Ni friends, including Joon Gu, arrive at the hospital to visit her. Joon Gu starts to yell at Seung Jo, presumably thinking he's the cause of Ha Ni's accident, but Ha Ni curtly tells Joon Gu to stop.
Ha Ni asks them to leave and lays down to rest. Seung Jo asks her if she wants him to leave, too, and she tells him to go home and get some rest. Seung Jo stays and sees Ha Ni quietly sobs into her pillow. After Ha Ni gets discharged, she still can't let it go that she was the reason Seung Jo missed the exam. At home, Ha Ni's dad apologizes to the Baeks, who tell him not to feel bad. They realize that Seung Jo had plenty of time to get to the exam after admitting Ha Ni to the hospital, and he simply chose not to go.
Ha Ni tells her Dad they should consider moving out of the Seung Jo's house. That night, the Baeks are having dinner, and Mom remarks that Ha Ni still refuses to come out of her room. Eun Jo says she comes out late at night, and one time she freaked him out thinking she was a ghost. Mom tells Seung Jo to be nicer to Ha Ni and make her feel better. Seung Jo says he already told her, by thanking her for causing him to miss the exam. Mom tsks to Seung Jo that he's pouring fuel on the flame instead, and she takes away his rice bowl and tells him not to eat until Ha Ni comes out of her room. Oh Mom, can you be my mother, too?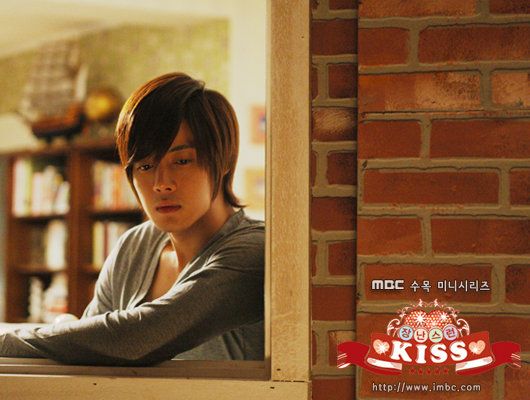 One night, Ha Ni packs her bags and sneaks out, only to be caught by Seung Jo. She thinks Seung Jo is there to prevent her from leaving, but Seung Jo merely asks her if she needs help with her luggage. Seung Jo shows her an acceptance letter to Parang University, and says that he intends to go to Parang. Apparently the recruiter he met with at the fast food restaurant was from Parang!
Seung Jo tells Ha Ni that in the last year, it was the most unexpected year of his life, with so many strange things happening to him. And he says he liked it. He says that he wants to experience happiness and excitement in his heart like she said. Ha Ni asks if he's attending Parang because of her, and Seung Jo says he's attending because of himself. Because he wants to find happiness in his own life.
Ha Ni smiles radiantly, relieved that it appears Seung Jo's future is not a mess because of her. She asks if she can continue to live at his house, and Seung Jo helps carry her luggage back upstairs. Ha Ni asks Seung Jo why he kept his decision about Parang a secret if he decided so long ago, since not knowing made Ha Ni feel so guilty. And Seung Jo replies because he was amused by it, i.e. watching Ha Ni mope was apparently funny (let's all agree that Seung Jo can be evil and has a weird sense of humor). Ha Ni is angry for a teeny moment, but is so ecstatic in general that she grins like a fool, hugs her Seung Jo stuffed animal, and adorably flails about the living room.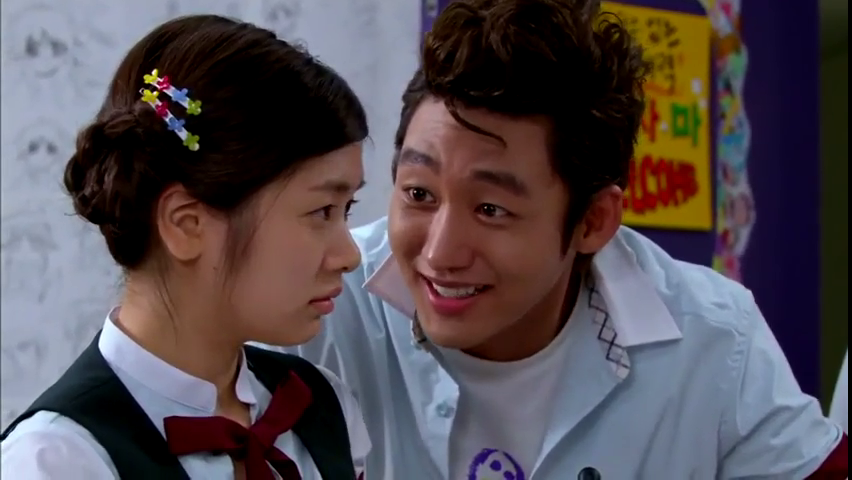 Joon Gu, who is not planning to attend college, goes to see Ha Ni's noodle chef daddy and asks to be taken on as his apprentice. He wants to become a chef, earn a good living, and provide for Ha Ni. Ha Ni's dad initially refuses, but then a large group of ahjummas come into the restaurant and he allows Joon Gu to stay and assist him, noticing that Joon Gu has a way with the customers.
Ha Ni goes shopping to buy a present for Seung Jo. She's in the men's department and remarks that she can't pick an outfit because Seung Jo looks good in everything. Imaginary Seung Jo models two outfits for her, and she picks one only to see the high price of the clothes and has to scrap that plan (for now). Ha Ni takes on a part-time job at the local mini-mart to earn enough money to buy Seung Jo that outfit. Too bad this makes Ha Ni exhausted every night, and she falls asleep even when Seung Jo is talking to her.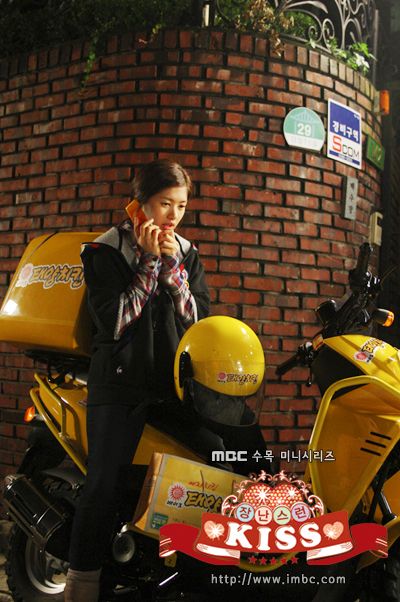 She's a hard worker and quite good at her job…..until one night Seung Jo walks through the door. Ha Ni doesn't want Seung Jo to recognize her, so she zips up the hood on her hoodie, thereby covering her entire face with a freakish-looking chicken head. She adopts a mock voice to ring him up, but since the hood covers her eyes, she has to ask Seung Jo how much money he handed to her, and ask him to reach into the cash register to get the correct change back.
Ha Ni is promptly fired by her manager, who witnessed the entire sorry exchange. She runs to duck out of the rain and sees a hiring sign at a fried chicken restaurant looking for a delivery person. Ha Ni starts delivering chicken that very night, riding a scooter in the rain to and fro. Of course, knowing the "Luck of Oh Ha Ni", she gets a call to deliver chicken to the Baek household, and who else answers the doorbell other than Seung Jo.
Ha Ni adopts the same weird voice, and once again zips up the freaky chicken hoodie and hands the chicken over the Seung Jo. Afterwards, Ha Ni gets a call from one of her friends, saying the other friend is feeling quite down about her future. The three girls gather in their 3-7 classroom, and cheer each other up. They toss their school book out the window and vow to try their best in their future endeavors.
The next morning, after Seung Jo gets dressed for the school graduation, he steps out of his room to see Ha Ni waiting for him. She hands him a present box, saying that is a thank you and I'm sorry present, as well as a graduation present. It's a weird head massager, and Seung Jo tells Ha Ni he doesn't need it. Mom comes up and is totally touched by Ha Ni's sweet gesture. She asks Ha Ni where she got the money to buy such an expensive present, and Ha Ni admits that she was working a part-time job. Seung Jo overhears this as he's headed downstairs, and smiles widely.
At the graduation, the principal gives a speech about two weird things happening this year, which is Oh Ha Ni in Class 3-7 getting accepted to Parang University, and Class 3-1 Baek Seung Jo also going to Parang. Seung Jo gives the commencement speech, which incorporates the thoughts Ha Ni shared with him.
Seung Jo says that he was told by a weird grandmother that person must first be happy, then bring happiness to others. Since he's not the latter type, he's going to try to live his life happily first, and see where that takes him. Ha Ni is deep in thought and doesn't hear that she's been called to go on stage along with Seung Jo as the class representatives. Ha ha, how apt – it's like a non-evil version of Pinky and the Brain.
As Seung Jo and Ha Ni climb the steps to the stage, Ha Ni has another daydream (and boy, are her daydreams escalating in degree of fancifulness). This time, she daydreams that it's her wedding day and Seung Jo and her are standing before the alter getting married. She yells out "Yes, I do so swear" thinking she's consenting to wedding vows, and causes the entire auditorium to laugh at her.
Joon Gu stands up to respond to that vow, saying that he also do so swears that Ha Ni is the only one for him. Mom stands up to object to Joon Gu's declaration and yells at Seung Jo to say something, which prompts the entire school to realize that Seung Jo has to deal with Mom and Ha Ni at home.
Seung Jo stiffly tells Ha Ni to get off the stage now, and what does Ha Ni do except trip on the steps and fall on top of Seung Jo's back. Seung Jo's freeze frame expression was priceless, as was everyone else watching it unfold. After the ceremony, Ha Ni and her friends walk with Mom, who is just so happy at the occasion.
They see everyone swarm around Seung Jo, who rebuffs any attempts to take pictures with him. Mean girl Jang Mi grabs Seung Jo and tries to take a picture with him, only to have Seung Jo jerk himself out of the frame in the last minute. Mom calls Seung Jo, and then pushes Ha Ni to stand right next to him. Seung Jo asks if she's here for a picture as well.
In front of everyone, he grabs Ha Ni by the shoulders and hauls her right up next to him for a close picture. She's excited, until he says something to taunt her and she pulls away. You know what he says? Seung Jo says "Customer, how much money did you give me? Please take the correct change from here." Mwahahaha, he totally busted her on being the freaky hooded chicken employee at the mini-mart. The picture ends up being Ha Ni turning to stare at Seung Jo, who smiles the brightest grin he's likely ever delivered in any picture.
Afterwards, Ha Ni is out at dinner with her entire Class 3-7, who are eating and karaoking their hearts out. Ha Ni is uncharacteristically glum, and Joon Gu resolves to cheer her up. Who comes walking into the same restaurant then the entire Class 3-1. At the same time, Joon Gu and his Bye Bye Sea posse get on stage to deliver a performance ode to Ha Ni.
Let's just say their performance is quite…..memorable, and I mean this is a good way because Joon Gu is clearly 100% devoted to doing anything for Ha Ni, be it silly or embarrassing for him. Seung Jo grins at Joon Gu's performance, but the grin is wiped out the second Joon Gu steps off the stage and grabs Ha Ni's hand, and then starts singing the refrain "I Love You" over and over again.
The teachers' stand up to deliver their respective speeches to their graduated class, and they start bickering over whether their respective pupils have succeeded. Which leads to Seung Jo to call Ha Ni a nuisance, and he and Ha Ni start bickering. It's quite clear that Seung Jo is totally a jealous little boy pulling the hair of the girl he likes.
Ha Ni tells Seung Jo not to be so arrogant, since he's just naturally smart and that's not something he should be proud of since he didn't work hard to get it. Ha Ni gets pissed and shows off the cross-dressing picture of young Seung Jo to both classes! Seung Jo grabs the picture back and drags Ha Ni outside. He corners her against a wall. Ha Ni says that he has publicly mocked how much she likes him, and that she has finally decided to give up and will no longer like him. She is looking forward to going to college and finding a guy a million times better than Seung Jo.
Seung Jo sarcastically asks whether she can really forget him, and stops her tirade with a sudden kiss! And we've got our first kiss, ladies and gentlemen! He walks away throwing out yet another teasing comment to Ha Ni, noting that after the kiss she looks so affected, leaving Ha Ni completely floored by being kissed by Baek Seung Jo. She wakes up the next day and runs into Seung Jo in front of the bathroom. He's as cold and indifferent to her as he always is, which makes our Ha Ni so very confused (sister, I am with you, that man blows warm and cold).
Ha Ni starts college and immediately finds her two bestest girlfriends on campus. Ha Ni sees a couple kissing and starts swooning about the kiss with Seung Jo. She tells her girlfriends, who wonder if this makes them a couple. Ha Ni confesses that it was more of a mischievous/playful kiss if anything. As they pal around campus, Ha Ni almost gets hit by a car driven by our second female lead of PK, Lee Shi Young as Yoon Hae Ra. Hae Ra is model-tall and thin, glamorous yet not bitchy to Ha Ni. She gets out of the car and asks if Ha Ni is alright, then leaves.
Ha Ni and her friends go to find Seung Jo. They lurk outside his classroom until he steps out and talks to Ha Ni. When they are talking, Hae Ra walks out and talks in banmal in Seung Jo like they are good friends. She asks Seung Jo if Ha Ni is his girlfriend, and Seung Jo say that's not possible. Ouch again, Seung Jo, you are the king of the pithy and hurtful putdown, you know?
Hae Ra is happy to hear that Ha Ni is not his girlfriend, and she asks him to grab a coffee at the café. Seung Jo declines and walks away, which makes Ha Ni smile. This leaves the two girls, one tall and gorgeous, the other short and adorable, sizing each other up as love rivals.
Thoughts of Mine:
Strange how in an episode with the long-awaited first kiss between Seung Jo and Ha Ni, this episode felt curiously flat. I still laugh at ALL of Ha Ni's antics, but it's mostly because I find Jung So Min's acting so charming and joyful to behold. Otherwise it would get old quick, and I'd be itching for Ha Ni to grow up by now.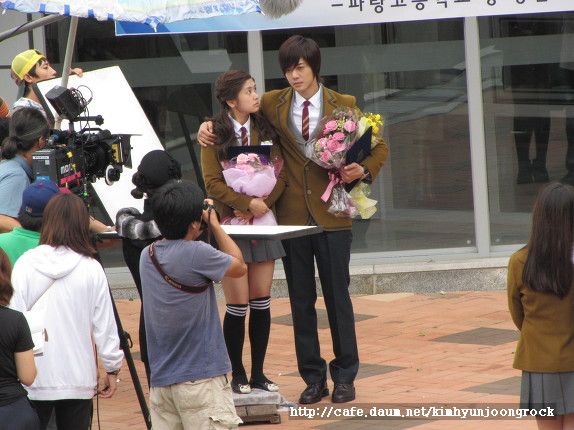 Perhaps I feel like it's a lull episode, between all the major issues the OTP has in high school which are resolved by this episode, and the upcoming increasingly more meaningful interactions between them in college. Either way, this episode was cute and had its moments, but I am ready for college to begin, stat! As for that ballyhooed first kiss, it was as usual per the dictates of K-drama productions quite lacking in sizzle and steam.
Now I don't need tongue or movement, since I do get these two kids just graduated high school, plus Seung Jo totally went in for the kiss out-of-the-blue. But if you've watched It Started With A Kiss, the kiss should have been more pressing and lasting longer. Just sayin', it was fine but I wanted a bit more oomph.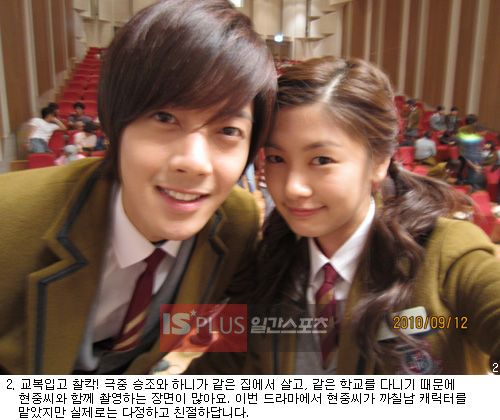 Baek Seung Jo, that ain't no kiss to make a girl remember you in college. I don't blame you, Seung Jo, I blame the weaksauce PD that made you pull back so quickly. Remember, a memorable kiss lingers, and a few nibbles won't hurt either. Furthermore, you need to work on your after-kiss skills, because right now you have none.
[credit: screencaps from MBC stills and soompi.com].