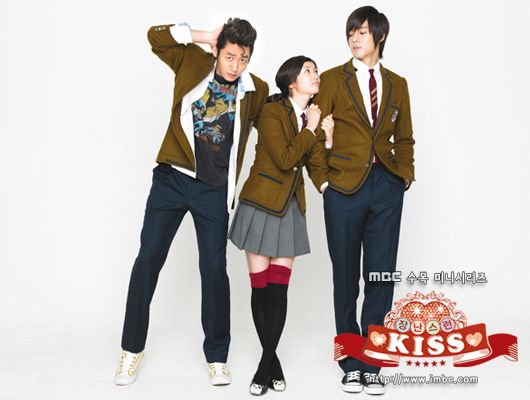 I'm not sure when I became a source for Playful Kiss information, but I'm honored so many people have left comments with questions about this drama. The majority of the questions surround the ending of the drama and how or what the additional 7 Youtube episodes are about.
First off, click here to visit the Playful Kiss Youtube Channel and subscribe to it. Once the 7 episodes are released, you will get it immediately.
http://www.youtube.com/user/ytkiss
Secondly, the production company Group 8 has stated that the additional 7 episodes on Youtube will contain some new content. Because I am a doubty-Mcdoubterson, I take Group 8's refusal to state that the 7 additional episodes are comprised of entirely new footage to mean that it's going to be mostly scenes from the aired drama plus some (read: miniscule to moderate amounts) of footage we have not seen (be it newly-shot or footage that was edited from airtime).
I'm hoping to be proven wrong, but honestly I don't want to raise my hopes too high. High hopes = disappointment and depression. Low hopes = pleasantly surprised. And yes, PK will be ending at 16 episodes, but I won't consider the drama having been cut as it was never confirmed to be a 20 episode drama by MBC.
Lastly, I thought it fitting to trot out a poster from the first set of production stills from PK. Looking at these kids, isn't it crazy how far they've come? And how far we've come along with them? Joon Gu is a Busan-boy made good, Ha Ni still looks at Seung Jo adoringly, and Seung Jo is still matter-of-fact with Ha Ni. But each of them have changed irrevocably for the better because of their experiences together. What a great thought for us to hold on to as we welcome the end of the journey this coming week.