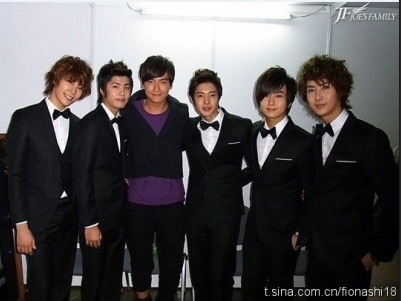 If Kevin Bacon is the center of the Hollywood universe, I've yet to find his equivalent in the Asian entertainment world. Since we've been on such a Playful Kiss high lately, let's spend a few minutes with the two young men who have breathed life into the character of Irie Naoki, Joe Cheng and Kim Hyun Joong, and then follow me for more curious case of the guys who played famous manga leads meeting in real life. 
Lots of you probably have seen the picture above, which was taken back in 2009 when Ariel Lin and Joe were giving actor awards by Yahoo Asia, and SS501 and Kim Hyun Joong won group and individual awards, respectively. This was way before Kim Hyun Joong was slated to play the same character made famous by Joe, but now this picture looks so prescient. I've noted that Kim Hyun Joong is quite tall in PK and towers over his leading actress Jung So Min, but I never really understood exactly how tall Joe was until I saw them side-by-side.
As a bonus, let's make this six-degrees of separation even cooler. Joe was actually the MC at Lee Min Ho's Taiwan fanmeeting, and above are some pictures from that event.
Again, Lee Min Ho is one of the tallest actors in Korea, and Joe still has an inch or two on him. In addition, I've snuck in a picture of Lee Min Ho and Kim Hyun Joong doing an ad campaign for god-knows-what. Finally, recently Oguri Shun met up with Kim Hyun Joong in Korea. This ties together our actors from the most famous manga-to-drama adapation genre, each of whom have or will have played two famous manga leading men.
Lee Min Ho was or will be the Korean versions of Domyoji Tsukasa in Hana Yori Dango and Saeba Ryo in City Hunter. Kim Hyun Joong played the Korean versions of Hanazawa Rui in Hana Yori Dango and Irie Naoki in Itazura na Kiss. Joe Cheng played Taiwan versions of Irie Naoki in Itazura na Kiss and Hanatashiki Aoi (Chinese character name Han Kui) in Bara no Tame ni (drama title The Rose). Lastly, Oguri Shun played J-versions of Hanazawa Rui in Hana Yori Dango and Izumi Sano in Hanazakari no Kimitachi e.
So all  four of these guys have really made a mark in the manga-to-drama adaptation world in their respective countries. (I was going to throw in some Wu Zun goodness, who is now about to tackle his third manga character in the Zettai Kareshi re-make (after doing TW-HanaKimi and Tokyo Juliet), but that'll have to wait). If Korea ever dared to remake Hanazakari no Kimitachi e, maybe someone else ought to join this distinguished group. Maybe my Moony?