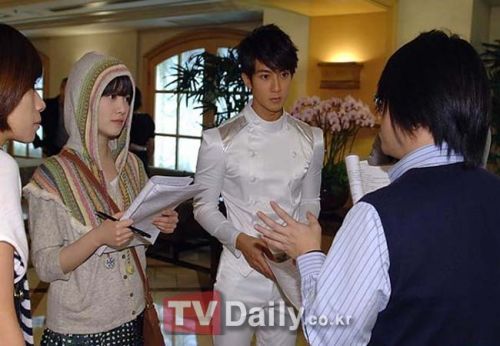 The first stills have leaked out from the set of upcoming Taiwan drama Absolute Darling (the Taiwanese adaptation of the manga Zettai Kareshi by Yuu Watase) courtesy of lead actress Gu Hye Sun's minihompy. I know I said I wasn't going to follow this drama, but hot damn these two pictures are begging me to mock it.
Wu Zun – I thought you played a robot, not General Zod from the planet Shiny Unitards. And aren't robots programmed with fashion sense, or did your new owner dress you? My guess is the latter.
Gu Hye Sun – seriously, Geum Jan Di was 2!!!! years ago, and even back then you were too old to pull this shiz off. See Jung So Min in Playful Kiss – she's allowed to do this scrunchie face thingie because she's, like, 20 years old, and it's adorable when she does it, and doesn't resemble an ahjumma doing the oppa pout wiggle. I know you can act well and act your age, please remember how yourself.
I remain utterly mesmerized by Wu Zun's outfit, and the fact that he's both more handsome and more fit. How that is possible is beyond me, but I hope this also means he's a more believable actor. Good things come in threes, right? Absolute Darling will premiere in late 2010 or early 2011.