The 2010 Golden Bell Awards (Taiwan's annual television award – think Emmys, the TV-section of the Baeksang, etc.) just concluded in Taipei. Most of the nominated dramas and actors were not from the idol-dramas, which are the dramas most online viewers and overseas fans are most familiar with.
However, one major idol-actress got a nod – Rainie Yang was nominated for Best Actress for her role in Hi, My Sweetheart. And she won! Congrats to Rainie. I'll be off there eating my shorts. Plus my shirt.
Best Drama goes to Moonlight of Brotherhood, and its lead actor Wu Cheng Di won for Best Actor. Rainie winning was a serious upset, but nowhere near the level of collective-jaw-drop that was last year when Marc Chao won over Vic Zhou for Best Actor.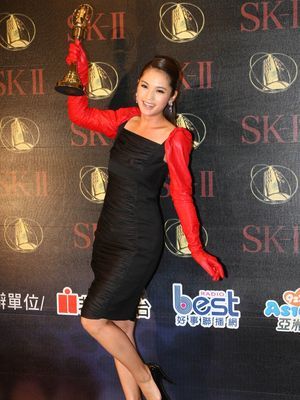 I don't dislike Rainie, but I have never finished a single drama she has starred in. Ever. Her acting bugs me, and I don't have a objective critique so let's leave it my subjective impression of her. I know my Ariel is good friends with Rainie, and is sure to be ecstatic to welcome her to the Best Actress award winners circle.
If anyone made it past episode 1 of Hi My Sweetheart, let me know if it gets less homicidal-inducing and maybe I should give it another chance? Lastly, Rainie's dress is one big fail – would have been a classy LBD but for those two long red sleeves. It's like wearing high-top sneakers and then adding wings to them. Oh wait, Joe just did that. Heh.