Have you ever eaten bon bons? Each episode of the Playful Kiss Youtube Special is like a bite-sized bon bon, you pop it in your mouth and let the flavor and texture explode in a shower of sensory bliss. But then it's gone as quickly as it arrived. But I treat PK-the-drama as my main course, so I'm totally fine with PK-the-YT-special being my dessert of bon bons, because I'm pretty full on the wish fulfillment of Ha Ni and Seung Jo.
Episode 4 of the YT special deals with a subject matter I'm pretty meh on – a third party to make Ha Ni jealous. I feel like story-wise we're beyond that, but thankfully the situation arrived and departed relatively painlessly.
It does bear mentioning that being married to Seung Jo isn't easy, both within the marriage and outside the walls of their safe haven. He's an extremely attractive man, and women are going to keep throwing themselves at him. It was reassuring to know that Seung Jo really doesn't even spare one second for them, his entire heart has been given to Ha Ni.
Youtube Episode 4 Recap:
Mom announces to the her kids that Go Ji Soo has arrived back in Seoul for a vacation. When Ha Ni asks who that person is, Eun Jo informs her that she's a neighborhood girl that grew up with them. If Ji Soo hadn't moved to the US, then his sister-in-law would not be Oh Ha Ni today, it would be Ji Soo. Seriously Eun Jo, if you don't talk people won't think you are a mute.
Mom quickly clarifies the situation by saying that Ji Soo was like a sister to her sons. Seung Jo smiles fondly at this discussion, likely he has a nice memory of Ji Soo (eh, not for long, buddy). Mom accidentally lets slip that the neighborhood thought of Seung Jo and Ji Soo as potential golden couple, but she corrects herself by asking Ha Ni to treat her like her own sister.
Ha Ni is genuinely happy to have a younger sister to spend time with. Rather than wish for a brother, she always wished for a sister instead. Poor Ha Ni, I forgot how lonely you were being an only child of a single parent. The door bells rings (ding dong, the witch is here…..), and Eun Jo runs to open the door. He seriously has a cougar complex.
Mom enthusiastically hugs Ji Soo and welcomes her back to Korea. Seung Jo welcomes her warmly, and Ji Soo launches herself at him like a puppy attacking a bone. She grabs him for a bear hug and plants a kiss on his cheek (hurry, go disinfect your cheek, Seung Jo!). Ha Ni, who was looking on beatifically, suddenly realizes the true nature of this girl. Our Ha Ni's expression falls and her cheek twitches spasmodically.
Thank god Mom is here, and she comes to the rescue. Mom effortlessly disentangles the claws of the wench from Seung Jo's arms and warmly introduces Ji Soo to her Seung Jo-oppa's wife. Ji Soo pretends to be excited to meet Ha Ni, telling her that she's wanted to meet Ha Ni because she wanted to know how she got Seung Jo to marry her.
Ji Soo turns right back to Seung Jo and tells him that she's dreamed about him everyday while she was in the US. She wants Seung Jo to take her out somewhere fun now. I want Seung Jo to take her to the nearest quarry, dig a ditch, and chuck her in there. Ha Ni looks on with a pout.
Its dinner time, and Ha Ni has helped Mom with dinner preparation. Ji Soo walks up apologizing for not helping out, but the ladies just tell her to enjoy herself since she's a guest. Ha Ni pulls out her chair next to Seung Jo and is about to sit down when Ji Soo seats her bony ass in Ha Ni's spot effectively freezing her out of sitting next to her own husband. Both Mom and Seung Jo note this behavior, but decides to let it go.
Ji Soo continues her shameless behavior (omo! She is Shameless Hussy's younger sister, isn't she?) by putting meat on Seung Jo's spoonful of rice. Seung Jo eats the food, but doesn't look comfortable at all. Ji Soo switches her attention to Ha Ni now, asking if she pursued Seung Jo first. Eun Jo (seriously, stop talking, boy!) pipes up and says that Ha Ni stuck to Seung Jo like glue the entire time.
Shameless Hussy Jr. grabs Seung Jo's arms, and says that if she knew Seung Jo would be taken away while she was in the US, she would have packed him in her suitcase and taken him with her. Ha Ni voiceovers that she's not sure what to do – Seung Jo is her husband, but this girl keeps grabbing him and calling Seung Jo-oppa. What's Ha Ni to do? (Slap a bitch, maybe?). Mom leans over and tells Ha Ni to just let it go, it's no big deal.
Ha Ni is already in bed when Seung Jo comes him after taking a shower. He asks Ha Ni whether Ji Soo is cute (in a proud oppa way). Ha Ni concurs – she's pretty, smart, and very confident in front of Seung Jo. To which the clueless husband says that Ji Soo used to be ditzy but appears to have become a young lady in the intervening years.
He tells Ha Ni not to be dejected if people compare her to Ji Soo. He tells Ha Ni that Ji Soo is just like a sister, and to treat her well during her visit. Ha Ni wonders why she's so annoyed by Ji Soo since it's true that Seung Jo treats her just like a sibling. Maybe because the viperess has her claws ready to sink into your husband and your wife-dar is going off.
At school, Ha Ni uses her snazzy phone as a walkie-talkie and pages Seung Jo, asking him to join her at her dad's restaurant to try out a new noodle he just created. Unfortunately, Seung Jo has to beg off, as Ji Soo has asked to borrow him time for a day. He tells her to just go enjoy the noodles by herself. Ha Ni walks down the street, and wonders why she is feeling jealous. She is Seung Jo's wife!
Regardless, it is annoying that Seung Jo is being borrowed, like he's an object. She finally convinces herself that it's not a big deal, Seung Jo is just taking an old friend he treats as a sister out for a day of fun. Ha Ni finally cheers herself back up again. What I love about Ha Ni is how much she tries to make sense of her own feelings in light of the situation. While it's clear to everyone that Ji Soo has a crush on Seung Jo, since she's just visiting and it's likely not going anywhere, everyone appears to want to just let it go and not make a big deal about the situation.
Ha Ni is folding laundry outside her room, when Ji Soo flounces down to join her. Ji Soo asks whether Seung Jo kisses better than other guys? Ha Ni says that she doesn't know, she's only ever kissed Seung Jo. Ji Soo says that Ha Ni is so pure, whereas she has kissed a few guys in the US, but none can compare to Seung Jo. Ha Ni is confused until Ji Soo drops the bombshell that her first kiss was with Seung Jo, and likely it was the same for Seung Jo! The witch tells Ha Ni to sleep tight next to her Seung Jo-oppa who can kiss very well.
That night in bed, Ha Ni is tossing and turning, unable to rest. She keeps looking at Seung Jo, but can't bring herself to ask him whether his first kiss was with Ji Soo. Seung Jo gets annoyed and keeps asking her what she wants until Ha Ni starts to ask about it. But Seung Jo jumps to the wrong conclusion, so Ha Ni doesn't correct him. They lay back down to sleep, this issue unresolved.
In the morning, Ha Ni comes downstairs and sees Ji Soo making breakfast. Ji Soo says that she's making her Seung Jo-oppa's favorite breakfast for him. Ha Ni tries to grab the plate out of her hands, with both ladies insisting that they can do it. The plate tips and the egg resting on top goes flying and lands on Eun Jo's head. Hahaha, serves you right, you little wordy pipsqueak.
Ha Ni walks back to her room later, and hears a witchy giggle coming from within. Ha Ni-ya, you'll definitely need someone to exorcize your room later. She opens the door to find Ji Soo resting on their bed, looking at a picture album. Ha Ni puts her foot down and tells her to leave, no matter how close she is with Seung Jo, this is their bed and personal chambers.
Ji Soo throws it back at Ha Ni – why is Ha Ni so uncomfortable when Ha Ni is Seung Jo's wife? Eh, maybe because she's too sweet and you are an evil ho-bitch? Seung Jo picks the worst time to arrive. Ji Soo uses the woe-is-me method and apologizes to Seung Jo for coming into his room, she was just curious. This leads Seung Jo to tell Ha Ni to stop being jealous of a younger sister. Ha Ni runs off.
Seung Jo and Ji Soo have a conversation outside. Seung Jo asks Ji Soo not to treat Ha Ni the way she has, but Ji Soo just launches into a discussion about how much she likes Seung Jo. Ji Soo wants to know whether Seung Jo really loves Ha Ni. Yo, Shameless Hussy Jr., it's none of your business what these two married cuties feel about each other, so go jump off the nearest cliff, will ya?
Ha Ni overhears this, and steps up to tell Ji Soo to get her paws of her man. Actually, Ha Ni is way more awesome than that. Ha Ni tells Ji Soo that she would have never agreed to go to the US if it meant leaving Seung Jo. Even a day without seeing Seung Jo is like a needle prick of pain in her heart. Ji Soo refuses to back down, and says that might be what Ha Ni feels, but what does Seung Jo feel?
Ha Ni leaves because she can't speak for Seung Jo. I don't know why robot boy always makes us wait so long before he steps up, but he does yet again. Seung Jo informs Ji Soo that Ha Ni's feelings for him are exactly why he'll never let her go. He loves how focused she is on something that she loves, and he loves that focus of hers.
Seung Jo finds Ha Ni sitting on the steps of the neighborhood staircase. He drapes his sweater over her, and asks what she thinks she's doing? Ha Ni replies that she was worried she was going to lose Seung Jo. Doesn't he know that? Seung Jo doesn't know any such thing – he only knows that he's picked Ha Ni. Baek Seung Jo has picked Oh Ha Ni, and she is the only one for him. Seung Jo leans in to kiss his wife, and the camera pulls back from this sweet moment.
Thoughts of Mine:
I know why this story was filmed as part of the PK YT episodes, but that doesn't mean I wasn't wishing it'd be over and we can move on. I do understand that any fight between Seung Jo and Ha Ni makes their reconciliation that much sweeter. But having a useless, lame third wheel really is a giant waste of time. It makes me long for the days of Hye Ra, a worthy opponent that made sense and fit the narrative.
Nevertheless, anytime spent with Ha Ni and Seung Jo is a giant win for me. I can't believe we're already past the mid-way point of the YT episodes. I'm quite looking forward to the next three YT episodes based on the synopsis, but part of me wishes to delay its airing so as to postpone the inevitable day PK finishes its YT run.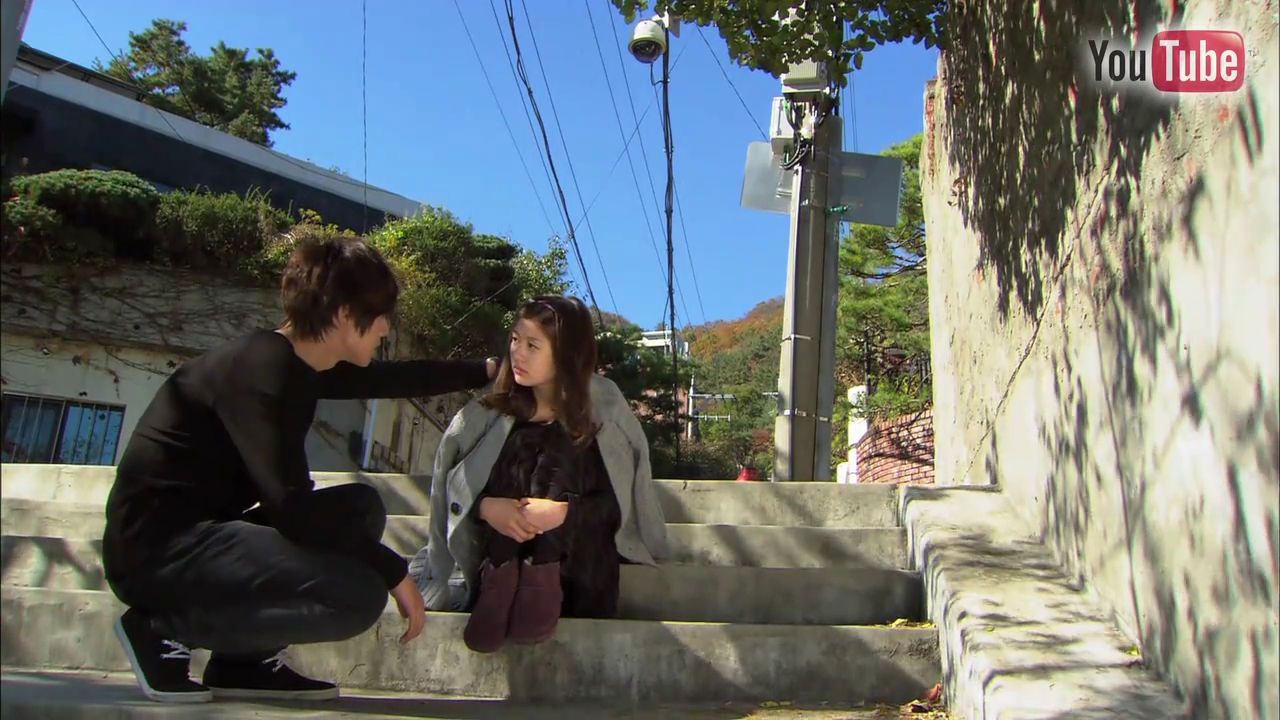 I think it's quite ironic that PK was such a domestic ratings bust in Korea, and because of it has reached far greater international attention than if it had been a ratings bonanza during its initial run. Baker King, Kim Tak Gu was the highest rated drama in Korea in 2010, yet this drama will likely never reach international awareness. I think what happened with PK was a blessing in disguise. It gave both Kim Hyun Joong and Jung So Min under-the-radar room to breathe during the airing, and now they can bask in their well-deserved feeling of accomplishment.
[Credit: all screencaps from Baidu Playful Kiss bar]