Episode 6 of the Playful Kiss Youtube Special Edition is pretty much impossible to recap. I say it with a straight face, because this was a Korean version of an I Love Lucy episode, replete with an ending that has Lucy and Desi (Ha Ni and Seung Jo) conceding that they enjoyed the mess of a day they had together.
Alas, I am not one to shirk my responsibilities to the legions of PKissers, who appears to have gotten MORE active since the drama proper ended. Not complaining, just marveling at you guys' devotion and love for this drama. You guys are awesome, and it saddens me that PK will be ending for good next week.
Youtube Episode 6 Recap:
This episode should have been titled: Driving Ms. (Oh) Ha Ni – please tell me you all got my Driving Miss Daisy reference (god I feel dated). Seung Jo exits the house and finds a be-scarved lady outside waiting for him. She resembles his wife, except with a crazy smile plastered to her face and her newly acquired driver's license posted on her forehead.
Seung Jo wonders why Ha Ni is so excited, it only took her 8! tries to pass her driving test. The bucket of cold water her husband just poured on her head does not lessen Ha Ni's mood one whit, she's off work today and determined to drive her hubby to the hospital. Her practical and self-preserving hubby tries to dissuade her, and had to physically chase her around the car to grab the keys back. Alas, he fails and resigns himself to his fate.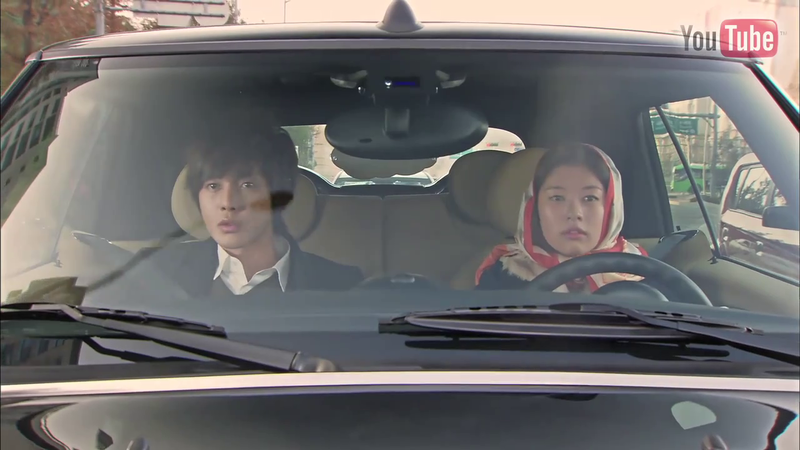 Ha Ni is driving Seung Jo to work, and he asks whether she is intending to get into an accident on her first day of driving. She reassures her husband that she is an excellent driver, having only been docked 5 points during the exam. Was her examiner Mr. Magoo?
Seung Jo wonders whether she knows the way to the hospital. She assures him that she does, but then she shows her true driving colors. She's nervous, can't change lanes, turns on the window wipers instead of the turn signal, and is unable to turn right. They end up driving straight because that is the only driving that Ha Ni is capable of doing.
They finally pull over on the side of the street, and both get out to assess the situation. A now carsick Seung Jo asks whether Ha Ni really took drivers ed? She did take a whopping twenty hours, but only practiced on the freeway so she's completely unable to drive in local traffic. Good one, Ha Ni.
Seung Jo decides to make lemonade out of lemons, and takes the day off to teach her to drive. Otherwise she's bound to off a few pedestrians in Seoul. He also informs her that he doesn't want to become a widower within one short year of marriage. Hahaha, you just had to add that rationalization into the picture when we all know you want to spend time with your wifey.
Seung Jo drives them to a less populated area to practice her driving, and where her victims are less likely other human beings, more cows and pigs and the like. On their drive to the countryside, Ha Ni folds down their convertible top and luxuriates in the breezey air of their impromptu day trip. She keeps feeding Seung Jo oranges, and is totally not listening to his driving tips.
Her head scarf blows away, and they stop to retrieve it. The scarf is dangling on a tree branch that is just out of their reach. Seung Jo first asks Ha Ni to bend down so that he can use her back as a step. She balks a bit, but then actually gets down on her hands and knees for Seung Jo. He has no choice but to smile fondly at her, and helps her up rather than steps on her.
They then try tactic number two, putting Ha Ni on Seung Jo's shoulder and having her reach up to grab the scarf. Ha Ni starts freaking out when she's hoisted, and they end up leaving the woebegone scarf in the tree as an offering.
Ha Ni starts driving in the country lane and is doing fine. Her husband bursts her bubble by reminding her that she is still only driving straight ahead. She gets excited and swerves around to demonstrate her control over the steering wheel, and accidentally offs some roadside fauna. Ha Ni suddenly brakes really hard, insisting she saw something up front.
Seung Jo is beyond annoyed, and tells her not to drive for the rest of her life. She insists that her driving teacher compliment her as an excellent driver. To which Seung Jo replies that she should go get a refund from that school. Mwahahaha, you are such a cool ogre, Seung Jo. Ha Ni finally gets fed up and reminds Seung Jo that he never paid her any attention when she was learning to drive and taking the test. Seung Jo retorts that it wasn't like she took the test once or twice. He's now worried that their kids will get her brains, or lack thereof.
Ha Ni tells Seung Jo to get out of the car. When he refuses, she huffs out of the car, telling him that he's clearly not going to pay attention to her even if she were to get pregnant. Oh sweetie, there ain't no way in hell you are getting pregnant in this lifetime without Seung Jo paying attention to you. Ha Ni walks down the road while Seung Jo follows.
Seung Jo calls out to her: hey ahjumma, can I get directions? In a fit of pique, she pretends that there is a puppy in the road, and causes Seung Jo to swerve the car into the ditch. They wait by the car waiting for a tow truck, and Ha Ni crows that the almighty genius Baek Seung Jo got his car stuck in a ditch.
Hubby makes the errant wife promise not to play such a dangerous joke ever again. But he can't help but smile and concede that he had a good day today. Ha Ni grabs his arm and concurs, then says that she wants to drive him again in the future. Seung Jo says that day will be far in the future, and after she takes driving lessons from him.
Ha Ni agrees, and the two of them snuggle in the waning sun of the lovely countryside. They get back in the car, with Ha Ni pretending to drive some more, and get towed home.
Thoughts of Mine:
What a fun episode. It was lighthearted and entertaining – just like how Seung Jo felt during his driving day with Ha Ni. Sometimes when you watch a drama that ends with the OTP together, you extrapolate how their lives might continue on. It's a vague supposition at best, and ultimately a meaningless endeavor because they are fictional characters.
Ha Ni and Seung Jo have transcended that barrier. The true-to-life beats of their relationship means that we worry how they will make a marriage work once the cameras are gone and the mundane sets in. School, work, responsibilities, duties, and obligations, can their marriage withstand all of that? The YT episodes confirm for us that they are going to be just fine.
I love how Seung Jo simultaneously glowers and smiles at her, all in the span of seconds. She is the only person who can activate his human boy button, and he loves her all the more for it. So when she's being a pest or a nuisance, he's willing to roll with the punches because that's what loving someone means. Accepting them for all their shortcomings, helping them to overcome obstacles, and never forgetting to enjoy each minute together because life's too precious to take the person you love for granted.
Next Tuesday is the final YT episode (with two BTS specials airing the following two days), and I still haven't gotten my "steamier scenes" or any boating, for that matter. Kim Hyun Joong, don't think just because you've been on CNN I'm gonna go easy on you. From your pretty mouth to my ears, I heard what you said, so I've got my eye on the final episode. You better deliver or else you and I need to have a very important conversation about what "steamier love scenes" constitute, because I think you missed the birds and the bees discussion in junior high.
[Credit: all screencaps from hyunniespexers.wordpress.com]