Even though I just recapped the first two episodes of Mary Stayed Out All Night (Marry Me, Mary!), I haven't really had to chance to let my fangirly self out for a spin around town. My drama friends know that Koala very very well – she squeals a lot, rolls around on the floor in ecstasy over watching an amazing drama, and speaks in tongues. That Koala doesn't even pretend to have a ounce of objectivity or standards. I like what I like and I don't give a fig. How utterly perfect are Moon Geun Young and Jang Geun Seok together? That picture above only scratches the surface, my friends.
I don't know why, but I'm all sorts of inspired to meta-analyze the potential of M3 now that we've seen two episodes and understand the basic set-up. I'm going to say it again – M3 has the chance to be epic for a rom-com. Cosmically, insanely, ridiculously epic in that it will squish my insides into little knots of yearning and then release it with the most cathartic of moments. Epic does not mean qualitatively good. Only that it will make me think about Mu Gyul and Mae Ri every waking moment of my day.
M3 the drama itself is three-shades away from being forgettable – multiple K-drama cliches that come at us in rapid fire succession until I stopped counting. Other than the beyond cracktastic set-up that no one has dreamed about much less make into drama-reality, i.e. a double-fake-marriage contract, M3 has really not a shred of originality and insight. So why am I watching? Because the instant combustible chemistry between Jang Geun Seok and Moon Geun Young is SO good, my head might spin around my neck the way Kim Jae Wook's did in the opening fantasy sequence of M3.
I can count on one hand, seriously one hand, how often a lead couple ignites this level of sparkling chemistry right off the bat. Some couples make the chemistry develop over time, and eventually reach full inferno burn. But what the Geun-Geuns have is rare indeed, and as a viewer I can tell that the actors themselves feel it. I mentioned in one of my recaps that it's like watching two best friends, both consummate actors, do improv together. They know each other so well they feed off each other's energy and charisma. This is what is happening in M3, and I feel compelled to share it with the world. M3 may be not worth its weight in drama gold, but the chance to spend time with a magical OTP is something I ache to do.
What's totally tickling the drama freak in me is how rife with possibilities this whole ridiculous dual fake marriage thing can mushroom into. Let me set up the premise: (1) Mae Ri (Moon Geun Young) is married to Jung In (Kim Jae Wook) – her father registered a legal binding marriage between them without her consent. To get out of this marriage, (2) Mae Ri has asked her newfounded acquaintance Mu Gyul (Jang Geun Seok) to pretend to be married to her already.
To no avail, that doesn't get Mae Ri out of her marriage with Jung In since both sets of dads are dead set on it. So Jung In devises a plan that would appear to suit everyone's interests – Mae Ri will be married to both guys for 100 days, since everyone (except Mae Ri and Mu Gyul, and their friends) is under the false assumption that Mae Ri is also married to Mu Gyul. At the end of 100 days, Mae Ri will make a choice of either guy. Or neither guy, if Mae Ri has anything to do about it.
We all know that both guys are going to fall in love with Mae Ri. Therein lies the rub – Jung In will think Mu Gyul is also legally married to Mae Ri, so these two guys are on level playing field. But Mu Gyul knows that his marriage with Mae Ri is fake, whereas Mae Ri really is legally married (on paper) to Jung In. So how are they going to fight for Mae Ri, when both know about each other's existence, and relationship to the woman each loves. Can you see the possibilities? My brain is melting from the upcoming male posturing and bitch-fighting for Mae Ri.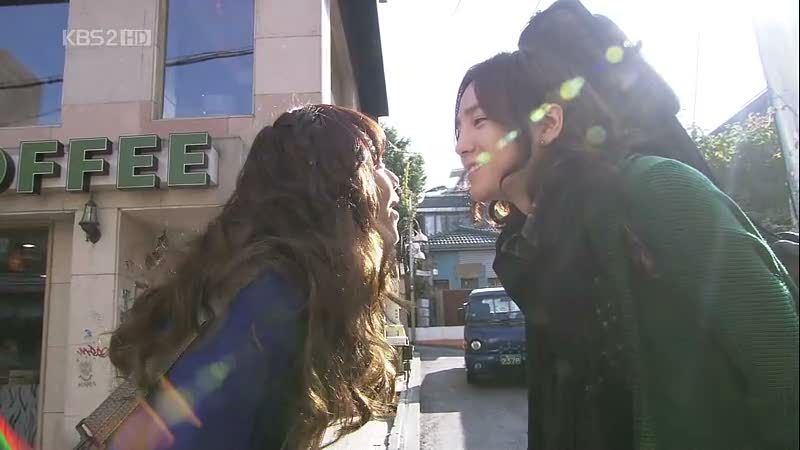 I really don't know how this story will unfold – who will fall in love with whom first, how they will react to the situation becoming out of their control. To be honest, I have little faith in the writer and director, who produced two serviceable episodes of M3 thus far. They need to thank their lucky stars that the Geun-Geun couple agreed to star in this trifle, because these two elevate their characters and trite interactions to a whole nother level of adorable and charming. I find myself grinning randomly during the day from a recollection of their cuteness together.
The last time I loved the first two episodes of a drama this much, it was You're Beautiful, and the second half of that drama sucked so bad I wish it had been a 10 episode gig. Here's to hoping, M3. I will gladly trade some brain cells, be mocked for adoring your insanity, and allot mind space to storing away your deliciousness – but you must deliver the goods in the end. Got it?