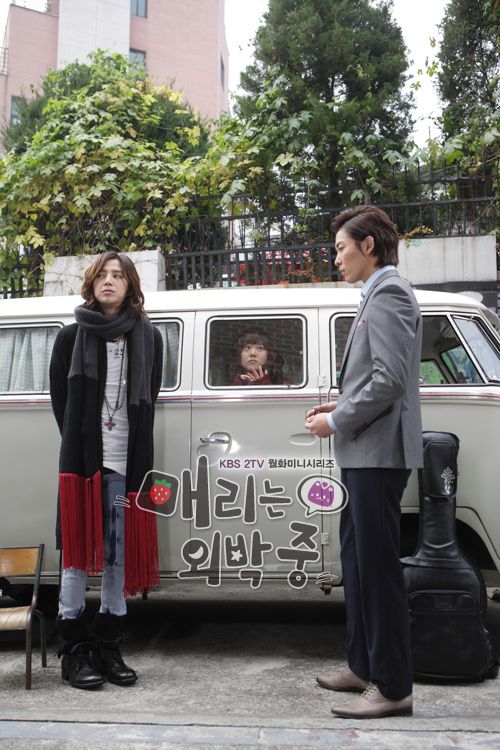 Episode 4 of Mary Stayed Out All Night (Marry Me, Mary!) was a game-changer. It wasn't anything unexpected, but the stakes have been changed for one participant, leading to a likely domino effect for everyone else. I like it. More stakes means more purpose behind what this entire story will ultimately be about. Will Mae Ri marry for love, or sacrifice herself for everyone else?
I have been told that M3 is such trifle that somehow my recap makes it more interesting or enjoyable. I thank thee for the compliment, but I find that this story has a kernel of sweetness and growing angst that is satisfying for likely many viewers. While M3 is still a string of improbable situations strung together in a row, since it leads to Mae Ri spending time with both Mu Gyul and Jung In, I continue to roll with the clichés and find amusement in the meta.
M3 Episode 4 Recap:
Mae Ri walks up to her husband, and shuttles him out of the bed of her other husband. When Mu Gyul stumbles off the bed, I let out as huge sigh of relief that he's still wearing his pants. Much as I love slashy bromance, I really didn't want to go there because I need my boys to fight over Mae Ri like lovesick puppies.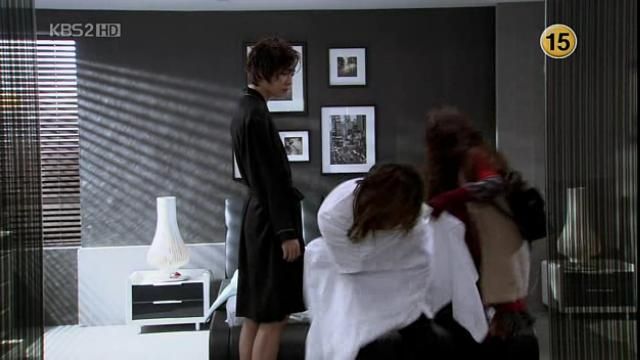 Mae Ri grabs Mu Gyul's clothes and drags him out of the house, with Jung In looking on with a detached yet curious expression. Mae Ri pushes Mu Gyul out the door like an errant husband pushing a mistress out before the wife comes home. She warns him not to work on the drama OST. Mu Gyul doesn't see a problem with it, his impression of Jung In is that he seems nice enough.
Mae Ri emphatically calls Jung In a bad guy, and alludes to him having ill-intentions towards Mu Gyul. Perhaps Jung In is looking to secretly investigate Mu Gyul, and at this Mu Gyul laughs at Mae Ri for writing her dramatic fiction again. Mae Ri refutes that possibility – how could Jung In be a good guy if he would agree to a 100 day marriage with a woman who he believes to be in love with another man.
Mu Gyul thinks about it, and recalls Jung In being candid and straightforward when they discussed music last night. Mae Ri launches into a tirade against Jung In – he's got a split personality, he's a pretending-to-be-polite bastard, he's got ulterior motives. Mu Gyul suddenly remembers that he left his guitar back in the room, and moves to retrieve it.
Mae Ri stops him and promises to bring it to him after work. She doesn't want Mu Gyul to go back because Jung In will surely ask questions and probe their marriage. What if he finds out they are fake married? Mu Gyul growls in annoyance, but in the end lets Mae Ri do as she suggested.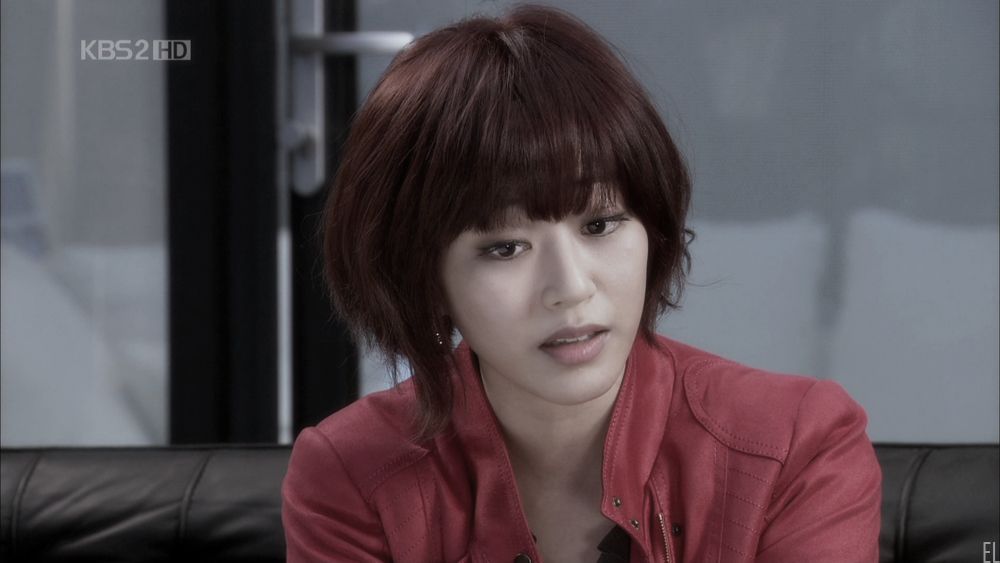 Back at the office, Mae Ri warns Jung In to not bother Mu Gyul anymore. Jung In is all business-like, and calls Mu Gyul a very talented friend. He needs Mu Gyul's talent for this drama OST. Mae Ri is getting increasingly agitated when Seo Jun comes in to meet with Jung In. Seo Jun hands Mae Ri a bag containing a replacement cell phone for the one she threw against the mirror yesterday. Mae Ri declines the phone since her phone wasn't broken, but accepts the apology. Seo Jun smiles, liking Mae Ri's forthright personality.
Mae Ri overhears some colleagues discussing what a great couple Jung In and Seo Jun would make, and she wonders why Jung In doesn't pick someone like Seo Jun and wants to be with someone like her? Jung In takes Seo Jun to the recording studio for her to practice, and helps her with the pronunciation of some Japanese dialogue.
Mae Ri also repeats the dialogue (so she can recognize Japanese, I wonder why) when she read the script while cleaning Jung In's office. When Jung In comes back, he asks Mae Ri what she thinks of the drama? She likes the concept, it's fresh, but worries that dramas nowadays are too geared towards the youth demographic and the older generation is not tuning in.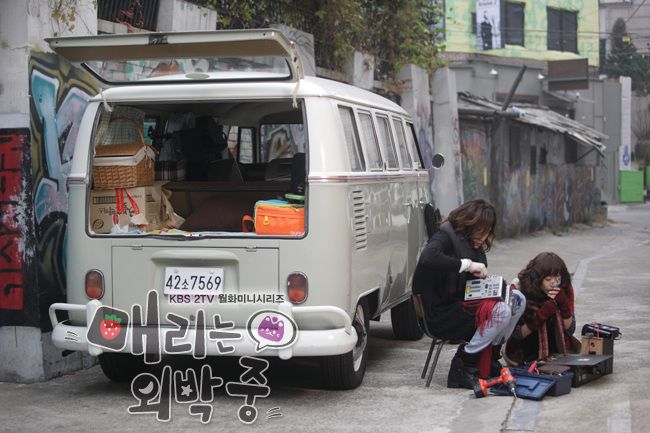 Jung In gives Mae Ri the rest of the day off again (this is becoming a recurring joke as well), and she asks for Mu Gyul's guitar to take back to him. Jung In states his intention to return the guitar personally. Mu Gyul is sitting by his van fixing electronics when Mae Ri the barreling banshee comes screaming "chagi-yah" and running towards him.
She launches herself into his side, and he wonders what's gotten into her until she points to the guy in the suit and sunglasses walking towards them carrying Mu Gyul's guitar. Jung In sets the guitar down and asks whether Mu Gyul's gotten some rest. Mae Ri butts in and tells Jung In that her honey is clearly working hard.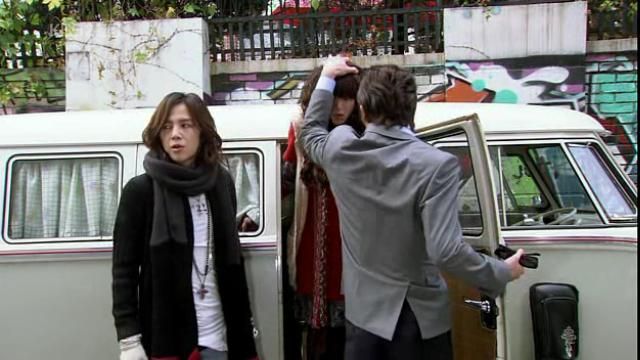 She gesticulates wildly for Mu Gyul to continue working, as a sign for Jung In to take off. Mae Ri opens the van door and goes inside to admire Mu Gyul's hard work. When Jung In asks to speak to Mu Gyul and she refuses for him, Jung In shoves her back in the van and locks the door. The two husbands finally have a conversation, all while Mae Ri pounds on the window yelling for her honey to open up.
Mu Gyul tells Jung In that he has nothing to discuss with him. Jung In confesses to thinking he and Mu Gyul had a musical understanding, but Mu Gyul reveals that it's happened in the past and then he's gotten hoodwinked by unethical managers. Jung In tries to express his sincerity, but Mu Gyul questions the motives of a man who would enter into a marriage with a woman who is already to married to another man she loves. That defies common sense, no? [Seriously, Mu Gyul talking about common sense is like asking a swindler what truth is].
Jung In tries to explain the marriage as just business, which leads Mu Gyul to finish the sentence that music is also just business to Jung In then, right? Mae Ri escapes the van trap and tries to protect Mu Gyul from Jung In, but is pushed aside by her hubby who can handle this himself. Mu Gyul leaves Jung In with a simple and honest last word – he doesn't trust Jung In.
Mae Ri and Jung In's dad (otherwise known as jerkwad and obsessoid) are discussing Mu Gyul. Mae Ri's dad tries to reassure his hyung that Mu Gyul's just a playboy who is not serious about Mae Ri. Jung In's dad wants them split up – and tells Mae Ri's dad that if she doesn't choose Jung In at the end of 100 days, then the consequences are for Mae Ri's dad to shoulder, including paying back the money given to repay his debts. Ouch, obsessoid has nary a shred of humanity, does he?
Jung In leaves since this impasse can't be resolved today. Mae Ri is happy with Mu Gyul's response to Jung In's music proposition, but Mu Gyul tells her he didn't do it for her. He resumes fixing random electronic gadgets. Mae Ri's dad comes by wanting to speak directly with Mu Gyul, and is distressed to see Mae Ri with him.
Mar Ri wonders how much Mu Gyul makes for fixing electronics. He says enough to get by, supplanted with the money they make performing at clubs. He asks if she's acting like his wife or something. She says of course not, but then realizes that she's supposed to be his wife right now. Mu Gyul spies Mae Ri's dad lurking behind a wall, which leads Mae Ri to grab Mu Gyul and make a run for it. Way to leave your electronics and your van all free for takers, guys.
Mu Gyul is dragged along by Mae Ri, wondering how long this situation is going to keep going on. Mae Ri says it's too late now, they are on the same boat (oh god, I want these two to start boating, like, ASAP). Mu Gyul takes charges and pulls Mae Ri along, ending up at a noraebang. I love how Mu Gyul transitions from lackadaisical follower to in-charge leader in seconds, all depending on his mood and the situation. He lets Mae Ri direct him along, but only because he indulges her, otherwise he would just end this charade and move on.
In the noraebang, Mu Gyul takes his shoes off and curls into a ball on the sofa (the running gag in this episode is how constantly cold Mu Gyul is, which is an extension of the last episode when he told Jung In that he hates being cold and his apartment has no heater). He refuses to sing in a place like this, so Mae Ri ends up singing to keep their lovers-on-a-date act alive for her dad, who is perched outside the door.
Mae Ri starts singing, which makes Mu Gyul realize that she's completely tuneless (yup, that would be me at a noraebang as well). She beckons for help, confessing she's butchering this poor song. Mu Gyul takes the mic from her, sits down on the table, and continues the love song she was singing. Mae Ri's dad hears it and is more worried than ever – seeing firsthand how awesome Mu Gyul is as a singer means that his Mae Ri is falling deeper and deeper in love with him.
Mae Ri's dad lobs a call to his hyung, complaining that Jung In lets Mae Ri off work early every day and doesn't pay her any attention. Their plan won't work if he's not making any effort to woo her away from Mu Gyul. He continues to follow them, which leads Mu Gyul to borrow a bike and take Mae Ri farther away from daddy stalker.
Mae Ri compliments Mu Gyul on being quite attractive when he was singing back at the noraebang. It's the first time she's heard him sing such a touching ballad. He looks at her, then raises his eyebrows in a flirty way, asking if she's starting to like him? He doesn't seem upset, but more curious. Mae Ri thumps at him for being ridiculous, she was making an objective compliment that he was attractive when singing that song is all.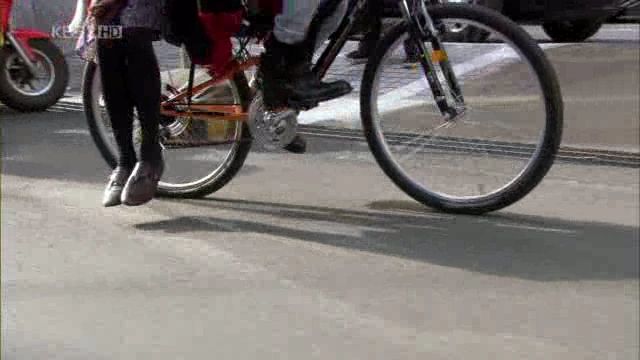 The bike ride makes both of them cold from the frosty air, and Mae Ri makes Mu Gyul stop in front of a yarn store. Back at the apartment, Mu Gyul's fiddling with some wires while Mae Ri is knitting. Both comment that they hate the cold, with Mae Ri worried that it's supposed to be a very cold winter this year. The ask each other their birthdays – Mae Ri is on November 30, and Mu Gyul is on Christmas Eve (oh shit, I know who is going to be whose Christmas present this year, woo hoo!).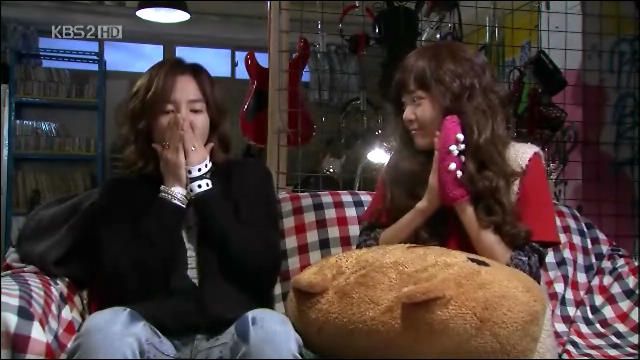 Mae Ri calls herself Mu Gyul's noona, being a few weeks older than him. She calls him dongsaeng and reminds him to call her noona in the future. He scoff at her silliness, but complies when he asks noona that she seems like a woman when she's knitting. Mae Ri looks Mu Gyul directly in the eye with a playful expression and confirms that she is in fact a woman.
Mae Ri finishes one mitten and tries it on, warming her hand up. Mu Gyul sits down next to her and rubs his cold hands together to ward off the chill. Mae Ri asks if he wants her to make him a set, and he nods quietly. She takes his hands and palms it against hers to measure the size. He notices her scar and asks her how she acquired it.
She doesn't remember – she was only told it happened when she was four years old and was out playing. She starts to knit his glove, and the times passes until its nearly 9:30 at night. Notice how Mu Gyul doesn't shoo her or even remind her of the time anymore. Hee, they have such comfortable interactions with each other.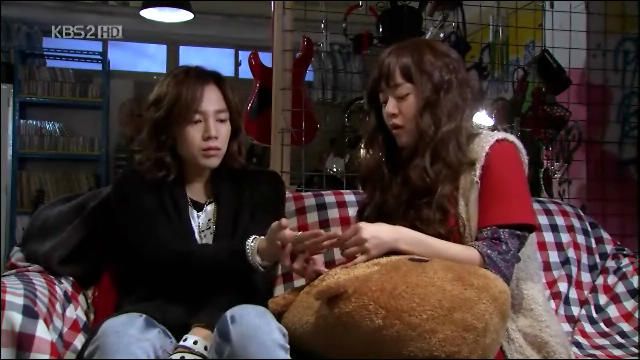 Mu Gyul notes that she's not even done with one mitten of his yet, and she promises to finish it next time. She warns him not to take the mitten apart or else he's dead meat. She runs off, and Mu Gyul looks at the mitten and then lays down on the now vacated sofa to rest.
The drama has hit a snag with the script being unacceptable to the director. Unless they can rework the script in time, the actors will bail and the production company will be on the hook for contractual penalties. Jung In gets called to meet with his dad, and he's solicitous of his father's health, asking about whether he's been to the hospital. Which leads me to believe this whole return to Korea, get son to marry daughter of first love crap, is perhaps a dying man's final wish. No confirmation yet, but don't be surprised if Jung In's dad turns out to be sick.
Dad asks Jung In about how the marriage is working out. Jung In confesses that he's been swamped with work lately. Which leads daddy not-so-dearest to inform Jung In that he's clearly operating under the mistaken assumption that once the 100 days passes, it's all over. Dad changes the terms of the deal – he will rescind all his investment in Jung In's drama production company if at the end of 100 days, Mae Ri does not choose Jung In. If Jung In does not make this marriage a reality, his business future is toast.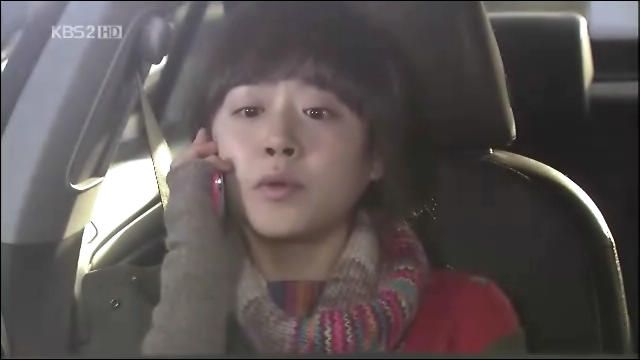 Jung In swoops in for his new mission – operation woo Mae Ri. He decides to take Mae Ri to the family country estate for a getaway. Both dads will be going as well. During the drive, Jung In wants to call Mu Gyul to explain why his night is being taken away today. Mae Ri calls Mu Gyul herself and has a one-sided conversation with a sleepy Mu Gyul.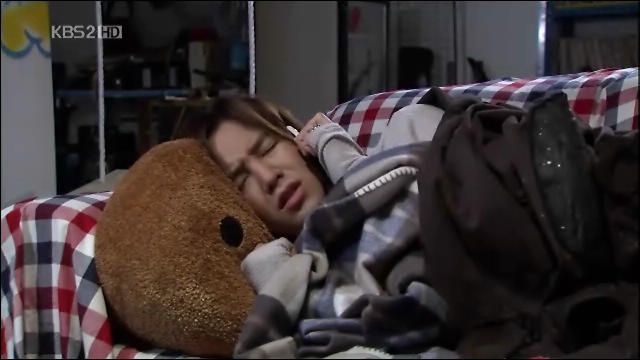 He wonders why it's starting again so early (i.e. her bothering him with the fake marriage issues), and she has a loud conversation that its unfair his time is being encroached upon, they should demand a four day, three night trip to make up for it. In fact, the time division isn't equitable at all – from now on, 9-3 should be with Jung In, one hour for travel, and 4-10 with Mu Gyul. During this conversation, Mu Gyul wonders what the heck she is yammering about. Plus she's speaking extra loudly and punctuating every other sentence with a honey endearment.
Jung In agrees to the new wife-share terms, but asks Mae Ri to do her best during this trip. She's clearly unaware that he's changed his end goal with her. Jung In leaves Mae Ri at the country estate while he runs off to an emergency meeting. Mae Ri notes that the place seems familiar somehow, and she sees a picture of her parents with Jung In's dad, who walks in at that very moment. He stares at his first love's doppelganger a few seconds too long for my taste, but let's accept that he just wants her for a daughter-in-law.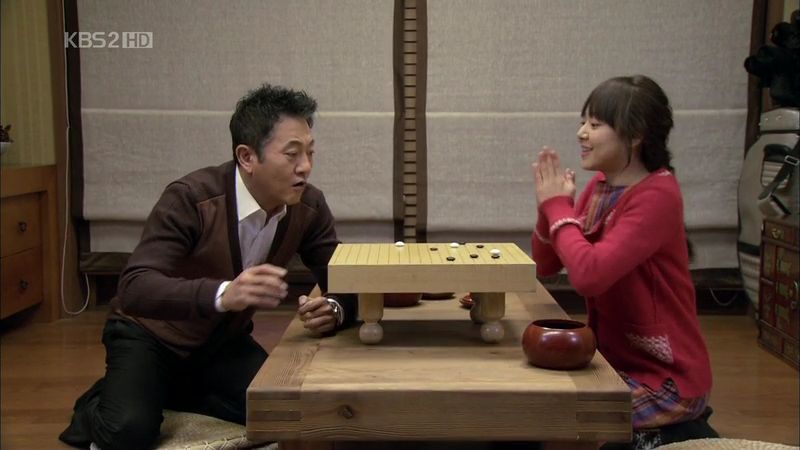 Jung In goes to the office to meet with the lead actors. While Seo Jun is willing to wait, the other actor and his bitchy manager is not. Jung In's dad tries to hang out with Mae Ri, but she doesn't know any of the activities he suggests. They end up playing a game where they flick black and white Go pieces off the board. Jung In comes back to find his dad and wife enjoying each other's company.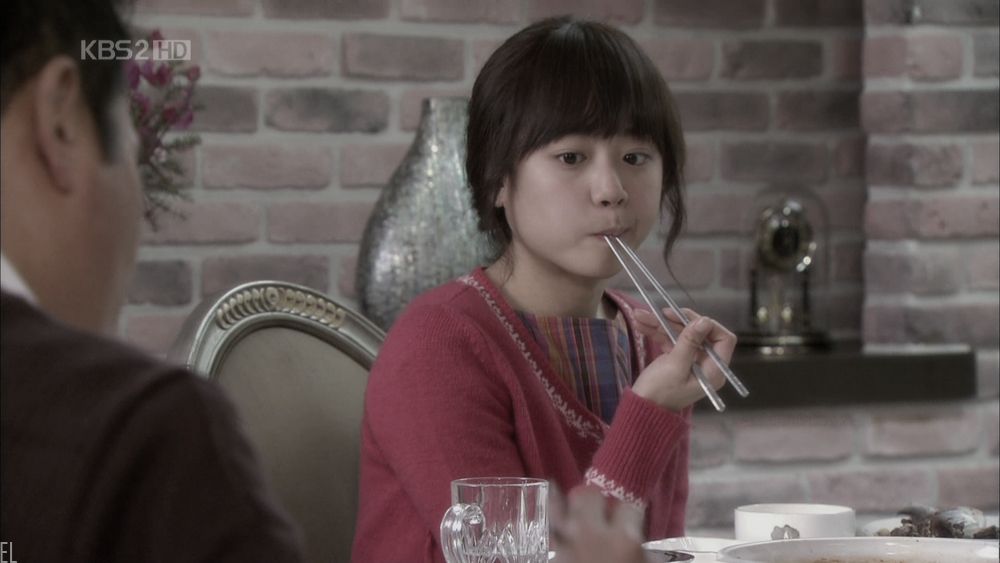 Jung In helps serve his dad a separate meal, and Mae Ri's inquiry leads to the knowledge that Jung In's dad is recovering from successful cancer removal surgery. The dinner is a too quiet, which leads Mae Ri to note that her dinners with her dad are loud and boisterous. Jung In leaves to take a phone call, and Mae Ri asks Jung In's dad about the meaning of a Japanese phrase she read in the script.
Back at the land of Mu Gyul and puppies, Mae Ri's dad has tracked him down to his apartment and is there to inform him that he's not a suitable husband material for Mae Ri. Mu Gyul laughs and can't believe he has to endure this. He gets called out to meet his mom, and leaves Mae Ri's dad with a request to please discuss this issue with Mae Ri going forward.
Mu Gyul's mom has just ended another relationship and is depressed. Mu Gyul asks her what's more important: love, trust, or hope. When she answers love, Mu Gyul tells her that loyalty is the most important thing. She thinks about it and agrees, saying that she'll find a loyal guy in the future. She asks where Mu Gyul heard this from.
Mu Gyul mentions the girl she met outside his apartment the other night, which his mother calls "the cute puppy-like little girl". Mu Gyul confesses that she's different than other girls, she's a loyal person. She asks why doesn't he date her, and Mu Gyul responds by saying that he doesn't see her as a woman.
His mom asks if they should live together going forward. Mu Gyul's face lights up, and asks if she means it. She apologizes for giving him such a lonely upbringing, being raised by relatives. He tells her not to feel bad, people are solitary animals destined to be alone anyways. Mu Gyul tempers her offer of living together by saying that she'll just leave again if she meets another man. His mom promises it won't happen anymore – loyalty is what she'll subscribe to from now on. He offers to buy her ice-cream.
Their mother-son dynamic is completely loving but without any responsibility. It's likely Mu Gyul's coping mechanism for his mom's flighty ways. This is hammered home when his mom gets a call from her lover and she runs right out of the shop without telling Mu Gyul. He turns around from paying for the ice-cream and sees that she's nowhere in sight. It's a horrible situation, and his apathy makes my heart weep for how many disappointments he must have suffered to get to this point where nothing she does affects him.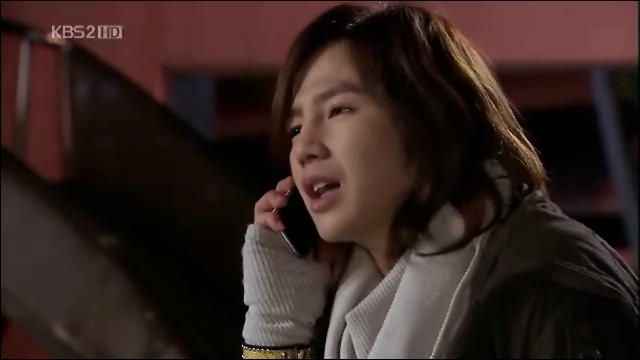 Mu Gyul wanders off the park to eat the ice-cream alone (I love it when he licks the cap like a cat, and then shivers from the chill of eating ice-cream on such a cold day). A call comes in and he excitedly wonders if it's his mom. His face falls to see who the caller is, and he answers to talk to Mae Ri. She's doing her standard "chagi-yah, I miss you" dog and pony show for Jung In's benefit. Jung In looks slightly perturbed, but more likely caused by his financing getting rescinded if he doesn't win Mae Ri than any genuine affection for her.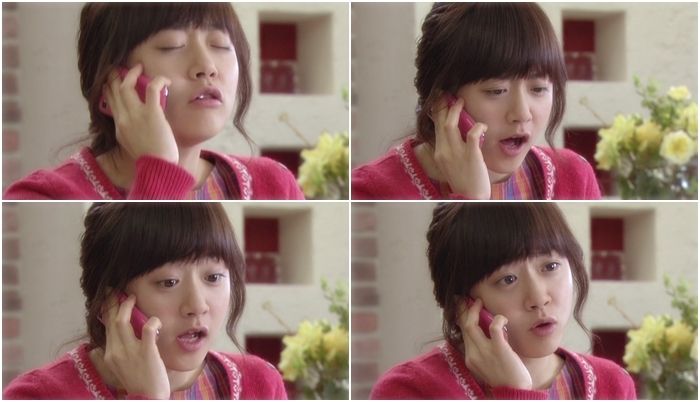 Mu Gyul asks Mae Ri to cut it out with the excessive chagi-ing, since it gives him the goosebumps. She ignores him and continues with the sweet talk, which makes Mu Gyul declare that she's a great actress, ready to win the Daesang now (love the cute Moon Geun Young as best actress winner call-out). Mae Ri reminds Mu Gyul that loyalty is most important above all else (hinting at his loyalty to her through these 100 days), and concludes with her promise to be loyal and support him through everything. This leads Mu Gyul to suddenly get very quiet, and Mae Ri ends the call with a fast "I love you!"
Seo Jun is at a swanky bar and her colleagues from the drama come to celebrate her birthday. Her co-star gives her expensive jewelry as a present, and gets on stage to sing a song in English for her. She's not interested at all. She gets a text from one of Mu Gyul's bandmates wishing her a happy birthday, and she leaves the bar mid-song to go find them.
Back at the country estate, Jung In's dad tries to get him to end the drama production and take over their financial business. Jung In refuses, he wants to see his venture to the very end, and he's taking the same determination with respect to this marriage as well. This leaves his father placated, and Mae Ri's dad arrives at this time.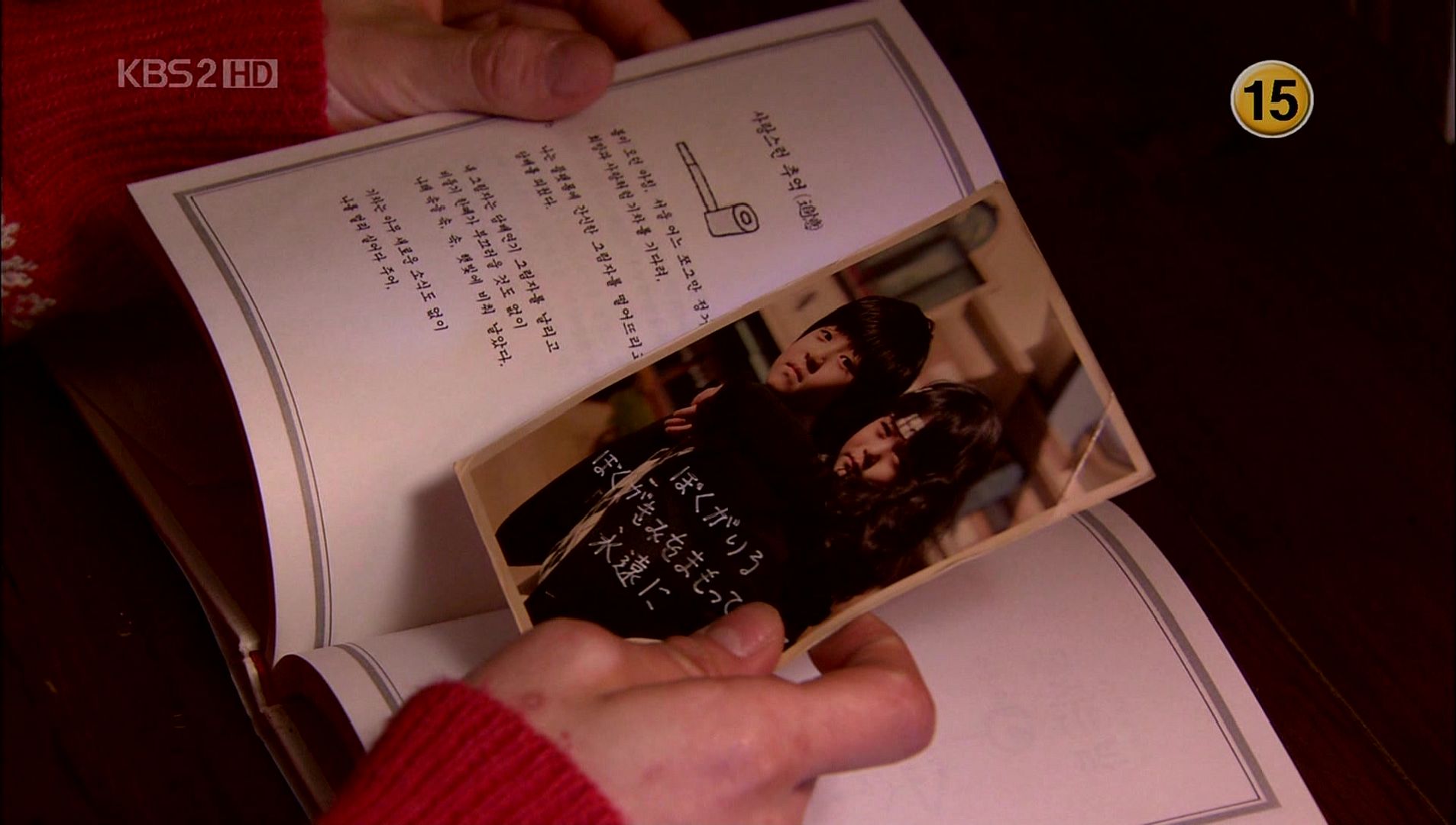 Mae Ri goes to explore the house, and finds a room with some old furniture and books. While flipping through a book, she finds a old picture of herself being piggybacked by a slightly older boy. Jung In enters to find Mae Ri and the picture, and neither can remember the situation leading up to the picture being taken. There is a note written in Japanese on the picture: while I am here, I will protect you, always.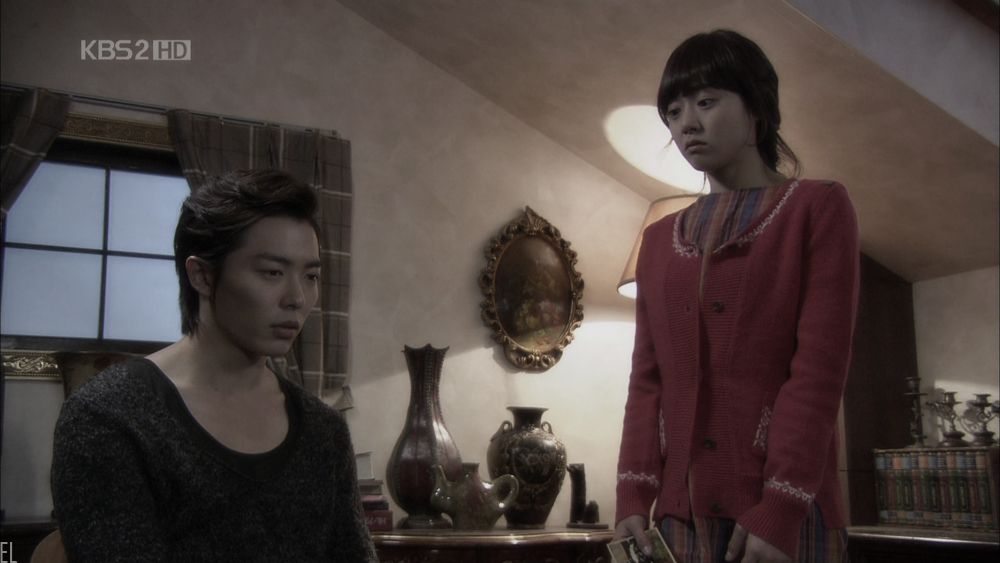 As they are walking back to their rooms, Mae Ri asks Jung In why he doesn't remember the picture since he was already 8 years old at that time. Jung In confesses that he has no memory of his life before he was 8, and doesn't particularly want to find out about his early life. She notes that they appear to be fated, since they met at this country estate 20 years ago already.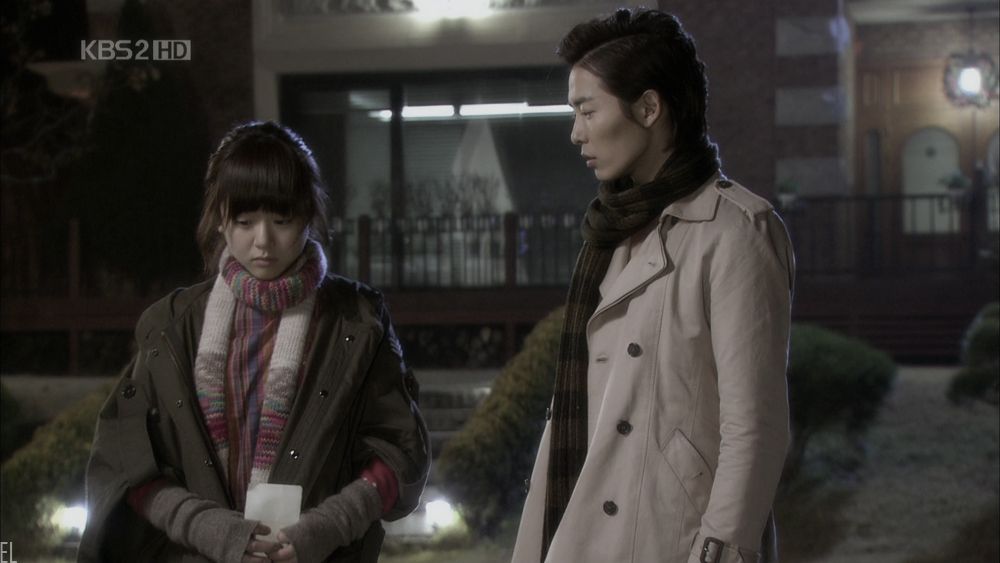 Jung In takes the picture and remarks that its actually quite romantic. But he doesn't care about that. He tells Mae Ri that he will make their marriage a reality, which shocks her since it contradicts what he initially said to her. He tells her that he will have to accept her choice of him. She reminds him that she will not choose him, and that she already loves someone else.
She turns to leave when her foot gives and she falls to the ground. Jung In looks a tad bothered but then picks her up and piggybacks her back to her room. Wow, three piggybacks for Mae Ri (four if you count her dad) in four episodes – must be a new K-drama record. The dads watch the piggyback with an expression of happiness that their scheme appears to be gaining traction.
Mu Gyul's reading a book back at his apartment when he comes across the story Mae Ri wrote to explain their love affair, which she gave him to memorize and coordinate their stories. It's a florid and overly dramatic recitation, which gives Mu Gyul more goosebumps. But he continues reading and laughs at her penchant for romanticizing everything like the avid drama-fan she is.
He's so cold that when he sees Mae Ri's one pink mitten and his half-completed blue mitten on the table, he puts them on and smiles. He gets called out by his band mates, and arrives to find Seo Jun there (she shares her birthday with another of the band mates). Mu Gyul takes a drink and openly mumbles about how awkward this is.
The other band mates want to leave but is stopped by both exes. Fortified by drink, Seo Jun asks Mu Gyul point blank to resume their relationship, which ended a year ago. He tells her that once a relationship ends, he never goes back. The other band guys watch on in dismay and embarrassment for Seo Jun, who calls Mu Gyul a bastard, and gets up to use the rest room.
The guys ask why Mu Gyul is so cold-hearted, rejecting her without even a second's thought over the proposition. He responds that he's married to his Merry Christmas, isn't he? Which leads the guys to wonder if Mu Gyul is falling in love with Mae Ri. Mu Gyul doesn't want to talk anymore and walks out. Ooooh, things are getting so good.
Mu Gyul walks out and sees a text that is still not from Mae Ri, which leads him to say under his breath "Mae Ri is staying out all night." He sees some drunk guys harassing Seo Jun and steps in to protect her, punching them out and taking Seo Jun away. She stumbles and he gently asks her is she's fine. She says that she's not fine, and she hugs Mu Gyul with tears in her eyes, while Mu Gyul has a conflicted expression on his face.
Returning to the land of convenient and random foot injuries, Jung In is placing a warm compress on Mae Ri's injured foot. She asks why he's changed his mind about their marriage, and finds out that its both for his business and because his father's desires it so. Mae Ri realizes that Jung In is a quite a filial son, to which Jung In replies that his father is like a god to him, a benevolent and cruel god.
Mae Ri grabs her phone, likely to call or text Mu Gyul, and Jung In takes it away. He tells her not to call anymore. She demands to know why, and he tells her that Kang Mu Gyul is now his rival and competition. She says that's not right, and he sits down on the side of the bed and gently caresses her scar. He says, in Japanese, I will protect you, and then bends down to kiss her Harry Potter scar.
Thoughts of Mine:
To no one's surprise except for Mae Ri (because I refuse to believe that Jung In didn't see thing coming from like a million miles away), her marriage to Jung In can't end at 100 days if she doesn't choose him. His future is at stake, and he's going to fight tooth and nail for her to choose him. Plus, if she doesn't choose him, her dad's welfare is also at stake, which Mae Ri doesn't yet know about, but will likely be revealed to her at a critical juncture.
The Mae Ri and Jung In being childhood playmates angle was unforeseen (by me), but again wholly unsurprising when it was sprung on us. Jung In clearly has a lot of emotional issues, and his childhood friendship with Mae Ri might be the key to unlocking whatever hidden demons lurk within. I never doubted that he would genuinely fall for Mae Ri, rather than pursuing her for his drama company's financial future. But this adds an additional layer to their future interactions.
Mu Gyul and Seo Jun's issues are also coming to the forefront. I don't believe he stills love her, but I think he still has residual feelings, however slight, for her. His mommy issues (it is refreshing to see a K-drama hero with a mommy complex rather than the standard daddy-woes) clearly resulted in his attitude towards love, and towards women. It's now understandable that the one woman who can genuine touch his heart and soul is the one woman he doesn't view as a woman, Mae Ri.
I don't dislike Seo Jun at all, actually. I feel bad for her. Whatever caused her breakup with Mu Gyul, its clear she hasn't moved on since then. Too bad for her, he neither has the inclination to rekindle their romance, nor to push Mae Ri aside even as a pretend wife. I love how he thinks about her on the most random of moments, and how their fake relationship leads him to actually develop a real friendship.
The problem I have with Mae Ri and Jung In, right now, is that they know nothing about each other. Whereas each time Mae Ri and Mu Gyul are together, they are asking questions and learning more about each other. I actually find Mae Ri and Jung In's interactions more tinged with a sexy restrained vibe, and the Mu Gyul and Mae Ri moments are more like old-friends hanging out. That doesn't mean I don't fully embrace the MM-ship. I look forward to Mu Gyul and Mae Ri realizing they have romantic feelings for each other, and how that will factor into their crazy complicated lives.
I'm loving M3 like a little part of my heart that is devoted to dramas has been tuned 100% to waiting for the next episode, and unable to parcel out my usual levels of interest in other offerings. I'm sure when Saturday rolls around and I get my new dose of Secret Garden I'll snap out of it. Until then, like Mu Gyul says, "Mae Ri stayed out all night" and a koala can't get no sleep until she comes home.
[Credit: all screencaps from Baidu Mary Stayed Out All Night bar]