The cast of the upcoming Athena: Goddess of War held its press conference today at the Seoul Walker Hotel. It's a little early since the drama doesn't premiere for another two weeks (following the end of Giant on Mon-Tues on SBS), thus I was a little take off guard. But then my Jung Woo Sung radar pinged, and I immediately knew my honey was waiting for me to say hi. Hiiiiii there honey. You're looking mighty fine. And everyone else looks delicious as well, which is how Athena looks to me – a gobbly confection of caramel goodness. Likely zero nutritional value, but ample satisfaction in my mouth and belly.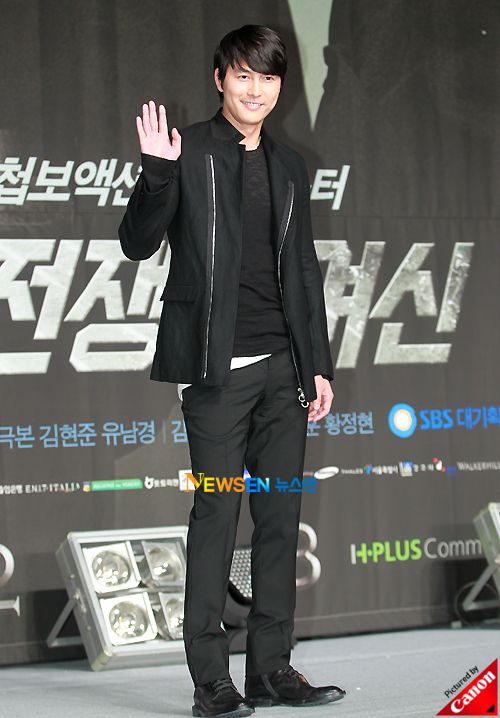 Just reminding everyone – hands off, okay? I don't want to hear any mine, or mine after ockoala has her fill, or I'm fifth in line, or some such murmuring. Tons of K-drama watchers are about to be introduced to Jung Woo Sung, who hasn't been in a K-drama in 15 years. There is a reason why this man only makes movies. So, still just mine.
Gorgeous. Stunning. Classy. Keep repeating these three words over and over again. I love you, Su Ae. I know you be making out with Jung Woo Sung, and I be okay with that. As long as you keep it onscreen, sweetheart.
Cha Seung Won – you bad bad man. You're gonna make me hate you as the dastardly villian, all while imaging your bad sexy ways all heating up my vision, aren't you. You might steal the show from my I Lub You, but I'm okay with that. Let the best man win.
Sorry to be so brutally honest, but I hate your dress, Lee Ji Ah. The blue velvet and its short length do nothing for you. You need long, slinky, and body-hugging jersey, preferably in a jewel tone like amethyst. Even though Su Ae's dress is wonky from the back, at least from one angle (the front) it looks great. Yours fails from the every which way test.
That is how Kim Min Jong gives you the hand. This guy can do any role, ANY, I tell you. Here's he's supposedly the comic side kick. Three cents he turns out to be the ultimate villain. Like I told you, Kim Min Jong can do anything.
What are you doing? Seriously? Si Won, are you pledging allegiance to the flag? Or getting a knighthood? Whatever, none of that matters, because you are adorable Choi Si Won, who is about to use your real life black belt to fulfill your lifetime fantasy of being in a spy thriller. I'm glad your dream came true.
Apparently all the guys are giving the hand. Either its significance is beyond me, or they are all pledging that Athena will break 50% in ratings. It would if Jung Woo Sung was the illegimate son of a baker AND a kickass spy. Just sayin'.
Ladies, you are both ravishing. I can't wait until you two get into a bitch fight onscreen over the guys. Meowr.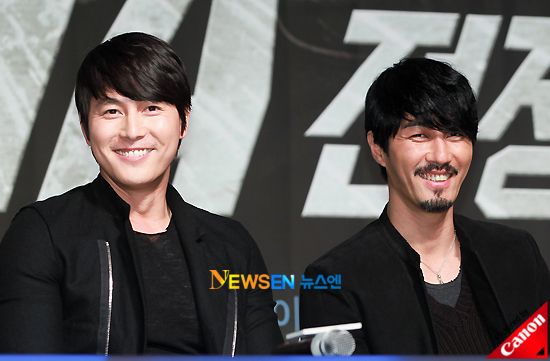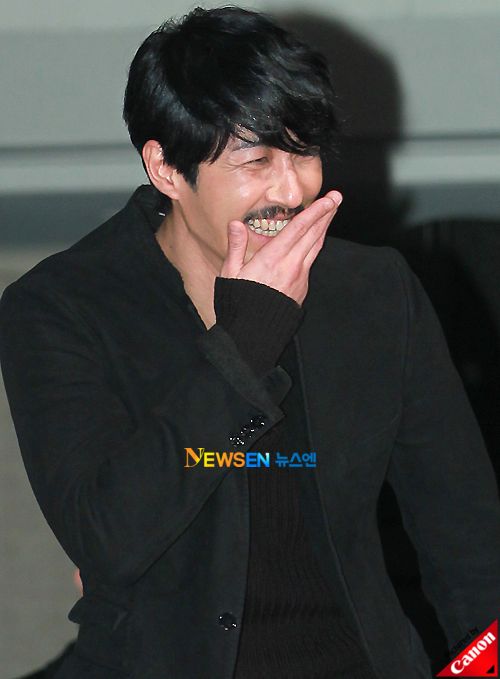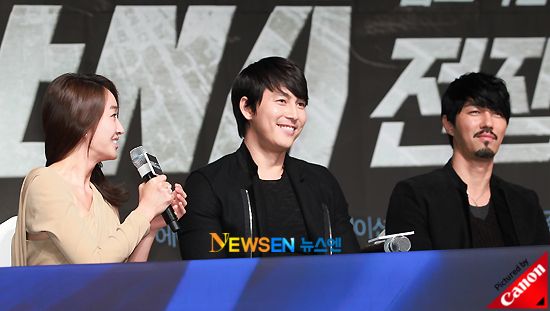 Oh, if you guys are wondering how I am going to recap Athena, what with me recapping Mary Stayed Out All Night already, which will be airing opposite Athena? This just means one drama gets shafted and will be recapped a few days after it airs. I'm willing to take suggestions, but I'm leaning towards keeping my M3 recaps on schedule, and recapping Athena a few days late. Since M3 will be ending soon, Athena will be live-recapped with only a few weeks delay. Of course, this holds true only if M3 continues to tickle my fancy. If M3 goes into the crapper, I'll bump Athena to the front and center. I try not to let my personal feelings (i.e. my all-abiding adoration of Jung Woo Sung) dictate this recap schedule since so many people have been following M3 already.