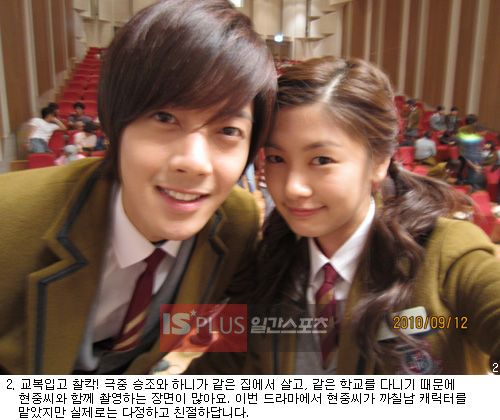 Hola, PKissers! Don't think that I'm a fickle koala, moving on and forgetting all about our darling Ha Ni and Seung Jo, sitting in a tree, K.I.S.S.I.N.G, and making babies. While chatting about Playful Kiss with a drama friend who recently started marathoning it, I reminisced internally about how wonderful the early episodes were – funny, delightful, and refreshing to see in a K-drama.
I hope to do periodic PK posts as the mood dictates, and today mandates a PK post! Behold, the BEST, seriously, the BEST Youtube MV floating out there chronicling the first six episodes of PK. I can watch this video all day long and smile like a loony. My little M3 is throwing me into major angst territory (wahhhh), so what better a picker-upper than enjoying the cuteness that is early days Ha Ni and Seung Jo!
Playful Kiss MV – Love Like Woe by The Ready Set:
[youtube=http://www.youtube.com/watch?v=OM5XLOHV2l8]
As for the PK promotional tour update, Kim Hyun Joong will be reuniting with Jung So Min in Taiwan at the end of December for a 3 days 2 night promotional event sponsored by the ONTV, the network which will be airing PK in Taiwan. A fan meeting will be held, with registration open to a limited number of fans who wish to attend. PK lovers in Taiwan, here's your chance!