Did any of my friends think I would let this drama pass on by without acknowledging it? Not bloody likely – even if my ambivalence and curiosity are waging an internal battle royale. The next sacrificial lamb MBC drama to attempt to break the two year long Wed-Thurs curse (which recently ate up Playful Kiss) will be My Princess, starring Song Seung Heon and Kim Tae Hee. I've been digesting this news for weeks now, and finally feel calm enough to talk about it. Good thing this week the first stills have been released. Just in time for me to ogle the pretty – and my god are these two people gorgeous. Look at his cheekbones, behold her natural winsome charm. I simply love that picture above.
Sadly, I am also of the opinion that neither can act their way out of a paper bag. Actually, between the two of them, Kim Tae Hee might be the better actor. Too bad that between the two of them, I love Song Seung Heon unconditionally and completely am capable of accepting his three-expression acting ability while enjoying whatever crap he decides to churn out. What? He's like my weird kryptonite, I can't even begin to explain it. If I could, I can find a cure. But I can't stand Kim Tae Hee on screen. She makes my head hurt.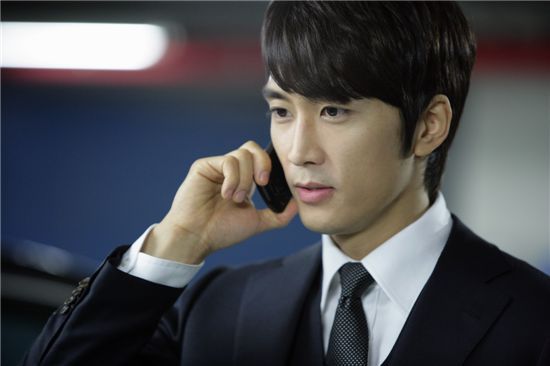 This dichotomy left me reeling for a few weeks, until I made the decision to just go with the flow. I recently had a change of opinion about the acting abilities of a few actors I used to actively dislike, happily discovering that their new projects changed my mind about them. Hope this one changes my mind about Kim Tae Hee, because I think she's beautiful, classy, and smart – everything I love in an actress. If she found nuance and technique in her acting, she'd be the whole package.
My Princess will be written by Jang Yang Shil, the protégé of Kim Eun Sook (currently her Secret Garden is doing a gangbuster ratings climb). Jang most recently assisted her in On Air, and its been mentioned that KIm Eun Sook may provided mentorship and moral support to Jang on her first solo venture.
It's the story about a college girl (Kim Tae Hee) who discovers that she is not an orphan but is instead a real life princess, and a chaebol grandfather hires his diplomat grandson (Song Seung Heon) to school her on etiquette and diplomacy. The premise sounds so lame even I have trouble accepting that it will be interesting. But since I will watch Song Seung Heon in anything, My Princess and I have a date for January 5, 2011, when the drama premieres on MBC.