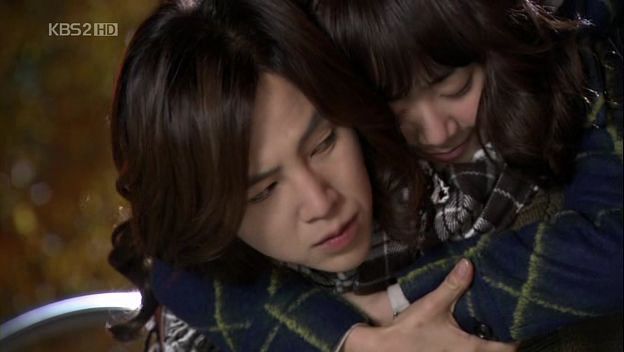 Hee. Hee hee. Hee hee hee. Life is good. Whatever drama crack the Mary Stayed Out All Night (Marry Me, Mary!) writing team is smoking, they really are keeping us on our toes. These spoiler pictures from the upcoming episodes of M3 is really an extension of the pictures I posted earlier. But this time it's pretty clear what the mood is around them parts. And the mood around my neck of the woods is sheer bliss.
Did you see it? Mae Ri has her arms wrapped around Mu Gyul as he is playing the guitar, and her head is resting on his shoulder. Normally this is nothing, since they are pretending to be married. But after bombshell in episode 7, they are no longer pretending to be married! Which only means that whatever is happening on Nami Island, it's of their own volition and not for show. Yes, I am indeed as happy as a clam.
M3 released two new songs today off its upcoming Part II of its OST (to be released in mid-December). It includes the song which I translated the lyrics for earlier – it's called "She's Mine" (seriously, M3 is such a fan service I might get spoiled by all this uber-love for the M&M couple). The second song is called "Because of Her." Have a listen if your curious. I like both very much.
She's Mine:
[youtube=http://www.youtube.com/watch?v=e60CbRFZu-Q]
Because of Her:
 [youtube=http://www.youtube.com/watch?v=da2HULzoddM]