MBC is gearing up for the premiere of My Princess in three weeks. In addition to the gorgeous stills just released today of Song Seung Heon and Kim Tae Hee's romantic date in the drifting snow, the first teaser trailer has dropped. Please hold on to your trousers, it's but a glimpse and nothing more, though it does reveal what tone this drama is taking.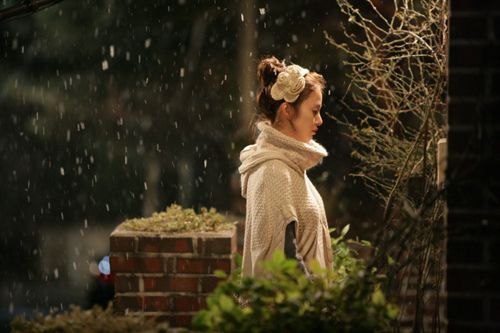 What I am shocked at is how goofy and screwball it all seems. Yes, the premise of an older college girl Lee Seul being the lost-lost princess is as screwy as it comes, but Goong took the fantasy Korean royal family conceit and wrapped it in a tidy mix of serious and silly. I don't see anything serious in My Princess, just based on the trailer alone. I mean, the trailer already shows Song Seung Heon's rock solid 12-pack abs, for god's sake! Not that I am complaining.
Teaser trailer for My Princess:
[youtube=http://www.youtube.com/watch?v=wwZcxGtTeZA]
I have a feeling that I may actually not be annoyed by Kim Tae Hee in this drama. Her attempts at dramatic expression always fall flat for me, but her comedic side may just be the side of her I can enjoy. It looks like her lost-princess Lee Seul is all sorts of ballsy and wacky, and I'm hopeful that both the performance and the character really mesh well and brings this drama to life. Song Seung Heon – I continue to just soak him up like water to a sponge, not caring what attempts he brings to honing his acting craft. If he gets better in My Princess, that's the icing on my cake.
[Credit: official stills released from MBC, screencaps for the teaser trailer for Song Seung Heon's DC gall and from Baidu My Princess bar]