I've watched both episode 1 and 2 of Athena: Goddess of War. I was so distracted by a multitude of work and holiday stressors swirling around me that episode 1 pretty much went over my head. I was bored. Watching Jung Woo Sung! This is not acceptable. Episode 2 was slightly better, but only because they paraded my honey around like James Bond and then gave him some angst with respect to his ex-girlfriend Lee Ji Ah.
If Athena turns out to be crap and I am legitimately unable to find merit in the drama, then so be it. But I simply wasn't able to watch it with my undivided attention. I found the story overly convoluted, the situations beyond implausible even for a spy thriller, and the narrative construct not quite gelling. Much as I liked this cast better than the cast of IRIS, the latter had a much better qualitative start, all things considering. Athena looks even more high-quality than IRIS, in terms of the scale and scope. The cinematography is on par with any US television show. I just have this niggling feeling that its weakest link will be a gripping cohesive story. I hope I am wrong.
So I've decided not to watch anymore Athena until after the New Year, which also makes sense considering I have to take a 10 day hiatus at the end of the year from dramas and my computer anyways. I much prefer to marathon Athena, when the plot has time to coalesce and I have a better sense of the narrative momentum of this story. I will watch this from beginning to end, but my recapping it seems unlikely now. Since I have nothing more substantive to say about Athena, how 'bout a picspam post of my I lub you with his two sets of OTPs in this drama?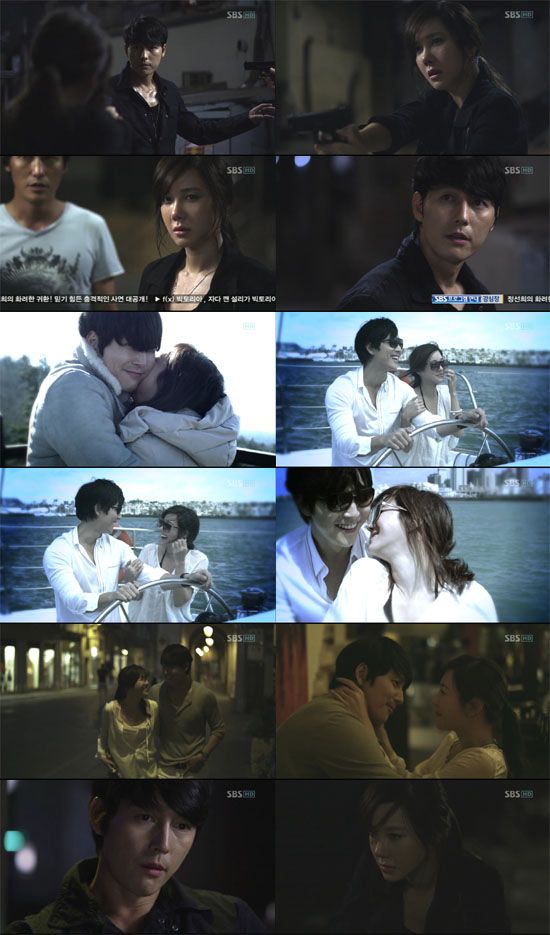 Lee Ji Ah plays Jung Woo Sung's ex-girlfriend, also a member of the National Intelligence Service. Su Ae plays Jung Woo Sung's current crush, and future love interest/double-agent nemesis. It appears that Su Ae may have a crush on her boss, Cha Seung Won. And trailers show Lee Ji Ah and Cha Seung Won doing the horizontal mambo in bed. Ladies and gentlement, we have our messy four-square!
If I change my mind about starting Athena right now, I'll let you guys know, likely in the form of a post or a recap. Until then, this is simply my cursory first impression on the drama. It wasn't what I had hoped for, but there is plenty of time to get the party started.