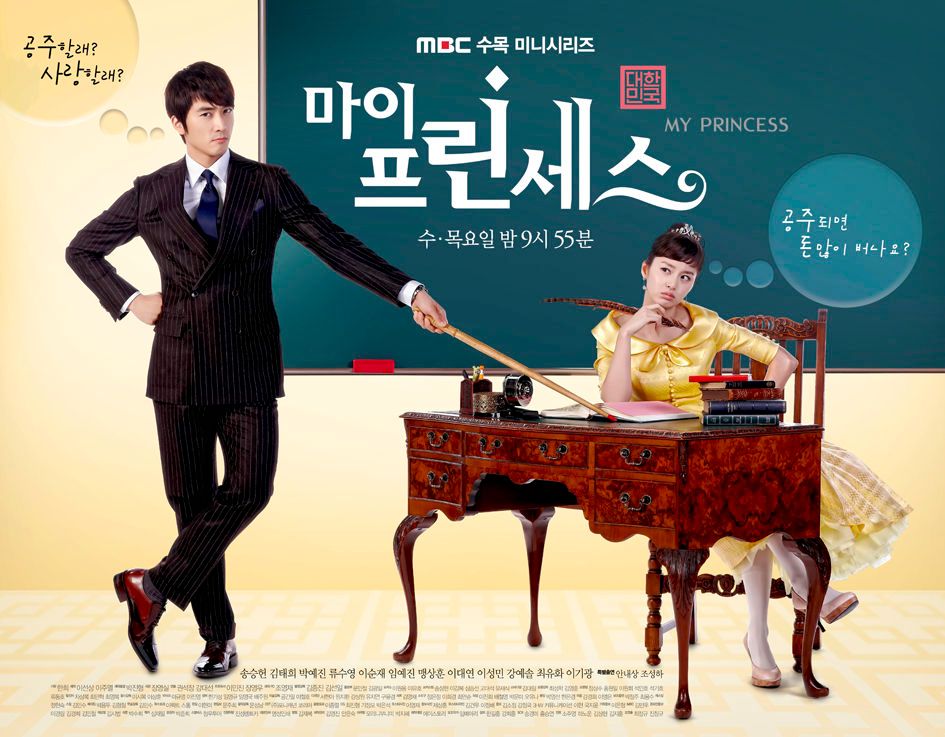 It's the first week of 2011, and also premiere week in K-dramaland. A spate of new K-dramas are making their bow this week in various time slots, and I'll likely check out the first episodes of the ones which interest me (in addition to catching up on some great currently airing dramas I've put on hold during the holidays).
I've already posted about KBS's Mon-Tues offering Dream High, and now it's time to check out the official goodies from MBC's Wed-Thurs production My Princess, starring Song Seung Heon, Kim Tae Hee, Park Ye Jin, and Ryu Soo Young. Above (which is my favorite of the bunch) and below are the official drama posters.
The written preview for episode 1 is out:
Diplomat Park Hae Young, while conducting a diplomatic meeting with foreign guests, has an unpleasant run-in with Lee Seol, who is working a part-time job. Afterwards, they coincidentally run into each other at a department store. Hae Young is shocked by Lee Seol's unusual request…..
On the other hand, the Blue House (the Presidential office) makes an official announcement that it intends to use the Prime Minister's power to force the citizens to vote on re-instating the Korean monarchy.
After this news is announced, the President of Daehan group, Chairman Park, tells his grandson Hae Young about "the existence of a person he owes a debt to", and asks Hae Young to immediately start looking for that person….
There are two sets of official character stills released by MBC. The first set is above, and the second set is below. As much as I am a total Song Seung Heon fangirl, the most interesting character conveyed via the stills is Ryu Soo Young's archeology professor. I have a total thing for Indiana Jones, and Ryu Soo Young is channeling both the nerdy professor and the swashbuckling adventurer. Suddenly everyone else looks meh, and I'm already second lead shipping. Doesn't hurt that Ryu Soo Young is back from MS looking HOT. What two good years of military service can do for a movie star's physique. Rawr.
I'm sure once the drama airs, I'll be back to snuggling up against the computer to be in closer proximity to my robot oppa. I also find comedy likely suits Kim Tae Hee, as her facial expressions in the stills and the previews don't annoy me. Her attempts at serious "acting" is what really pushes all my hate buttons. Now have another trailer for MP!
Second trailer for MP:
[youtube=http://www.youtube.com/watch?v=dUDlpnNtkRk]
To be honest, I'm not really feeling (my) love for MP. But with no expectations and a low chance that this drama (or any drama) can be more insane than Mary Stayed Out All Night was towards the end of it's run, I'll be watching MP with an open mind and a mild hope that it'll turn out to be entertaining fluff.