No doubt in my mind – the cutest onscreen couple I have ever watched in any K-drama. Oh, bring on the pitchforks people. As much as I unabashedly love Kim Hyun Joong–Jung So Min in Playful Kiss, the natural acting talent of Jang Geun Seok and Moon Geun Young vaults this onscreen duo to the forefront of the pack. Now that the KBS Drama Awards are over, I've finally compiled a set of stills from the awards that show how adorable the Geun-Geuns were during the ceremony.
It's too bad that Kim Hyun Joong and Jung So Min barely interacted during the MBS Drama Awards the day before, because it's always a treat to watch a beloved onscreen couple reunite in real life. Especially dressed to the nines and looking so gorgeous together. Sigh, I don't envy the next actress that gets to act with Jang Geun Seok – I am going to have a hard time not comparing her to Moon Geun Young.
I really don't care that the plot of Mary Stayed Out All Night went to hell in a handbasket. A week later, all I can remember are the sweetest of moments between Mu Gyul and Mae Ri. That's a wonderful feeling, none of the bitterness, all of the happiness it brought me.
I'm waiting for my M3 Part II OST to arrive in the mail. The fact that I went ahead and bought it when I declined to buy Part II of the You're Beautiful OST speaks volumes about how much I adore this coupling. I also have selective amnesia, and am able to block out everything crappy about M3, retaining only what I love. I suggest all M3-fans develop this ability ASAP.
It was also reassuring to see them both enjoying themselves during the awards ceremony. Joking, laughing, and generally in a happy mood. Especially after the insanity that was the M3 shoot for the last few weeks.
I still get bombarded with people shrieking when they find out that the new writer intended to kill Mu Gyul off in episode 15 of M3. The evil part of me now wonders what type of fan-pocalypse the writer would have created had she accomplished her goal?
When Moon Geun Young won the Top Excellence Actress Award for her performance in Cinderella Unni, the picture below is the look on Jang Geun Seok's face as he watched her give her acceptance speech. Tenderness, happiness, and a sense of pride for his co-star. I am not fanning any shipping flames, only noting that they really seem to be friends now in real life, which is really lovely to see since they just seemed to melt so naturally into each other onscreen as Mu Gyul and Mae Ri.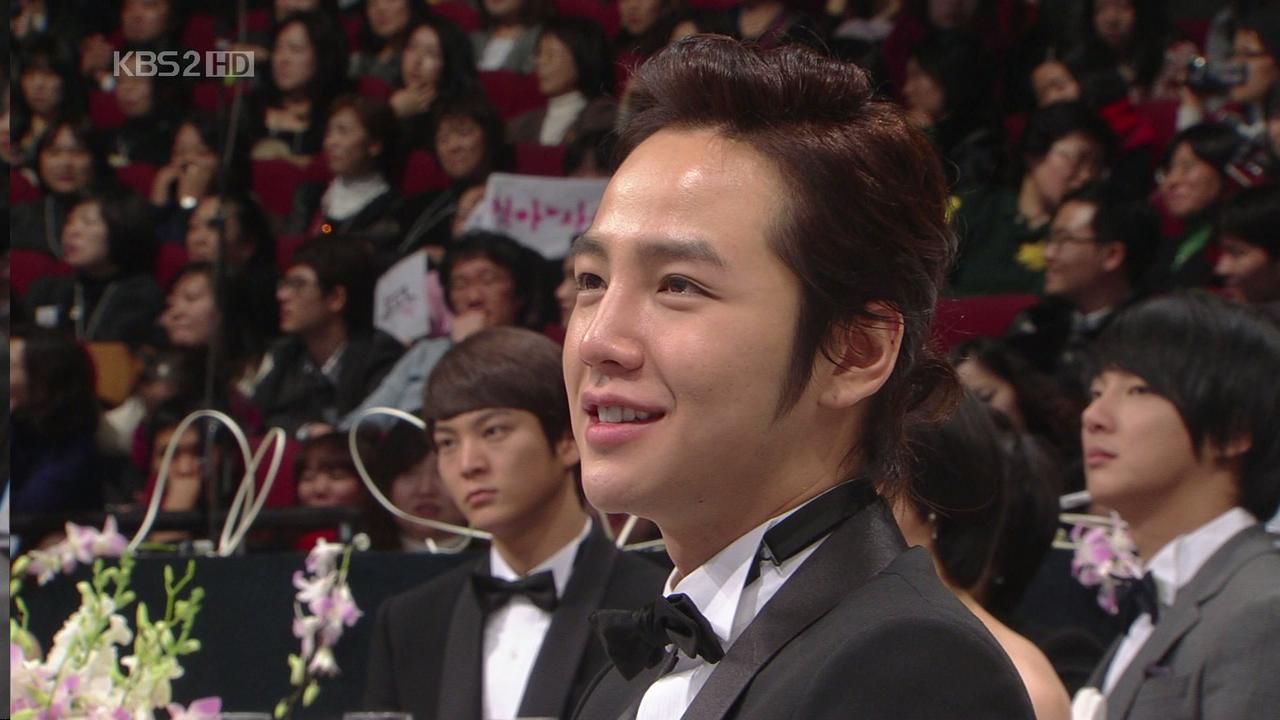 I clearly haven't moved on from my Geun-Geun love, and unlike PK, which gave me seven additional Youtube episodes to spend with Ha Ni and Seung Jo, I've been left in a lurch from abrupt M3 withdrawal. Here's to hoping that 2011 brings great personal and professional accomplishments for the two actors who took me for a wild and joyous ride.
Can I just end with a teasing aside? They really are coordinated so perfectly – it looks like they are headed to get married. 🙂 Lots of folks still post comments about how much people are missing our Holiday Couple. You're not alone. Me, too.