I always say – every New Year is welcomed with a piece of shocking news. 2011's first big humdinger comes courtesy of J-pop. I left Japan just one day too early, otherwise I would have woken up to this news rather than read it three days later. The undisputed Queen of J-pop (for over a decade running – this girl's got real drive and focus) Ayumi Hamasaki up and got herself hitched in a quickie Las Vegas wedding on January 2, 2011! Cue men all over Japan weeping tears and self-flagellating.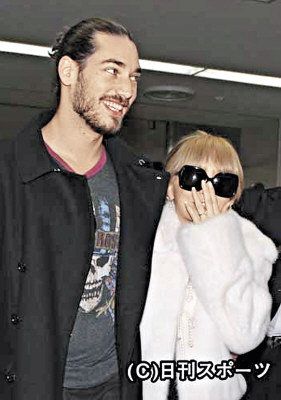 Ayu married herself an Austrian actor by the name of Manual Schwarz, who worked with her on the "Virgin Road" MV back in the Summer of 2010. The picture above is the happy couple arriving at Narita Airport yesterday, with Ayu flashing her bling for the press hordes.
You can't have a quickie wedding without the entire world assuming it's for shotgun purposes, but there has been no confirmation or denial of a baby on the way.
Ayu was the opening act at Kohaku 2010 (紅白歌合戦), prior to jetting off to get hitched. Girl is a dedicated professional if anything. Alas, the ladies lost yet again, meaning the streak of White Team victories stretches into its 7th year, which is the longest stretch of victories by one team since Kohaku started.
Embedded below is the Making of Virgin Road snippet, where you actually see Ayu's new husband introduce himself to her. It's adorable that the world watched their first meeting. Best wishes to Ayu for a long and happy marriage. God knows we need more of these in the entertainment world.
Making of Virgin Road:
[youtube=http://www.youtube.com/watch?v=C-45nxEvwq4]