My Princess may be all about the OTP, but Dream High is all about the love triangle. Six episodes in, I not only haven't and can't pick a ship (well, I pick a ship at the end of this post, but may be subject to change), the drama is being stingy by keeping both boys on a level play field with respect to screen time and wonderful character development scenes with their leading lady. A great love triangle is that quintessential double-edged sword – you love it because it's so juicy and thrilling, but you hate it because you are kept in a state of constant emotional limbo.
In any romantic plotline, the viewer is already curious as to how a couple gets together (the whys and hows), but when the drama throws in the giant if, it compounds the stake exponentially. Some of my favorite dramas, to this day I still have arguments with friends about who the leading lady loved, guy 1 or guy 2. DH can either have a Nobuta wo Produce ending, an Over the Rainbow ending, or it's own twist on the "one girl, two guys, who's gonna get her" age-old conundrum.
To help myself sort out the tangled mess, I hereby bring the first ever Jin Gook v. Sam Dong Love Tally (this is up to episode 6). I break down how they stack up against each other.
SD: Pulled then-a-stranger Hye Mi onstage to duet with him
JG: Rescued then-a-stranger Hye Mi from debt collecting thugs
SD: Took her to the outhouse and waited with her, listening to her sing
JG: Barreled into Hye Mi on the train and dipped her in a flourish
SD: Even though he was the one potted on the head, he put Hye Mi on his hospital bed when she slept, and he sat next to the bed and watched over her.
JG: Gave his shoes to Hye Mi, but she rather wear empty tissue boxes thank accept his help.
SD: Fell into mad adoration of her within a 24-hours span of meeting her
JG: Has adorable childhood story with her – whereby he was getting dropped off at the orphanage and met her, and she give him his fake birthday as Christmas eve, and sang a birthday song for him
SD: Chases after Hye Mi on a departing bus, and daydreams that he had the guts to kiss her.
JG: Gets beaten to a pulp by the debt collectors who are after Hye Mi because of her dad's outstanding debts.
SD: Took a leap of faith based on her throwaway claim that she liked him, following her to Seoul and enrolled in Kirin High
JG: Gave her half of his earphones to tune out the naysayers around her
SD: Punched out Jin Gook for exposing to the class that Hye Mi had Baek Hee's K pendant
JG: Put a helmet on her so she could cry without being seen
SD: Took a flower pot to the head to protect Hye Mi
JG: Got Hye Mi to give up her sudden dependency on the K-pendant
SD: Was made over by Hye Mi, and listened to her childlike insecure side show up when her father called her
JG: When he saw Hye Mi putting umbrellas to cover his motorcycle, he picked up and umbrella to shield her from the snow
SD: Painted over the evil Hye Mi mural, transforming it into the angel Hye Mi mural
JG: Wiped blood off her hands when she was at the hospital worried about Sam Dong
SD: Tried to protect Hye Mi against her daddy's debt collectors
JG: Ran after Hye Mi and held her in the middle of the street against passing traffic
SD: Hye Mi hugged him for saving her life
JG: Hugged Hye Mi to comfort her
SD: Hye Mi smiles a lot when she is with Sam Dong
JG: Hye Mi cries a lot when she is around Jin Gook
SD: Dreams about singing a duet with Hye Mi
JG: Makes pact to debut onstage with Hye Mi
Both Jin Gook and Sam Dong are generally too awesome for words, and I love how much I adore Hye Mi and think she is good and good enough for both of them. Yay for a compelling love triangle – the first I've seen in a long time from any drama.
For those of you who have asked, I think DH reminds me a lot of What Happened in Bali, ONLY in the sense that there is one leading lady and two leading men, without an ability to suss out which of the two guys is the real lead. Yes, Kim Soo Hyun's name comes right after Suzy, but that really doesn't mean much since Taecyeon's Jin Gook has got way more screen time at this point.
Furthermore, the subject of the drama being the pursuit of dreams as well as a coming of age story, Kim Soo Hyun could absolutely be the lead, and still not end up with Suzy. Like I said before, if he's K, then he gets the fame, and likewise Jin Gook probably gets the girl. Or vice-versa. Which would make both guys have a equally riveting character arc, and make the equals and not necessarily lead one version lead one. Does that make sense? No use saying that Sam Dong's gonna get the girl because pre-press reports make it appear that Kim Soo Hyun was the male lead.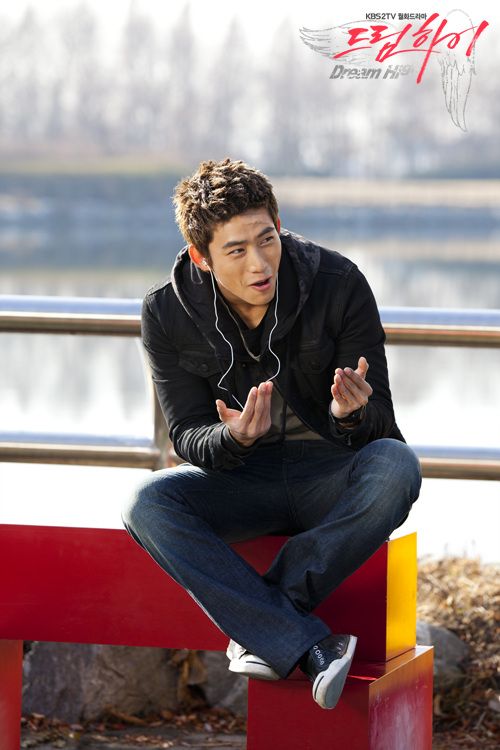 I love how the misfits-become-stars storyline is actually well thought out and compelling, marrying the emotional (family torn apart, leaving home to pursue your dreams) with the realistic (jealousy, failing first in order to succeed later) elements of achieving a dream. Aside from Baek Hee, who I find a very hard to stomach character, I genuinely like and enjoy spending time watching all the other main characters. Eom Ki Joon is nailing it big time as Teacher Kang, whose confidence and experience grows from helping these kid.
It's so rare for a drama to start off with four episodes of just okay, and then in two short episodes become mindbogglingly good. I'm dying for my next DH fix, which was curtailed this week with only one new episode of DH. However, today's new episode convinced me that I need to raise my own stakes in this drama. I know I just wrote an entire post about loving both boys and being unable to choose, but I've decided after today's episode 7 that I need to choose. I reserve the right to change my ship, even from episode-to-episode, but for now. I have decided to be on Team Sam Dong-Hye Mi (SamMi, as opposed to MiGook).
Why? Because I'm currently pissed at Jin Gook, and because Sam Dong was too adorable for words in this episode. I hereby present to you a picspam of SamMi cuteness in episode 7 of DH in honor of my picking my DH ship: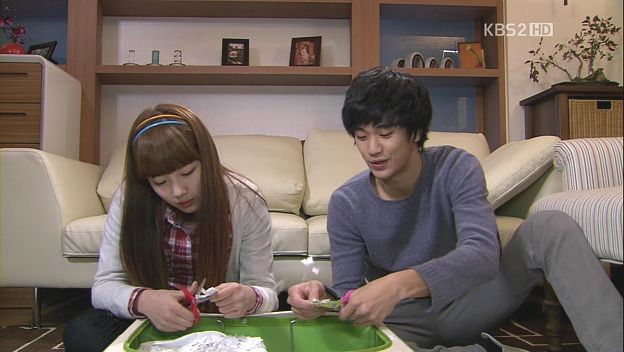 An arts and craft session turns into a prime opportunity to snuggle the girl of your dreams. Sadly Sam Dong has no clue what to do, except adorably cradle her and shush Jin Gook when he comes by.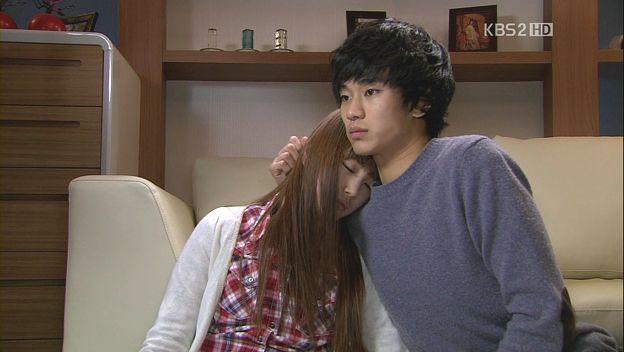 At the fake show case, Sam Dong confesses that his mom was told that his relationship to Hye Mi was akin to Chun Hyung with Mong Ryong. LOL, boy has got some storytelling skills. Hye Mi agrees to pretend to his Chun Hyung for the day. Yay! They dress in contrasting black and white, and hold hands to go on stage and sing a duet. But not before Hye Mi tries to give him a high-five, which Sam Dong mistakens as an attempt to hit him and/or a call to salute. Poor simple little adorable boy.
Their entrance and outfits were understated and perfect – especially when contrasted with Baek Hee and Jin Gook's tawdry little number at the real show case.
Yup, SamMi are my sweet cute darling (for now). Jin Gook has to do some serious groveling before I deem him worthy enough to get back into Hye Mi's good graces.