Pictures spoilers for the upcoming episode 9 of Dream High after the jump. I have to say that I've missed this feeling of wanting to go to sleep early so that I can wake up to watch a new episode of a drama. DH is my latest obsession, and its proving itself episode-by-episode to be worth my growing devotion to it. The story is really ramping up, and each episode the kids develop their talents further and push their own emotional maturity one more step. I love it.
This is freaking adorable! What is this, the K-drama version of Black Swan? With Team Misfits as Odette and newly-minted pop group K as Odile? I totally dig how fierce yet cute Team All White looks. And Team All Black is all edgy and poser-ish, and so easy to hate on. Heh.
For those of you looking for Sam Dong to grow in sophistication, intensity, and maturity – I think we're about to meet Sam Dong 2.0. Why? Because at the end of episode 8 we got a 200 day time jump. While its clear that Jin Gook is the same guy he was, and still got Hye Mi in his heart, his rival Sam Dong is very clearly NOT the same guy he was 200 days earlier. Just looking at his new piercing look and hot dance moves, I don't see the country bumpkin anymore.
Everyone and their mothers to continue to love Pil Sook and Jason, myself included. They are so innocent and pure, and I hope they become better friends before Jason falls for newly thin Pil Sook.
Team All Black looks like they wandered off the set of a bad sci/fi movie. But I'm sure they'll bring it on the dance floor.
All I can say is – Team All White FTW! And I am more and more convinced that SamMi is the end game. But that could be my wishful thinking speaking out loud, and the fact that my brain was stunned into submission from re-watching Kim Soo Hyun dance with Suzy at the end of episode 8 on constant repeat.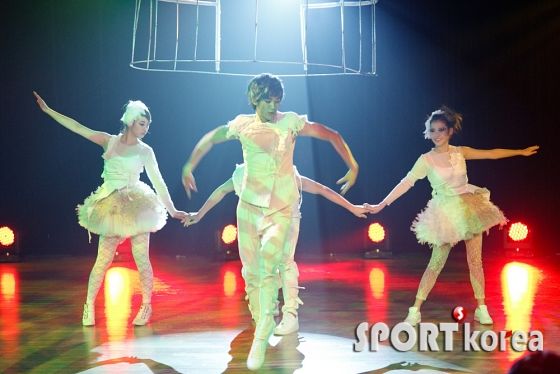 © 2011, ockoala. All rights reserved.