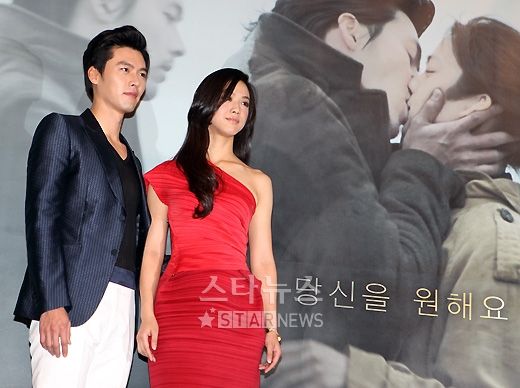 Binnie is off to serve his mandatory military service in a month. Until then, he's got more work to do, the most important being the premiere of his indie movie Manchu (Late Autumn), co-starring Chinese actress Tang Wei. The movie was filmed in Seattle, and depicts a brief but likely impactful love affair between a man and a woman convict out on a three-day prison leave. Manchu premiered yesterday in Korea, and it was a star-studded affair since Hyun Bin is riding yet another career high after his turn in Secret Garden.
Binnie is still much too skinny, likely with a heavy post-SG work load that makes it hard for him to put back all the weight he lost to play neurotic and emotionally-stunted Kim Joo Won. Tang Wei looks gorgeous in red, but why does her dress have this weird mini-bell lower half? Without that shape around the hips, it would look perfect. Now she kinda resembles a lampshade. But I love her hair! I want her hair….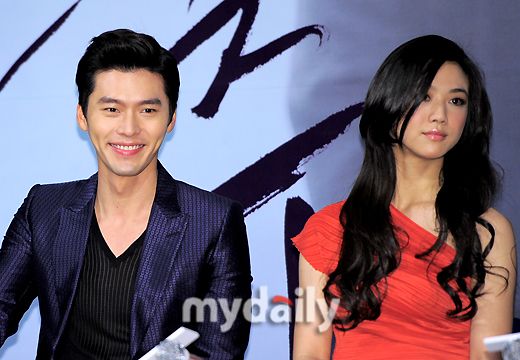 The guest list for the VIP premiere was extremely A-list, mostly because Binnie has worked with and is friends with tons of big Korean stars. I'll try to tie back to which project some of the guests worked on with Binnie. Sadly, I don't believe Tony Leung or any Chinese stars showed up to support Tang Wei. Nevertheless, it's truly a pleasure to know that she is back on screen again after the fallout from Lust, Caution.
Who else shall we start with, but Gil Ra Im herself! Ha Ji Won attended the premiere to support her onscreen hubby. Kim Sa Rang and Kim Sung Oh (Secretary Kim) also showed up to round out the Secret Garden mini-renunion. But where was Joo Won's hyung Oska? Yoon Sang Hyun, you are sorely missed.
Following the Secret Garden gang comes the Friends, Our Legend bretheren. Kim Min Joon, who played best friends with Binnie in FoL (and they also played the leads in Ireland back in 2003) was on hand. As well as Seo Do Young (arriving at the same time as Joo Jin Mo). His baby momma in the drama, the effervescent Jung Yumi, was also in attendance. Too bad FoL lead actress Wang Ji Hye wasn't on hand to make a mini-FoL reunion.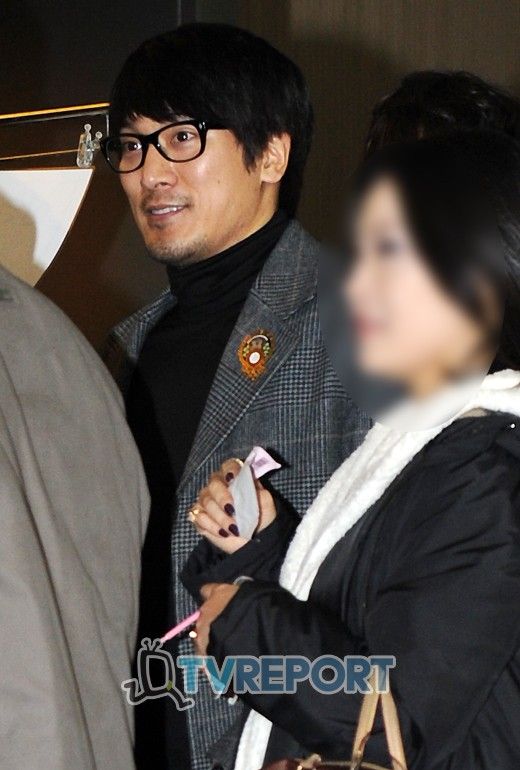 Binnie's Snow Queen love Sung Yuri was there to support her oppa.
Daniel Choi and Ji Jin Hee.
The SM Family sent their representatives, and I only recognize Kim Min Jong.
I Am Legend's Juni and Playful Kiss' Lee Tae Sung.
You guys need to look your fill, because this guy is gone for two years starting next month. Someone I know will be sobbing rivers of tears.