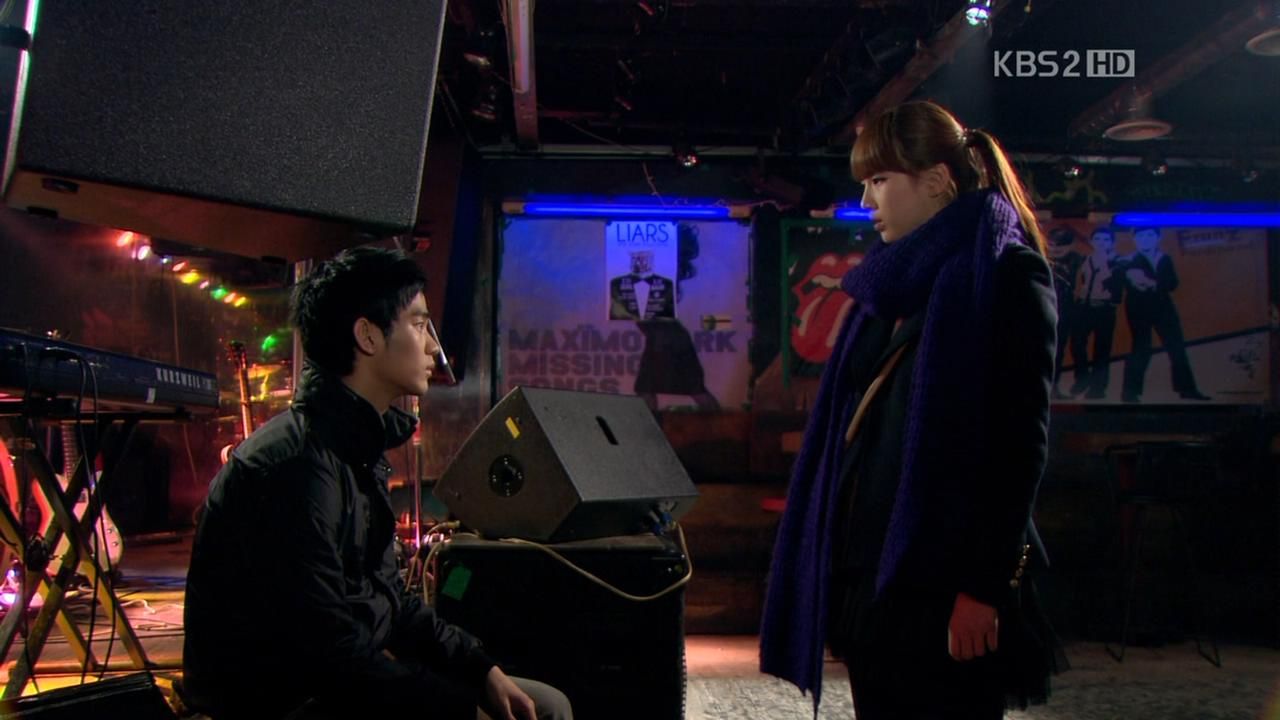 Dream High has not been as cracky for me this week, my raging addiction slowing down just as the drama took a turn for the moody. The two episodes this week seemingly revealed that MiGook is the end game by the ferris wheel kiss, and might be heralding that Sam Dong will be K since he got the K pendant from Hye Mi. Perhaps, but my personal opinion is otherwise. And it's not because I'm a SamMi shipper. My theories after the jump.
Episode 12 written preview:
Teacher Kang returns to Kirin Arts High. Hye Mi can tell that Sam Dong has been very weird lately. Despite her attempts to get Sam Dong to talk to her, Sam Dong just says that he has no desire to stand on a showcase stage again. These words cause the Hye Mi who has always watched out for Sam Dong to feel depressed.
Principal Yoon wants Group K, which will be led by Jin Gook, to perform solo routines at the showcase. He also wants Baek Hee to perform the song she composed. Baek Hee, who plagiarized the composition, starts to fret, but she tells herself that it will all be fine….
Additional Spoilers:
During an interview this week for an entertainment program, Kim Soo Hyun and Suzy revealed that episode 13 will have a kiss between Hye Mi and Sam Dong. When they were filming, it was so hectic, so they didn't have time to prepare thoroughly, and wonder how it will be shown since the kiss between Jin Gook and Hye Mi in episode 10 was very tame because of Suzy's young age.
My Thoughts:
I still think that Jin Gook is Hye Mi's first love, but she'll end up with Sam Dong. I may be completely wrong, but at least I'm putting my theory out here. Why do I think this? I thought it even before knowing that SamMi is getting a kiss in episode 13 (I figured as much). After the ferris wheel kiss, NOTHING happened between MiGook. Also, getting MiGook together by episode 10 would deflate this drama tension faster than a 30 minute old soufflé.
I don't know how the kiss been SamMi will unfold – forced kiss, chaste kiss, he kisses her, she kisses him, they kiss each other. AHHHH, my brain is melting at the thought of Kim Soo Hyun doing a kiss onscreen! Calm yourself, Koala, it's unseeming to be so spastic.
DH is a very well-constructed high school drama, and its various student relationships all have compelling angles and relatable moments. Even insecure flower-pot-tossing-song-stealing-Baek Hee doesn't seem as one-note evil anymore, with her bad behavior really dooming herself. I finally feel SAD for Baek Hee, because unlike Hye Mi, she doesn't have any positive influences in her life. I really like all the characters in DH now, because they feel human, with their weaknesses and uncertainty that are age-appropriate. I can't wait for how this drama will conclude as we head into the final stretch.
[Credit: written preview released by KBS, translated into Chinese by Baidu Dream High bar, translated into English by me]