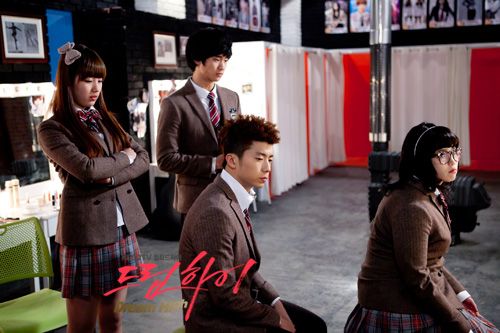 Well, regardless of how the main love triangle plays out (I'm personally done making predictions and am happily chilling with the drama until the end, whichever way it goes), no one can deny that the second half of Dream High has become the "Song Sam Dong Emo Show." Kim Soo Hyun is delivering big time as emo-Sam Dong, even if I have to stifle the urge to shake some sense into him and tell him everything will be okay.
I don't think he's gone dark, broody, and emo just because Hye Mi is/maybe/will be getting cozy with Jin Gook, inasmuch as it's just one more thing gone wrong in his pursuit of his dreams after arriving in Seoul, the main thing being his impending loss of hearing. I'm totally cool with this drama giving Sam Dong a magical cure, since for once I'm not banking on realism as much as wish fulfillment. And I want all my cute kids at Kirin Arts High to succeed and get to where each wants to go.
Video preview for episode 12:
[youtube=http://www.youtube.com/watch?v=yWkNk5r8UFk]
Written preview for episode 13:
Baek Hee, who plagerized the song composition, is finally replaced in group K by Hye Mi. Hye Mi promises to Baek Hee that she will never hurt Baek Hee again, and Hye Mi declines the opportunity to debut.
Sam Dong ultimately does not perform at the showcase. A record company executive finds out from the song composition teacher about Sam Dong's musical skills, and wants to sign Sam Dong. Sam Dong sees Hye Mi and Jin Gook happy together, so Sam Dong does not turn down the offer, and accepts.
On the otherhand, Jin Gook finds medication in Sam Dong's room, and discovers that Sam Dong is gradually losing his hearing….
[Credit: written preview released by KBS, translated into Chinese by Baidu Dream High bar, translated into English by me]