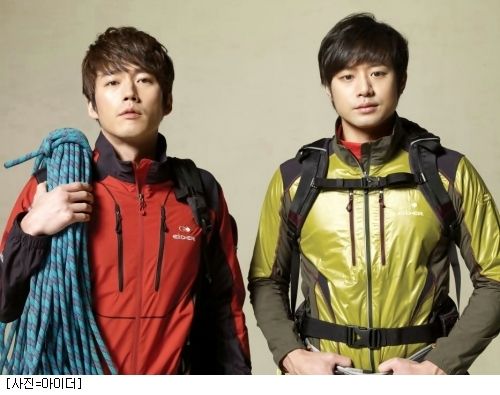 Jang Hyuk: Wassup! Like my new short-do? Cut it for Midas, but really it was starting to cost me an arm and a leg in hairspray money to maintain it. I think it looks much better for the sporty Eider image, don't you think?
PIE: I am happy to be back for Eider's 2011 Spring/Summer collection with my hyung. And thankful they didn't make us scale an iceburg or some such this time. I am not Bear Grylls, you know. I am PIE.
Yoo In Young: The entire purpose of my participation here is to stand between these two hot men and break up any latent homo-eroticism subtext. And also to remind people that Eider makes women's clothing as well. In case people forgot that ladies can be just as into outdoor activities.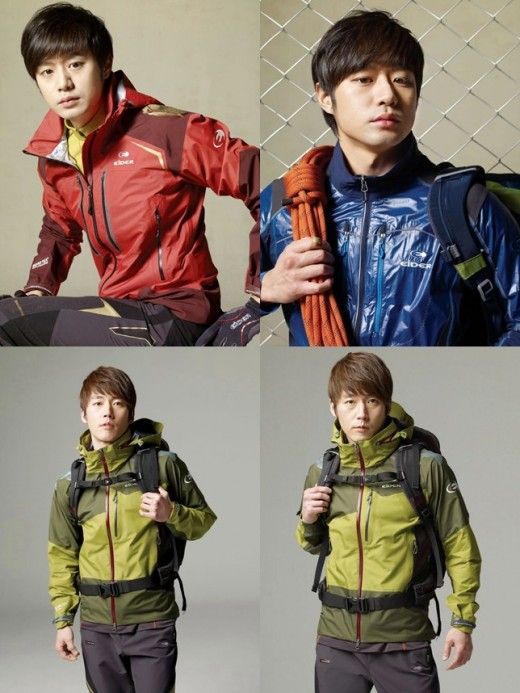 Hyuk: Yes, I am only wearing one outfit for this particular shoot, while that little PIE dongsaeng of mine gets to model two. But that's because I'm totally not a diva and am fine with letting my bro get the limelight.
PIE: What? You told me red doesn't go with your new hair color! And you told me blue doesn't go with your swarthy complexion! You just didn't want to have to go change and get pawed pawed by that coordi noona, right?
Oh Yoo In Young, you don't have your arm around Hyuk while simultaneously shooting a come hither look at PIE. That's just bad girl behavior you are advocating here.
Well, I guess she got her wish. Yoo In Young and PIE finally hang out alone…..with a giant fan? I'm really confused by the concept, Eider. These are just the teaser images released by Eider, but expect the full photospread to be released shortly. Hyuk looks great, but it can't be just my imagination only, but does PIE look like he is reverse aging before our very eyes?
Anyways, on a less serious note, I just realized that PIE and Hyuk will be going mano-a-mano on Mon-Tues nights starting in 2 weeks when Hyuk's Midas premieres to compete with PIE's just started The Duo. In fact, PIE (and the rest of the adult leads) should be making their appearance in the drama that very week. Oh drama gods, so unfair, tearing up brothers with meaningless ratings.