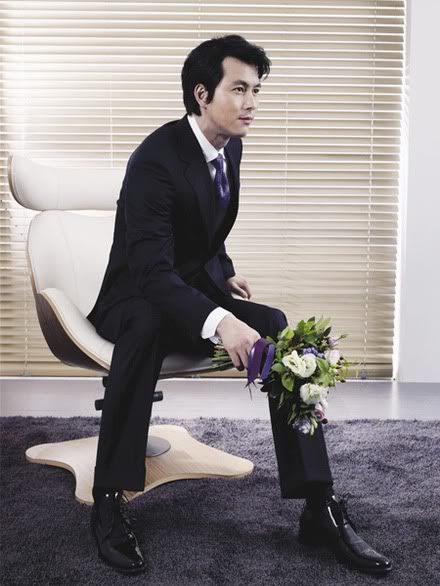 Following on the heels of a box-office successful Korean remake of the iconic John Woo movie A Better Tomorrow (Korean title Mujeokja, starring Song Seung Heon and Joo Jin Mo), a second remake of another John Woo movie is in the works. Director John H. Lee (A Moment to Remember, Into the Fire) will be reuniting with his AMTR star Jung Woo Sung for a Hollywood financed remake of John Woo's The Killer.
The original starred Chow Yun-fat as a hired assassin who takes on one final job so that he can pay for the surgery of a songstress he accidentally blinded, and has now fallen in love with. Too bad that final job is one big double-cross, and then the fireworks fly and Chow Yun-fat unleashes some whoop ass. The remake is slated to be filmed in 3-D, and will enter production later this year anticipating a 2012 release. Since the movie will be a Hollywood production, I'm expecting everyone to speak English in it. Thank goodness my honey can speak passable onscreen English.
It's too early to say whether the movie will be any good, but frankly this news goes a long way in washing the stink of Athena off my guy. His leading lady can be from a bevy of excellent Asian actresses, but I vote to reunite him with Jeon Ji Hyun since she's also breaking into the US market, and they had great chemistry in Daisy. Erh, wait a momento, wasn't Daisy already an homage to The Killer (hired killer, accidentally blinding a painter, falls in love with her….)?
[Credit: WSJ blog interview]