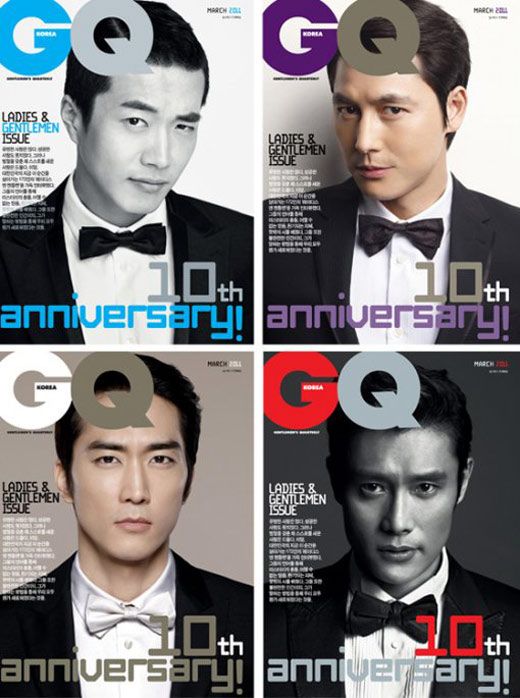 Are you addicted to gorgeous Korean men in formalwear? Yeah, me too. Apparently, so is GQ Korea magazine, which celebrates its 10th Anniversary edition with not one, but four rotating covers featuring four of the biggest stars in Korean entertainment – Lee Byung Hun, Jung Woo Sung, Song Seong Heon, and Kwon Sang Woo.
I'm sure you all have a favorite cover, and mine is no secret (I have two favorites because I can, so there). The theme of this edition is "Ladies and Gentlemen", and while there are gentlemen aplenty, I don't see no ladies anywhere. No matter, who needs hypothetical ladies when three of these four guys are still single and available.
Song Seung Heon is currently charming everyone's panties socks off in the MBC drama My Princess, Jung Woo Sung is finishing up Athena: Goddess of War and has signed up for the Hollywood remake of The Killer, Lee Byung Hun will be reprising his role as Storm Shadow for G.I. Joe 2, and Kwon Sang Woo finished a successful drama Daemul late last year and is currently in preparations for the film Pain with Jung Ryeo Won. These four guys never seem to take a break, and we should all be thankful for that, since that means we get to see them on screen more.
[Credit: Sports Donga news]