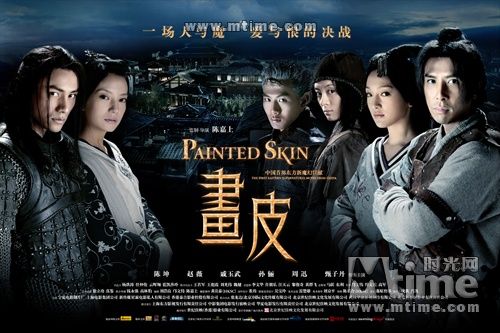 Me likey! The production of the long-discussed sequel to 2008's box office success C-movie Painted Skin finally announced that it's gotten the green light in terms of script and has also confirmed that its three main stars are signed on for another go around in the love carousel. While Chen Kun and Zhou Xun have always indicated their willing participation, Zhao Wei was the lone hold out, and I don't blame her. She got her thunder stolen by Zhou Xun in the first movie, and I spent the entire 2 hours hoping her human wife character would become a nun and leave her hot-as-hell husband free to frolick with the sultry demon lady who loves him.
While Painted Skin is by no means a great movie, it's a gorgeous and well-executed exercise in updating a Chinese supernatural myth about a demon who wears the painted skin of a beautiful woman to lure men to satiate her hunger (she eats hearts, and I mean it literally). It tells the story of a general who is in a loving marriage, but during one excursion he ends up rescuing a stunning damnsel in distress, who is not quite a damsel or in much distress. He takes her home and then proceeds to ignore the growing attraction between them, all the while the demon falls in love with him and plots to do away with her main competition.
I think the movie was elevated by the sizzing chemistry between Chen Kun, who plays the general Wang Shen, and Zhou Xun, who is the demon Xiao Wei. Zhao Wei as the general's wife, who suspects the demon-nature of Xiao Wei, is a good role that nevertheless doesn't shine because her and Chen Kun have this easy chemistry that bespoke their real life decades long friendship.
It's no surprise that Chen Kun and Zhou Xun have been dogged with persistent rumors that they are dating in the past year, they really gave forbidden love a good name in the movie. The sequel has Chen Kun and Zhao Wei playing different characters, while Zhou Xun reprises her role as Xiao Wei. Can the movie gods let the dude and his forbidden demon love get a happy ending this time!
Have an MV of the movie, which is 100% spoilery, but gives you all the good stuff without you needing to watch the entire thing. When I watched Painted Skin, I was just humming along watching it nonchalantly, when BAM, the first scene where General Wang Shen meets Xiao Wei in the tent of the warlord happened, and I went "guh, OMG-this-is-ridiculously-hot" and then I proceeded to wake up from my stupor and watched the rest of the movie glued to the screen in hopes of seeing General+Demon Lady sexytimes.
Painted Skin MV: