I don't know what it is about Extravagant Challenge, but I find myself strangely protective of it. Perhaps it's because the drama was originally slated to headline Ariel Lin (my fave TW-actress), and then went through two years of development hell before it was finally greenlit. But by then Ariel had left and Ivy Chen stepped in, a switch I am totally fine with because Ivy is a total pitbull of an actress in the right role.
I think it's mostly because I found Skip Beat the manga underwhelming in its execution, but I continue to find the storyboard fascinating, so I'm treating EC like a validation of what the story could be. With that said, EC is probably my most anticipated TW-drama of the year, and I will continue to bring updates. Today's update is that the drama just started filming, yay!
Ivy posted a picture of the prayer ceremony table on her Weibo.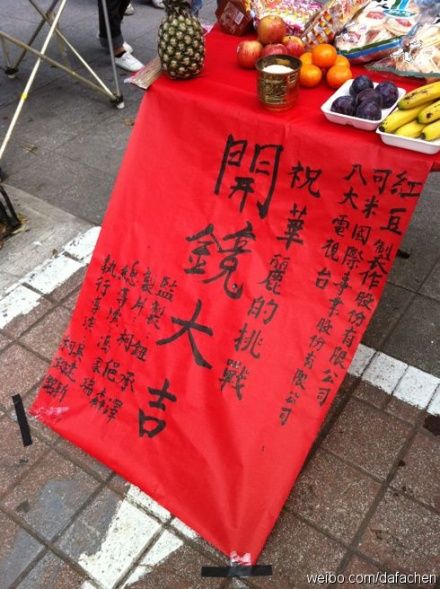 This past week, the main cast have been sequestered in script readings and mock rehearsals to help them develop camaraderie and comfort with each other. Judging on the post-topping picture, and the pics below, I'm thinking they are doing just find in the chemistry department.
Lastly, a fanmade MV to introduce the upcoming live-action adaption of Skip Beat has been making the rounds, and it's pretty awesome. The overwrought soundtrack, the floridly funny screen titles, and the dramatic scenes of the three leads make this a hella entertaining MV. It's totally worth a watch, especially if you've never read Skip Beat and aren't quite sure what this drama will be about. I've translated the screen titles below as well.
Fanmade EC MV:
He, both in terms of popularity and talent, is the undisputed #1 actor in the industry.
But, he has a considerate exterior with a sneaky interior, and an idiot in the romance department.
She, who entered the entertainment industry in order to get revenge, is a naive girl.
Someone with the professional stamina to get into character, a hidden talent in the industry.
And he, a wildly popular idol singer.
With an angel and a devil-like personality which drives people insane, a real bad boy.
Their story, how shall it unfurl?
The curtains are about to rise.
Dreams are about to take flight.
Extravagant Challenge.