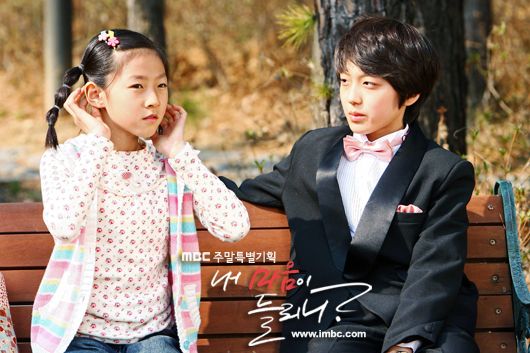 I am so so behind on K-drama watching, having pretty much only followed 49 Days for the past few weeks. I've dropped Midas and The Duo for now, and my goal is to finish the brilliant President this weekend and finally crown it the best K-drama of 2011 (so far). I know folks have asked me to pick up New Gisaeng Story, and I'm waiting for a little more feedback from Thundie before deciding whether I want to pick up a 50 episoder. I did finally watch both episodes of the new weekend drama Can You Hear My Heart and my initial verdict is – mixed feelings on the story, but leaning heavily on the thumbs up side for the entire package.
I teared up and smiled my way through the first two episodes, and if a drama can touch me so sincerely right off the bat, I think it's probably a drama worth following. The story is a standard family-twists-and-struggles-of-the-rich-and-poor fare, but there is something honest and luminous about this drama. If I keep watching it, it will be for both the amazing performance Jung Bo Seok (officially my ahjusshi crush) is putting forth as a kind and mentally-simple father, and the eye-popping Moon Geun Young-in-Autumn-in-my-Heart-esque performance Kim Sae Ron is delivering as a girl who wants so desperately to have a chance at living a normal life.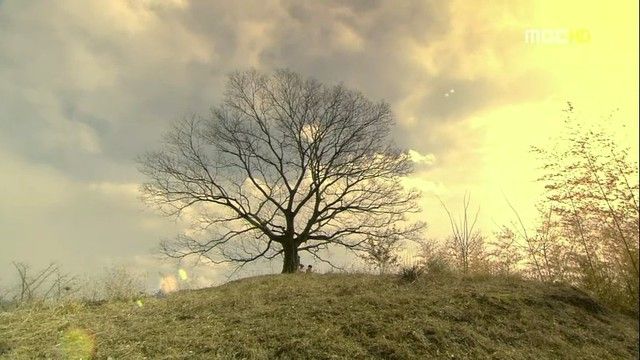 What I love the most about CYHMH is the wonderful cinematography – it's breathtakingly beautiful, every shot wonderfully positioned and every scene shot with such precision and clarity. The drama has a lovely lilting soundtrack, and a sweetness that makes me believe it wants to tell a sincere story and not posture around to make a point or try to be subversive. Normally I dislike stories that focus on handicaps, because I worry it always tries to exploit it for the emotional tears. But this drama makes me feel like the trials and travails of the deaf and the mentally-challanged (as well as dealing with the topic of illegitimacy in a conservative society like Korea) will be treated with respect, and I like that.
I already know I loathe certain characters in this drama, and to no one's surprise, it's the selfish and self-absorbed characters that I detest with every fiber of my being. Sadly, I can tell half the characters will be noble and self-sacrificing, the other half leechy and manipulative (as least until some get their commuppence and others get their redemption). There is just something so lovely about CYHMH, which makes me want to watch more, because it's such a visual and sensory buffet of across-the-board great performances (so far in the children's portion of the story), a wonderful OST, and truly kick-ass PD who knows what to do with his camera and edits scenes like a dream. While I don't think CYHMH will be a great drama when all is said and done, the fact that it just might be a solidly good drama is already a win in my book.
I really do not have enough superlatives to lavish on young Kim Sae Ron (who already stunned me once in the movie Ahjusshi with Won Bin), who is the only young actress I have watched that even evokes the possibility and comparison to young Moon Geun Young. This young lady is going places, and this drama will give her a great starting point because she is acting opposite Jung Bo Seok, who has now joined Kim Gab Soo in the pantheon of older-dude-rock-stars-of-K-dramas. It's worth checking out CYHMH just to watch these two have tour-de-force scenes of great nuance and focus in the first two episodes of CYHMH already.
My tiniest bit of worry is with the three adult leads Kim Jae Won, Hwang Jung Eum, and Nam Goong Min, none of whom are the strongest of actors, and one has to play someone pretending to be slow, and the other plays a guy going deaf but pretending he can still hear. That's a lot of acting-within-a-drama-acting. But if they have great chemistry with each other like their kid-counterparts are having thus far, then I think CYHMH will be a lovely weekend drama to follow, and hopefully will warm my heart in all the right ways.