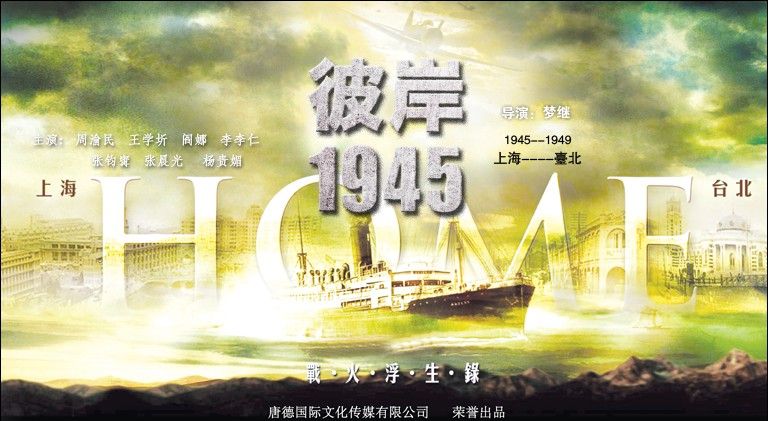 This post is a complete and utter labor of love. The amount of time it took me to collect all the just released character synopsis and trailers, and then translate it all, stems purely from my love for Vic Zhou and Taiwanese-Chinese history. Vic's upcoming epic period drama The Other Shore 1945 (彼岸1945, and formerly called Coming Home) wrapped filming in February and is finally ramping up its promotional campaign in anticipation of its release later this year.
After reading the detailed character synopsis and having watched the two trailers, I'm going out on a limb here and putting forth my speculation that The Other Shore 1945 has the potential to be the best drama I watch this year, likely to garner both critical and popular success. Both teaster trailers are short, but made me gasp and want more. In short, this baby looks spectacular, and I'm fingers-crossed it's ultimately as epic as it aims to be.
When I watched the two teaser trailers yesterday, my heart soared the second leading lady Janine Chang opened her mouth and out tumbled…..Taiwanese. YES. Oh holy mother of all drama gods, yesyesyesyes! The powers that be in China can't get their grubby dubbing hands on my precious drama, and with that, historical accuracy remains more or less intact. Rumors had abounded that China was going to force the drama to dub over the Taiwanese (and Japanese) dialogue and make it 100% Mandarin Chinese, which made zero sense since everyone living in Taiwan in 1945 fraking spoke only Taiwanese and Japanese.
I'm glad the language Nazis failed in their censorship, because Vic worked hard on his Taiwanese and Japanese dialogue, and half of the issues in this drama involves the language and cultural barriers. The character descriptions are also pretty much a plot synopsis, so read at your spoilery peril. But in a drama like this, I find knowing the plot likely won't affect the cinematic enjoyment of watching it all unfold.
Vic Zhou plays Su Tai Ying
"I am a doctor. I only save people. I do not kill people….."
Su Tai Ying, 28 years old, a graduate of medical school and an elite young Taiwanese intellectual. Has a gentle personality and handsome good looks. A kind person with strong convictions, he is naturally reserved and calm. He grew up in a family of Oriental medicine practitioners, and the filial him also became of doctor of Oriental medicine.
In 1941 when the Pacific war started, he was forced to enlist (in service of the Japanese army), and went to the frontlines in Mainland China to become an army doctor, along with his older brother Su Tai Cang, who volunteered to go. Together they endured the agony of war, the two brothers resolved to stay alive, and so they can to go home together.
August 1945, the Japanese have surrendered and the war is finally over. The brothers can see the road home is just ahead of them. But Tai Ying prevents his brother Tai Cang from shooting a Chinese general, which results in Tai Cang getting shot and disappearing.
After enduring dangerous obstacles, Tai Ying carries home to Taiwan the ashes of his brother Tai Cang (as obtained from the collective burial of all the deceased soldiers). Facing his mother, younger brother Tai Jie, and the girl who he grew up with but who is now his brother Tai Cang's fiancée, Yukiko, Tai Ying does not have the courage to explain what happened to Tai Cang.
The emotional scars of the battlefield loom over Tai Ying. At this time, Jian Yun, the daughter of the Chinese general, whom Tai Ying briefly met in China, has come to Taiwan with the rest of the retreating (Kuomintang) troops. Her arrival brings the Su family an even bigger shock.
Li Li Ren plays Su Tai Cang
"I am your brother. I do not care who the other person is, if anyone wants to hurt you, I will kill that person."
Su Tai Cang, 30 years old, passionate and brave. As the oldest son, he has a strong sense of responsibility and filial love for his mother. To protect the family and his two younger brothers, he's willing to sacrifice everything.
The person Tai Cang loves the most is his fiancée Yukiko. If not for the war, he would have already married Yukiko. Tai Cang believes that the strong emotion he feels for Yukiko will last a lifetime. Nearing the end of the Pacific war, Tai Cang brushes aside his mother's objections and insists on volunteering in the Japanese army to protect his younger brother Tai Ying, who he sees as too kind and compassionate. In Tai Cang's eyes, it is Tai Ying who is the hope and future glory of the Su family.
On the battlefield, Tai Cang kills innumerable opponents, but remains a solicitous caretaker of his younger brother Tai Ying. But Tai Ying cannot understand or accept how his older brother can kill people on the battlefield, and because of this the brothers constantly argue. When the Japanese Emperor announces surrender and they are retreating, suddenly their troop is attacked.
Tai Cang and Tai Ying, who are both wearing the uniforms of the Japanese army, come under attack. Tai Cang valiantly tries to fight back, but Tai Ying cannot endure watching Chinese brethren fighting each other and he tries to stop the battle. This causes Tai Cang to be wounded and disappear in a sea of dead and dying soldiers, his fate unknown.
Yang Gui Mei plays Mommy Su
"The ancestors of the Su family…..let me endure all the pain and hardship, I just beg of you to let my three sons survive."
A mother in her fifties, a graduate of high school and used to work at a clothing factory. She married a doctor of Oriental medicine and bore him three sons. Her husband is greatly admired for his kindness and compassion, and she is known around the area as "the doctor's wife."
Ten years ago, her husband tried to protect the area citizens from the Japanese brutality, and ended up sick and died. Afterwards, she vowed to protect the family and uphold the family name. She learned some medicine from following beside her husband, so after his passing, she continued to dispense help to the people. To the one son who followed in her husband's medicine footsteps, Tai Ying, she pins all her hopes and dreams.
Li Guo Yi plays Su Tai Jie
"No matter how difficult it is to win over the Japanese…..I will surpass them to be number 1"
Su Tai Jie, 23 years old, the youngest of the three brothers, a third year university student in the Taipei University political science department. Smart, outgoing, with a strong rebellious streak, he has been coddled by his learned father and older brothers. He has harbored a strong sense of idealism since he was small.
Tai Jie hates injustice and will fight for what is right every time. Because his father told him that their ancestors came from Tang Shan in Mainland China, he has always viewed the Mainland with curiosity and longs to go there.
Living during the time of the Japanese occupation of Taiwan, he has longed for societal equality, and his beliefs and youthful fervor constantly land him in trouble. He is the son in the Su family that gives everyone the most headache. Growing up in a time when he sees how disparately the Japanese and Taiwanese are treated, Tai Jie's only goal in life is to win over the Japanese at everything he does. This determination allows him to beat his Japanese rivals in college and become the top of the class.
After the Japanese defeat in the war, Taiwan is finally free of the occupation. To Tai Jie, this is the greatest glory for the Taiwanese people. He welcomes this new era with a happy heart….but he doesn't know that once the euphoria of this victory fades away, that is when the greatest challenge to the Su family will start…..
Janine Chang plays Yukiko
"No matter how long, wars will always end some day, right? Yukiko will forever wait for you….to come home…"
Yukiko, 24 years old, a nurse at a famous clinic in Keelung. She is the fiancée of Su Tai Cang, the eldest son of the Su family, but she grew up alongside the second son Tai Ying. She's beautiful and gentle, but has her own mind and beliefs. Because she grew up having been instilled the beliefs of traditional Japanese stoicism, she does not easily reveal her real emotions.
Yukiko's real name is Lin Xiu Xue, the daughter of a friend of Mommy Su. Her parents died when she was a child, and she was adopted by the head engineer of the Keelung electricity department, who was Japanese. She is adored by Mommy Su, and Tai Cang has always loved her. The two families have already discussed and agreed to the engagement, and is only waiting until the war is over before Tai Cang and Yukiko get married.
But Yukiko is secretly in love with Tai Ying, and the only people who can tell this secret is youngest brother Tai Jie, and a police officer named Lin Jin Biao, who is also in love with Yukiko. After the war ends, and news of Tai Cang's death reaches Taiwan, this causes a great turmoil in Yukiko's life. Mommy Su decides to have Yukiko marry Tai Ying, and she is thrilled to be able to marry the man she does in fact love.
But Tai Ying returns to Taiwan with another woman by his side, Jian Yun. Everything becomes even more complicated, and Yukiko does not realize that her beauty is unwittingly leading her towards another catastrophe….
Wang Shao Wei plays Lin Jin Biao
"A want to be a policeman….doesn't matter if it's a Japanese policeman or a Kuomintang policeman. Only as a policeman will I get respect!"
Best friends with Su Tai Ying from their grade school days, an orphan, he sees the disparate social treatment between the Taiwanese and the Japanese, and he vows to gain respect. He becomes a Japanese police officer during the occupation, and falls in love with Yukiko because she is the one person who treats him with kindness, and not as a lackey of the Japanese occupiers.
After the war ends, because he saved the life of a Kuomintang official, he becomes a police officer for the new regime. But after the dust settles, the language barriers (Mandarin Chinese versus Taiwanese) amongst the people cause huge misunderstandings, and creates many obstacles in his police career. And the woman he loves, Yukiko, begins to drift away from him….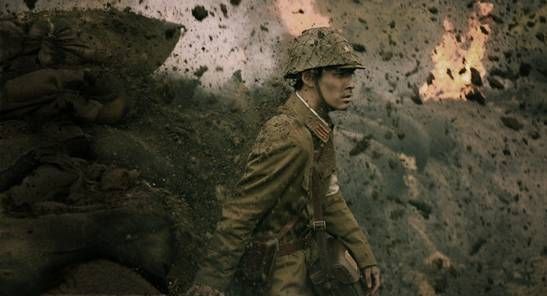 Just reading the detailed character (and plot) descriptions gives me goose bumps. This is a drama that lives and breathes my parents and grandparents generation – those who lived, smiled, and cried during 50 years of Japanese occupation of Taiwan, and then had to start living life completely differently after 1949 when one occupation was swapped out for another when the Mainland retreating Kuomintang army landed in Taiwan and proceeded to govern it like a dictatorship for the next 40 years.
Normally war dramas and movies I avoid like the plague, but this one I will watch from beginning to end, because it's so personal to me, telling of a story that I heard million times before from my parents, of how hard life was, during war time, during peace time, during their time, because it was a time of great change and geopolitical and culture seismic shifts for the Taiwanese people. The trailer is equally awesome, so have a look. And yes, pretty much every line of dialogue is in Taiwanese, and Vic's got his accent down pat, I approve.
Teaser trailer 1:
Title card:
Coming home
To fulfill a promise to our mother
My brother valiantly kills
I just want to save as many as I can
But….
The smoke, the whizzing bullets, the stench of blood, the corpses
The road home, I cannot see it…..
Tai Cang: You are not hurt, are you? Are you okay?
Tai Ying: Did you fire that shot?
Tai Cang: Tai Ying….
Tai Ying: You murderer!
Tai Cang: What do you think you are doing! I am your brother, have you gone insane?
Tai Ying: He's just a child, and how could you kill him?
Tai Cang: What child! There are only enemies on this battlefield.
Tai Ying: They are the same as we are (all Chinese), don't you know that!
Tai Cang: You look carefully, look carefully at what your brother is wearing. I am wearing the uniform of the Japanese army. And so are you! In the eyes of the Chinese (in China), we are the enemy. On the battlefield who will listen to your explanation. I am your older brother. I do not care who it is, if anyone intends to hurt you, I will kill that person. Is there anything wrong with that!?!
Tai Ying: I don't need you to protect me!
Tai Cang: Tai Ying!!!!
Teaser Trailer 2:
Title Card:
Coming home
In order to not let his waiting fiancee's hopes be dashed
My older brother's will to survive is stronger than anyone else
Except, when he is protecting me
He does not know, that the most precious love in his life
Is slowing changing color, because of me…..
Yukiko: Tai Cang promised that he would come home safely. How can a whole and healthy person leave, and come back as a jar of ashes.
Lin Jin Biao: The way you are talking right now, it's as if you already the Su family daughter-in-law. Don't you know that you have not officially married into the family. Let me ask you? Does the doctor wife (Mommy Su) know who the person you really love is?
Yukiko: I really wish Tai Ying could be here.
Mommy Su: Yukiko, even though you grew up with Tai Ying, it is Tai Cang whom you must entrust the rest of your life to. All men wish to be the entire sky for his woman.
Some dude (speaking in Mandarin Chinese): I'm sorry, Jin Biao older brother!
Lin Jin Biao (speaking in Mandarin Chinese): WHY!
The title card then list all the main actors in the cast, starting with Vic and Janine.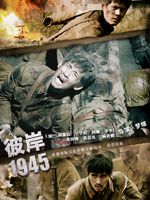 Rest assured I'll be bringing more updates for The Other Shore 1945 as its released. For now, I feel very sated having read and sampled all these goodies about this drama. And yes, hearing Vic speak Taiwanese literally turns my knees into jelly.