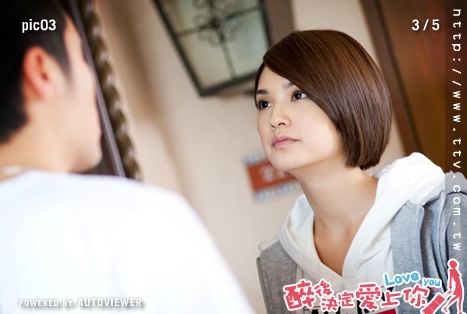 Today saw the premiere of the SETTV drama Drunken to Love You. Below I've brought the three songs that appeared in the first episode, and all three songs are immediate and utter love for me (I'll talk about episode 1 later, but the fact that I am posting about this drama's songs should indicate what my feelings are). The opening title song is by Magic Power MP魔幻力量 (who sang one of my most favorite title songs for any TW-drama, the kickass title song for PS Man), and it's called "不按牌理出牌" (the meaning of the title is "Doing Something Unexpected").
The closing credit song is "好的事情" (which means "A Good Thing") by 嚴爵 Yen J, who I posted about a few months ago when he sang the title song to Joe Cheng's online drama That Love Comes. Yen-J does not disappoint this time either, his latest song for DTLY is magnificently jazzy and effortless, and paired with the design of the closing credits, creates an enchanting beautiful montage.
Opening Credits of DTLY:
http://www.youtube.com/watch?v=lSei-JSAH0Q
Closing Credits of DTLY:
http://www.youtube.com/watch?v=KlqjzY7L43w
Finally, the third song from DTLY is actually sung by Rainie Yang herself, a song called "太傻" (translated as "Too Gullible"). Warning that the video below contains a scene from episode 1 where this song is first played, and it's very spoilery. But the song is perfect, and Rainie's singing is much better than I expected.
http://www.youtube.com/watch?v=-kktSwJwrsg
Spoiler – in the scene above, Xiao Ru (Rainie) is at a bar and gets a note from her boyfriend Yi Xian (Kingone), who is supposed to be taking her to Las Vegas to get married. In the note, he apologizes but something came up and he cannot take her with him. He asks that they break up instead. Rainie runs outside to catch him since the bartender tells her that he just left not five minutes ago. Jie Xiu (Joseph) sees her cellphone and runs after her to return it.
Xiao Ru stops the taxi and asks Yi Xian what is going on. He tells her that someone needs him more right now. She tells the taxi driver to open the trunk, and she tells Yi Xian that she is going with him no matter what. If this was a drama, she thinks that Yi Xian has some incurable disease and is trying to be mean to spare her heartache. She refuses to accept it.
Yi Xian grabs her suitcase, and instead of putting it in the trunk, he opens it and tosses all her clothes out until he finds her plane ticket to Vegas. He lets it fall into the fountain, and when Xiao Ru wades into the fountain to grab it, Yi Xian gets into the cab and leaves. Jie Xiu sees this entire scene, which reminds him of his girlfriend Avril (Tiffany) rejecting him earlier that day. Xiao Ru cries in the fountain, and Yi Xian crumbles in the cab, his tears falling for whatever it is that caused him to hurt the woman he loves.
P.S. Rainie made my gut hurt in that scene above – she's beyond magnificent.