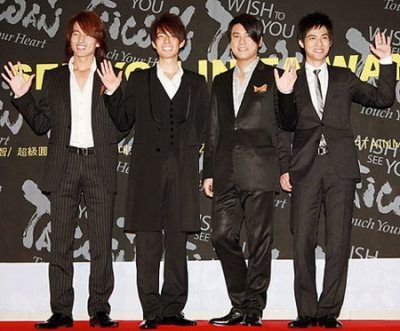 In addition to being Taiwan's child actor du jour, Xiao Xiao Bin shall henceforth also be known as "the exclusive child to F4". Having already played Vanness Wu's son in Autumn's Concerto, as well as Jerry Yan's nephew in Down with Love, the much-too-adorable kid is adding a third F4 daddy to his resume (the most coveted F4 daddy if you ask me) by starring as Vic Zhou's son in the upcoming TW-movie Destiny's Pair. He only needs Ken Zhu to complete his F4 daddy collection.
I posted about this movie likely going into production later this year because lead actress Ella Chen's upcoming movie with Mike He called Bad Girl was going into production in the Summer. Well, it looks like Taiwan in fast-tracking both movies, and Ella can kiss her beauty sleep goodbye for the next four months. Bad Girl purportedly starts filming at the end of April, aiming for a Summer release, and thereafter Ella will go straight into filming Destiny's Pair in late May, once Vic wraps his movie with Valen Hsu which is currently filming in Beijing.
Xiao Xiao Bin is so so cute, and I can't wait to see him playing a precocious son to daddy Vic. Which does remind me that seeing my favorite actors playing alongside small children as their pretend daddy always make me squeal with delight. Mike's turn as a daddy in Sunny Happiness totally upped his awesome factor by like a billion. Truth be told, I don't know how some of these actors do it – the TW-entertainment industry is in such over drive these days, I can barely keep up with the new projects sprouting left and right.
[Credit: Ifensi news]