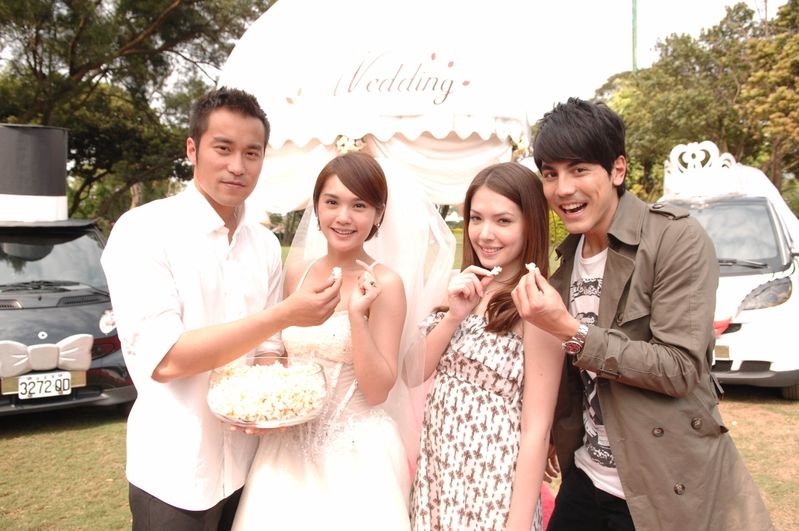 For those of you addicted to Drunken to Love You, I'm here to tell you that the next few months is going to be lots of fun. Whenever there is a runaway drama hit in TW, if it's a live-shot drama, the media goes berserk and the cast and crew have tons of fun filming and giving ridiculous interviews all during the filming. The most recent breakout success was The Fierce Wife, which was actually a very good drama, but not my cup of tea, and the most insane drama run of the last few years has to be the astronomical ratings garnered by Fated to Love You, which was the predecessor to DTLY.
I watched FTLY live, but never really liked it, hence I didn't partake of the fan fun. But this time I'm totally not missing out on the DTLY train, because this drama is wonderful, the actors have amazing chemistry, and I can already predict tons of hilarious BTS videos and interviews to come. Episode 2 hit 2.62 in ratings, which rose from episode 1's 2.39 (while Sunny Happiness stayed steady at 1.7, which makes me happy as well), so the cast celebrated by munching on popcorn (which significance anyone who has watched episode 2 will understand) while filming a fantasy wedding sequence that saw Rainie Yang in her second wedding dress for this drama already.
The actors discussed how much fun they are having filming the drama, and Rainie volunteered Joseph Chang and Tom Price (the third male lead, whose character has not yet been introduced) to jump into a swimming pool if ratings broke 5. I think Joseph and Tom had better get ready for a soaking.
>
Drama lead actors in Taiwan love betting on ratings, and often give interviews where they promise to do something if the ratings break X. For example, during the wrap party for Rainie and Wu Zun's Sunshine Angel, the director volunteered Rainie and Wu Zun (who consented because they were so drunk) to swim nude in Okinawa if ratings broke 7 for that drama. I would LOVE to see that, hee.
As for DTLY, Joseph is getting massive amounts of love for his character Song Jie Xiu. The fans have proclaimed that for NT 1M and the chance to be married to Jie Xiu, which woman wouldn't accept that proposition? True words of wisdom indeed.
[Credit: Next media news]