Man, I ought to get an award for my sleuthing. Remember how I told everyone that TW-drama Absolute Darling with Gu Hye Sun had secretly started filming last week? Well, GTV confirmed the news today in a small press conference, and trotted out lead actors Gu Hye Sun and, no surprise here, Jiro Wang.
I can tell you that the powers-that-be at GTV are still furious at Wu Zun for dropping out, and showered praise upon praise for Jiro's loyalty and willingness to accept the project on such short notice. Both Jiro and Hye Sun discussed how they were confident that the scripts were excellent and believe in the quality of this drama.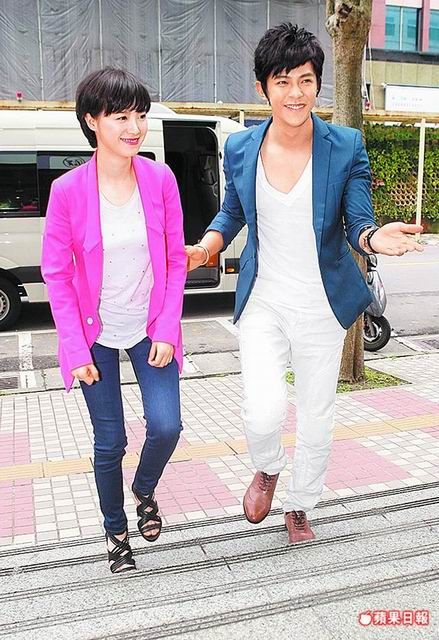 I have to say the first look at Jiro with Hye Sun doesn't weird me out, and I hope they have good onscreen chemistry. I also wish Hye Sun would grow her hair out, it's been years since she's sported a more feminine look, which I think suits her quite well. Jiro openly confirmed that he'll be going all nude for the infamous out-of-the-box scene, so all imma going to say is – Jiro, you done grow up good. The second leads for AD are supposedly Penny Xie (Xie Kun Da) of the boyband Energy and Cherry Hsia.
As for Wu Zun dropping out, people drop of acting projects on a regular basis, and I don't fault Wu Zun for wanting to focus on his movie career. It's not like he dropped AD to do another drama anytime soon. However, I do believe that Wu Zun dropping AD pretty much means he burned his bridges with GTV and the producer of AD, who really helped vault Zun to stardom by casting him in his drama productions of Tokyo Juliet, Romantic Princess, and TW-HanaKimi.
I personally think Jiro is a much better actor, so AD will probably end up less lulzy than I expected with this change of lead actors. I also like Zun much better on the big screen, so this is a win-win situation for me. The AD story, on the other hand, I would highly welcome some major tweaks for the drama version.
[Credit: Liberty Times news]