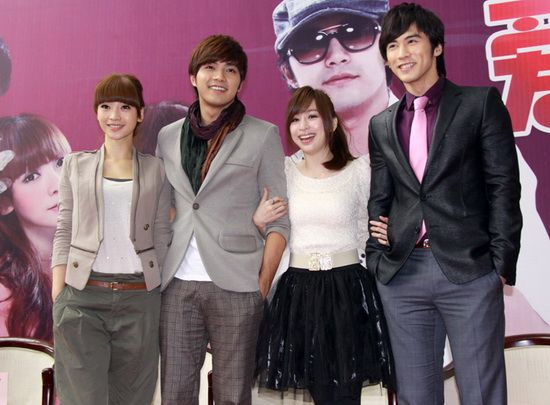 You can either take this as a cute cross-promotion, or a sign that Mei Le, Go, the completed-filming TW-drama with Mike He and Cyndi Wang has just gotten the stamp of approval and greenlight from CTV. There have been conflicting reports on which drama will take over the Sunny Happiness timeslot at the end of May (SH has 3 more episodes left to air), but so far the only drama that has released even a shred of video promotion has been this just released Mother's Day clip of Mike and Cyndi breaking the fourth wall for Mei Le, Go.
I haven't seen anything from Sunshine Angel with Wu Zun and Rainie Yang, so my gut tells me Mei Le is probably getting the coveted post-SH time slot. It's both a blessing and a curse – a blessing to get an airdate, and a curse to go up against the smoking hot and getting hotter by the day Drunken to Love You.
Mei Le, Go Mother's Day CF:
http://www.youtube.com/watch?v=FknI5SMxwww
In the CF, Mike and Cyndi fight over the actress who plays Mike's character's mom in Mei Le, Go. Mike claims ownership to hug her because she plays his mom in the drama, while Cyndi says that since the actress' last name is also Wang, she belongs to Cyndi. The cutest part of the CF is when Mike hugs Cyndi at the end and calls her mom. Heh, too cute. The pun on the drama's name is thus:
Mei Li (Beautiful)
Kua Le (Happy)
(To all the hardworking moms) Jia You (Go)!