Already?!? The cast and crew of the red hot TW-drama Drunken to Love You held a wrap party yesterday night to celebrate the completion of filming. Well, I guess there goes the live-shoot component of this drama, heh. I'm thrilled it's wrapped because this means there will be no chance the network will request an extension to milk it's sure to keep increasing high ratings, and the story will not lose steam therewith.
I am sad, though, to hear Rainie Yang talk about how she's going to miss being Lin Xiao Ru, and turn back into Rainie Yang again. DTLY has been filming since January, so its 4 month shoot is on par with the typical TW-idol drama shoot length. I wish more K-dramas would adopt this system, which is much less taxing on the cast and crew.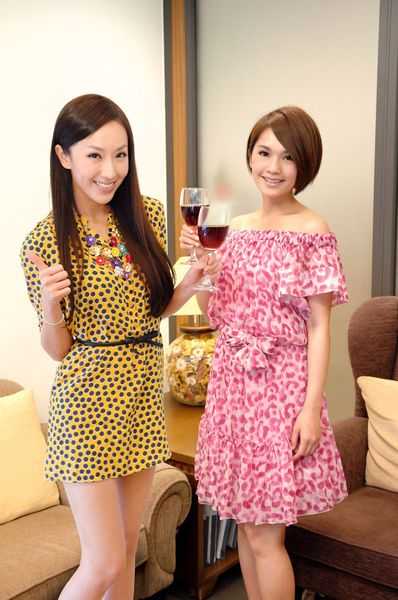 Now that DTLY has wrapped, Rainie will work on her upcoming album as her next project (her sub-theme song from DTLY will surely be on that album), Joseph Chang heads to Mainland China immediately to start filming a movie, and Tiffany Hsu is taking a short vacation and coming back to another acting project. The picture above is of Sonia Sui, who starred in the just finished The Fierce Wife, which won her high ratings and critical acclaim (and totally converted me to a fan) for her wonderfully mature acting, toasting Rainie as a gesture of passing the ratings crown baton on to her. I think Rainie, the current Golden Bell Best Actress winner, might be toasting Sonia come October and passing that particular torch on to her.
At the wrap party, Rainie was especially wistful of leaving this experience behind, having really made good friends and a wonderful memory working on this drama. This being Joseph's first rom-com, in reminiscing about the filming, he discussed how Rainie was crying so hard during one scene, he was afraid to discuss it with her until over a week later. Rainie confessed that it was just a crying scene is all. I think Rainie is being too humble, her acting is noticeably more textured and rich, blending her knack with effusive physical and raunchy comedy with a tender, quiet core.
[Credit: UDN news]