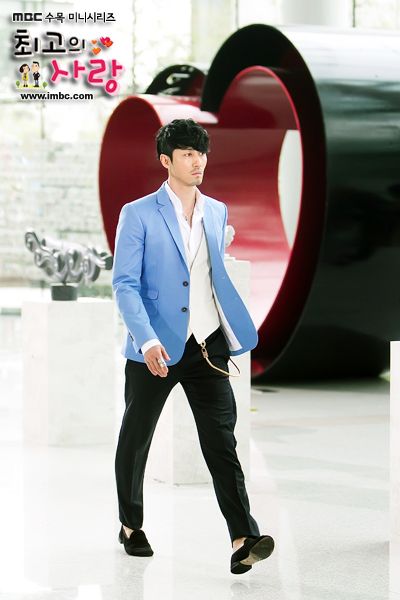 Wah? WAHHHH? I almost had to look ten times in a row to make sure I wasn't seeing some sort of hallucination, but indeed, it was real. MBC released the written preview for episode 5 of Best Love already. I just know I am going to have to drink upwards of 5 energy drinks next Wed-Thurs just to get through recapping the final 2 episodes of 49 Days, and what looks to be even more awestruck plot developments to come in Best Love.
Written preview for episode 5:
If it is just my own thoughts, would the heart go putong, putong?
Ae Jung opens her eyes to discover that she is not at the night club. Rather, she is stunned to realize that she is at an unfamiliar place with Dokko Jin. Jin feels very embarassed, because his declaration of love towards Ae Jung was rejected outright. However, this makes Jin more determine. He tells Ae Jung that, going forward, he will use his most effective techniques to touch her heart.
On the other hand, Pil Joo witnesses Ae Jung driving off with Dokko Jin, which leaves him shocked. Jin does not attend Se Ri's 10th anniversary fan meeting. The celebratory event at the amusement park is reported in the news.
Video preview for episode 5:
My Thoughts:
Only by watching the video preview and reading the written preview does the last line of the written preview make sense. It looks like Jin drove Ae Jung to an amusement park based on the video preview, since we see glittery lights and a twirly amusement park ride in the distance. And since it's also her 10th anniversary in the industry, likely Jin decided to celebrate it with her there, rather than attend Se Ri's posh event as her guest of honor. And it's going to make the news.
How awesome is it that we get a love confession ALREADY by episode 5, since normally the Hong Sisters drag that baby out until the teens episodes. But the brilliance is that Jin is going to get rejected right off the bat. I can't wait to see him turn his rejection into something that changes his life completely. Oh god, I cannot wait for next Wednesday to come. I might even be willing to give up my weekend to bargain with the drama gods for BL episode 5 to arrive faster.
[Credit: written preview released by MBC, translated into Chinese by Baidu Best Love bar, translated into English by me]