Seriously, if these two people got any cuter as a couple I might actually fursplode into a real Koala simply by staring at them, the way Jacob goes all wolfy in the novels-which-shant-be-named. Rainie Yang and Joseph Chang attended a Drunken to Love You fan meeting at Taipei's Mitsukoshi department store this weekend, showing up wearing a couple's outfit, which they claimed to have completely not coordinated at all.
I actually believe them, because I never once think they are dating in real life, plus Joseph has a long-time girlfriend of over five years. It's just adorable to ship them as Jie Xiu and Xiao Ru. Yen J's album dropped over the weekend, so I'm also bringing you the download link for the second song from his album which shows up in the DTLY OST called "It's not like this will take away the loneliness" 又不是這樣就不孤獨.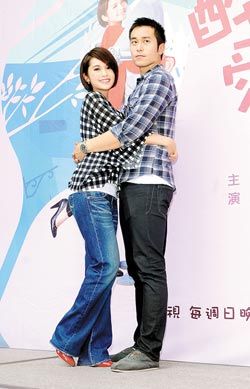 During the obligatory 21-questions from the media, it was revealed that the upcoming bed scene from episode 6 was actually filmed on the FIRST DAY of filming. The first take was so awkward they needed to film it again, which went much better after Rainie told Joseph to just go for it. Heh.
Rainie also felt that doing such an intimate scene with someone she just met was like being tossed into a pool and learning how to swim, forcing the two of them to get comfortable with each other quickly, and allowing them to develop onscreen chemistry much quicker. I never knew making out could improve one's acting, but it's good to know the secret to the indescribably perfect chemistry between Jie Xiu and Xiao Ru.
Rainie and Joseph at fan meeting:
I love Yen J's second song from his album – the rifs are amazing and the transition from introspective ballad to rock-jazz is incredibly sophisticated. Here's the download link for the subtheme:
Yen J 嚴爵 "It's not like this will take away the loneliness" 又不是這樣就不孤獨 – download here
You can listen to the song here: