You didn't think I was kidding when I made a passing reference to an insane amount of Kang Ji Hwan–Yoon Eun Hye posts in the future, right? Well, I'll try to keep the volume down, but holy smokes Batman that is hard to do when Lie to Me goes fan service on me, holding a media day yesterday and we get pictures like those above.
Ah hell, even the reporters were like "hhhmmm, Ji Hwan is so chummy with Eun Hye, but strangely awkward with Jo Yoon Hee". I'll just lead off with two words before I unleash a boatload of pictures below – Cola Kiss. Read on if you want to know what I mean. Also, I'm not going to analyze every picture, but hot damn Ji Hwan and Eun Hye are in sync in every single one of them.
So apparently the Ice-cream Kiss, as it has been dubbed, was filmed near dawn (oh my poor babies, filming around the clock *HUGS*), and Kang Ji Hwan explained that he hadn't eaten since around noon the previous day, and used up an entire bottle of mouth wash to film the kiss with Eun Hye.
That tells me (1) he was nervous and/or anxious about the kiss since he didn't eat and (2) they must've done a few takes of the kiss if he went through an entire bottle of mouth wash. Yoon Eun Hye revealed that she and Ji Hwan discussed beforehand and agreed that all their kisses would not just be two people pressing their lips together.
Bless you both. Now did you discuss how to film upcoming boating scenes (and there better be one)? And I don't mean scenes involving the swan paddle boat. With all that kissing, if we don't get boating I'll HULK out again.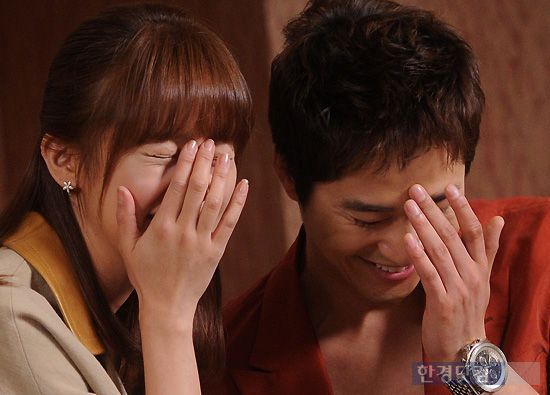 Jo Yoon Hee was also at the media event, and she expressed her astonishment at seeing how passionate the kiss was. She laughed and said that if there was a kiss involving her character coming up, she will also do her best and give it her all. Lord, if Yoon Joo kisses Ki Joon, imma going to sew her lips together. Remember that, writer-nim, before you write in some totally unnecessary Yoon Joo-Ki Joon kiss.
Our OTP also revealed that there is an upcoming kiss in episode 8, which Eun Hye has dubbed the Cola Kiss, and that the viewers will be really affected when they see the kiss. She said that the upcoming Cola Kiss is like nothing that has been done before.
Ji Hwan mentioned how the writer is likely single, because she apparently writes a lot of kiss scenes. Eun Hye said that when she watched the footage of the Ice-cream Kiss, even she was stunned at how passionate the kiss was, considering it was a first kiss scene between the leads.
Following LTM suddenly became about 1000 times more fun. Thank you, Ji Hwan and Eun Hye, for unleashing the full weight of your sizzling chemistry and charisma to singlehandedly resurrect this show.
Video of the media day interview: