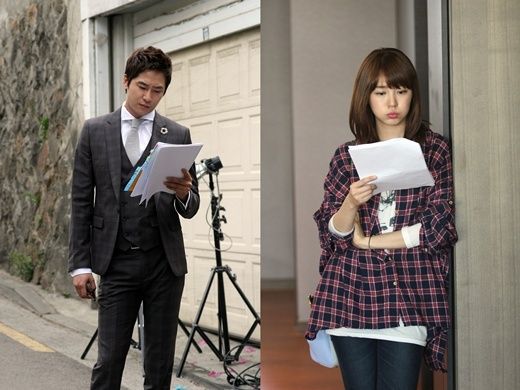 It's official. I'm totally addicted to Lie to Me. I even forced my poor sister and sister-in-law to watch the Ice-cream Kiss with me (opinion – woah…..). They asked which recent drama to watch, and I told them both to watch Best Love instead, because frankly BL is at a different level of awesome. But I'm more obsessed with LTM, go figure. It's also quite clear now that SBS is hauling out the big guns. First the Ice-Cream Kiss, then the upcoming Cola Kiss, and now there is another spoiler for Monday's episode. I'll analyze the pictures after the jump.
But the above BTS picture of Kang Ji Hwan and Yoon Eun Hye reviewing their script intensely has also caught the fans attention, especially when the PD revealed that both actors have their scripts attached to their hand at all times when they are not filming, and they practice their scenes constantly. Hell, I might as well give up now and state the obvious – I am officially shipping Eun Hye and Ji Hwan as a real life couple. I've watched almost every one of their dramas, and this is the first time I've shipped them with any of their co-stars. It's magical chemistry they have.
Apparently Ah Jung goes to hide in the closet after Aunt shows up unexpectedly at the party. After a long day of preparing for the party, and likely Aunt doesn't leave right away, Ah Jung falls asleep in the closet. Which is where our Ki Joon finds her, and looks like stealing one kiss that night isn't enough for him. He kisses her on the cheek, in what has been deemed the sweetest way possible.
The first picture shows Kang Ji Hwan holding up the lighting board for Yoon Eun Hye. No one will ever be able to convince me that Kang Ji Hwan doesn't have a slight crush on Yoon Eun Hye, and vice-versa. Every BTS picture and video makes this more and more evident. Just look at the way he brushes her hair behind her ears in the second picture. GAHHHHHHH, this OTP will be the death of me. I want my sanity back, LTM. Damn you, for using the real life mutual adoration between Kang Ji Hwan and Yoon Eun Hye to make me fall madly for your silly little drama.