Just a word of warning for you guys – for the last 10 minutes of episode 8 of Lie to Me, I just sat there and sobbed. The uncontrollable pain came from deep within, and it's a sign I'm so invested in Ah Jung and Ki Joon that when either or both of them hurt, I hurt. The spoiler about the beach scene turned out to be a double-edged sword, and I'll explain why after the recap. Today we got a major game-changer, and a huge course-correction.
AKP exploded last night, and I woke up wondering why the sudden spike, since I've been on a LTM bender since last week and already the Hwan-Hye ship has been sailing for some time now (I also captain the Geun-Geun ship, which typically parks in happy candy land of cuteness). Turns out Javabeans and Girlfriday decided to drop their LTM recaps. As much as I worship their writing and always love to bounce thoughts off them, and I welcome DB-ers who want to come play here, it really hurt me to hear them criticized for that decision.
DB is their blog, and the recaps their labor of love. I write recaps because I want to, for my own sake, not for anyone else's. So try to be thoughtful and considerate of what they do, and chill it over there. When I almost dropped My Princess and 49 Days, I got considerable hate comments, mostly wondering if I have any taste in dramas. I may not have good taste, but no one can dictate my decisions to write about what moves me. Same goes for the ladies at DB.
With that said, this episode of LTM hit me so hard I was gasping for air. I'm not only going to recap LTM to the end, it's going to so much fun spazzing, raging, and swooning over Ki Joon and Ah Jung (and really, swooning over Eun Hye and Ji Hwan, because let's not lie to ourselves that our love for LTM isn't 99.9% predicated on the real life shippy chemistry between these two). And I know you're all wondering about that Cola Kiss. Yes, it was real. And it was even better than the promo stills alluded to.
Episode 8 Recap: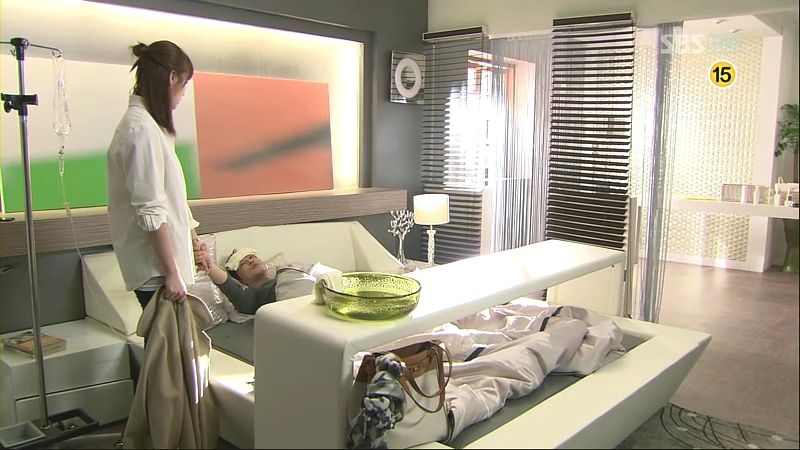 Ah Jung is about to leave when Ki Joon's hand shoots out from under the blanket and he grabs her wrist. She turns to look at him, and he asks her what happened? She explains that a combination of stress and food poisoning took him down last night.
Ki Joon asks why she's here, and Ah Jung explains that initially she thought about calling Sang Hee or Park Hoon over to take care of Ki Joon, but ended up not doing that and instead staying to take care of him. She wanted to stay besides him. Ki Joon asks why she did that, and Ah Jung explains that she was to blame for his condition and felt bad.
Ki Joon remarks that at least Ah Jung knows that, and then moves to get out of bed. Ah Jung worriedly asks him why he's doing that. She grabs his cellphone and sends a text to Park Hoon. The text says that Ki Joon wants the spend the day with a woman, and for Hoon not to come bother him. Hoon reads the text and smiles. Oh, I adore how he's totally on Ah Jung's side.
Ah Jung tells Ki Joon that she'll make him some porridge. He says that he's not hungry, but she tells him to wait because she'll make the porridge delicious. Ki Joon reads the text on his phone and says out loud "a girl"? Ah Jung brings the porridge over to him in bed. He's asks if she sent a text that he was with a girl, and she smirks and replies that Ki Joon should have just listened to her and not tried to go to work.
Ki Joon looks at the porridge and asks if Ah Jung wants him to die by eating it, since he got food poisoning from her food last night. She smiles and tells him in the cutest voice to be good boy – chew carefully, eat slowly, don't spill, okay? Ki Joon incredulously asks who she is talking to that way right now, and she smiles and replies "you". OMFG, they are so cute together.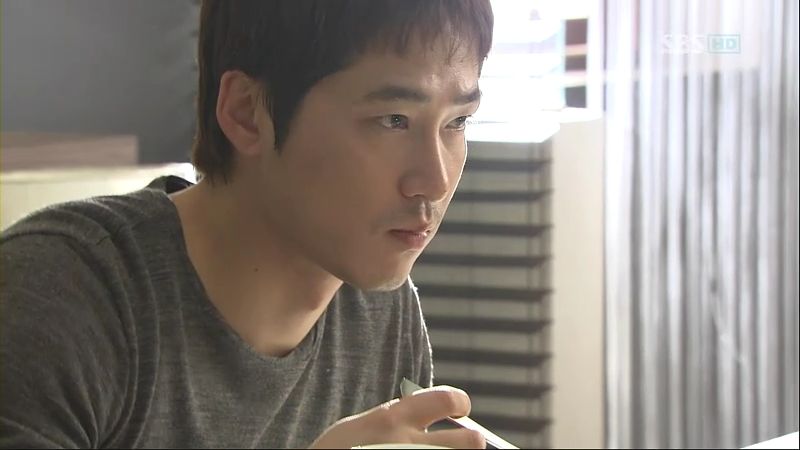 Ah Jung suddenly looks down at her watch and realizes that she's late for work. She scrambles around the room grabbing her stuff and runs out. She tells Ki Joon to finish all the food even if it doesn't taste good. She makes a phone gesture to her ear and says that she'll call him. Ki Joon watches her leave, and then he looks down at the bowl of porridge. He takes a bite, and then continues eating.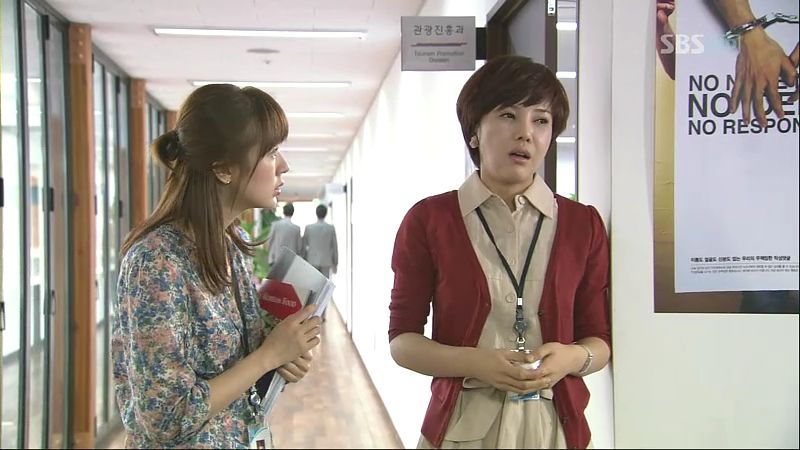 At work, Ah Jung overhears her co-worker on the phone discussing leaving someone sick at home, and how hard it is. Ah Jung adorably concurs. Oh sweetie, you are so into him. Ki Joon sits at home and plays a video game on his phone. See, what did I tell you guys, he's a total goofball deep down and the uptight hotel president is just the image he's adopted to present to the world.
He gets bored playing the game. He flops down on the sofa, turning around to lay on his belly. He checks his phone again. Nope, no texts from zee wifey yet, Ki Joon. Ah Jung is hard at work, and she checks her phone as well. You know what I adore about Ah Jung and Ki Joon and their constant checking of their phone for texts and calls? It's exactly what every single couple in the world (who own cellphones) does when they are just starting to like each other.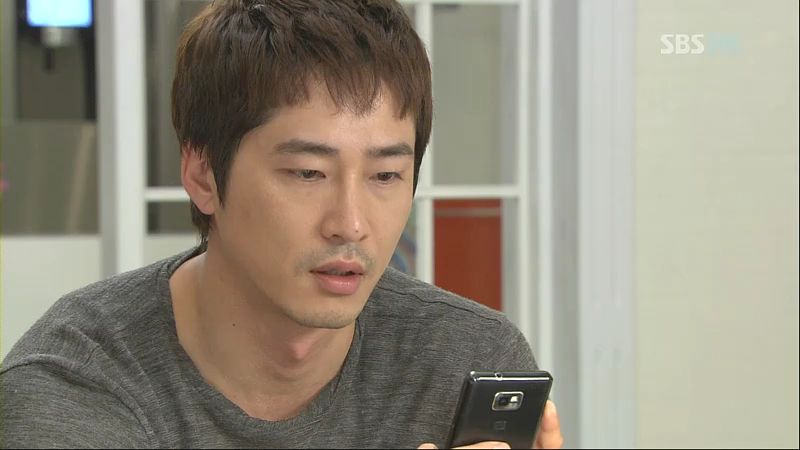 Ah Jung composes a text, asking Ki Joon (who is doing sit ups on the sofa) if he's feeling better. Ki Joon smiles, and he types "I'm fine", but then erases it and types "I'm not fine", and then erases that and types "I'm getting better". But he ends up not sending any of the texts.
During lunch, instead of going out to eat with her co-workers, Ah Jung drives over to Ki Joon's house. She runs to his front gate and rings the doorbell, yelling out his name, worried about him. Suddenly Ki Joon walks up behind her and asks why she's here? She tells him that she was worried about him since he didn't reply to her text, but he thinks they don't have the kind of relationship where they need to worry about each other.
Ah Jung gets upset and says that she won't worry anymore. She gets in her car and leaves. Ki Joon tries to explain that it wasn't what he meant. Ah Jung huffs that she's not coming by again since they have no reason to be concerned about each other.
Ki Joon goes into the house and gets a call from Park Hoon. He hears some news and tells Park Hoon that he's coming into the office right away. We see the manager walk the Chairman and his wife out to their car as the couple leaves. Ki Joon arrives at the office and is told that a family member of the Chairman's wife just passed away. Ki Joon thinks that if the Chairman didn't mention anything before he left, then it likely means the deal is over. He's told that their flight leaves tonight.
Ah Jung comes home and is surprised to see Jae Bum having tea with her dad. Jae Bum asks why Ah Jung is not coming back home (to visit her dad) with her husband? Ah Jung lies that Ki Joon is busy. Ah Jung's dad is not in a good mood, telling Jae Bum that he will consider holding the seminar. Jae Bum gets up to leave, wondering if he came at the wrong time. Ah Jung explains that her dad is mad at her, and it's got nothing to do with Jae Bum.
Jae Bum tells her to be better to her dad. He leaves, and Ah Jung's dad confronts her, wanting to know how much longer she's going to keep lying. Ah Jung promises to take care of it, admitting that things have spiraled out of control. Which is when Jae Bum comes back inside the house to retrieve his cell phone, and has clearly overheard this conversation. Ah Jung worries that Jae Bum knows the truth, and her dad tells her it's likely she's been outed.
Ki Joon looks at his watch, and makes a decision. He drives over to pick up Ah Jung. Ah Jung gets a call from Ki Joon, who needs her help. She asks why she ought to help him, since he said that they weren't anything to each other. Ki Joon says that he will be outside her house in 10 minutes. Ah Jung hangs up and throws her phone down. Her dad hilariously asks Ah Jung if she's having fights with even her pretend spouse.
Ki Joon gets out of his car and looks around for Ah Jung, checking his watch for the time. He paces and leans on the car, waiting for her to show up. She finally shows up right when Ki Joon is about to give up, berating herself as a fool for coming. No, you're a brave fool in this game of love, Ah Jung. Ki Joon looks relieved and content that Ah Jung showed up.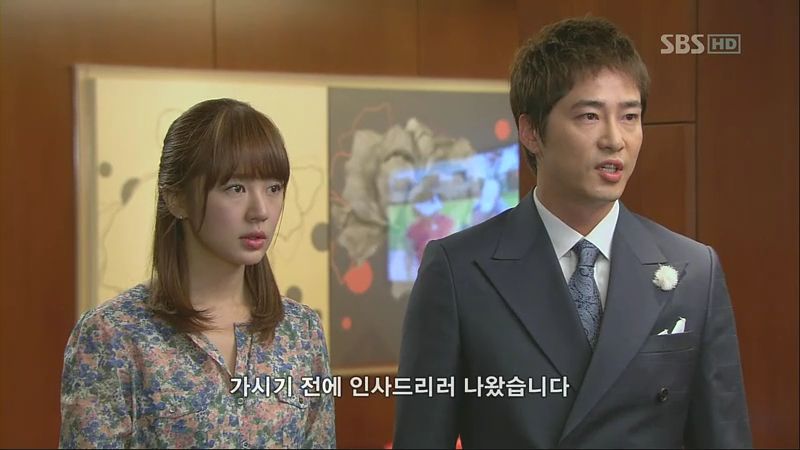 On the drive to the airport, Ah Jung asks if Ki Joon wants her to convince the Chairman to sign a contract. That's not Ki Joon's intention, he just wants to say goodbye, and thinks Ah Jung should go too since she spent time with them. Ah Jung asks again if Ki Joon doesn't want her to convince the Chairman to do the deal, since he wanted to continue with their sham pretend marriage because this Shanghai deal was so important to him.
At the airport waiting room, Ki Joon walks up to the Chairman and bows. Ki Joon says in Chinese "we would like to say goodbye to you both." The Chairman's wife starts to weep, and Ah Jung walks up to her and hugs her. The Chairman tells Ki Joon to send the contract to him when it's drafted, he wants the project to go forward as Ki Joon planned. The Chairman looks at Ah Jung comforting his wife, and tells Ki Joon that Ah Jung is a good woman.
Ah Jung and Ki Joon walk out of the airport. She asks him if everything went well, and he confirms it did. Ki Joon drops Ah Jung off, and as she's walking away, he gets out of the car. Ki Joon tells Ah Jung that he wanted to text her back that day, but he didn't know how to respond. If he texted back that he was fine, then she wouldn't come. But if he texted back that he was still sick, then she would worry.
Ah Jung asks if Ki Joon was just waiting for her to show up, and he says that he didn't have to wait that long. Ki Joon blames his odd behavior on being sick. When Ah Jung points out that he's still acting off, he says that he's still sick. Ki Joon thanks her for everything. Ah Jung doesn't think she did anything compared to what Ki Joon has done for her. He smirks and concurs. He tells her to go inside now, and before she runs off, she confesses that she was happy he called asking for her help. That leaves our Ki Joon with a doofy grin on his face as he gets into the car, sneaking glances as Ah Jung walks away.
Ki Joon informs Park Hoon to prepare the contract and the Chairman has agreed to sign. The manager wants to know how Ki Joon pulled it off, and Ki Joon says he asked Ah Jung for help. She says it's really paid off for him to have a wife. She goes off to prepare the contract and send it to Shanghai. After he leaves, Ki Joon says that he's feeling better now and not sick anymore.
Aunt meets with Yoon Joo, suggesting that she go study abroad, Aunt will support her. Yoon Joo declines, she's met with Sang Hee and he's fine now. Aunt asks if Yoon Joo really wants to split the brothers up? Yoon Joo refuses to do as Aunt requested this time.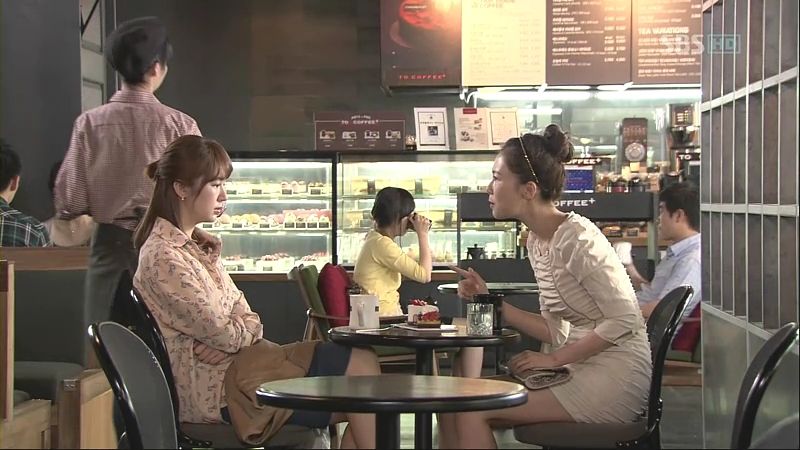 Ah Jung is at work and all her co-workers are headed to a mandatory after-work gathering. She wants to decline but her boss tells her she's not allowed to miss the gathering. Ah Jung gets a call from So Ran, and she runs out to meet her. So Ran tells Ah Jung about Ki Joon's ex-fiancee Yoon Joo, who was the perfect woman and nothing was wrong with her.
So Ran explains that Ki Joon didn't want to break up with Yoon Joo but was forced to. So Ran says that Yoon Joo is back in Seoul, and she hands Ah Jung the address. She tells Ah Jung to go see the woman and take care of things right off the bat. Ah Jung crumbles up the paper and leaves. As Ah Jung is walking, she's complaining about So Ran pretending to care. She then smooths out the paper and looks at the address and name. She reads the name of Oh Yoon Joo, saying that even the name is pretty.
Ah Jung heads to Yoon Joo's house, but loses her nerve as she sees the front door. Yoon Joo's mom walks out and asks Ah Jung what she wants? Ah Jung pretends she's at the wrong house. Yoon Joo arrives at home, and Ah Jung tries to force herself not to look at her. But she can't help it, turning around to see the beautiful and elegant Oh Yoon Joo.
Ah Jung heads to her work gathering, where she proceeds to drink herself into oblivion. The group heads to a noraebang, where drunk Ah Jung sings a depressing ballad. She gets so drunk that she ends up crying and laughing at the same time. When finally Ah Jung sings another depressing ballad, chugging more beer and crying, the party ends.
Ah Jung is helped outside and deposited into a taxi. The taxi driver asks Ah Jung where she wants to go. Ah Jung passes out in the taxi. The next morning, Ah Jung wakes up in Ki Joon's bed. She's wearing only her underwear. Ah Jung thinks back to last night and her drunken behavior. She actually undressed herself in Ki Joon's bedroom before passing out on the bed. In the taxi, she told the driver to take her to her husband Hyun Ki Joon's house.
Ah Jung hurriedly gets dressed and tries to sneak out of the house. Ki Joon asks her if she's trying to run away. She apologizes for imposing on him yesterday, and he matter-of-factly notes that she's always doing it. Yes, and you always let her. He then teases her, saying he was kidding. But she agrees with his original sentiment, she does impose a lot.
She offers to pay for the taxi fare. She wants to leave the money and leave because she's so embarrassed, which is when Ki Joon asks if she doesn't remember what happened last night? He says this in an alarmed way, so Ah Jung nervously asks him to explain what happened. He refuses to tell her what she did, telling her it doesn't matter and is in the past now.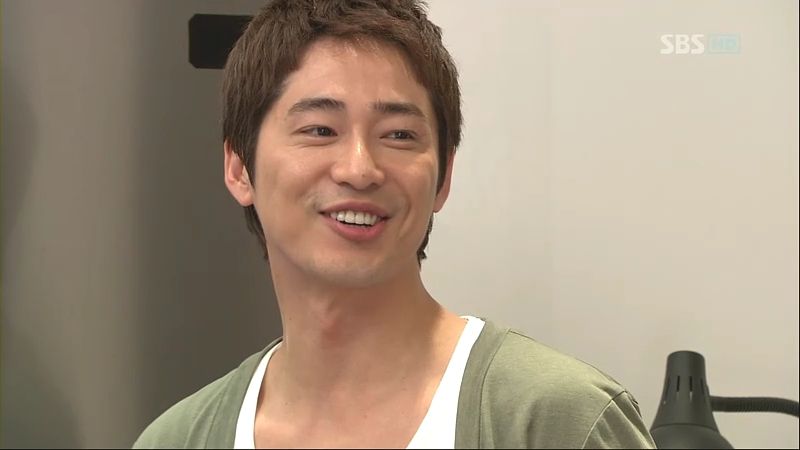 He heads to drink some water. She follows him and yells at him. He finally turns around and smiles at her, saying he was just kidding and nothing happened. He laughs and says that she's finally back to being Gong Ah Jung. She goes to grab a bottle of coke to pour herself a glass. Ki Joon says Ah Jung needs to thank him for preventing her from getting in a taxi looking like "this" and he points to her. He tells her to look at herself in the mirror since she's such a wreck.
Ah Jung goes to the bathroom and witnesses her raccoon eyes and general disheveled look. While she's in the bathroom, Ki Joon grabs the bottle of coke and shakes it like a madman. He puts it back on the counter and waits for Ah Jung to come back, acting all nonchalant. When Ah Jung returns, she opens the bottle and the coke sprays her in face.
Ki Joon laughs like a crazy loon, which is when Ah Jung turns the bottle on him and sprays him with coke. They chase each other around, grabbing for the bottle and spraying each other. Finally Ki Joon grabs Ah Jung and pins her hands behind her back. The bottle of coke falls from her hands.
Ki Joon pulls back and they look at each other. He leans in to kiss her, and she pulls back. She looks at him, asking whether this is acting or for real? Oh girl, I love you for being so direct and getting some truth out of that man before he kisses you senseless again. He answers that this is for real.
Ki Joon leans in and kisses her. They break apart, and he smiles and asks if she's happy, since this is her second kiss.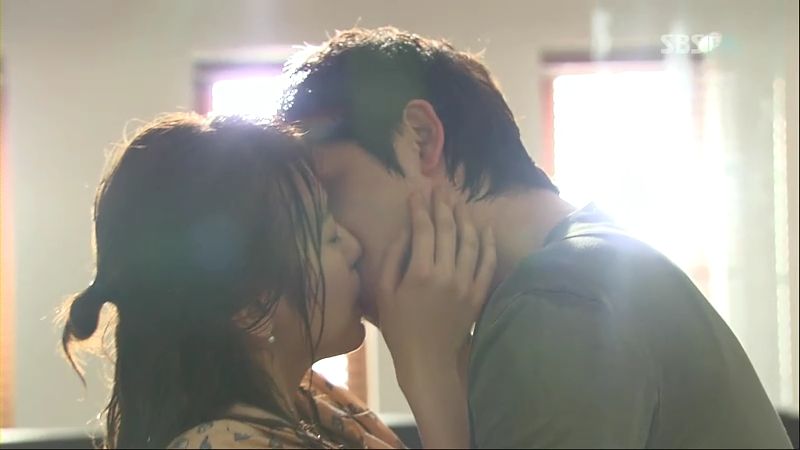 She says this is not her second kiss, and this time she pulls his head in and kisses him. Oh my lord, kill me now with the hotness.
They end the kiss, and Ah Jung smiles, saying that it tastes sweet. Ki Joon smiles back at her. The entire Cola Kiss sequence is scored with the slow version of the Ice-cream song, and it's just perfect. Suddenly the phone rings, and Ki Joon takes Ah Jung's hand before walking over to answer the phone.
It's his Aunt, and she's asking him to meet. She wants to come over, but he says they can meet outside somewhere. Ki Joon hangs up the phone and takes Ah Jung away. OMG, sexy shower? Nah, too early for that. Pfft.
Ah Jung and Ki Joon walk out of the house. He tells her to get into the car and he'll drive her to work. She notices his license plate number, and realizes that today's date means he can't drive his car. Seoul has an ordinance limited car driving based on license plate number, to reduce traffic. Ah Jung says she won't get in since she's a civil servant. He follows her in his car and tells her to get in. She agrees if he'll pay the fine.
Yoon Joo goes to see Sang Hee, who is in the middle of painting. He says she's got great timing. Yoon Joo asks Sang Hee if he still likes her. Sang Hee won't answer, but Yoon Joo keeps pressing him. She thinks Ki Joon is pushing her away because of Sang Hee. Sang Hee asks if Yoon Joo is worried? He tells her that no woman can ever sway the Yoon Joo that is in Ki Joon's heart. Okay, Sang Hee, I know you feel guilty, but please butt out of your brother's love life. You've screwed it up once, don't let history repeat itself.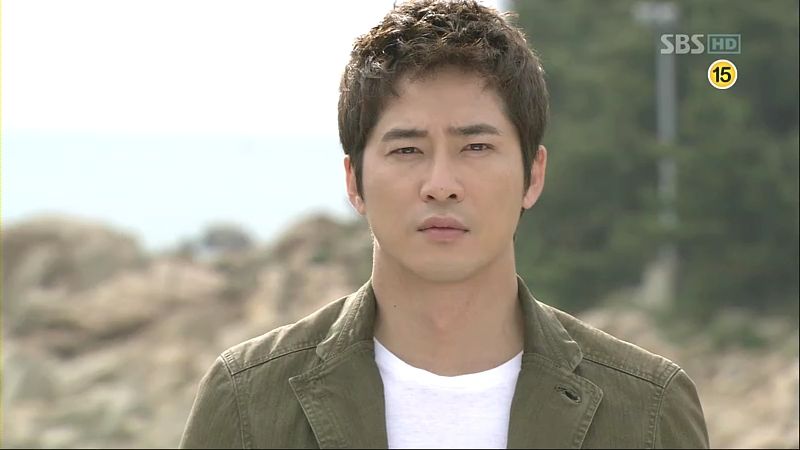 Ki Joon meets with his Aunt, who asks him to take care of the Yoon Joo problem. He doesn't want her to do anything, but she tells him to handle it otherwise she will. Ki Joon speeds in his car, and he ends up at a beach, staring out into the ocean. When he comes home, Sang Hee is waiting for him outside.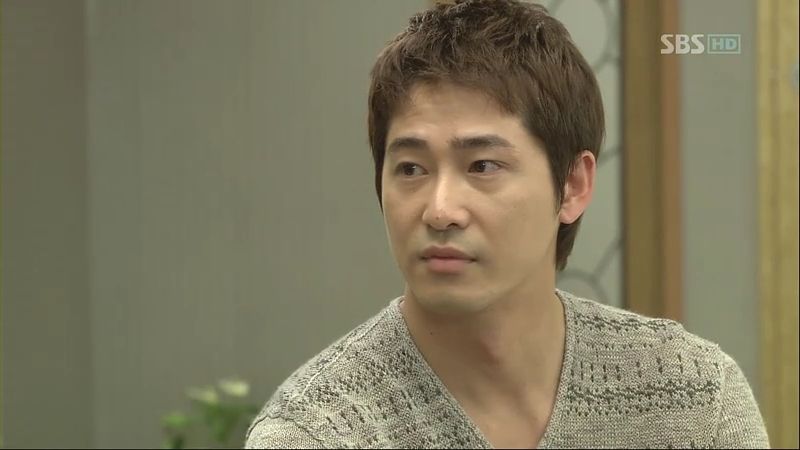 Ki Joon changes and walks out to the living room to find Sang Hee watching TV. Sang Hee demands to know what Ki Joon did recently to hurt Yoon Joo? Sang Hee doesn't want Ki Joon to use Sang Hee as an excuse to hurt Yoon Yoo. Sang Hee says that Ki Joon needs to hold onto Yoon Joo, because he's fine with it now.
Ki Joon says he's done talking about this, but Sang Hee yells back that he's not done talking. Sang Hee smiles and tells Ki Joon that with the time that has passed, he's actually comfortable with things now. If Ki Joon loves Yoon Joo, he needs to hold onto Yoon Joo now. Sang Hee doesn't want Ki Joon to miss out on another chance with Yoon Joo because of him.
Sang Hee leaves, and ends up calling Ah Jung from the playground. She pretends that she's reading a book, and he correctly guesses that she's got a mask on her face. She's calls him a ghost for seeing right through her. She asks why he sounds so relaxed, like something good happened? Sang Hee asks if it's so obvious, and tells Ah Jung that it's finally over. She asks what he's talking about, and he says it's too much to explain.
So Ran meets with Ah Jung and asks about why Ah Jung hasn't met with Yoon Joo yet? So Ran is upset that Ah Jung hasn't met with Yoon Joo. She wants Ah Jung to listen to her and or else Ah Jung will regret it. It appears that So Ran finding out Jae Bum is cheating on her has actually got her solidarity goat up and she's seriously concerned about Ah Jung's marriage.
Ah Jung says that spouses are supposed to trust each other. She trusts Ki Joon, and asks whether So Ran trust Jae Bum. She leaves, and So Ran seethes in frustration. Ah Jung walks and replays her conversation with So Ran, about trust between spouses. She worries that perhaps So Ran is perceptive and might realize what Ah Jung is alluding to.
Aunt's assistant steps out of the car and asks her to come with him. Ki Joon's aunt wants to see her. Ah Jung goes with him and walks into a private dining room where Aunt and Ki Joon are having a meal. Ah Jung and Ki Joon stare at each other, and Ah Jung sits down. Ki Joon asks why Ah Jung is here, and Aunt says that she wanted to meet Ah Jung.
Suddenly Yoon Joo arrives, and we get a three-way stare fest going on. Yoon Joo sits down, and Aunt tells her to say hi to Ki Joon's wife. Yoon Joo says it's a lie, but Aunt replies that the rumors going recently are not just baseless. Ki Joon and Ah Jung are keeping their marriage a secret because Aunt doesn't approve. Ki Joon stands up and screams at his Aunt, telling her to stop it.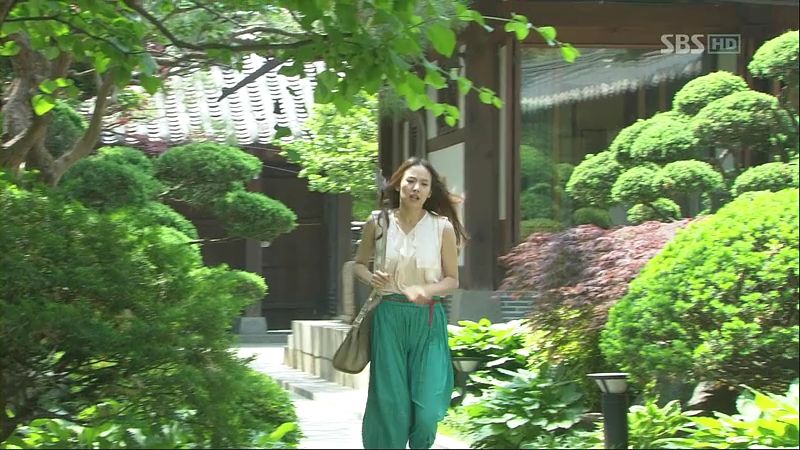 Aunt continues, telling Yoon Joo that Aunt is now willing to accept Ah Jung and Ki Joon's marriage to deter Yoon Joo. Yoon Joo runs out of the restaurant, and Ki Joon moves to follow her. He tells Aunt with angry sarcasm that she's done well this time. Aunt calls for him to stop, but Ki Joon merely turns to look at her before walking out. Aunt apologizes to Ah Jung, who runs after Ki Joon.
Ah Jung sees Ki Joon get into the car, and she asks him to explain things to her. Ki Joon tells Ah Jung that he's sorry, and then he takes off in the car to go look for Yoon Joo. OH HELLS NO. Well, we're officially heading towards rip my guts out pain territory. Ah Jung asks herself with a worried look if Ki Joon still likes that woman?
Ki Joon goes to Yoon Joo's house but she's not home. He drives around and calls her. Ah Jung sits outside Ki Joon's house, waiting for him. Park Hoon shows up. Ah Jung asks if he's heard from Ki Joon? He says no, and she declines his offer to wait inside. She asks Hoon to call her if he hears from Ki Joon. Ah Jung walks away in a daze, stopping to look back up towards the house.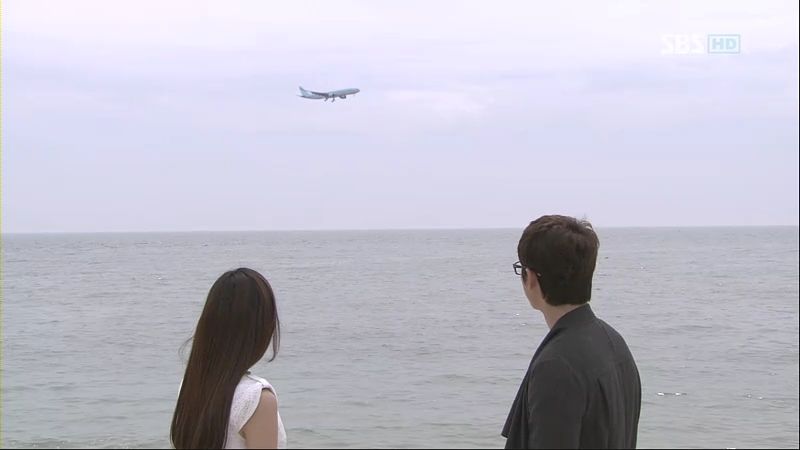 Yoon Joo is at the beach. We flashback to Yoon Joo and Ki Joon at the same beach, walking hand-in-hand towards the water. Yoon Joo looks at her ring and a plane flying over the ocean, thinking that she'll be leaving in a few hours. She asks Ki Joon if it's true that they can't meet anymore. Ki Joon touches her head gently. He tells her to call him when she arrives in Paris. Yoon Joo tells him not to worry, she'll find a better man than Ki Joon in Paris.
Yoon Joo sits on the beach and swallow back her tears and bitter memories. She looks up and sees Ki Joon walking towards her. She thinks back to what Sang Hee said to her earlier – that no woman can sway the Yoon Joo that is in Ki Joon's heart – and Yoon Joo walks up to Ki Joon and hugs him.
Ki Joon lifts up his hands and almost hugs her back, and we don't see if he does or not. We suddenly see Ki Joon hugging Yoon Joo, and then leaning in to kiss her. Which turns out to be Ah Jung's dream, and for that I thank the drama gods. Also, I cannot cap that dream kiss, because it almost made me barf up my nonexistent lunch. Yes, I skipped lunch to recap this episode.
Ah Jung runs out of her house and drives over to Yoon Joo's house. She walks up to the front door, but can't bring herself to ring the doorbell. She sits down on the steps instead and ends up falling asleep. She's woken up the next morning by her cell phone alarm going off. She rubs her weary eyes and gets up to leave.
Ah Jung walks towards her car, and sees Ki Joon pulling up with Yoon Joo in the passenger seat. Hyun Ki Joon, you break Ah Jung's heart, I break your kneecaps. Got it? Ah Jung averts her eyes from Ki Joon's direct gaze, and tries to explain that she's here because Ki Joon didn't answer his phone, not because she was worried.
Ki Joon tells Yoon Joo to go inside first, but Yoon Joo invites Ah Jung inside as well. Ah Jung says it's not necessary, but Yoon Joo explains that she has something to say. Ah Jung sits in the living room and looks at the pictures of Ki Joon, Yoon Joo, and Sang Hee. Yoon Joo brings out tea, and apologizes for misunderstanding Ah Jung. Ah Jung says it's her fault for any misunderstanding that occurred. Yoon Joo thanks Ah Jung – because of Ah Jung, she's back together with Ki Joon again.
Ah Jung thinks that's great, she was worried that her presence caused a rift between Yoon Joo and Ki Joon. Ah Jung tells Yoon Joo that Ki Joon is not to blame for anything, it was all her fault, she asked Ki Joon to lie about their marriage. Ah Jung gets up and rushes out, explaining that she is late for work. Ki Joon sits there and doesn't say a word the entire time. Yoon Joo sees Ah Jung leave, and tells Ki Joon that she feels sorry for Ah Jung for some reason. Oh Yoon Joo, you are so kind and perceptive – which is why I'll feel sorry for you, too, when your face runs into my fist by accident.
Ki Joon runs out of the house and chases after Ah Jung, telling her to wait a moment. Ah Jung turns and tells him she'll be in trouble with her boss if she's late. She tells him not to worry, she knows everything now. He wants to say something, but she cuts him off. Ah Jung asks if Ki Joon wanted to tell her not to worry about the lie? Ah Jung knows how loyal Ki Joon is. She quickly leaves, and Ki Joon never gets a chance to say ANYTHING. Which is the only reason I have not smashed his kneecaps yet, even if I'm still seething inside.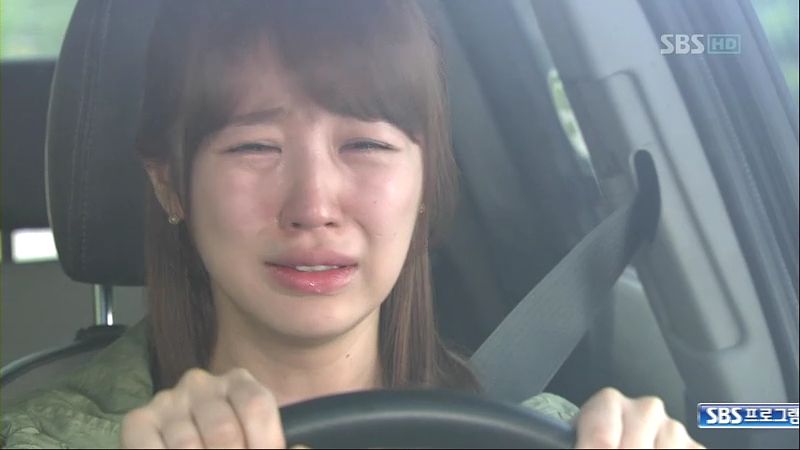 Ki Joon watches as Ah Jung drives away, looking towards her departing car, and then back towards Yoon Joo's front door. Ah Jung drives, and she starts to sob. Oh my poor baby, please don't cry. This is so wrong, and I know Ah Jung got herself into this mess, but still she didn't make the first move to get emotionally entangled with Ki Joon. She tells herself that she's fine, she's just fine, all the while she sobs her eyes out.
So Ran is destroying her apartment as she throws things at Jae Bum, asking how he dares do this to her. He finally stands up to her beating, telling her that he cheated on her on purpose, and did it in a way that Ah Jung would find out. He wants So Ran to be embarrassed in front of Ah Jung. Jae Bum runs out of the apartment.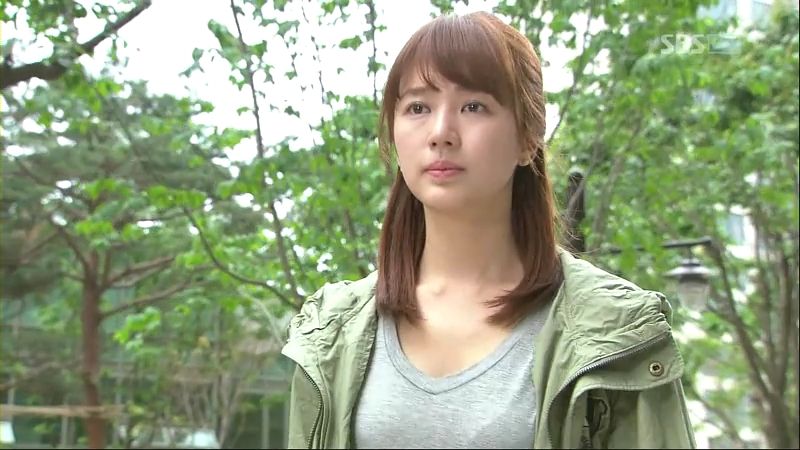 Ah Jung takes a deep breath, and walks to see So Ran with her head held high. I'm so proud of you, Ah Jung. So Ran opens the door and lets Ah Jung in. Both girls are in a state of shock. So Ran calmly tells Ah Jung that this is the truth about So Ran's perfect marriage. Ah Jung tells So Ran that she is not married to Hyun Ki Joon. Ah Jung confesses that it was all a joke, from beginning to end.
So Ran stares at Ah Jung in shock, but without any hint of happiness or gloating. So Ran actually looks worried as Ah Jung walks out of the apartment. Ah Jung walks outside, and then she starts to cry, finally doubling over and sobbing her heart out right there on the empty street.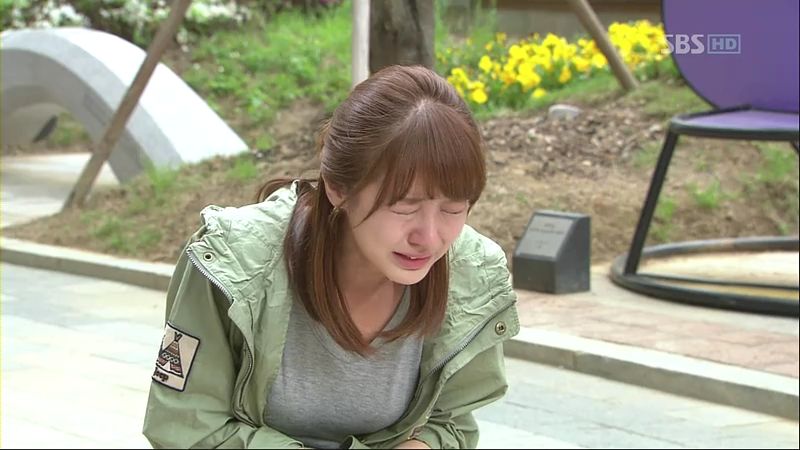 Thoughts of Mine:
How the heck am I suppose to write an after-word for this recap when I feel like my guts just got jerked through the wringer? I'm not going to pretend that magically Lie to Me got better qualitatively in the last two episodes, because it really hasn't. The problems with this drama are too numerous and too late to fully fix. But the drama has given up on that, instead shucking the extraneous plot drivers and focusing on the emotional narrative. Whether you can get onboard with this version of LTM depends on whether you emotionally connect with the OTP and buy into their love story.
So episode 8, which marks the halfway point for this drama, takes everything that has happened in the first half and throws it out the window. The lie – done and over with, as meaningless in its reveal as it was in its inception. Ah Jung and So Ran's rivalry – insignificant in the greater scope of their lives, and both appear to realize it. Thank god, because I need these two to stop with the childish antics.
Ki Joon's business deal with the Chairman – successfully wrapped up, so he can never use that as an excuse to see Ah Jung anymore. Sang Hee as the reason for Ki Joon and Yoon Joo's inability to be together – poof, evaporated with passage of three years and the added maturity for a young man who feels guilt for his own actions.
So where does this leave us? It means the second half we're playing with whole new stakes. But let's discuss where Ah Jung and Ki Joon were at right before Aunt planned her stupid booby trap for Yoon Joo. The first 2/3rd of the episode took Ki Joon and Ah Jung deeper into expressing their burgeoning feelings for each other. His uncertainty and teasing ways, her obvious worry and concern for him, all of it unfurling in plain sight of each other.
This is a courtship that is developing naturally, an attraction between two adults that is acted upon and expressed with very little artifice. Within a vacuum world, Ki Joon and Ah Jung would naturally gravitate towards each other, their relationship dance going in ever tighter concentric circles with each interaction. But they don't live in a vacuum, so while Ah Jung has buried her first love, Ki Joon's caught between his past and his present. I know he's confused, but I'm not certain if he's confused about where his heart is pointing right now.
I think the main reason Ki Joon chased after Yoon Joo is because she was hurting. He still cares about her, and obviously she affects him. On top of everything, his own Aunt purposely staged this show with the intention to hurt Yoon Joo. How can he just let her go? I know that he knows that Ah Jung was hurting when he took off, so he apologized to her, but he still went. I need to talk us all off a ledge, and reduce the urge to drop kick Ki Joon to Mars for seemingly choosing Yoon Joo over Ah Jung at the restaurant.
It's not like that at all. The person that was intentionally hurt at the restaurant was Yoon Joo, not Ah Jung. We know Ki Joon still cares about Yoon Joo, even as his heart is growing ever close to Ah Jung. I can't hate Ki Joon for running off to make sure Yoon Joo was fine, even if I HATE HATE HATE the fact that the damn writer wrote this scene, because Ah Jung got hurt.
But narratively this was absolutely necessary, we need to cross this bridge for Ah Jung and Ki Joon to actually have a chance to have a real possibility together. Any drama predicated on a lie, on a fake marriage, on anything of pretense, almost always needs to throw that plot device away as soon as possible. Otherwise it becomes a crutch. Instead the focus needs to be on the emotional development as opposed to the forced situations getting the OTP to spend time together.
I've heard rumors swirling about either or both Jae Bum and Sang Hee pursuing Ah Jung, and I don't know how I feel about either option. I actually want Jae Bum and So Ran to work through their rough patch. She's been taken down 12 notches, and he's grown half a backbone through his cheating form of rebellion. So Ran could not have married Jae Bum purely to steal him from Ah Jung, as much as she loved lording it over her. I hope the two of them learn from their mistakes and save their marriage.
As for Sang Hee, now I'm fairly certain its highly possible for him to fall for Ah Jung. He's put a period on his first love, Yoon Joo, and the first thing he does is call Ah Jung. I can sense that right now he just treats her as a friend he can talk to, but thats often the first step in falling for someone. I'm hurting so much for Ah Jung right now, I'm all for more Sang Hee-Ah Jung chill time if only to help her feel less like she's been emotionally run over by a mack truck.
What can I say about Ki Joon? I'm as pissed at him as all of you, but I take solace in a few small signs that perhaps speak volumes. He did not hug Yoon Joo back at the beach, and he never held Yoon Joo's hand the way he took Ah Jung's hand after he kissed her. Throughout the entire conversation between the three of them, while Ki Joon never said anything, I think it was a combination of working through his own emotions and the fact that Yoon Joo was right there.
Ki Joon clearly wanted to talk to Ah Jung one-on-one, but Yoon Joo turned it into a group discussion. Ki Joon even chased Ah Jung outside, clearly trying to explain things. But he was never given a chance to talk. I really wonder what he thinks about Ah Jung's claim that she's happy to see Yoon Joo and Ki Joon together? Honestly though, I don't care about whether Ki Joon is torn, because all I care about is Ah Jung's hurt.
In the last two episodes, she's really coming alive as character, exhibiting the character descriptions initially used to describe her – a smart, daring girl, one who lives her life without pretense and affectations. I loved every single interaction between her and Ki Joon, how she talks to him always catches him off guard, until he's as candid as she is. He teases her, and he tells her the truth when she asks for it. I don't mind all the jaw-dropping kissing that been going on in the last few episodes, but really it was the concurrent emotional development that has made me rabidly addicted to this drama.