You didn't think I would plaster the playground with Lie to Me kisses and then shaft the first kiss here, now did you? Best Love (The Greatest Love) is such a romantic drama. It's not bathed in the romance lingo of fate, destiny, star-crossed lovers, or even mountains of obstacles. I find the pathos light, the stakes high but not insurmountable, but the drama marinates on the details of figuring out one's own feelings. We've got three idiots in love as our leads, and together they are bumping, crashing, and stumbling their way to a realization about their own feelings and what each is going to do about it.
I like that all three rom-coms I'm currently recapping have such different male lead emotional issues, allowing me never to compare and contrast. We've got mature and sure-of-himself (Jie Xiu in DTLY), uncertain and conflicted (Ki Joon in LTM), and direct but reluctant (Jin in BL). Yes, I wish every male lead can take lessons from Jie Xiu (and maybe we can duplicate the man for all of us), but it's in the very idiosyncratic tics of the male leads that we see the romance reach new heights. In BL, Jin straddles both ends of the spectrum – he doesn't want to like her, but he likes her so much regardless of what he wants. It's brilliant.
Episode 9 Recap:
Jin gleefully explains to Ae Jung that he's cured himself and discovered the reason his heart used to race around Ae Jung. It happened during his heart surgery ten years ago, when the doctor played the Treasure Girls CD and imprinted that song in his subconscious. Ae Jung wants to confirm for herself, and she sits down next to Jin and puts her ear against his chest.
She plugs her other ear and listens to his heart beating in a steady rhythm. She tells him not to move. She's glad its beating, to which Jin responds that he'd be dead if his heart wasn't beating. But the heart beat is normal now whereas it used to beat wildly. But Ae Jung thinks that his heart seems to be beating wildly right now.
Jin asks if Ae Jung is feeling a tinge of regret now that Jin's doesn't like her anymore? Is she sad that his heart is not beating wildly for her, and he mocks her. She slaps his chest and tells him that she came because she was worried about the flower petals of his fragile heart, and she's glad that he's fine. Jin complains that her slap hurt his chest.
As Ae Jung turns to leave, she wonders if it's possible for him to have heard a song ten years ago and be subconsciously affected by it now? Jin doesn't see anything strange about that, he finds the entire matter to be grossly unfair to him. Because he was misled by his wildly beating heard and believed that he liked Ae Jung, he shaved off his goatee and lost weight pining over Ae Jung. She then apologizes for all that he's endured, and leaves. Ae Jung thinks that his explanation makes more sense than blaming it on the gods or supernatural reasons.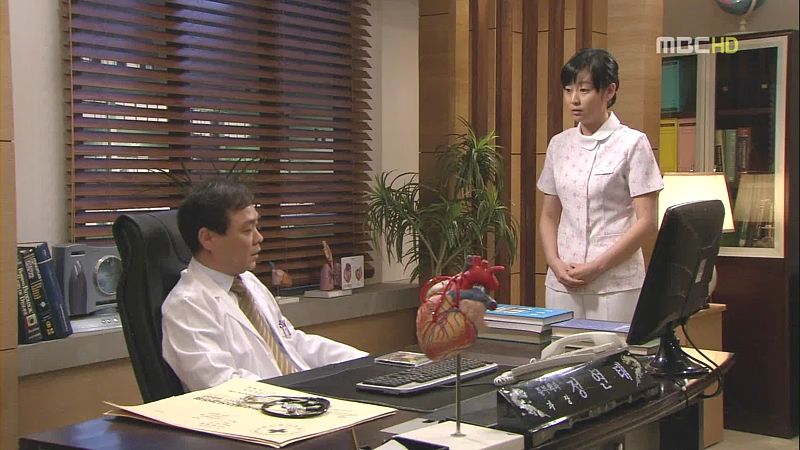 Jin's heart surgeon discusses with his nurse an odd situation that happened during Jin's surgery. When the Treasure Girls song was played, Jin's heart reacted to it. So why would that song suddenly affect Jin's heart again ten years later? Since the song was used to revive Jin's dying heart ten years ago, could it be Jin's heart is failing now and he needs the song again? Jin's doctor asks for Jin's most recent charts.
Ae Jung goes to see Pil Joo and consult his expert medical opinion. She asks if it's possible for a rapidly beating heart rate to be mistaken for liking someone? Pil Joo says it's possible for such false assumptions, since the heart rate rises experiencing thrills such as riding a roller coaster. Ae Jung's phone rings and plays the Treasure Girls song. She thinks back to what Jin said last night. She mutters that it's unfair.
Jin meets with Se Ri and tells her that he'll continue doing the CF with her. Se Ri thought that Ah Jung had grabbed onto a weakness of Jin's, to which Jin explains that Ae Jung has nothing over him now. Se Ri is surprised, and asks if this means Jin doesn't like Ae Jung? Jin ask Se Ri where she heard that from? He'll sue that person for spreading such rumors.
Jin goes to Agent Moon to try and settle any Ae Jung-related rumors, berating himself for not keeping track of what other people might think. He ends up overhearing Jae Seok talking with Agent Moon about how Jin was rejected by Ae Jung. Agent Moon tells Jae Seok to stop spreading rumors, which pleases Jin to know his agent is on his side.
But then she praises Ae Jung for turning Jin down – Jin's been so full of himself for so long, it's good to see him rejected by a woman and taken down a peg. Jae Seok remarks that Ae Jung's family doesn't approve of Jin, and together they agree that it has all turned out for the best.
Jin manages to boynap Ding Dong again to his place, luring him with a tub of ice-cream. Jin wants Ding Dong to explain what his family is saying about Jin. The kid hesitates, and Jin tells him to just say it since he's just 7 years old and shouldn't worry about what other people think. Ding Dong says that his family thinks Jin is a Dongko (butthole), and Jin clasps his hand over the kid's mouth.
Ding Dong then asks Jin if he wants to stick to his aunt like this, and holds out two Pororo magnets, each side with a sticker of a boy and a girl. Jin replies that he was initially attracted to Ae Jung, but that's disappeared now. Jin pulls the magnets apart and turns it so the two poles don't attract. Ding Dong takes his magnet and puts it against Jin's necklace, telling him that it's stuck. Jin pulls away and repeats that he's not attracted anymore.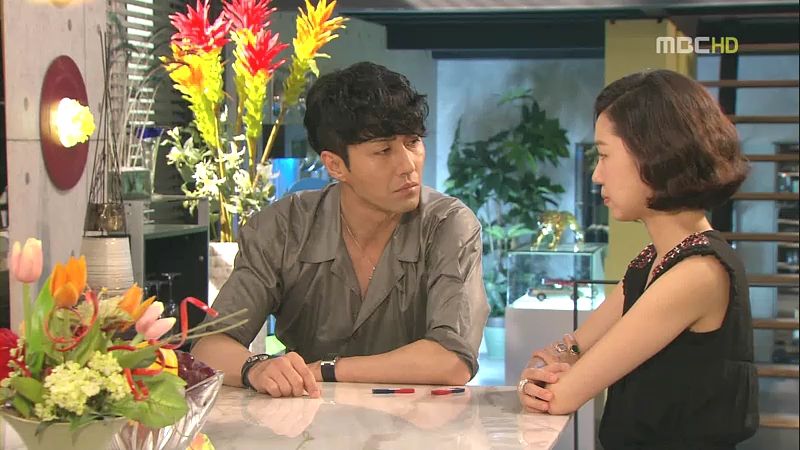 Ae Jung arrives to pick up Ding Dong, who refuses to leave since he's watching a 3D cartoon on TV. Jin pulls Ae Jung to the table and shows her the two magnets. He explains how his magnet used to be attracted to her, but not anymore. But it appears that her magnet is now attracted to him. He asks her if she likes him now?
Ae Jung demurs and says that it's just the magnets demonstrating attraction, nothing more. Jin takes off his heart watch and asks her to wear it and prove it to him. Ae Jung won't wear it, putting the watch down next to the magnet, and the watch immediately shows 88. Jin sees Ae Jung's refusal to wear the watch and teases her for being attracted to him. Jin keeps repeating "attracted, Gu Ae Jung is attracted to me" and chases after her to tease her.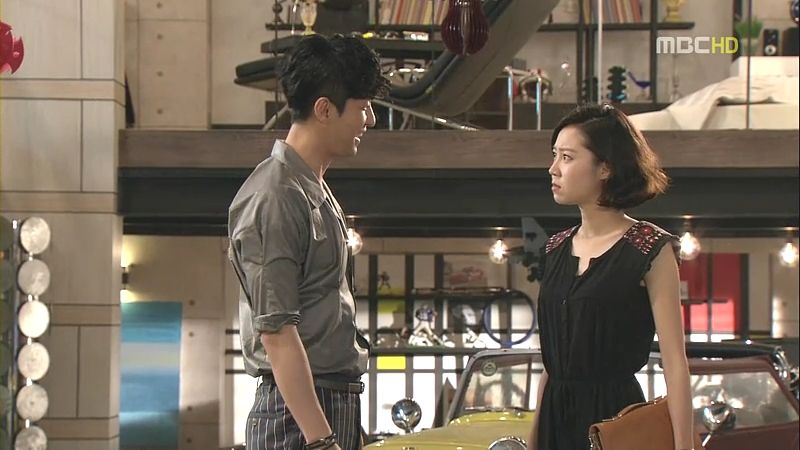 Ae Jung tries to drag Ding Dong out of there. We see the watch malfunctioning. Jin says Ding Dong can stay and watch as many cartoons as he wants. Jin is positively giddy, telling Ae Jung that the shameful one-sided love is now her problem. He blows her a kiss as he crows about his heart being in the safe 60-90 range. Ae Jung can't believe just how happy this is making Jin.
Jin wants Ae Jung to just admit she is attracted to him, and he gleefully keeps teasing her. She tells him that she wants him to feel ashamed forever, and she will never admit it to him. Ae Jung leaves with Ding Dong, who grabs his magnets before leaving. Jin watches Ae Jung lease with a pleased expression on his face. Jin puts on his watch and it shows 88. He says he feels so sorry for Ae Jung, and is so pleased he's conquered his own problem.
Ae Jung sits in her room and plays with the magnets. She's scared of how it sticks to each other. Pil Joo comes down for breakfast and his mom sincerely begs him not to do this. He can even go study in China per his initial request, she won't stop him. Pil Joo asks his mom to see that he's sincere about liking Ae Jung. His mom moans about how embarrassed she is, and she can't even go golfing now. Pil Joo offers to golf with her.
Pil Joo's mom goes to Ae Jung's humble abode and runs into Ae Jung's dad outside. She asks if Ae Jung lives here with her entire family, and is told that the entire family has lived here for the past 7 years. Pil Joo's mom leaves, thinking to herself that it'll be even harder to pull Ae Jung away from Pil Joo if she doesn't have anyone else.
Jin meets with Agent Moon and Jae Seok and explains his heart surgery-song story, and how he's all cured now. Jin wants to make amends for the embarrassing things he did before. He wants to continue with the CF, and asks that the sneaker donation be continued for Ae Jung's sake. He even wants Ae Jung to have use of the van for her show filming, and is happy she spends time with Pil Joo to help change her unlikeable image.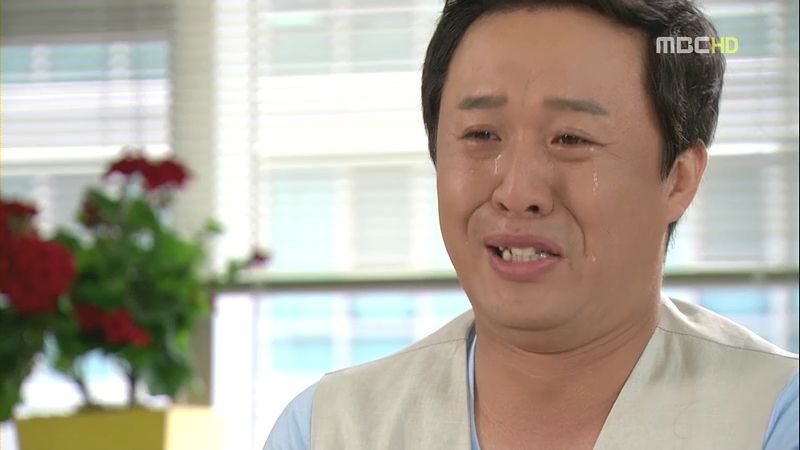 Ae Hwan meets with the production of Couple Making Season 3. He's thrilled with the opportunity for Ae Jung to succeed through the show. Ae Hwan then breaks down and starts crying over how he's about to watch Ae Jung being hated for the last seven years and he couldn't do anything to help her. As her manager he wants her to succeed in show business, but as her brother he begs the production to help Ae Jung with Pil Joo.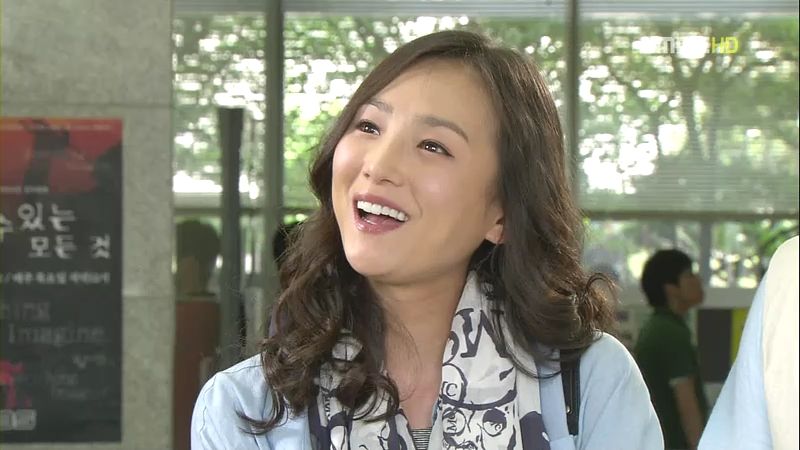 Jenny meets up with Ae Hwan in the lobby of MBS studios. She tells him not to cry, and remarks that she likes being at the studio this time. She wonders if maybe she should become Ae Jung's manager and keep an eye on Se Ri. Ae Hwan says if Jenny married him, they could switch off as Ae Jung's manager. Jae Seok walks up and says no to that possibility, he'll take care of Jenny's restaurant. Jenny grabs onto to one arm from each man and is about to walk off with them when her face lights up as she spies Lee Seung Gi walking into the studio.
Seung Gi (squeeee, he's so insanely adorable) walks through the lobby and bows to everyone. Jenny walks up to him and introduces herself as a fan, and he happily shakes her hand. Ae Hwan suddenly notices that Seung Gi is wearing the same scarf as Jenny and points it out. Jenny is pleased, and Seung Gi acts amused but makes a move to tuck his scarf under his sweater.
Seung Gi walks away, turning around to stare at Jenny's scarf in displeasure which quickly turns into a happy wave when he notices that they are looking back at him. Ae Hwan and Jenny are so happy to see how nice Seung Gi is in person. Jae Seok bemoans being stuck with Jin, who he thought was a nice guy when Jae Seok first met him.
After walking away, Seung Gi takes off the scarf and waves it in front of his stylist, exclaiming that "dogs and cats (i.e. anyone) can wear this" and he won't be caught in it. OMG, real life Seung Gi is a baby-Dokko Jin! So adorable. Suddenly Jin steps out of the elevator, and Seung Gi immediately bows deep and calls him sunbae-nim.
Jin asks Seung Gi to invite Ae Jung as a guest on Steel Heart, one of the variety shows that Seung Gi is the MC for. Seung Gi tries to act like he has no authority, claiming that the writers and PDs determine the guests, to which Jin notes that Seung Gi can easily throw a fit and get any guest invited.
Seung Gi wonders why he needs to do this? Jin threatens to take away Seung Gi's fridge CFs if he doesn't agree. This gets Seung Gi's goat up. He says "I am Lee Seung Gi", he postures back that even if Jin is a sunbae, he won't be cowed. He protects his CFs, and he won't let Jin take it away.
They two of them are about to get in each other's face when suddenly a passel of fangirls run up to them. Jin counts 1-2-3 and immediately Seung Gi and Jin are the happiest buddies in the world. They smile, hug each other, and press their cheeks together, all the while muttering to each other. Jin threatens the fridge again, and Seung Gi agrees to the deal. Jae Seok watches these two fakers and shakes his head.
Pil Joo is at a bookstore rifling through books on Oriental medicine. He stops before the relationship section and grabs a book on dating. A suggestion is to buy something for the other person to indicate wanting to do something together. Pil Joo wanders around looking for the right present, noticing lingerie and swimwear, before he settles on buying Ae Jung a camera since he expects they will be taking pictures together.
Ae Hwan tells Ae Jung that Jin's meddling in her affairs again, this time getting her on Strong Heart with Lee Seung Gi and allowing her to use the company van. Both Ae Hwan and Jenny wonder if Jin still likes Ae Jung, who discounts this behavior as typical Jin-mess-with-Ae Jung stuff. Jenny wonders if she should go make with a scene with Jin, but Ae Jung says Jin will just sue her. Ae Jung decides to go speak with Jin and tell him to cut it out. Ding Dong holds up the Pororo microphone which tells Ae Jung not to lie.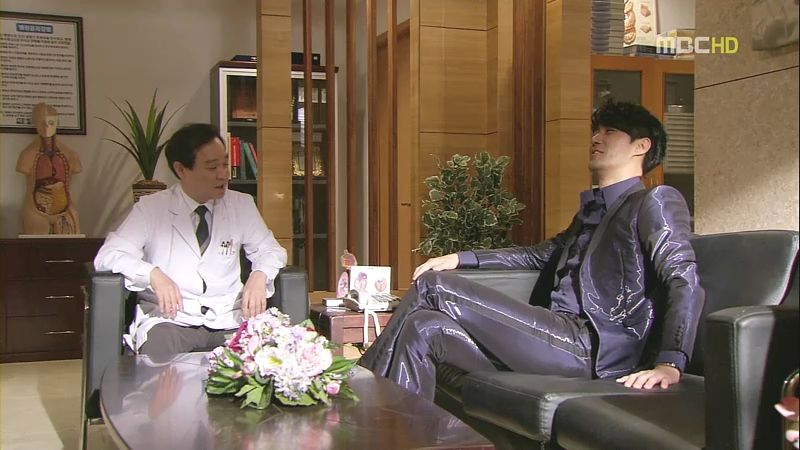 Jin talks with his heart surgeon and proudly explains that his heart rate is now at 88 and he's in the safe zone. The doctor wants to do more tests, but Jin declines, saying he's perfectly fine now. The doctor wants to Jin to consider the possibility that his heart beat quickly around Ae Jung because he does actually like her.
Jin is back in his house. He happily drinks his Vitamin Water and presses it against his face, but instead of his face staring from the label, he sees Ae Jung's face. His watch says 87. Jin wishes he didn't go see the doctor, because what he said is clearly messing with Jin's mind. Jin starts "mind control time". He starts chanting and ends up singing the Treasure Girls song. His watch shows 87-88.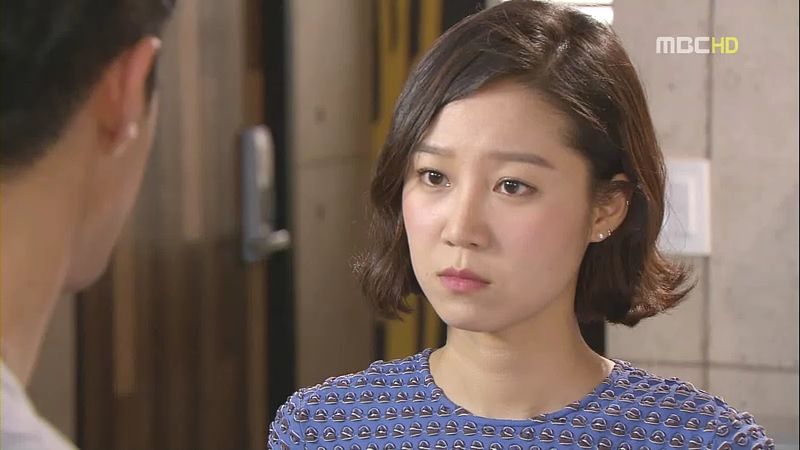 Ae Jung arrives and demands to know why Jin's suddenly doing nice things for her? Did his heart rate start beating wildly again, so he's decided that "ding dong, I like Ae Jung again?" Jin says no. He's doing this because he feels regret and is grateful to Ae Jung. He's grateful that she didn't accept him when he was chasing her, and he feels regret that she likes him now. He thinks he's fixing things and repaying her on behalf of the company.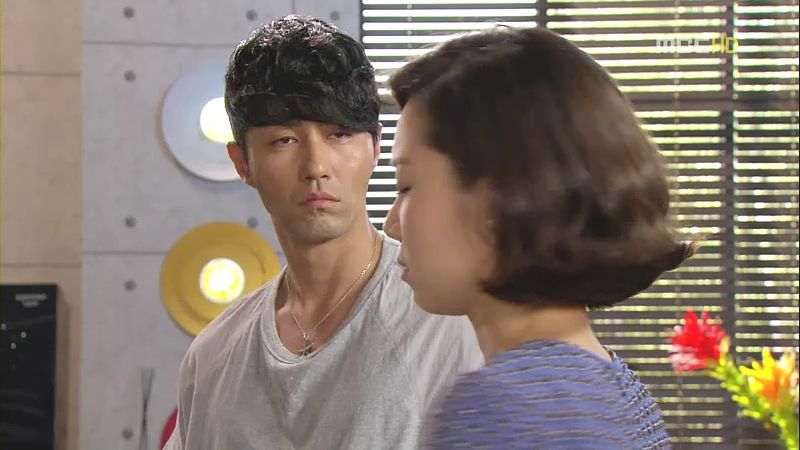 Ae Jung calls Jin high-handed for his behavior, and turns to leave. Suddenly she turns back and announces that he's right – she has changed her mind and can admit that she is drawn to Jin. She's sad the pitiful Jin who liked her is gone, and in its place is this controlled Jin who rejected her. Jin is surprised and wants to know why she's admitting something she claimed she would never admit?
Ae Jung takes Jin's hand and asks for 10 seconds of his time to check is his heart beat won't spike out of safety range. Jin shakes her hand off and pulls her close. He asks if she really likes him? She says yes, and if they are close, she'll stick to him like a magnet. She hugs him, and he hugs her back. Jin pulls away and turns to look at his bedroom. Then he pulls her into a backhug, and starts walking her towards his bedroom.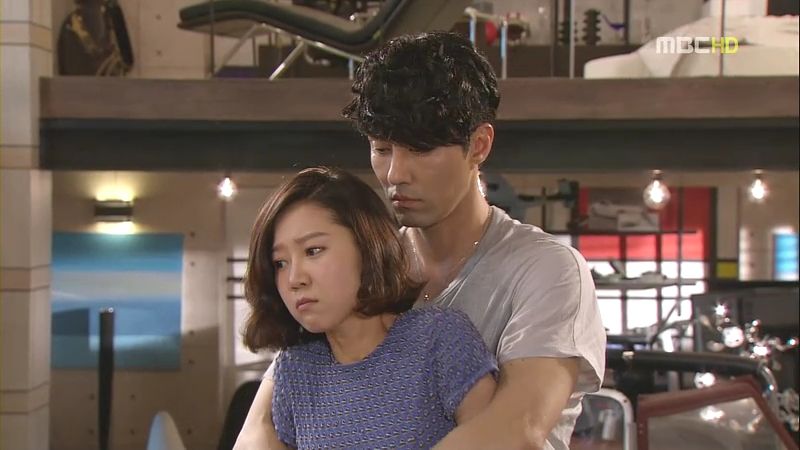 Ae Jung looks nervously towards the bedroom but doesn't struggle out of his embrace. Before he gets there, he turns around and lets her go right at the front door. Jin accuses her of pulling the same stunt he used to do to her. He tells her that she can't even stick to him properly, and asks her to leave. Ae Jung asks Jin if he ever thought about sticking to her properly, all the way to the end? She wants to know if he ever intended to see it through the end? Ae Jung says Jin's heart is smart, letting go before all the realistic worries of the world intrude. When she leaves, his heart starts to race again.
Jenny finds out from Ae Hwan that Jin doesn't like Ae Jung anymore. She calls Pil Joo, deciding to get Ae Jung's mind in the right place before the show continues. Pil Joo accepts the dinner invitation and is happy Jenny is helping him, because it's too hard for him to invite Ae Jung to dinner. He looks down at the camera he bought, telling himself not to be clumsy and nervous anymore.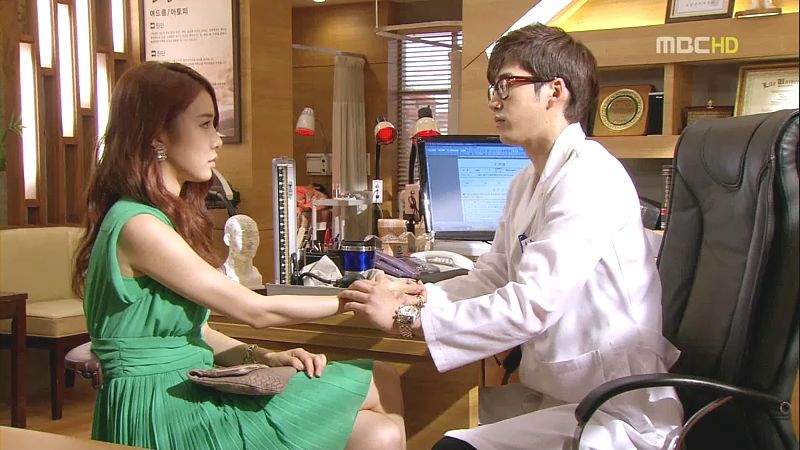 Se Ri is Pil Joo's next patient, and she complains of stomach troubles, likely brought on by taking medicine on an empty stomach. She tells Pil Joo that he won't be able to diagnose why she really hurts. Se Ri asks if Pil Joo really intends to choose Ae Jung? If he does, he'll be brought down to her level. Pil Joo thinks otherwise, if he likes her, other people will like her. Se Ri informs Pil Joo that Ae Jung likes someone else, but he calmly says that if he likes her more, it will work out. Se Ri tells him that it's hard to watch the person you like, turning around and liking someone else.
As Se Ri is leaving the clinic, she runs into Mina in the lobby. The two girls stare at each other, and Se Ri looks stunned and wants to make the move towards Mina. But she's stopped by fans asking for her signature, so Mina leaves. Se Ri ends up collapsing in the lobby and Pil Joo comes out and takes care of her.
Jin looks at his watch reading at 83, but wonders why his heart hurts if Ae Jung has already left. He decides to erase every last remnant of the past with Ae Jung, starting with the wine for director Peter Jason. Ae Jung arrives at Jenny's to find a feast prepared. Jenny makes the excuse that it's to congratulate Ae Jung, and hints that someone else is coming. Which is when Jin arrives, and Jenny looks towards the guilty Jae Seok.
Jin and Ae Jung sit outside, with Jenny and Jae Seok trying to eavesdrop. Jin explains that this wine started it all, and now he wants this wine to end it all. He asks if Ae Jung can't she hear his voice (and the Korean word for voice sounds like the word sorry), which indicates he's apologizing to her in a roundabout way. She tells him that she can't hear the voice.
Jin tells her that if she drinks the wine, everything will go back to normal and end. She needs to believe it, just like he has believed that he can end it. He offers to hypnotize her. Ae Jung pops the cork and drinks the entire $15,000 bottle of wine directly from the bottle. Jin tells her to stop, she'll get sick. Ae Jung says she's all recovered now. Jin thinks she's going to throw it up all, but she says she won't. She'll digest everything that has happened between them, and turn it into crap and pass it out of her that way.
Ae Jung gets up and staggers away. Jenny walks up to Jin and tells him that Pil Joo is coming, and he really cares about Ae Jung. Even if something he loves was lost by Ae Jung, he would buy another to make Ae Jung feel better. Jenny explains how Pil Joo bought another pen and mailed it to Ae Jung so that she wouldn't feel guilty about it anymore. Jin thought Ae Jung lied about finding the pen, but is told that was Jin's mistaken assumption.
Pil Joo sits by Se Ri's side as she lays in a hospital cot. He assumes that what Se Ri was talking about earlier indicated that Se Ri liked Jin, and is heartbroken because Jin broke up with her. Se Ri says she is heartbroken, the more she looks at him, the more she likes him. He tells her to be strong, and know that lots of people like Se Ri. Because he's in the same situation as her (liking someone who likes someone else), he doesn't know what to say to make her feel better. She asks him to stay by her side for awhile longer. Pil Joo checks his watch, and agrees to stay for awhile longer.
Jenny and Ae Hwan are worried about Ae Jung out there drunk and not picking up her phone. Jin walks around and finds Ae Jung sitting on a bench when he hears her phone ringing. Jin sits down, and telling Ae Jung that she is a fool, which Ae Jung repeats. We see Ae Hwan explaining to Jenny that Ae Jung has a drunk habit of repeating what someone else says.
Jin asks Ae Jung why she didn't explain about the pen? He says that she really was coming over to take back what she said about not liking him, and she did come feed the fish. Ae Jung keeps repeating what he says. Jin tells her that he's sorry, and he lets her lean on his shoulder. He touches his heart and looks at the watch face.
Pil Joo arrives and is told Ae Jung is missing and drunk. He heads out to look for her, and finds her sitting on a bench right outside the restaurant. Pil Joo asks how much she drank and if she's alright? Jin stands behind the corner and watches this scene, and slowly walks away. Pil Joo asks the sleeping Ae Jung if she's going to come and hold his hand tomorrow? He slowly intertwines his pinky with hers and makes a pinky swear with her. Oh god, I love this man so much.
Jin goes home and talks with his fish, asking them if Ae Jung came to feed them? He wishes that he raised a pet who could talk. If he asked a dog if Ae Jung came to feed it, it would at least bark. His asks his fishes why they can't even make bubbles to inform their master.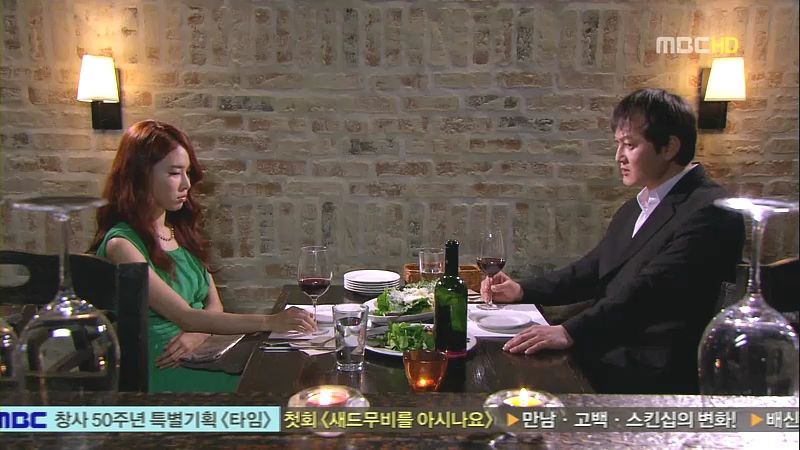 Se Ri meets with her old manager, asking why Ae Jung asked to break up the group and it was immediately agreed by their producer. The manager says Ae Jung must've had a powerful sponsor, which paid off the production to disband the group. Se Ri asks if perhaps Mina knew since she was so close to Ae Jung. Se Ri wants to find Mina to discover the truth.
Ae Jung wakes up with a splitting hangover. Jenny comes and brings her medicine which Pil Joo left for her. Jenny reminds Ae Jung that Pil Joo is a great guy and really cares about her. Jenny tells Ae Jung not to be confused and make the right decision. Ae Jung puts a Jin Vitamin Water on one cheek, noting that is cold, and the medicine Pil Joo left on her other cheek, saying that its warm.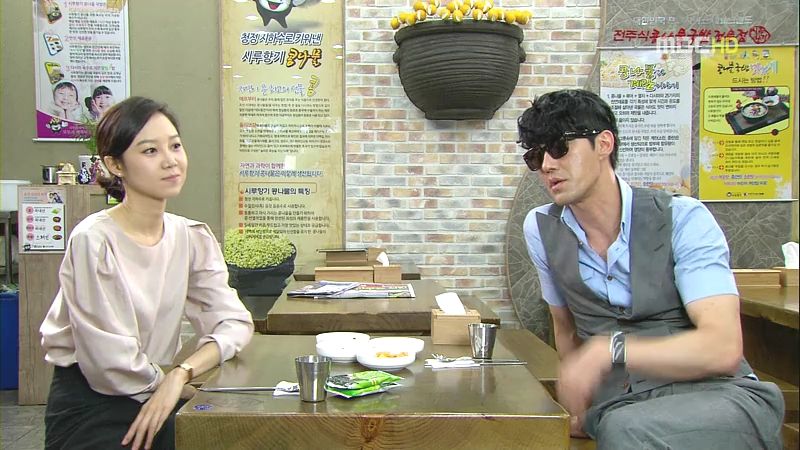 Jin shows up as Ae Jung and Ae Hwan headed to the taping. He asks if she's feeling better, She tells him to buy her some hangover food and then drive her since she's still not completely recovered. He takes her to eating something. Jin notes that it's the first time they've sat and done something from beginning to end. She notes that he always pisses her off and she leaves early.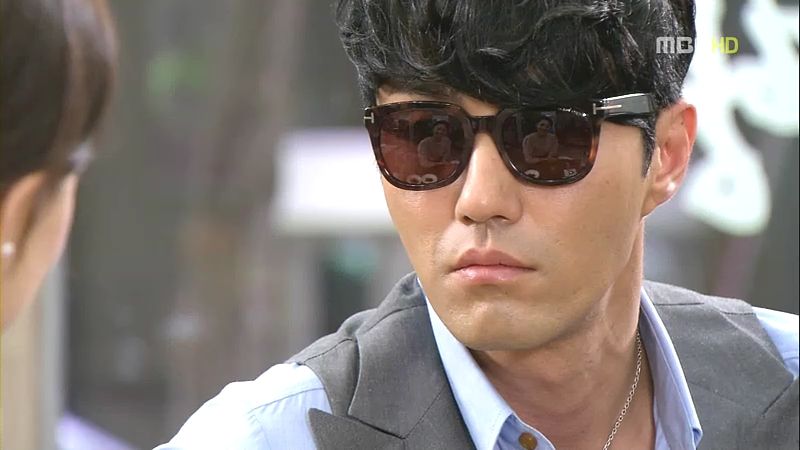 She says that its good he pissed her off, otherwise they'd end up together. He thanks her for that, otherwise he'd plummet from the height of popularity to the depths with her. He confesses that he really really liked her, even when she never looked at him, But now he can discuss it candidly with her.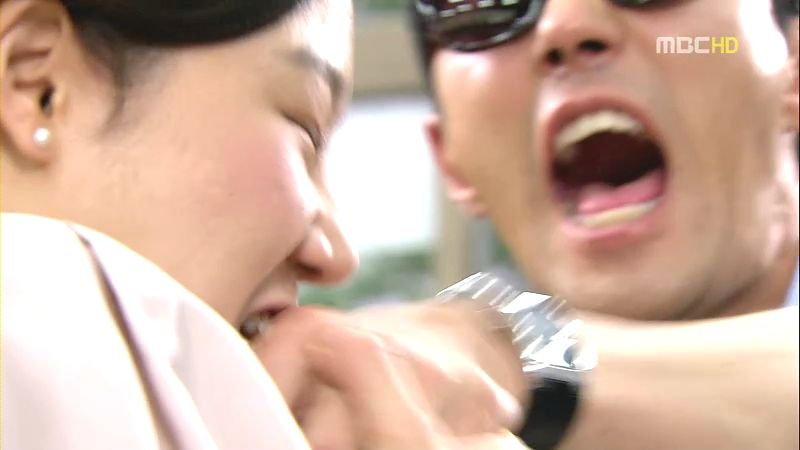 She smiles at him. He shows her that even when she smiles, his watch is steady at 80. She then bites him, saying she wants to check his mind control powers. The food comes and Ae Jung says she'll eat it and be all fine afterwards. Jin takes off his sunglasses and tenderly looks at her eating. He feels odd and checks his watch again, which says 86.
The production of Couple Making Season 3 prepare a romantic stage for tonight's filming. Before the taping, Se Ri tells Pil Joo that she doesn't think Ae Jung will show up. This freaks Pil Joo out, and Se Ri notes that he looks so stunned. Pil Joo asks if she's joking with him, and tells her to cut it out since he's so nervous already. Se Ri tells Pil Joo not to forget his reaction – looking stunned and then mad – for she'll need to explain it later.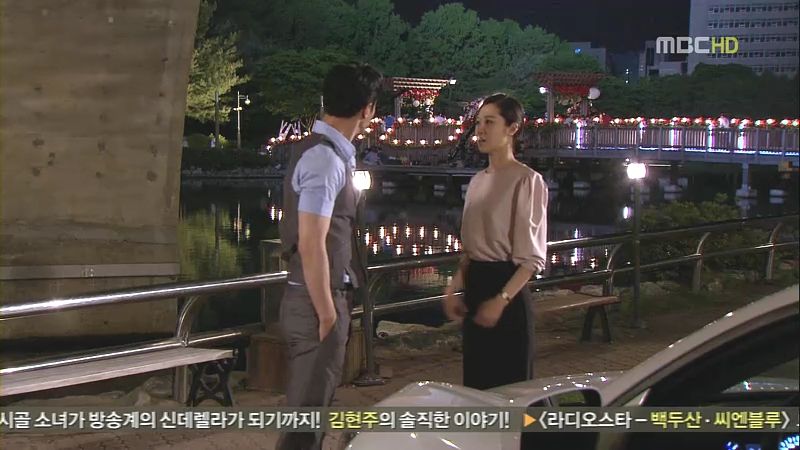 Ae Jung and Jin stand right outside the filming set for tonight's show. She thanks him for bringing her here. He asks if Pil Joo is waiting for her there? She says yes. Ae Jung turns to leave, but turns around to tell Jin that he's been so honest with her, it's time she's honest with him.
She confesses that she was indeed starting to fall for him, the flowers in her had just started to bloom. But all flowers are bound to wilt, and she's thankful that he showed her those beautiful flowers. So even if she felt her heart shaken by him, and took a step towards him, she's thankful the flowers wilted before anything further could happen. She thanks him for taking her to see the flowers that day.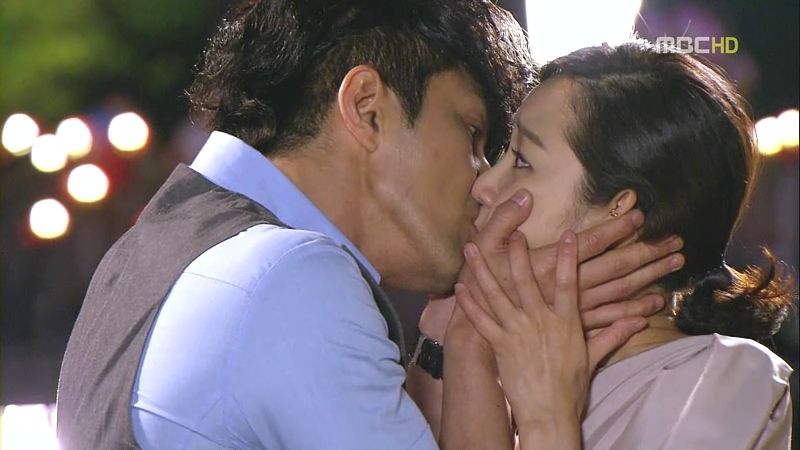 Jin sees his heart rate is at 88, but he finds it strange since his heart is hurting right now. As Ae Jung moves to leave, he stops her, asking to confirm one final thing. Jin steps forward and cradles Ae Jung's face in his hands as he kisses her. OMO. They both keep their eyes wide open during this kiss. Jin steps back and checked his watch which still says 88. Ae Jung feels hurt that Jin is not affected at all. But she thanks him for doing this final confirmation
As Ae Jung walks away, Jin tells himself that something is wrong. He takes his watch off and puts his finger on his pulse, taking out his cellphone to set the time and manually counting his heart rate. Se Ri begins the taping, catching audiences up on what happened last week, and ending with Pil Joo standing here waiting to see if Ae Jung will show up and accept his heart. Jin counts his heart rate, and its 130. I knew it.
Se Ri quietly whispers to Pil Joo during the lull in filming. She notes that he must be shaking with nerves about starting with Ae Jung. Se Ri can't stand here just watching Pil Joo wait for Ae Jung, so she wants to tell him something. Se Ri tells Pil Joo that she likes him, the feelings she asked him to remember earlier are how she feels right now. Pil Joo's eyes widen in shock. The production team watching on the monitors wonder why Pil Joo has a stunned look on his face.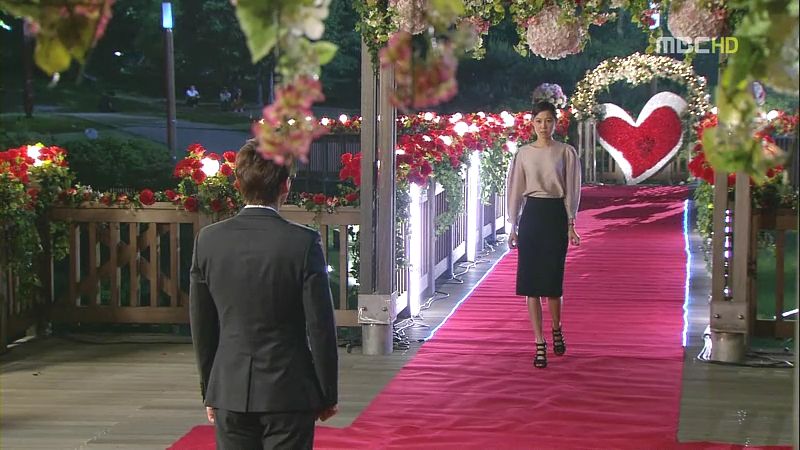 Pil Joo stares at Se Ri, then turns around when it's revealed that Ae Jung is walking on the walkway towards him. Se Ri announces that the person the perfect man Yoon Pil Joo is waiting for has finally arrived. Se Ri asks if Gu Ae Jung is coming to start with Pil Joo or to break his heart and decline him? Se Ri describes Pil Joo's nervous expressions and how Ae Jung is inscrutable.
Jin starts to walk purposefully towards the filming site. Se Ri announces that Ae Jung has stopped walking, and she indeed has paused, turning to look back to see if Jin has followed her. Se Ri asks if Ae Jung is wavering right before the decision time. Is she torn between a happy ending or a beautiful goodbye? Jin continues to walk towards Ae Jung.
Se Ri announces that it's such a tense moment here, which is when Ae Jung continues walking towards Pil Joo. Se Ri says that Ae Jung is walking towards Pil Joo, so what will her decision be? Pil Joo steps into the rose-decorated heart ring on the stage, and holds out his hand to Ae Jung. Ae Jung looks at his hand, and then steps into the ring and takes his hand.
Fireworks go off all around the stage, which is when Jin arrives on the outskirts of the filming site. He looks at the stage and clutches his heart. Ae Jung and Pil Joo look at each other. Jin murmurs, asking Gu Ae Jung what he's going to do, his heart hurts so much.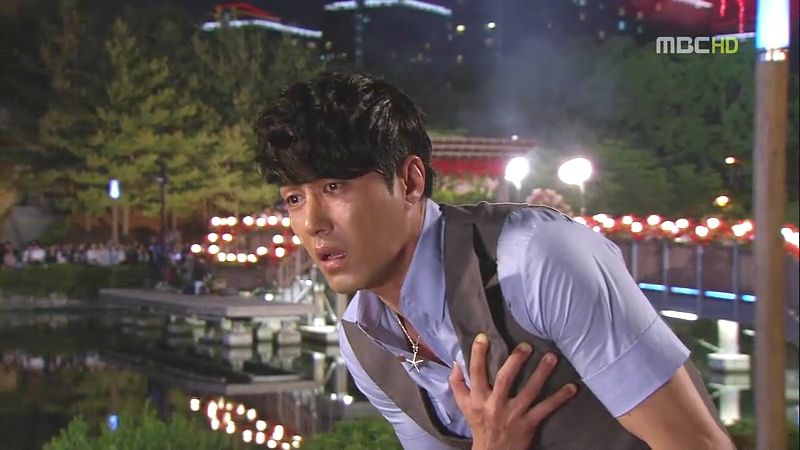 Thoughts of Mine:
Someone mentioned that BL is so good, but feels like so much happens that it's easy to squee over the wonderful moments but then it's forgotten quickly because the next amazing interaction comes along. I agree with that. It's not a dig on BL, because I find zero fault with the script. It's merely that I wish I could go back and catalogue all the exquisitely written scenes, but discover that there are simply too many. I can't believe I'm pointing out getting TOO MUCH good stuff.
I love how the Hong Sisters never ever linger on an episode-ending plot twist. Everytime we think something OMG jaw-dropping just happened, the next episode starts with that issue immediately getting addressed in a believable way and the characters and story move forward at a buzzy pace. I'm pleased that everyone has now confessed to having feelings for the person they like, including Se Ri to Pil Joo, and Ae Jung to Jin.
I think it's safe to say the drama is setting Pil Joo and Se Ri up as the secondary OTP, even if Pil Joo's feelings for Ae Jung are just that wonderful and amazing to watch. But I like the fact that we see Se Ri isn't totally an evil bitch, and her look of shock and wanting to move towards Mina suggests that Se Ri probably carries guilt around as well for her past behavior.
Jin's heart metaphor is starting to wear a little thin, but I'm glad the heart watch finally met its demise at the end of this episode (or at least I hope it did). I think love is a feeling inside the heart, and Jin felt it but tried so hard to discount it. What he needed to do is discount the watch, and looks like he's finally confronted with that possibility. But is it too late? I know the OTP will be through the wringer a few more times before they can be together, and I just hope we don't get a Jin's heart really fails situation where life and death is on the line.