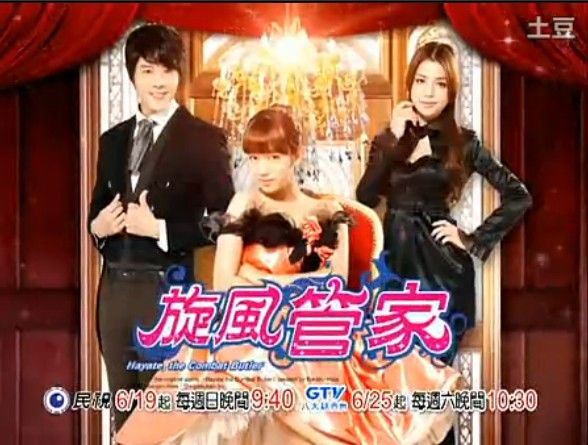 With the recent confirmation that Park Shin Hye's TW-drama Hayate the Combat Butler, co-starring George Hu and Tia Li, was getting a premiere date of June 19th on FTV, I've been wondering when the promotional materials would start trickling out. I need wait no more – the first three teaser trailers have been released.
Yes, I can confirm that Shin Hye will be dubbed, but thankfully her dubbed voice does not sound like a Chinese chipmunk. And yes again, I can also confirm Hayate is in fact a live-action manga adaptation that resembles it manga roots. Based on the trailers, expect zero logic or reality and enjoy the cute and silly.
Teaser 1 (Sensational World Edition):
http://www.youtube.com/watch?v=GV5TcBCBmyM
Teaser 2 (Kidnapping Edition):
http://www.youtube.com/watch?v=Dd9DswqNdRs&feature=mh_lolz&list=FL8yMEW79xftE
Shin Hye: Let me go!
Tia: Our miss had been kidnapped!
Shin Hye: Do you really believe you can escape the comprehensive trap set by my family? Xiao Feng….(George's character's name). To save me, he is willing to give his life. How is he? I asked you to take him to the medicinal bath, has he soaked in it yet?
Tia: He's soaked in the medicinal bath per my lady's instructions. He should be awake shortly.
Teaser 3 (Cute Girl Edition):
http://www.youtube.com/watch?v=KwCRbAaQdV8
George: I've never lived in the same house with a girl. Especially with a girl this cute.
Shin Hye: She's not that cute.
George: Miss Maria (Tia's character's name) is so beautiful AND so cute, don't you think so?