This episode was so quiet and low-key, which stands out especially in stark contrast to the typical mile-a-minute narrative progression we've been getting in each preceding episode of Best Love (The Greatest Love). But it was a completely mellow episode like this that is the most memorable for me.
I know it's the calm before the storm, but I loved how we get a glimpse into how sweet and normal Jin and Ae Jung dating each other could be. They are like every other couple-in-love, enjoying the stolen moments together, and missing each other terribly when apart.
Episode 12 Recap: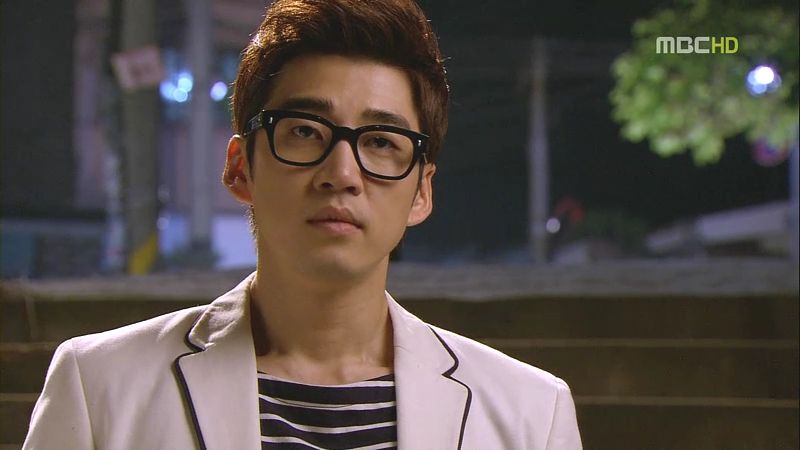 After doing the noble gentlemanly thing and giving Ae Jung the text message and picture from Jin, Pil Joo walks away. He stops and looks over his shoulder, sad but a realization that he did the right thing. He gives a tiny but lonely smile and keeps walking.
Ae Jung and Jin sit in the parking garage of MBS Studios, discussing what to do next. It's too late to watch a movie, or go out to eat. Jin suggests heading back to his place, where they can watch a movie and eat. He can also show Ae Jung the potato plant properly. When she's a little confused, he teases her about whether she thought he was offering to show her himself properly.
He could do that as well, and Jin opens his shirt a little for a sneak peek. Ae Jung suggests they just go for a drive and enjoy the night view. Jin mutters that it's no fun and an uninspired suggestion. Ae Jung then slowly puts her hand on his hand, which is on top of the gear shift. She asks if he really said it was an awful idea, but Jin immediately takes it back and says it's an inspiringly great idea.
Suddenly Jin realizes the car is almost out of gas, so Ae Jung suggests they fill up on the way back to his place. She grabs a blanket from the backseat and completely covers herself under it, finding it more comfortable that Jin's suggestion that she just duck. She doesn't want to be seen and cause Jin any complications for either of them.
At the gas station, Jin is of course recognized, and the attendants peeking into the car think the person under the blanket is Se Ri. Jin feels terrible about Ae Jung needing to hide herself this way, so he reaches under the blanket and holds her hand. God they are so sweet together. It's really these tiny little gestures that mean so much.
Afterwards Ae Jung pulls the blanket off and thinks she ought to get a bigger blanket for next time. Jin keeps his hand on hers, telling her he's still upset about this so she needs to be still. Ae Jung ask Jin to pull over so she can buy some groceries, she wants to have a picnic with Jin at his house.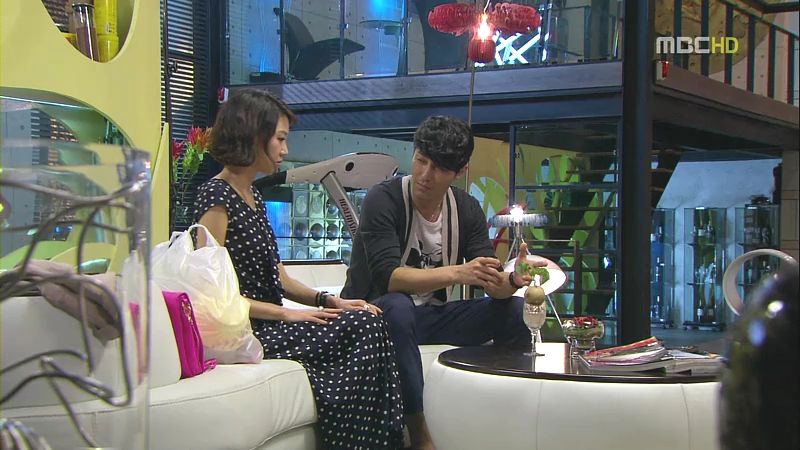 Back at Jin's place, he proudly shows her the potato, and she wonders if it really was the one she brought over. If so, why'd he grow only one? Jin confesses the other potatoes were executed. Mwahahaha, so cute. Ae Jung thinks the potato will likely flower. Jin answers with a "ding dong", and then leans over to pretend to look into the bags of groceries, but it's really get close to Ae Jung. He holds her hand and leans in for a kiss, when suddenly the doorbell rings and disrupts the moment.
Jin opens the door to let in a completely drunk Jae Seok. The poor boy is so distraught about Jin's medical condition that he got drunk, and came here today because he needs to let it all out. Jae Seok grabs Jin in a backhug and starts touching him because he's so upset that he has to hold it inside and can't tell anyone. Jae Seok tells Jin to never leave his side, otherwise he'll be so upset. But to Ae Jung, it looks like Jae Seok is groping Jin and they are having a homo-erotic moment right before her eyes.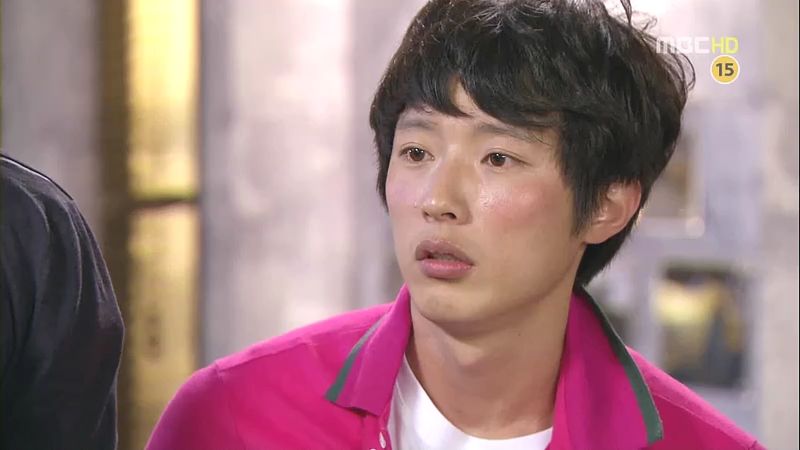 She hilariously points at the tableau before her, asking if Jae Seok is in love with Jin? Ae Jung thinks Jae Seok got drunk and bravely came here today to confess his feelings for Jin. Jin hops around, hitting Jae Seok's hand to get him to let go. Jae Seok tells Ae Jung that he didn't want her to see him like this, but Ae Jung says it's hard to have feelings that he can't talk about. Jae Seok ends up grabbing Jin's leg and rubbing his cheek against it.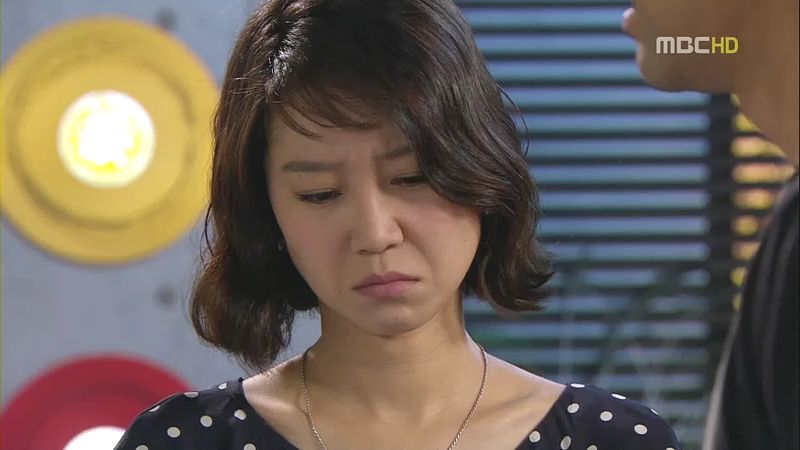 Jin tells Ae Jung that Jae Seok has another issue that he can't let the world know about, and it has nothing to do with a secret love for Jin. Jin manages to drag drunk Jae Seok up to his bedroom and allow the boy to sleep it off. Out of Ae Jung's hearing, Jae Seok keeps mumbling that he loves Jin, and he can't die. Jin is touched by Jae Seok's sadness for him.
Ae Jung looks at the potato once more, and then gets up to leave. She tells him to take care of Jae Seok and not be mean to him. She's happy he showed her the potato, so now it's time for her to go. Jin leans down from his bedroom and apologizes to her. She wonders why, and he tells her that there was something else he wanted to show her other than the potato. After Ae Jung leaves, Jin starts to tear up, calling himself the world's most selfish guy.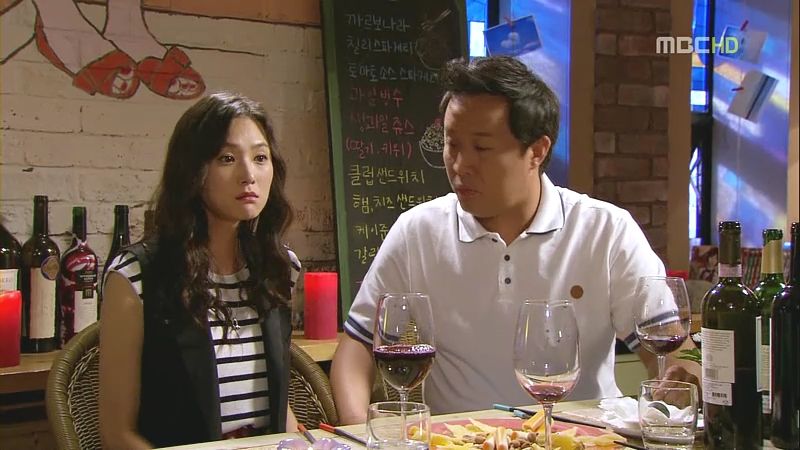 Pil Joo sits in his house and looks at a pot of cooked ramen, not eating it and looking all mopey. Ae Hwan and Jenny sit at her restaurant, wondering why Jae Seok drank so much tonight? Jenny thinks it's because of her, and considers whether she should treat Jae Seok like a man from now on? Ae Hwan gets upset, reminding her of that snowy night three years ago when they got drunk. Jenny doesn't want to discuss it, but Ae Hwan wants her to know that he's been waiting for her this entire time.
Jae Seok wakes up all hung over, with no real clear recollection of what happened last night. Jin says Jae Seok did his manager job properly, and stopped Jin from doing something he shouldn't be doing. Jae Seok vaguely recalls seeing Ae Jung here last night, and Jin confirms it was her. Jin tells Jae Seok that Ae Jung doesn't know about its condition, and reminds Jae Seok that it's not time to reveal his condition to the world yet. But it's time to tell Agent Moon, so she can handle his work.
Agent Moon looks like she is about to cry as Jin discusses his upcoming surgery and all his confirmed projects. Jin tells her if she's going to cry, he'll come back later. She tells him that she'll take care of all his contracts. She compliments him on handling even this situation with such aplomb. She pushes on what's going to happen with Ae Jung? If their relationship were discovered, they'd both be destroyed by the public. Jin wants to take on all the scandal and leave Ae Jung with everything he has if he were to die. He thinks if he died, then it would leave Ae Jung a great image if the world were to find out he liked her.
Jenny and Ae Jung have a girl talk, and Jenny scolds Ae Jung for starting a relationship with Jin when Ae Jung is so close to a career revival. Ae Jung knows it doesn't make sense, but she can't help it, she likes Jin. Jenny thinks Jin's request that they date for a month means he's refusing to commit for longer than that, but Ae Jung is fine with it. Ae Jung is only upset by how sorry she feels towards Pil Joo, and how to explain everything to him.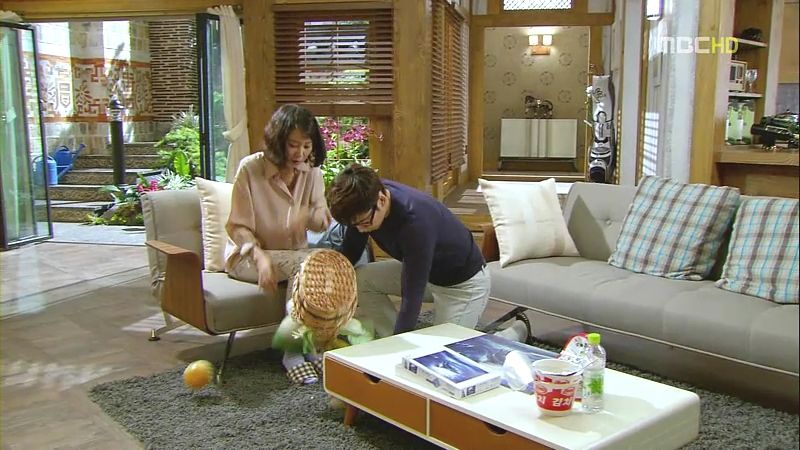 Pil Joo is at home assembling the puzzle when Ae Jung unexpectedly comes, having gone to the clinic first and found out he was home sick. She brings in a fruit basket and they sit down to talk. Ae Jung tries to give him some fruit to eat, but Pil Joo suddenly sees a missing puzzle piece near the fruit basket. He upends the basket to grab that final piece, which makes Ae Jung think he's horribly upset at her, when really he's just got a one-track mind.
Pil Joo uses the misunderstanding to pretend to be angry with Ae Jung like he's going to toss the basket of fruit on purpose. But then he smiles and tells him that watching drama with his mom has come in handy now. He asks that they take care of show matters one at a time until it's all resolved, because they can't leave the show hanging.
Ae Jung thanks him for everything and leaves, asking him to please get better. After she leaves, Pil Joo's face falls again. Pil Joo cleans up his messy house and looks around. He murmurs that everything has been resolved properly, just like inserting the final puzzle piece into the puzzle.
Ae Hwan is told that Ae Jung has been selected as a reporter for Section TV, and he promises she'll do great since she's done reporting before. Jin hears about Ae Jung's new gig, and wonders how she went from creating news to following news. Ae Jung wants to do well, because she's about to quite Couple Making.
Jin's face lights up, and Ae Jung explains that she can't keep stringing Pil Joo along. Jin thinks Pil Joo got famous doing the show, so he should be happy. Ae Jung says Pil Joo doesn't care about fame, unlike Jin. Jin says she must really like him if she knows him so well. Ae Jung says yes, I really like you.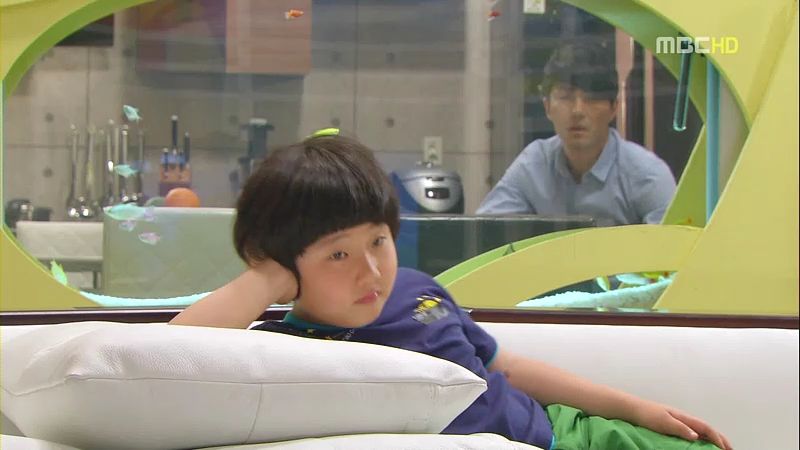 Jin wonders why Ae Jung brought Ding Dong along, and is told that the kid is Jin's close friend, right? LOL, I love this new version of the bromance. Jin wants to go places with Ae Jung and is sad they can only hide in his house. He tries to lure Ding Dong to go outside and play with other kids so that he can have privacy with Ae Jung.
Once Jin hears that Ding Dong is on episode 1 and wants to watch all 30 episodes, Jin sits on the remote and turns off the TV. Jin makes a funny face to distract Ding Dong, but relents and gives him back the remote. But Ding Dong doesn't turn the TV back on because he knows what Jin wants. It's Jin's turn to be understanding, telling Ding Dong to go ahead and watch. He wants the kid to do what he loves when he has the chance, like what Jin is doing right now.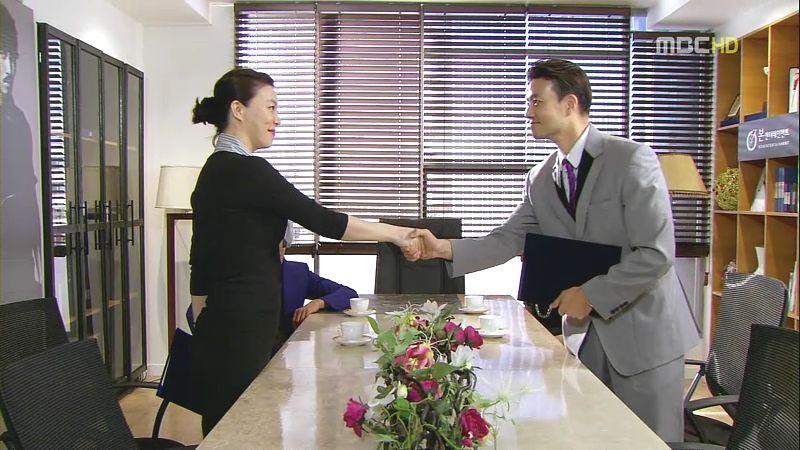 Jin and Se Ri sit in a meeting with their respective managers, to iron out the details of how to announce their breakup. Jin will be heading abroad to shoot a photobook, but Se Ri thinks that'll make her look too pathetic. Jin tells her to stop acting so aggrieved. Jin's side agrees to take care of the CF matter.
Once the two agents leave the room, Se Ri thanks Jin for raising her popularity by being his public girlfriend. Jin agrees they collaborated well during this time. Se Ri doesn't want to see Jin's popularity plummet because of Ae Jung. Jin doesn't think it means they will plummet, maybe they will end up in Heaven together.
Se Ri wants to hug Jin once more for old-times sake. Jin says no, he's needs constant recharging, and if he hugs Se Ri, he's afraid his battery will leak. Jin makes a gesture like he'll hug her, but then moves her arms so that she ends up hugging herself. He tells her to recharge sometimes, that'll help with her situation.
Pil Joo meets with PD Kim, explaining that he doesn't want to continue doing Couple Making anymore, apologizing for his withdrawal. Jin calls Ae Jung and finds out that her first assignment is a Star Date. He tells her that he wants to go on a date with her. Jin quickly hangs up on her and then calls Section TV, telling them Dokko Jin wants to do the show, but he only has time today.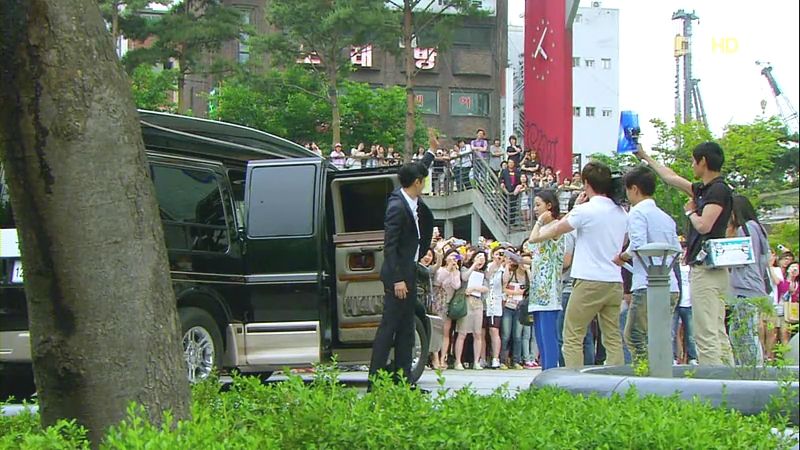 Fans are lined up to watch the Section TV filming. Jin arrives and waves to all his fans. Ae Jung gives him a choice to either go to an arcade or have some dukbokgi. Jin chooses to eat first, and they head to a small joint to eat. Jin jokes that eating here is just like his low-key image.
Jin is asked what he likes to eat, and he says kimbap without any cucumbers. Ae Jung takes a bite of the dukbokgi herself, and Jin maneuvers the interview so that Ae Jung ends up feeding him a piece of dukbokgi. He happily eats it, and then he feeds her one to even out the score. They both smile widely, and I'm just melting inside with how happy they are.
Next stop is the arcade where Jin shows Ae Jung how to toss a basketball into a game hoop. They continue the date and interview while browsing on the street. Jin goes into an accessory store, where he picks out a heart-shaped necklace and puts it on Ae Jung, his gift to her. At the final sit-down portion of the interview, Jin calmly reveals to the world that he and Se Ri are just friends, and have been just friends for a long time now.
Se Ri finds out Jin did his portion of the interview, and she composes her response. The public doesn't like it, and Se Ri does her teary routine in front of the media. Pil Joo hears the news as well. Ae Jung is asked by Section TV if she already knew since she's in the same agency as Jin. Jin calls Ae Jung and warns her not to come to his house since it's surrounded by reporters again.
The manager is seeing his entertainers off at the airport when he coincidentally runs into Mina, who is here to send off her husband. The manager approaches Mina and calls out her name, revealing to her Korean-American husband that he was Mina's old manager when she was a singer. He exchanges business cards with Mina's husband, and manages to insinuate that he'll initiate contact with the husband. Mina agrees to contact the manager.
Pil Joo gets a call from Se Ri, who informs him that she's getting drunk and wants him to come. Se Ri stops herself from drinking more and is about to leave when she sees Pil Joo arrive. She runs back inside and pretends to be drunk, but Pil Joo saw everything. Se Ri immediately stops her damsel-in-distress act. He tells her that he can't take care of her, and asks her to take care of things herself.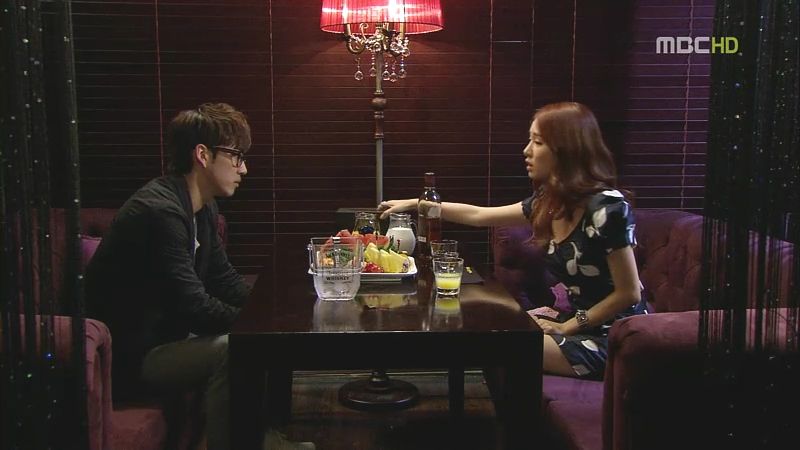 Se Ri asks how he's doing, is he pretending everything is fine so he doesn't feel stupid. She says he's lying, he's just pretending to handle everything by himself. She tells him to leave. She starts crying but can't find any tissue. Pil Joo wants to grabs her a box from outside, but doesn't end up following through.
Pil Joo sits outside in his car and looks at the completed puzzle. He tells himself that he can keep saying that he settled everything, but the truth is he settled nothing at all. He thinks back to all the time he spent with Ae Jung, and he starts to cry.
Jin is on the phone with Ae Jung, complaining that he's like a princess locked inside a tower and can't escape. She thinks he's more like a caged beast. He asks her to come save him no matter what he is. If she won't come save him, he asks her to sing her song for him so he can recharge. She reminds him that he's over her song spell, but he says that if she uses magic she can make miracles happen.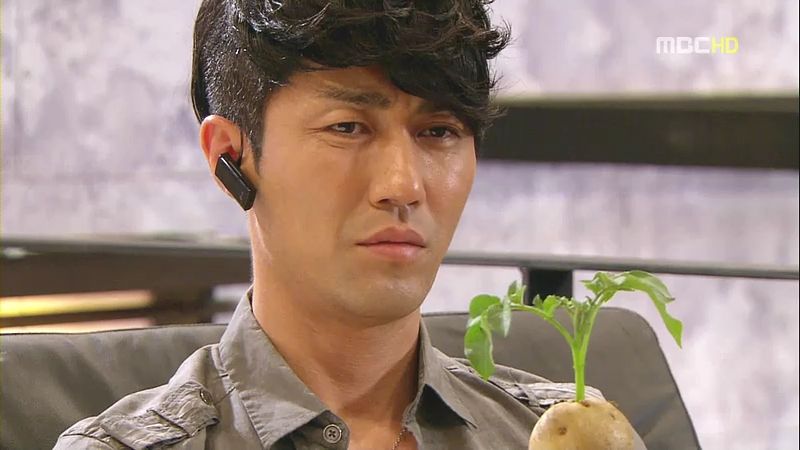 Ae Jung casts her spell, changing Jin from an awful potato growing beast into a nice princess. She promises to come and check to see if her spell worked. After hanging up, Jin holds the potato and touches his heart, and praying for that to happen.
Jin treats his doctor to an expensive dinner, asking him whether he's the best doctor around and has certainty he can successfully perform the surgery. If there is someone better, Jin will go to that doctor. His doctor says he's the best around, 10 years ago and today. The doctor says that the success rate for the surgery is double what it was 10 years ago. Jin stops him from drinking any wine, telling him that he has to be at his peak performance. His doctor tells Jin not worry, he'll fix the problem. Jin begs his doctor to please fix him, because he wants awfully bad to keep on living.
Pil Joo is also having dinner at the restaurant with his mom and another doctor. He tells them that he's getting his affairs in order to go abroad to study in China. Jin's doctor runs into Pil Joo's doctor friend, and reveals that he's planning a big surgery. The doctor reveals to Pil Joo and his mom that said doctor has a top celebrity client. Pil Joo's mom remembers that Jin revealed he had heart surgery.
Pil Joo meets with Jenny, who tells him that Ae Jung is only dating Jin for a month. After that, Jin needs to go fix something is that broken. Jenny thinks Jin is bad for Ae Jung, and asks Pil Joo to please hold on to Ae Jung. Ding Dong hears this and speaks up, saying that Jin is a good person. He says Jin is like Ironman and has a mechanical heart.
Pil Joo goes to ask Jin's doctor about the upcoming heart surgery, asking what are the odds of success. The doctor says it's just 50-50, to live or to die. Ae Jung's dad asks about Pil Joo, putting it together with Se Ri and Jin recently announcing their breakup, and realizes that Ae Jung has joined Team Jin. Ding Dong adorably chimes in a "ding dong."
Ae Jung wonders if she should go over to Jin's house to sing him the song now that the reports have finally decamped from his place. She tells her dad that she's heading out. Jin is thinking the opposite, telling his potato that he needs to escape from here and go recharge.
As Jin is walking out the doorbell rings, and he sees through the intercom that it's "that anyone Oriental doctor." Jin lets Pil Joo in and the two men sit down to have a man-to-man chat. Pil Joo breaks the silence and explains that he's here to confirm something. Pil Joo asks about the heart surgery, wants to confirm that Ae Jung doesn't have a clue about this situation.
Pil Joo wants Jin to openly confirm that there is a chance he can die during the surgery. Jin clearly tells Pil Joo that he will live, unless Pil Joo wants to hear something else. Jin fixes Pil Joo a deadly look, telling him that if he were to tell Ae Jung about this, he'll be dead.
Thoughts of Mine:
This episode was all about the Ae Jung and Jin fan-service cute galore, and I couldn't be happier. I love how their first public date was held in such a meta-way, and meant so much to both of them. I enjoy all their quiet time at Jin's place, and every conversation between them is terribly sweet and funny at the same time. I wish Jin just told Ae Jung about his upcoming heart surgery, and let her decide how to handle it. He's been so honest with her up until now that I wish they didn't have this big issue looming ahead that one party doesn't know about (yet).
I hope the drama continues to progress without the creation of a bad guy to add tension to the narrative. We worried that Se Ri would sabotage Ae Jung, we worried that Agent Moon would be an obstacle, but neither has materialized. Other than Manager Jang, everyone remains relatable and realistic in their thoughts and actions. I don't even see Manager Jang as a big bad either. I think once he finds out the truth from Mina about what happened 10 years ago, he'll feel really shitty about how he treated Ae Jung and make amends.
Truth be told, I'm a teeny bit losing interest in this drama. Not because it isn't good, but because for whatever reason it doesn't leave me with that anxious pit in my stomach feeling of dying for the next episode to come. I also think that hell will freeze over before the Hong Sisters will let Jin die, because this ain't no sageuk or fantasy story, and because Jin dying would add no narrative purpose to the story.
Unlike in My Girlfriend is a Gumiho, where I know they considered killing off Mi Ho only to back off in the end, but where her death would have left a rich meaning, here Jin and Ae Jung's love story needs him to live to have a greater impact. They need to become the ultimate power couple in K-ent, their love and mutual respect for each other redefining the media and public fixation with fame and popularity.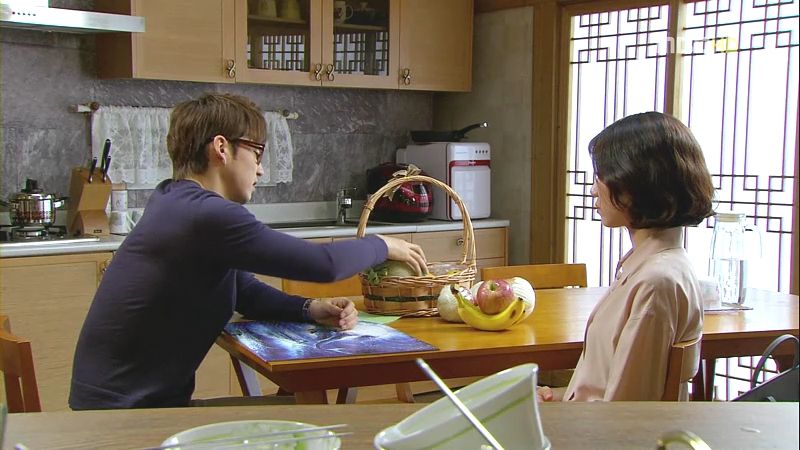 I'm also pretty uninterested in Se Ri and Pil Joo at this point. Like their characters a lot (even Se Ri's brand of bratty is rather honestly amusing), but they along with everyone else is starting to fade into the background as Jin and Ae Jung's story barrels towards a date with heart surgery. I don't have a care if the Hong Sisters allow them to be a secondary OTP, I'm good either way.
Which I suppose explains it all – I'm just starting to be indifferent with respect to how I connect with this drama. I enjoy every minute of it, appreciate how well-made it is, but in the end, it doesn't leave me an incoherent ball of nerves. I know it'll all end well, and likely in a very creative and satisfying way, so I'm just happy to be along for the ride.