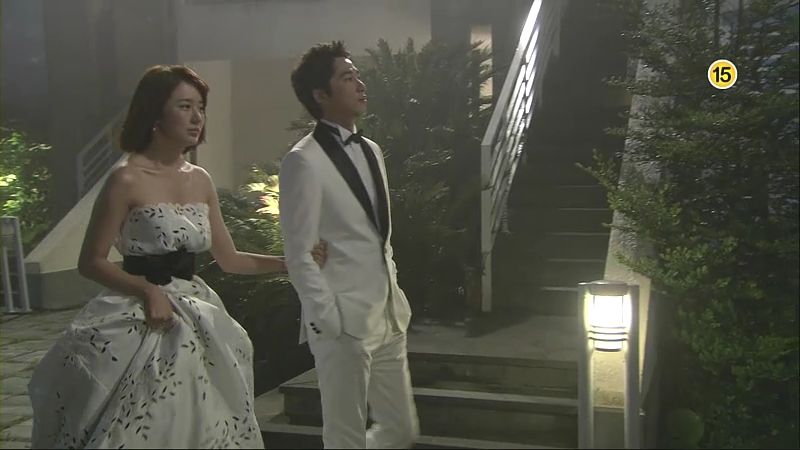 It's such a bittersweet feeling watching episode 12 of Lie to Me. On one hand it was so unbelievably sweet and wonderful, but you know the killer angst is coming. On a personal level, I was counting down that we've got only four more episodes left of LTM, and that made me all sorts of preemptively sad. One of my biggest regrets at the playground was not being around to captain the final two episodes of M3 (you guys still have the image of me pointing my Macbook Air all over Hokkaido looking for cell signal, right?), leaving some capable fans at the helm keeping everyone sane and stable (holler LizzyD & Co.).
This time I'm here to the end, so everyone get ready to have a blast for the next two weeks. I'm ready to blow the roof off if the next four episodes continues with the Ki Joon-Ah Jung love story the way it's been unfolding. If I were a billionaire, I would pay Kang Ji Hwan and Yoon Eun Hye to star in every rom-com and be in love for the rest of their lives right before my eyes. Or if the BTS clips of them are to be believed, they are clearly doing just that.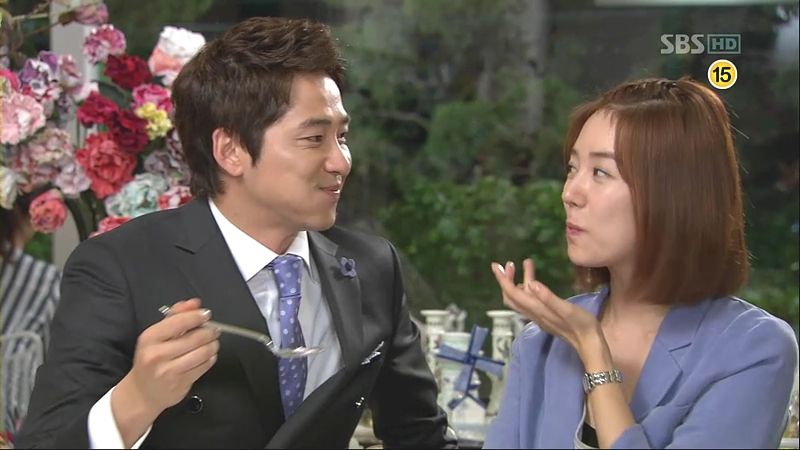 I'm not quite sure how to respond to folks who are not watching LTM and want me to post less about it, or in general post more about other stuff. I've always written precisely what and when I feel like. It just so happens that my current obsession is this drama. My darling PKisser chingus and my lovely M3 ladies have all been there, done that, with me. So, um, yeah, that's the end of that subject.
Having a mania drama hit is always just tons of fun to participate in online fervor if you happen to share the obsession. If not, then know that even the best of things must end. But in my mind, I'm not sure I have the emotional energy to captain another drama insanity anytime soon. It took me about 4 months to recover from M3, so we'll see if I manage to stay sane for the next two weeks. Lastly, there have been rumors of a writer switch since episode 11, so I'll discuss that issue at the end of the recap.
Episode 12 Recap:
Ki Joon walks Ah Jung back to her room after dinner. Can we stop for a moment and just stare in awe at how gorgeous they look together in matching formal wear? *drool, drama gods, you guys are awesome, thanxbai* Ah Jung says goodnight and walks up the stairs. Ki Joon returns the good night and tells her that he will wake her up tomorrow early.
Ah Jung, still wearing her gown (yeah, I would never take it off either, unless Ki Joon takes it off for me), walks outside to her balcony. Ki Joon, who took off his tux jacket (damn the man is fine) follows suit. They look at each other and smile. Ah Jung shyly goes back inside and sits down. She smiles to herself some more. Yeah, I bet she'll be a smiley fool for a good long while.
So Ran is by the pool when Jae Bum arrives and slow-mo runs towards her. He tries to hug her while apologizing, saying he was wrong. She pushes him off her and he ends up in the pool. Jae Bum floats for a good few minutes, which freaks out So Ran (herself the queen of pretend drowning), who runs around calling for help.
Finally Jae Bum surfaces, apologizing for everything and telling her that she should not waste her life because someone like him. So Ran finds out that Jae Bum got her whereabouts from Ah Jung and gets enraged again. She accuses him of pretending to be all sad and going to see Ah Jung again. Jae Bum says he had no choice, he was so worried about So Ran. He even thought about jumping off a bridge and making the news so that So Ran would hear about him.
So Ran asks if he really thought about killing himself. He says he did, the thought of a day without her makes him feel like he can't go on living. So Ran tries to help him up but she ends up in the pool with him. They flail about until Jae Bum grabs her for a hug. Okay, next comes makeup sex time. Jae Bum wakes up the next morning in So Ran's hotel room.
Ah Jung and Ki Joon leave the hotel. He opens the limo door for her like a gentleman and gets in after her. Yoon Joo the lurker stares at their departure. Then she thinks back to the kiss she witnessed last night. Now I'm even more PO'd that she spied on such an intimate moment between Ki Joon and Ah Jung. I hope her eyeballs rot.
Ki Joon drops Ah Jung off outside her house. He asks her what she's doing tomorrow? She says she's busy, and he concedes that he is as well, but he says they have to see each other. She suggests 8 pm, he counters with 7, she compromises with 7:30, and he pushes it up to 7:20. Omo they kill me with the cute. They both smile at each other.
Ah Jung goes home and her dad happily welcomes her. She sees the food on the table that Ae Kyung made and tries it, saying it's delicious. Dad hints that Ae Kyung made it and Ah Jung knows but doesn't say anything. Ah Jung goes into her room and talks to her monkey stuffed animal that Sang Hee gave her. Ah Jung makes the monkey Ah Jung sing the Jeju island song that Ki Joon lip synced for her.
Ah Jung gets a call and goes out to meet Yoon Joo at a bar. Yoon Joo is already nursing shots when Ah Jung arrives. Yoon Joo tells Ah Jung that she just got back from Jeju. She knew Ki Joon and Ah Jung went to Jeju, so she followed them. She saw them there, but for whatever reason she couldn't get close to them.
Yoon Joo asks Ah Jung how she felt when using one single lie Ah Jung entered into a fake marriage with Ki Joon. Yoo Joo was really engaged to Ki Joon, but she could never marry him. Yoon Joo confesses that their engagement ended because of Sang Hee, who also liked her. Yoon Joo left only temporarily. Ah Jung doesn't want to hear this, but Yoon Joo says that Ki Joon is her first love and someone she thought she would always have. Ah Jung takes a drink and tells Yoon Joo that she can understand how she feels.
Aunt and Ki Joon are meeting with Chairman Chen about signing the contract. Everything is going well until Ki Joon stands up and announces that he has something important to tell Chairman Chen. He apologizes to Chairman Chen first. He did not mean to deceive him, but he is not married. The lie happened for other reasons but Ki Joon continued it to garner Chairman Chen's favor. He wants to begin their business relationship being completely honest and transparent. The Chairman is not happy to have been deceived.
Aunt tears into Ki Joon for revealing the truth at this critical juncture. She tells him that the Board will never vote to make Ki Joon the CEO of the World Group. Ah Jung is at work and her boss praises her for being their department's crown jewel. He asks how she lobbied the members. Ah Jung says that she was just honest with them. Another project comes up that no one wants to take, which lands in Ah Jung's lap. It's a program to promote Korean traditional music.
Ah Jung walks out of her office and Ki Joon is waiting for her outside. He asks why she's leaving work so late, she asks why he left work so early? He says he missed her too much. Ah Jung shows him the new traditional music program that she's handling. She asks him if he wants to go. He says no one is interested in this stuff anymore. He teases her for handling all the department's work from now on. She asks where they are going, and he says Sang Hee wants to talk with them.
Ki Joon and Ah Jung arrive at Ae Kyung's restaurant, walking in to say hi to everyone. Suk Bong warmly welcomes Ki Joon and introduces him as Sang Hee's older brother. Sang Hee looks shocked to see them arriving together. He asks why they came together, and Ki Joon makes Ah Jung embarrassed when he asks if Sang Hee hasn't ever heard of husband and wife moving in tandem. Suk Bong registers Sang Hee's discomfort.
Suk Bong offers his new dessert for them to try. Ah Jung takes a bite of her dessert and finds it delicious, immediately feeding Ki Joon a bite (by the way, this shot was clearly one take, so Eun Hye took a bite, and then Ji Hwan took a bite of the same pastry – I dies). They compliment Suk Bong on the dessert being delicious. Ki Joon feeds Ah Jung a bite of his dessert. Sang Hee looks like he's in pain.
Yoon Joo arrives and sees this scene, turning around and leaving. Sang Hee sees her and chases after her. He takes her hand and tells her to look at him. He says that when people fall in love, they hold their hands tightly. But when the hands let go, it feels like they are breaking up. Sang Hee says until Yoon Joo finds happiness, Sang Hee cannot be at ease. Sang Hee tells Yoon Joo that, as hard as it is for him to admit, he thinks Yoon Joo needs to let go of Ki Joon now.
Sang Hee is drinking in his studio and he kicks over the portrait he was painting earlier. It's been completed and we see that it is indeed a picture of Ah Jung. He asks the Ah Jung in the portrait why she can't look at him, just look at him for once. Suk Bong arrives and wonders why Sang Hee is drinking so much. He tries to help Sang Hee up and notices the portrait of Ah Jung. He looks at Sang Hee and guesses that the girl Sang Hee likes is Ah Jung. Sang Hee asks Suk Bong to hit him once. Suk Bong calls him a fool. Sang Hee cries, asking rhetorically what he can do .
So Ran meets with the friends, who mock her for her series of dramatic acts like wanting a divorce, attempting suicide, wanting to go abroad, when really she went on vacation to Jeju. So Ran says this is Lesson 1 in how to train your husband. So Ran reveals that Ah Jung confessed that she's not really married to Ki Joon, it was all a lie to make So Ran jealous. But Ah Jung has really fallen in love with Ki Joon, who appears to have another woman. So Ran saw everything so now she can't go abroad because she's worried about Ah Jung.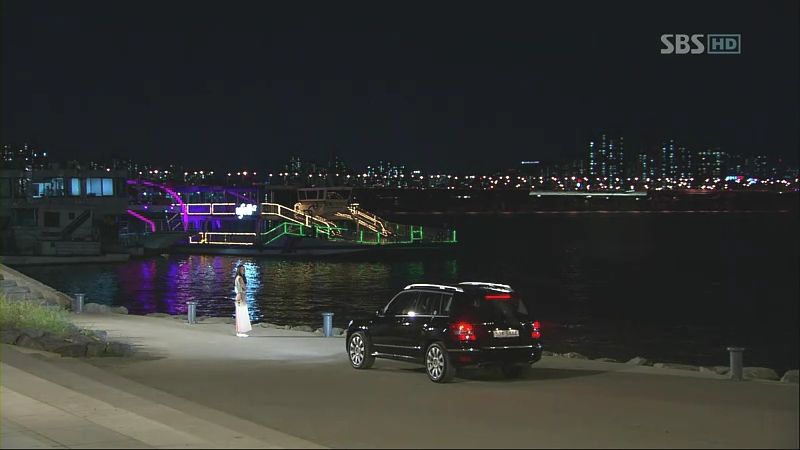 Ah Jung is planning the traditional music festival program. I love scenes showing competent Ah Jung working. Ki Joon goes to meet with Yoon Joo at the banks of the Han River. He's calm and kind with her, asking what she wants. Yoon Joo says she misses him, she cannot forget him even if she tries. She doesn't know what to do. She tells Ki Joon that she went to see Ah Jung.
Yoon Joo confessed all her feelings to Ah Jung, even if it hurt her pride. Ki Joon says that he used to not believe in fate, but that has changed now. Sometimes it means falling in love with someone you shouldn't love, or breaking up with someone you can't break up with. Breaking up with Yoon Joo three years ago was his fate. He's accepted it and dealt with it. Now it's her turn. Ki Joon tells Yoon Joo that he loves Ah Jung. He doesn't want to be a coward anymore. No matter what Yoon Joo says, he doesn't want to hear it. In his eyes, he has no more space for her. Ki Joon coldly walks away.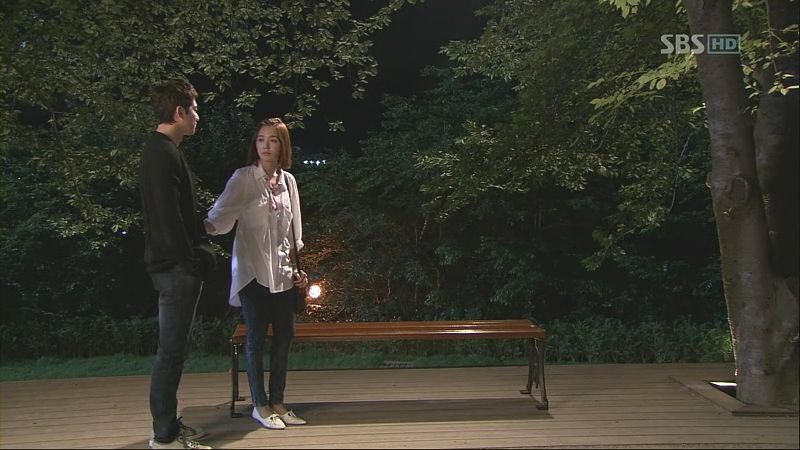 Ki Joon calls Ah Jung out to meet him right away. They walk arm-in-arm to their bench and Ki Joon asks Ah Jung what Yoon Joo said to her. Ah Jung says it doesn't matter, it allowed her to understand Yoon Joo a little bit more. But just like the pain So Ran delivered to Ah Jung, she is doing the same to Yoon Joo. It makes her feel bad. Ki Joon asks if she's fine, and Ah Jung nods her head.
Ki Joon asks her for a favor – no matter what she does, he wants her to tell him. What she ate, how she feels, if she cuts or perms her hair because she's in a bad mood, how many times she washes her hands a day, he wants to know everything. Ki Joon takes Ah Jung's hand, promising that he will never allow her to be sad alone anymore. Ah Jung wonders why he's like a completely different person. Hahaha, so she noticed like we all did!
Ki Joon hugs Ah Jung. She smiles and asks if he came because he was worried about her? Or was it because he wanted to hug her? Ki Joon smiles and they break apart and look at each other. Then Ah Jung leans in and hugs him again. I swear, their hugs are THE BEST HUGS I have ever seen onscreen between any OTP. Full contact embraces that show you their bodies are intertwined and flush with each other. And their expressions essay this deep warmth, affection, and need for each other.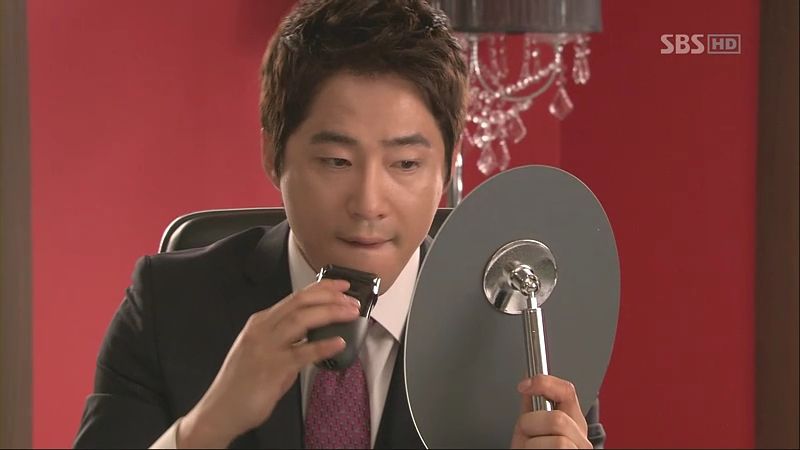 Ki Joon is shaving at work in his office when Park Hoon enters to deliver some documents. Ki Joon plays coy and won't tell Hoon why he's grooming and where he's headed later. Ah Jung is on the phone with Ki Joon, who says he's at work because he's been playing too much with her lately. Suddenly the door bell rings and Ah Jung goes to answer. Ki Joon tells her on the phone not to open the door for just anyone.
Ah Jung opens the door to reveal Ki Joon standing right there. He immediately asks if "dad" is around and wants to go inside. Ah Jung tries to push him out but it's too late. Her dad sees Ki Joon, who immediately bows in respect and shouts out his greeting. Heh, he's so nervous it's adorable!
Ki Joon sits on a chair all uptight and stiff. Dad opens a bottle soju and pours Ki Joon a glass, asking him if he's that "cherry blossom"? Mwahaha, daddy is so awesome! Dad says that his Ah Jung went to look at the falling cherry blossoms and cried her eyes out. He tells Ki Joon to drink, and when Ki Joon drinks, Ah Jung's dad mutters that he's a "thief" (because he's stealing his Ah Jung, awwwww).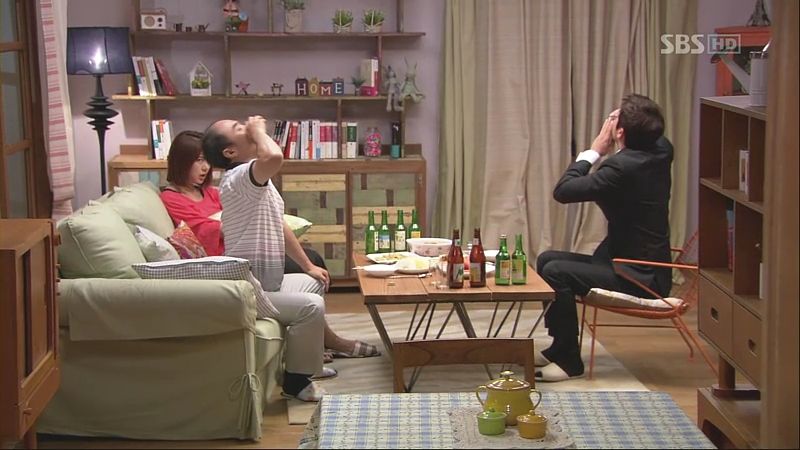 Dad asks Ki Joon if the first time he saw Ah Jung, she was eye-catching? KI Joon hesitates and says yes, Ah Jung was like Polaris, the reincarnation of a falling star. AHAHAHAHAHA, I'm sorry, is that Ki Joon describing drunk, bee-stung, eyes-rolled back Gong Ah Jung? Dad keeps making Ki Joon drink, and follows suit.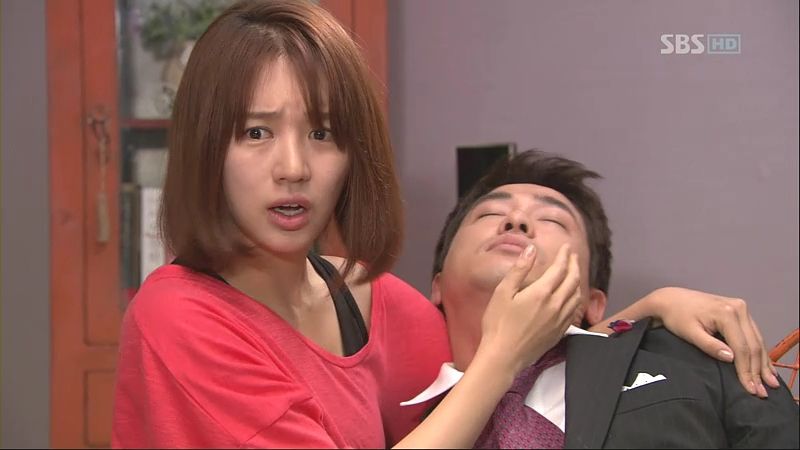 Pretty soon Ah Jung is staring at the two of them getting completely wasted. Dad asks if Ki Joon is drunk and he answers no. Dad takes out more soju and they pound it down. Finally dad pours the soju into a bowl and poor Ki Joon has no choice but to follow suit as they chug the entire bowl. Afterwards Ki Joon looks like he's about to throw up. Dad passes out first on the couch, followed by Ki Joon fainting in his chair.
Ah Jung deposits Ki Joon in her bed and takes off his tie. You know, we never got to see exactly how Ki Joon took care of drunk Ah Jung in episode 8. Ki Joon calls out for his Ah Jung-ahh and grab her tight. She leans in to kiss him on the cheek, and then puts her stuffed animal toy in his arms and tells him that Ah Jung is right here. She looks at Ki Joon sleeping, playing with his eyelashes.
The next morning, Ah Jung and her dad stand beside the bed and stare at a still sleeping Ki Joon. Dad wonders what Ah Jung sees in him, and she says that he's handsome. Dad points out that Ki Joon's eyebrows are not nearly as thick as his, but he does have more hair than him. Ah Jung says Ki Joon is tall, and dad doesn't think height is good for anything other than reaching the bus handles on top. Ah Jung says that Ki Joon doesn't take the bus, which upsets dad thinking Ki Joon is someone who thinks he's too good for public transportation.
Everyone sits down to have breakfast. Dad says that he won since Ki Joon passed out first. Ki Joon refutes that since he watched dad pass out first. Dad says he still won nevertheless since he woke up first. Good of him to keep changing the rules. Ki Joon refuses to let dad win, which gets dad worked up. Ah Jung tries to say both won.
Ki Joon arrives at work and Park Hoon notes that he's marinated in alcohol. Hoon delivers the report Ki Joon asked him to check on, discovering that the program Ah Jung is in charge of has only sold 5% of its tickets because people aren't interest in traditional fare nowadays. Manager Park calls Ki Joon to tell him that Chairman Chen was seen having a meeting at the Great Hotel. Ah Jung is at work and her co-worker tells her that tickets sales have risen for her program.
Aunt meets with Ki Joon and asks him what he's going to do about Chairman Chen's imminent defection to another company. Aunt reminds Ki Joon that it's not about finding another investor, it has to be Chairman Chen's partnership in order to enter the Chinese market. Aunt tells him that she's asked Congressman Park for help since he knows Chairman Chen from when he worked in China.
Ki Joon asks his Aunt if she's insisting that he get back together with Yoon Joo? Aunt says she doesn't care what Ki Joon does with Yoon Joo, date, get married, break up. All she cares about is Ki Joon grab hold of this connection for a business opportunity. Yoon Joo's mom finds her passed out at home from exhaustion. It's not anything serious, just stress related.
Aunt has dinner with Yoon Joo's parent (her mom and stepdad, who is called Congressman Park). Yoon Joo's mom confesses that as long as her husband and Yoon Joo are happy, then that is all that matters. Aunt says Yoon Joo will be happy soon. Aunt asks Congressman Park if he can assist them with the partnership with Chairman Chen.
Ki Joon tells Manager Park and Hoon that he will handle the Chairman Chen situation. He gets a text from Ah Jung asking if he's busy and reminding him to eat before doing more work. Aunt calls Ki Joon telling him that Yoon Joo is at the hospital. She demands that he visit her. If they lose the support of Congressman Park then it's all over. Oooh, Aunt is so cold. Ki Joon goes to visit Yoon Joo, but she's still asleep. He covers her up before leaving, telling her to please don't get sick.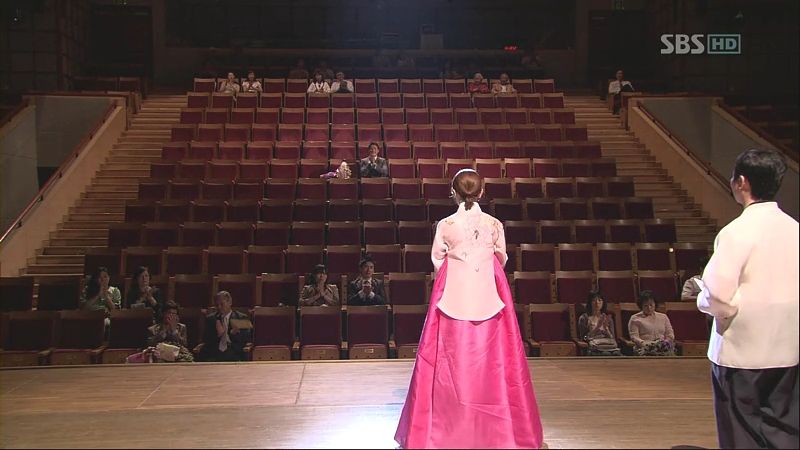 KI Joon leaves the office the next day and heads to traditional music program Ah Jung organized. Ah Jung hears that a lot of tickets were sold and is excited to see a lot of people attend. But when she comes out, the auditorium is very empty. She gives an opening speech and Ki Joon claps loudly.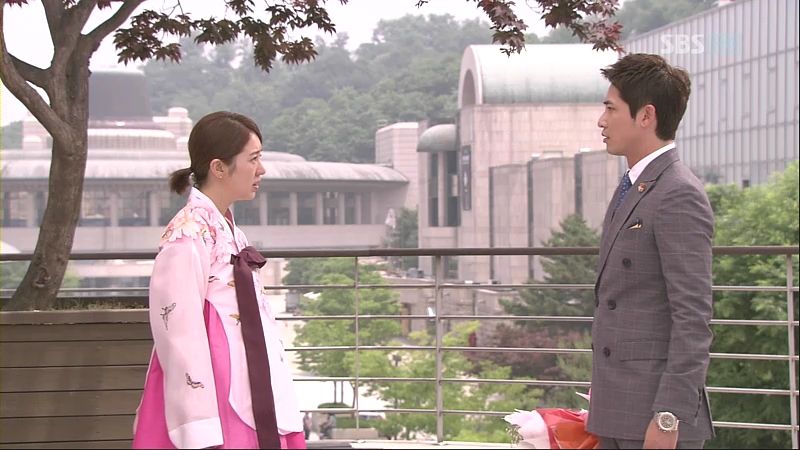 After the performance, Ah Jung confronts Ki Joon to find out how many tickets he bought? She's upset and asks why he made her out to be a fool. Ki Joon tries to apologize, saying that it was a good program that he gave the tickets away but he's not sure why people didn't show up. She's upset because she thought that the tickets sold well due to her hard work, but he made her feel stupid.
Ah Jung walks home and sits down on her bench. Suddenly lights string up around the cherry blossom trees lights up. Ah Jung thinks it's beautiful but almost freaks out when she turns around to see Ki Joon crouched behind her fiddling with the light switch. He apologizes for the ticket situation, confessing that he thought it was a good idea and didn't realize that it wouldn't work out.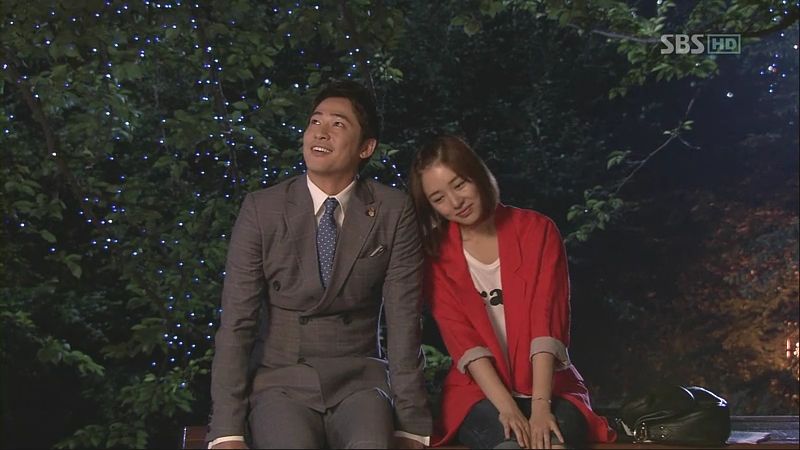 Ki Joon walks up and sits down next to Ah Jung. He says that he's still learning the method to match Gong Ah Jung's way of life. She smiles at his confession. He asks her if the lights are pretty. She nods and puts her head on his shoulder. Ki Joon pulls the light switch and the lights flicker on and off.
We see Congressman Park meet with Chairman Chen and shake hands afterwards indicating they are on good terms. Aunt demands to know why Ki Joon didn't go visit Yoon Joo, but he doesn't explain that he did, instead telling her that it's not her concern. Aunt wonders why Ki Joon has to pick the difficult route. Aunt says that she's investigated Ah Jung, but Ki Joon tells her that it's his personal life and cannot be mixed with business.
Aunt says that Ki Joon became the President of the World Hotel by his own hard work, but he must realize that to succeed in business it's not always so clear cut. She wants him to listen to her on this matter. He cannot keep treating Yoon Joo as a stranger. Aunt has organized a dinner tonight with Yoon Joo's entire family and she warns Ki Joon that he has to attend no matter what.
Ah Jung gets called to meet with the Minister. He compliments her on the Jeju Island project. The Minister asks Ah Jung again if she's married to Hyun Ki Joon? aThen he asks Ah Jung if she knows Congressman Park? The Minister informs her that word on the street is that Congressman Park's daughter is discussing marriage with Hyun Ki Joon.
Ah Jung doesn't answer when the Minister asks her why she would tell such a lie. The Minister says that telling such a lie and getting into a scandal is bad for the department's image. But since Ah Jung did so many good works, he'll let it slide this time. He warns Ah Jung not to make another such mistake.
Yoon Joo goes to dinner with her family and Aunt. Everyone sits around waiting for Ki Joon, who is still at his office. He gets a text from Ah Jung asking how he's doing. Before he can reply, Aunt calls demanding that he come right away. Ki Joon says he has no intention of going. Aunt says to treat this as a simply business matter request, begging him to come because she cannot let her rival Great Hotel take away this China opportunity. Ki Joon says he understands.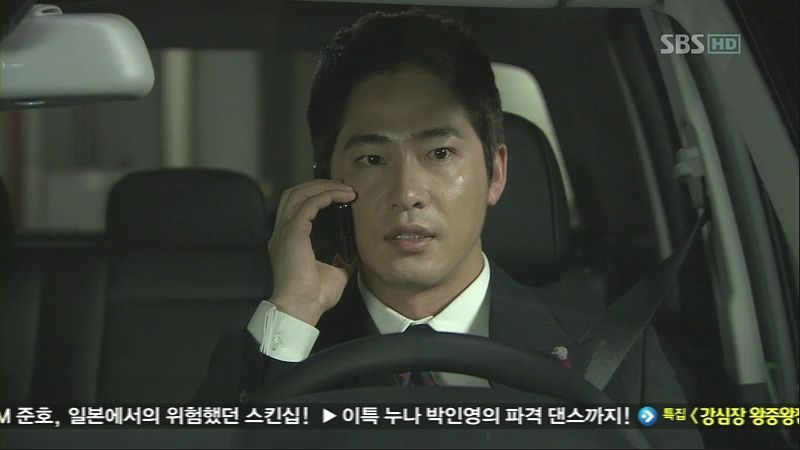 Ki Joon gets into his car to drive to the dinner of doom when his phone rings. It's Ah Jung, and he hesitates to pick up at first. She asks him where he's at? He says he's still at work and busy. She asks why his voice sounds off. She thought she was stressed, but he sounds even more so. He promises to call her after he finishes work.
Ah Jung says she hates misunderstandings, or suspecting things. Initially she wanted to keep everything to herself, but then she asks Ki Joon if he knows Congressman Park? Ki Joon's face freezes and he doesn't answer Ah Jung. She laughs and says it's nothing, she's just feeling bothered today by some stuff. Ah Jung says that dating Korea's busiest man Hyun Ki Joon, even if she wants to see him, she needs to endure it. Ki Joon calls her name, but doesn't say anything more other than he'll see her when work is finished.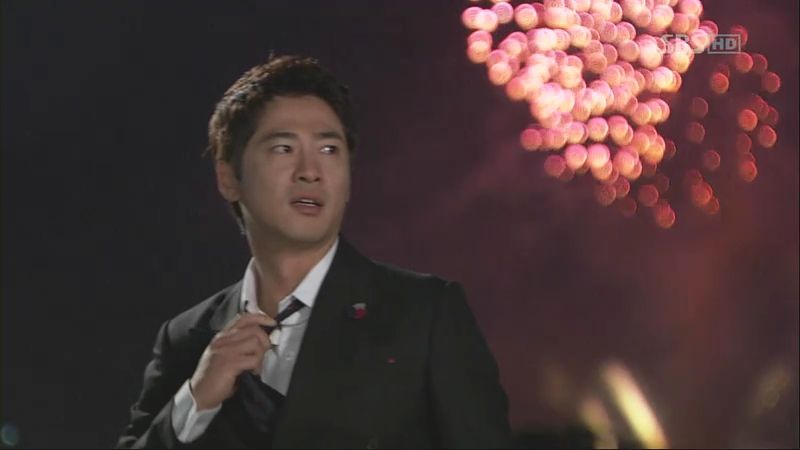 They hang up the phone and both continue to look bothered. Ah Jung texts Ki Joon, apologizing for bring up that matter (Congressman Park), and confessing that she just really wants to see him. Ki Joon is driving when he reads her text. He drives to the Han River and gets out of his car, loosening his tie in frustration. He looks like he made his choice and gets back in his car and drives off.
Ah Jung sits down on their bench, muttering that it would be great if he's by her side on a day like this. But he's not even answering her texts. Suddenly she gets a text from him. Ki Joon says he really misses her. Another text comes in from him, asking why she looks so glum today. Suddenly Ki Joon calls, asking Ah Jung why she has that look on her face. Ah Jung looks around until she sees Ki Joon standing here.
She gets up and walks over to him, finally running the final few steps and throwing herself into his arms. They hug each other tightly. She cries and asks him "do you know how tough it was for me today?" He asks her "do you know how much I missed you today?" Word – do you two know how much I love you both, and how tough it is when I can't spend more time with you darn lovebirds?
Thoughts of Mine:
After this episode, I feel like I can finally see how the external angst will hit our OTP. If the writer makes an attempt to keep everyone sane, then the angst is welcome, because both Ki Joon and Ah Jung needs to face the consequences of their actions and their love. It has to be done so that they can be together for the future instead of just the now.
Let's talk about wuri Jungie first. The entire story started because of her one lie that she was married, though she initially never said it was to Ki Joon. That lie spread like wildfire, and while the intended target of her lie, So Ran, has made peace and understanding with Ah Jung, the ramifications of said lie still need to be dealt with. Now that the Minister knows, and Ah Jung's career is possibly on the line, I like this obstacle because it's real and the stakes are so high. Ah Jung is herself to blame, but we all know she deserves to keep her job because she's earned it.
Ki Joon's obstacles are twofold: Aunt now pressuring him to get back with Yoon Joo for the sake of the company, and potentially when he finds out Sang Hee really likes Ah Jung. I know Aunt loves Ki Joon, but I'm pretty annoyed at how she cuts Sang Hee so much slack, but she keeps pushing Ki Joon to sacrifice time and again. I'm glad that between career and love, Ki Joon picks the woman he loves even when he doesn't need to. It's not an end-of-relationship choice when he ran to Ah Jung. He went to her because she needed him, and because he wanted her. The textbook definition of when love makes us fools who value emotion over logic.
I'm glad Yoon Joo just cried herself into a faint and didn't try to kill herself. I don't think she'll do the latter either. I'm slightly appalled that she actually saw firsthand how much Ki Joon adores Ah Jung, and heard it from him firsthand that he LOVES Ah Jung, and yet she continues to walk away with her head held high. Her behavior is reversed for me – when Ki Joon ended their engagement three years ago, she shouldn't have left for Paris, she should have stayed and fought for their love; now that Ki Joon doesn't love her and wants her to let him go, this is when she needs to leave and go nurse her broken heart elsewhere.
Love cannot be forced when there is none left. Legions of people, in dramas and in real life, have suffered heart break (losing the person you love, giving up the person you love) and have gotten past it. What has never happened is forcing someone to love another. Love can be forced to die, but love can't be forced to begin. It's a sad realization that Yoon Joo just has to accept, however unfair and painful it is for her. What I love about Ah Jung is that she actually worked through her pain of losing Jae Bum by herself, not because she found Ki Joon. She fell in love with Ki Joon after she ended the last remnants of her first love.
I really felt sorry for Sang Hee in this episode, but also proud of him. He's trying so hard to be mature, to be considerate, and yet it hurts as it naturally would to have the person you like not like you back. I knew new and improved Sang Hee wasn't going to pull the same stunt on Ki Joon again, but I like that he is willing to privately express his pain and grieve for losing yet another girl to his hyung. Yes, it sucks, but you're dealing with it like a man this time instead of a whiny boy. So for that, Sang Hee officially gets a diploma from Koala for graduating from the school of hardknocks.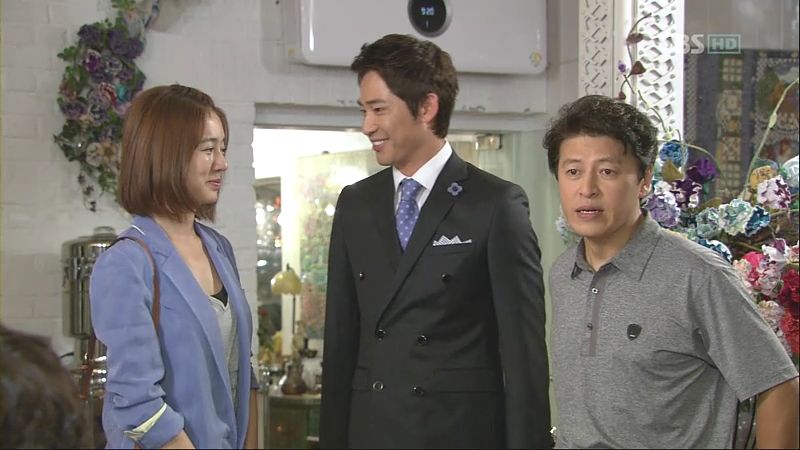 I guess it's finally time to discuss the writer change rumor, which frankly is probably true even if SBS doesn't release an official statement confirming it. Apparently two writers have taken over for the drama since episode 11, so this week's two episodes are from their pen. No wonder we have nearly no spoilers or previews until hours before airtime. This drama is literally being rewritten as we speak, and the live shoot is pushing close to airtime. Quality-wise I can see all the editing sloppiness and the exhaustion on the actors faces.
In terms of story, I did mention yesterday that Ki Joon's personality has changed so much, and the tone of the drama is really different yet another. I feel like episodes 1-4 were one drama (the funny and slapstick comedy of errors), episodes 5-10 were another (the intense and passionate melo-rom-com), and now episodes 11-12 shifts gears again and combines the two earlier extremes into one drama that has a different execution and tone.
Remember how in episodes 1-4 it was all Ah Jung who was the cut-up, the goofball, the drunkard, the weirdo, the one who we all laughed at because she was just do darn odd yet strangely endearing? Suddenly since episode 11, that person is Ki Joon and suddenly Ah Jung is the mature one in the relationship. There are two ways to consider this. The negative is that it's just piss-poor writing without character consistency. The positive is that the early writer laid the foundation for Ki Joon being deep down just this kind of dorky boy and being in love with Ah Jung brings it all out of him.
Unless a drama is based on a prewritten work, live shooting a script that is able to be revised means that characters and behaviors can and do change for a variety of reasons. Sometimes OTPs even get changed based on the chemistry of the actors themselves, regardless of how the writer originally envisioned the story. That is the Catch-22 of the K-drama live shoot system. We are watching it played out. I actually think……a lot of what is transpiring is because of the real chemistry between Kang Ji Hwan and Yoon Eun Hye.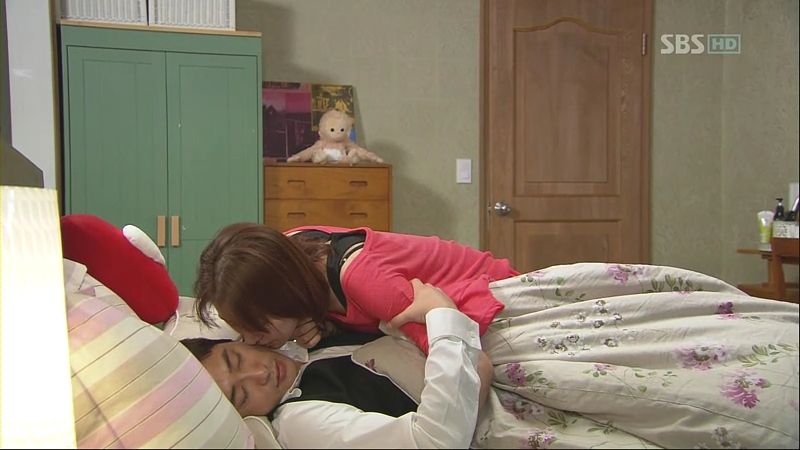 I think they have a very playful, natural, flirty, and tender chemistry with each other. The scene in episode 11 where Ki Joon keeps wiping Ah Jung, apparently some of what we saw on screen was actually just ad-libbed moments by the two of them that worked so well the PD aired it. So what's happening with the LTM story reflects this understanding that the only thing that's working in this drama is the relationship between Ki Joon and Ah Jung, so that has to be preserved at all costs. I see the story being written around their relationship, not concurrently therewith.
I feel the fandom for LTM stabilizing, no longer the rabid insanity of a few weeks ago, but rather a stable and steady group who love watching this drama. I love it, too. Episode 12 made me smile from cheek-to-cheek in every single Ki Joon-Ah Jung scene. I don't find the conflicts of this drama melodramatic or random. It's not ideal, but the seeds were all laid from the beginning (two brothers-one girl, lies that endanger a career or business opportunity). Now we just have to trust this love story will reach its sure to be blissful conclusion in a way that will make all of us cry tears of joy like we're all suddenly Father of the Bride giving our daughter away.