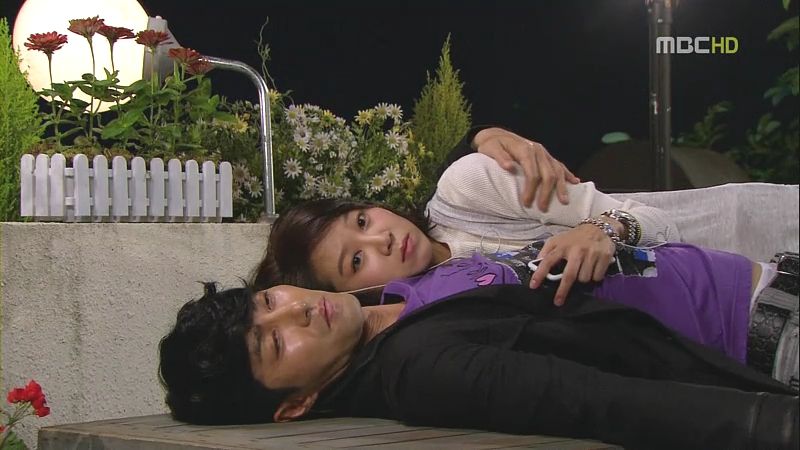 This recap was so hard to write. So hard that I don't even want to think about how I'm going to write the next three remaining ones. I was quaking inside from so many feelings bumping up against each other. Best Love (The Greatest Love) is the first Hong Sisters drama for me that has not taken a second half dip in quality and instead continues to get better and better with each episode. It's mirroring 49 Days in building the tension and angst, and hopefully delivering an equally well-earned payoff (but it better be the opposite of what happened at the end of 49 Days, is all I'm going to say).
Cha Seung Won and Gong Hyo Jin are so good in their roles that all I see is the love story between Jin and Ae Jung, with all the rich dramatic emotion that elevates this from a story about ordinary people in normal situations. They make the story feel so real, even if we can't personally relate to it. But what this couple does is make you believe it, deep down you believe this story is happening and it makes you smile, rage, and cry in equal measure.
For those of you not watching BL, I suggest you get onboard and marathon this baby now. I have a feeling next week's finale is going to be one of the most memorable Hong Sister's endings ever.
Episode 13 Recap: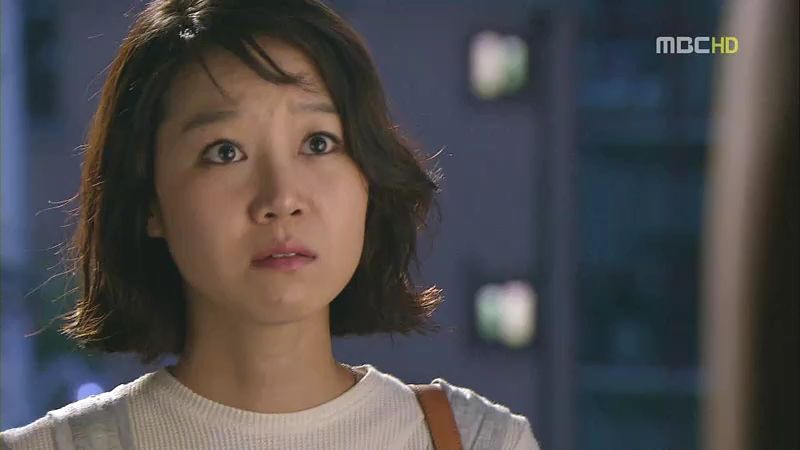 Ae Jung walks out of her house to head over to Jin's and check on him. Too bad she's waylaid by Mina, who gets out of her car and approaches Ae Jung. Mina, who hasn't bothered to contact Ae Jung in ten years, and the first words she speaks to Ae Jung are to ask her unni to save her. Yeah, Mina, you are a piece of crap.
We flash to Mina's meeting with Manager Jang. She tries to lie that she changed her name simply because she's left the entertainment world. That doesn't fly, and Manager Jang is keen on getting to the truth about why the Treasure Girls disbanded. Why would Ae Jung break up the band when all she needed to do was explain why she slapped Se Ri and everything would blow over?
Mina says that she's forgotten since it's so long ago. Manager Jang says Mina was close to Ae Jung. If the breakup wasn't because of Ae Jung, then was it because something happened to Mina? He implies to Mina that one word and her name will be back in the news again. He doesn't force Mina to divulge anything, merely telling her that he'll contact her again.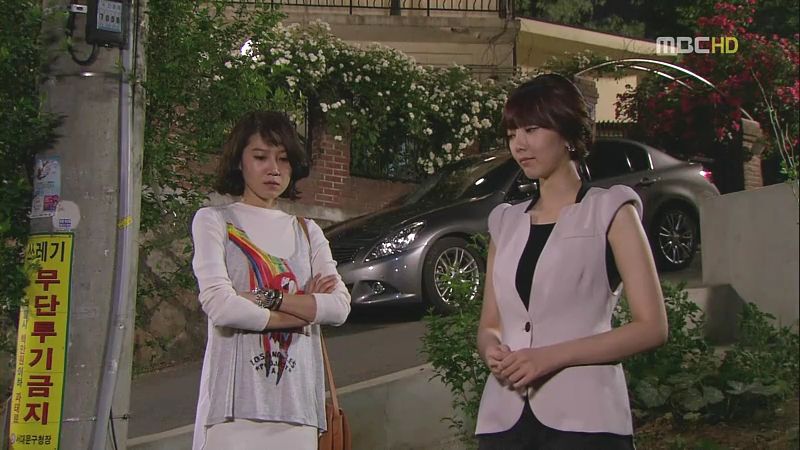 Back in the present, Mina asks Ae Jung if she'll protect her again the same way she protected her 10 years ago. Ae Jung says that she has something she needs to protect now as well. Mina tearfully concedes that she's a coward wanting to hide behind Ae Jung again. But her life is so happy and good right now, she doesn't want to mess it up. Ae Jung wishes that she were a superwoman so she can protect everyone. Damn, I say throw Mina to the wolves, she deserves to grow some spine.
Ae Jung doesn't end up going to Jin's house. She heads home and sits on the bench outside and broods. She wishes that she can just get out of Mina's mess now. Jin comes to see Ae Jung since she never came to see him. He tells her to be honored that he came because he needs to listen to her song now. But Ae Jung doesn't want to sing the Treasure Girls song.
She shows Jin the new song she's readying for her upcoming album and it's a ballad. They share a set of headphones and listen to the song. The singer who sang the demo is very talented, and Ae Jung worries that when she sings it people will insult her. Jin says Ae Jung didn't become famous because she could sing. Ae Jung says she become famous for her good looks and her body.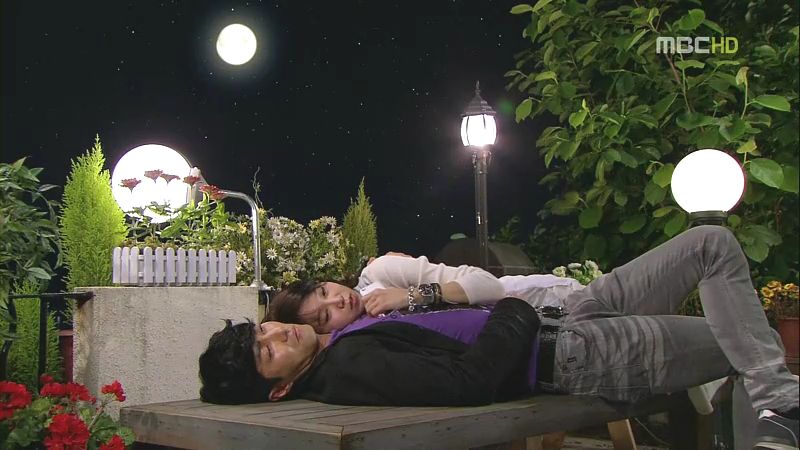 Jin lays down and Ae Jung naturally laws down next to him because they are still sharing the same set of earphones. He says that he hasn't recharged in a long time, he's exhausted. Ae Jung wonders if Jin's heart is broken, wouldn't his eyes be broken as well so he should think Ae Jung is the prettiest. Jin says that he is broken, and flashes back to his conversation with Pil Joo.
Pil Joo thinks that Jin staying with Ae Jung will bring her more pain. Jin thinks the way for Ae Jung to deal with losing him isn't by giving her less pain by leaving her, it's by giving her more love when he's still around. Because he is so famous, when he dies, his fame will linger and always bring Ae Jung pain. Pil Joo wonders if Jin is saying that Ae Jung will never be able to forget Jin?
Back on the bench, Jin says that his eyes are broken so he can say that Ae Jung is the prettiest, and his mouth is broken so he can spout such a lie. Ae Jung is just so loveable! Ae Jung says that Jin is covered with oil (i.e. such a smooth talker) today and she's about to slip off him. He wonders if they should light a fire under the oil. Ae Jung thinks they should just toss a grenade instead.
Ae Jung thinks that she needs to protect Jin until the end, she vows to protect him until the end. Oh god, am starting to cry like a stuck pig already. Ae Jung tells Jin that once he's fixed, he can leave her, she won't cling to him. And if one day she wakes up and asks him to let her go, he needs to let her go. She asks him to pinky swear with her, and he does.
Jin says that if he leaves her, she can't be hurt, she'll have to endure it, okay? Ae Jung nods and Jin slowly grabs her hand in his. His eyes start to redden, as does hers. They both start to cry silently, their hands held together.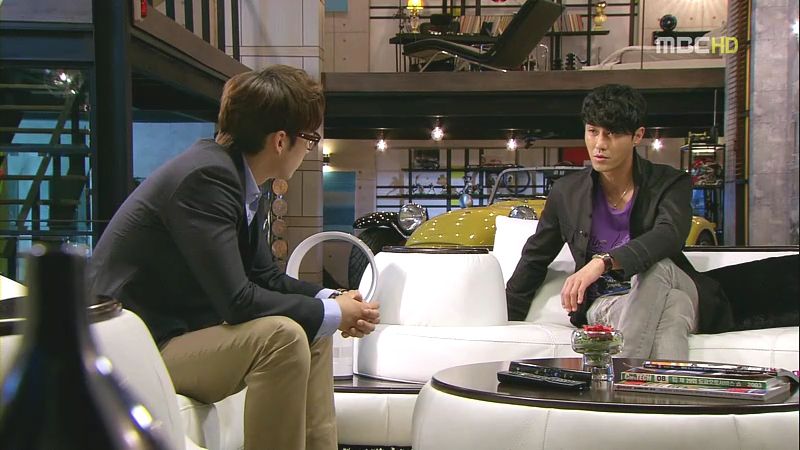 Pil Joo drives and thinks back to the rest of the conversation with Jin. What Jin can do is give Ae Jung more love, and he will spend what time he has left loving her. Jin asks Pil Joo to let go for the rest of the time Jin has left. Pil Joo asks if Jin is threatening him? Jin says he has no time for pride anymore, he is pleading with Pil Joo if that works.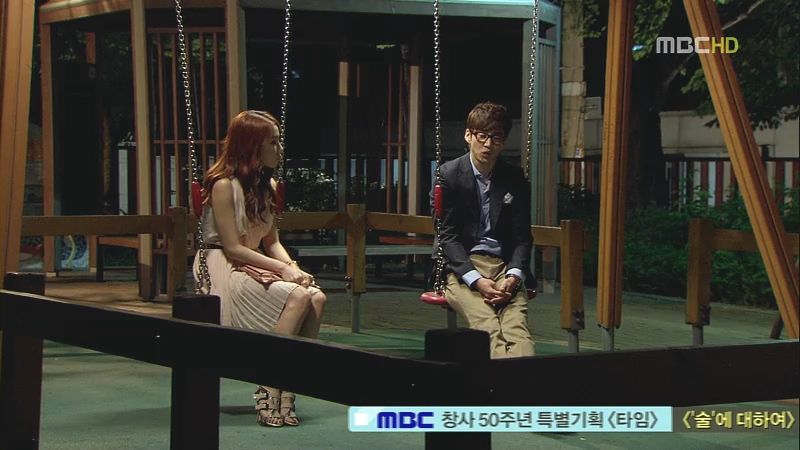 Pil Joo gets a call from Se Ri and meets her at the playground. He confesses that he went somewhere weird. Pil Joo asks Se Ri if she knows the manhwa story of Paul in a Strange Land. Paul went to save a crying Nina, but was always too late, so the evil king took Nina away. Finally Paul grabbed hold of Nina to rescue her, but Nina let go of Paul's hand. She said that the evil king was so lonely, so she went back to him. Paul went to ask the evil king to let Nina go, but she said that she was happy now and wanted to stay there.
Se Ri realizes that Pil Joo is talking about saving Ae Jung (Nina) from the evil king (Jin). Then who is Se Ri in this story? Pik Joo says Se Ri is a fairy who works for the evil king but later became close to Paul. Se Ri smiles, happy with the thought that she can get close to Paul.
Ae Jung meets with the production of Couple Making Season 3, who have asked her to convince Pil Joo to keep doing the show. But Ae Jung confesses that Pil Joo quit because of her, and that she can't do it anymore. She apologizes to the production team. Ae Jung tells Ae Hwan that she needs to film a final episode with Pil Joo and settle things with him. They see Manager Jang but decide to ignore him.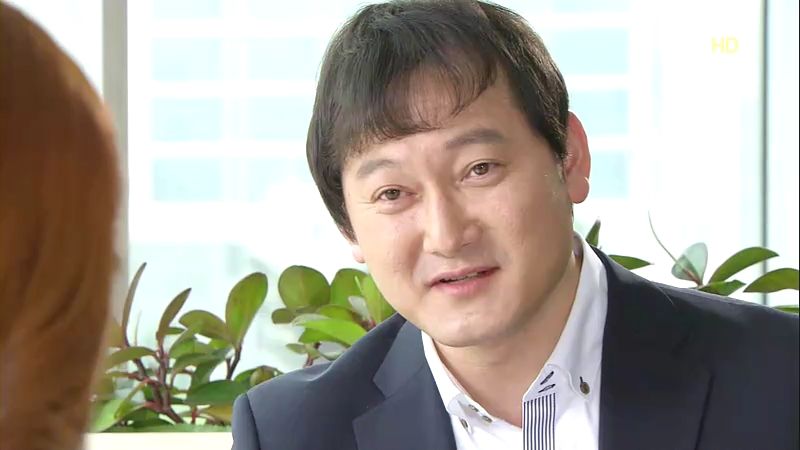 Manager Jang meets with Se Ri, explaining that he met with Mina, who turned all white in the face the second he mentioned Ae Jung and why the Treasure Girls disbanded 10 years ago. Se Ri hopes that Manager Jang's attempt to ruin Ae Jung won't implicate her. Manager Jang thinks that if Mina showed up and the public knew Se Ri played a prank that got her slapped, that would be bad.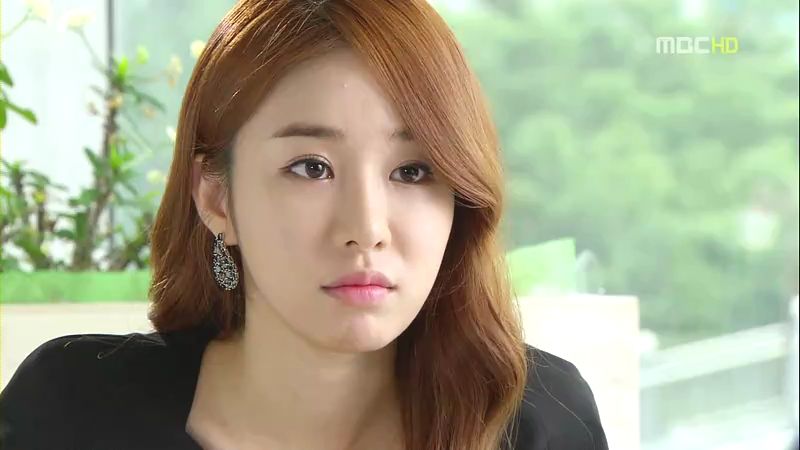 He asks Se Ri to tell the public that the reason she and Jin broke up was because of Ae Jung. Since he can't mess with Jin, he wants Se Ri to do it. Ooooh, he is such vermin. Manager Jang leaves, and Se Ri looks upset that things are spiraling out of control. She mutters that she was simply looking for an excuse to talk with Pil Joo. I hope Se Ri grows a conscience and stops Manager Jang before it's too late.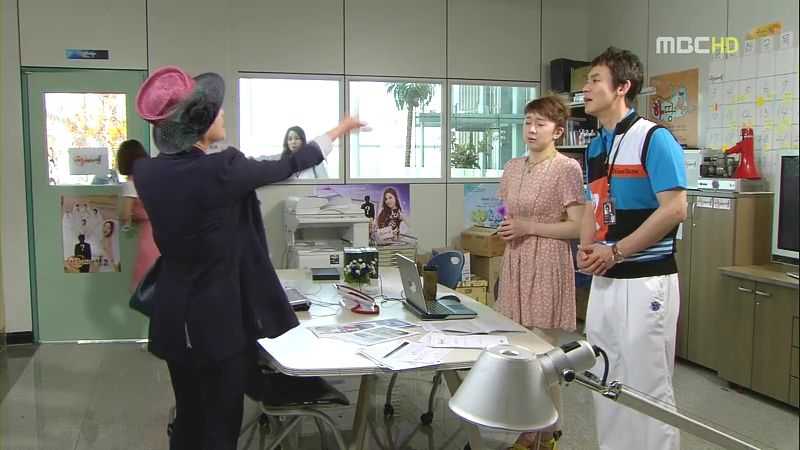 Se Ri goes to the clinic to once again try to get Mina's contact information. She runs into Pil Joo's mom, and not so accidentally let's slip that Ae Jung was already dating another celebrity before the show started. Pil Joo's mom is furious and goes to scream at the production. A reporter overhears this and approaches Pil Joo's mom, who gives an interview wanting to let the world know about something which is wrong and unfair about the show.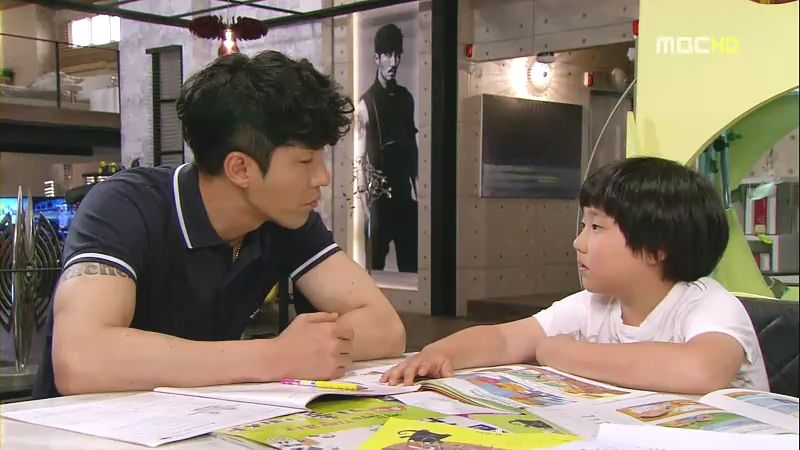 Jin is helping Ding Dong with his homework. He's agreed to take Ding Dong along on his picnic date with Ae Jung, but the kid needs to skedaddle whenever Jin asks him to be scarce so that he can have some alone time with Ae Jung. Ding Dong understands but doesn't know how to read signals on when to make himself scarce. Jin shows Ding Dong his patented hand signal, which means Ding Dong needs to toddle off elsewhere.
They get some food first before heading out on the picnic. Set to the music of Mission Impossible, Jin and Ae Jung separately buy food and drinks. To keep a low profile, Ae Jung and Jin continue to keep their distance from each other and use Ding Dong as a go-between. OMG this is like the cutest oddball date ever.
Ding Dong walks back and forth between Jin and Ae Jung, to exchange beverages and food when it's delivered incorrectly. Ae Jung even has Ding Dong wipe Jin's mouth with a napkin on her behalf. Agent Moon talks with Ae Hwan about the news article about Ae Jung having a celebrity boyfriend already but still doing the show. She wants to know where Ae Jung is right now. Some girls spot Ae Jung and think she is on a date with her secret boyfriend.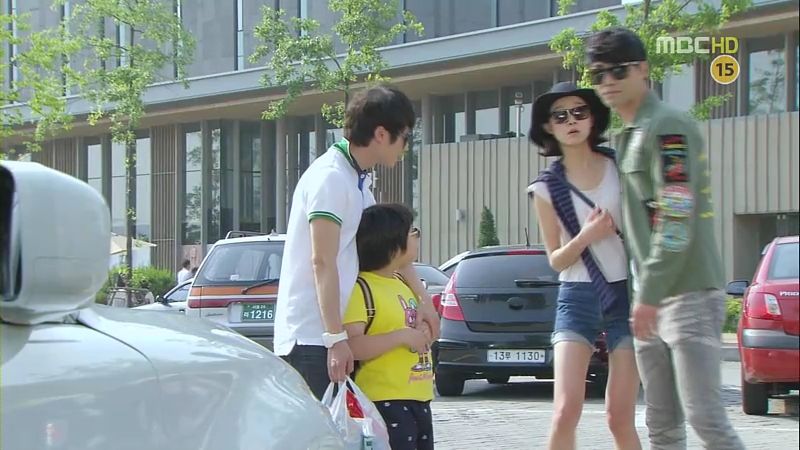 Jin is buying things and is also recognized. The two ladies are getting ready to snap a picture of whomever Ae Jung is waiting for. Jae Seok stops Jin from meeting up with Ae Jung after getting a call from Agent Moon about the impending scandal involving Ae Jung. They meet up in the parking lot away from people. Jin manages to get Ae Jung into the car with him, while Jae Seok takes Ding Dong back home. Ding Dong is sweetly understanding and tells Jin to go on the picnic alone with his aunt.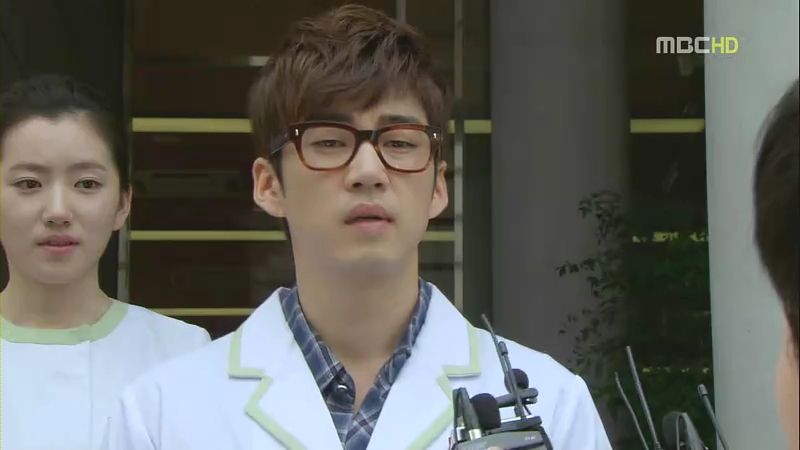 Reporters are camped out outside the clinic wanting to interview Pil Joo. The nurses can't keep the crowd under control, so he comes out to make a statement. When asked if he knows about Ae Jung having a celebrity boyfriend, Pil Joo says that it's true he has feelings for Ae Jung, but they have not kept any secrets from each other and have mutually agreed to end the show.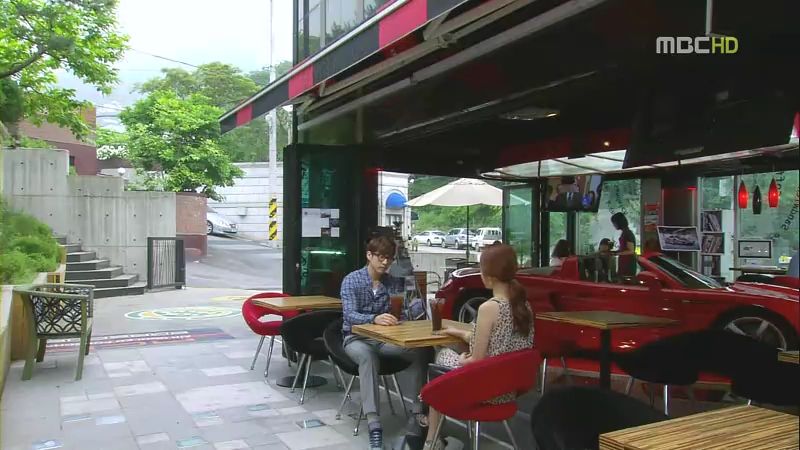 Pil Joo's words are twisted out of context, making it seem like Pil Joo confirmed Ae Jung has a secret boyfriend. Pil Joo is upset about it and goes to ask Se Ri for help on how to clear matters up with the media. But she tells him to just get out of this mess. Everyone is interested in WHO Ae Jung's secret boyfriend is, not in him. She asks if Pil Joo will reveal that the person is Jin? Pil Joo thinks that things are spiraling out of control.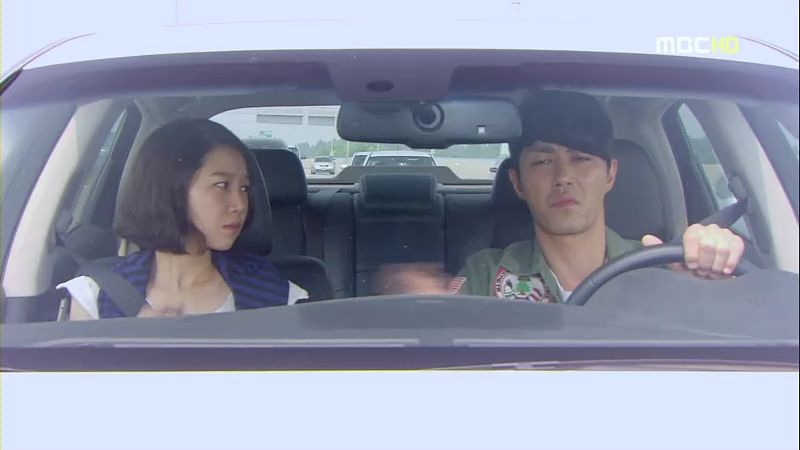 During the drive to the picnic spot, Jin turns off Ae Jung's cell phone as he takes her to his idea of a picnic which is different than where they initially decided to go. The public is dissecting who the secret boyfriend is with an online poll. Jin's name is crossed out because he's too famous and no one can believe it's him. Jae Seok tells Agent Moon that it appears that Jin wants to make public his relationship with Ae Jung.
Jin drives Ae Jung to the countryside and they get out to enjoy a picnic box prepared by Jae Seok. When Ae Jung says that the sun is too hot, Jin takes out an umbrella and holds it up to shade her. Ae Jung teases that they are not alone, a cow is the witness this date. Jin moos to the cow that he is Dokko Jin and very rich and will sue the cow if it talks with a reporter.
Jin asks for a picture with Ae Jung, to commemorate that she went on the picnic with him. Ae Jung suggests they take a picture with that cow. Oh god I'm crying again. He makes his trademark sideways finger pose, only to unexpectedly kiss Ae Jung right when the automatic camera takes the picture. Ae Jung smiles at him and touches her lips. They look at each other with such loving smiles.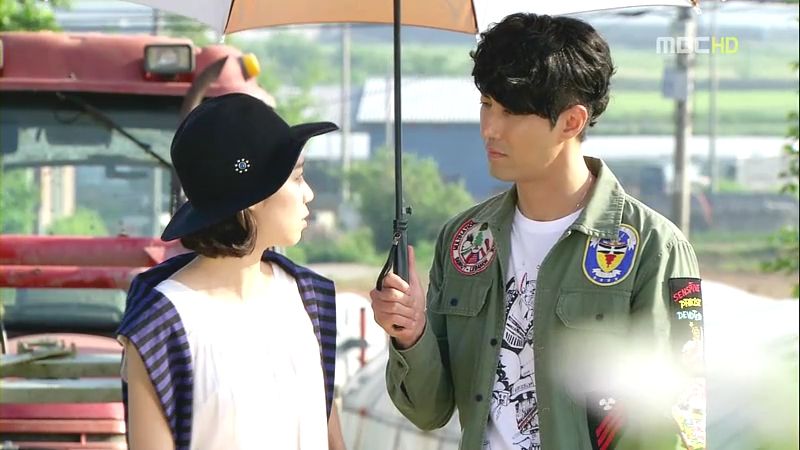 Ae Jung wants to go on another picnic like this in the countryside. When Ae Jung remarks again how hot it is, Jin moves the umbrella over her more. She pushes it back saying top-star Dokko Jin needs to protect his visage as well. Jin asks where she really wants to go. Should they do Section TV again and go on a date in front of the cameras. Ae Jung says that would be too obvious. Jin says they should just announce they are dating so they can go anywhere they want, they don't have to hide in places without people. Ae Jung wonders if he's got heat stroke, telling him to stop kidding around.
Ae Jung goes to buy some water, which is when she turns on her phone and finally sees the urgent messages. Jin is waiting for Ae Jung and is spotted by an elderly lady fan, who asks for a picture. Jin asks if she can just pretend she didn't see him. But instead she whips out her cell phone to take a picture. He asks if she's going to keep it a secret, but she says that she's going to show it to all her elderly friends to boast that she met him.
Ae Jung finds out from Jenny the maelstrom brewing back in Seoul. She tells Jin they need to head back. Jenny thinks if Jin announces he will marry Ae Jung, then people might be more accepting than if they were just dating. Ae Jung hopes that this will blow over, as all her scandals will blow over. Jenny doesn't think so, she has a very bad feeling about this.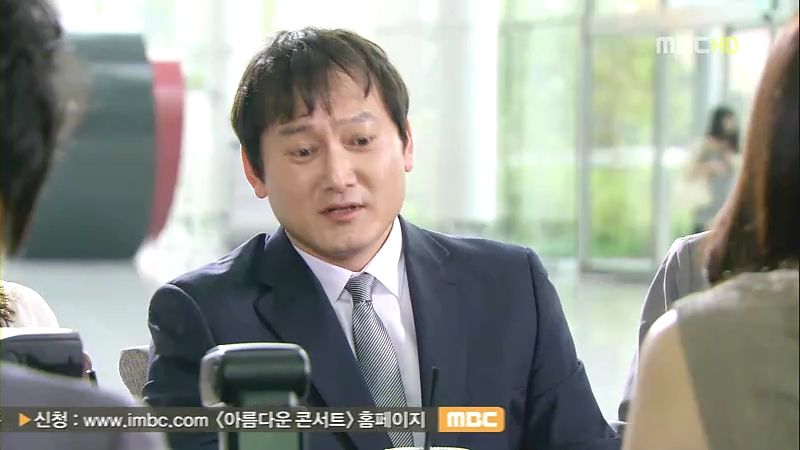 Manager Jang gives an interview dissing Ae Jung as breaking up the band to go solo and backstabbing her former band mates. He implies Ae Jung has a powerful sponsor that forced all the other ladies to leave Couple Making Season 3. He also drops a hint to investigate why the Treasure Girls broke up.
Agent Moon tells Ae Jung to reveal her real personal life at an interview she will set up – her shabby house, her family that she supports, the truth about Se Ri and Mina. Only then can Ae Jung salvage her career. Ae Jung wonders if she has to sell out her loved ones to save herself. Agent Moon tells her that it's her remaining option, or else she needs to leave the industry. Agent Moon begs Ae Jung as a personal entreaty not to bring Jin down with her. He's living at the pinnacle of life, she doesn't want his career ended as well.
Jin's doctor knows about the current scandal involving Ae Jung. He knows that Jin can't step forward right now to protect Ae Jung. The doctor believes he can save Jin's life, but if he gets into a scandal with Ae Jung then he'll be hated by the public. Jin would rather live in crap with Ae Jung. Right now he desires to live, to live in a crazy way with Ae Jung.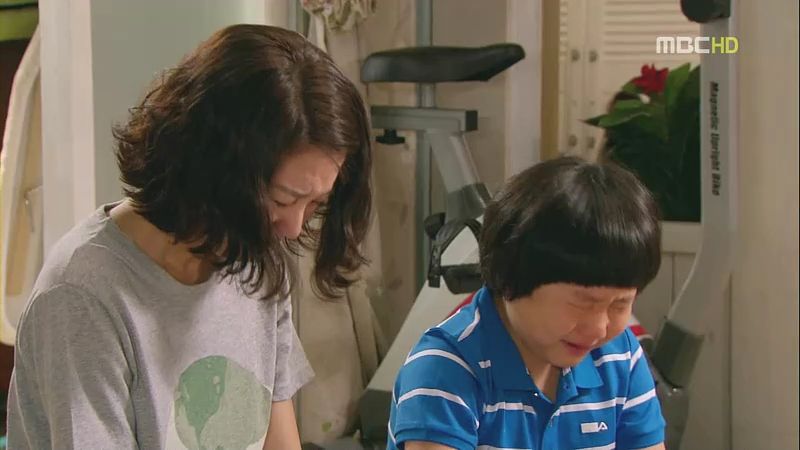 People are gossiping about Ae Jung and Ding Dong overhears it and starts crying. Oh my poor boy. He's holding a bag of Ironman cookies, too. The family holds a meeting discussing how Ae Jung's activities have all been suspended. She asks her dad and brother what she's done wrong that she needs to endure this? Has she done anything so horrible? She just tries to be genuine in everything she does.
Okay, Ae Jung, here's the deal – I don't know why you covered for Mina, but that is one huge reason why you're in this mess. You did do something, you decided to take the fall for someone else. It's time you came clean. I feel bad for Ae Jung, but she needs to tell the truth now.
Pil Joo tracks down Mina and asks her to tell the truth. He reminds Mina that she told him Ae Jung was someone who protected her and she owed something to. Mina says all she did was ask Ae Jung to keep her silence today like she did ten years ago. Pil Joo rips into her – why is she so cowardly that she will make Ae Jung take the fall for her? Mina doesn't answer, because what is there to say other than concede that she's a piece of trash of a human being right now.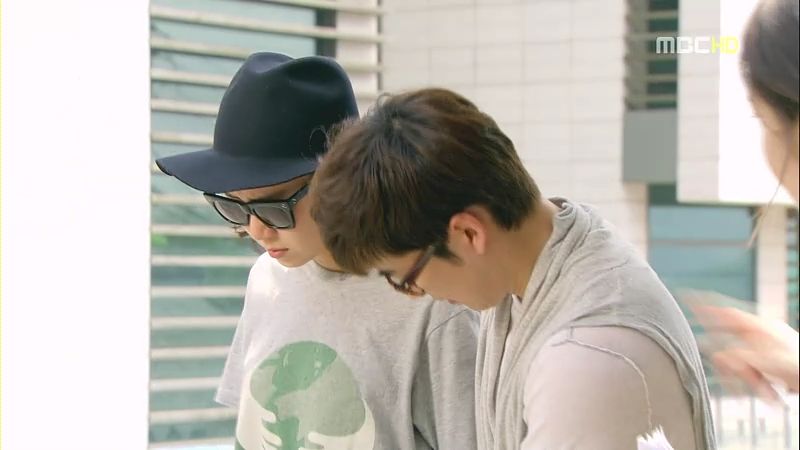 Jenny talks with Ae Jung about her options but she has to hurry away when the reporters arrive. Ae Jung is rushing away from the reporters when she trips and falls. The reporter continues to hound Ae Jung when Pil Joo walks up. He helps Ae Jung up and tells the reporters that Ae Jung has nothing to say.
Pil Joo takes Ae Jung home and patches up her scraped knee. He tells her that he can't ignore things anymore. He yells at her for thinking that by not explaining herself everything will go away. He tells her to leave this strange world that keeps hurting her. Whether it's Jin or the entertainment world, it will only hurt her. It doesn't matter if she's just using Pil Joo, he doesn't care, he wants to protect her.
Ae Jung says that if she runs away, then she can't protect it anymore. She's been hurt walking this road because she's been protecting things. If she leaves now, she can't protect it anymore. Ae Jung looks at a picture of her and Jin, understanding that he is what she needs to protect. She vows that she will protect him.
Ae Jung tells Agent Moon that she would rather end her entertainment career and her reputation rather than throw away the people she loves. Jenny thinks to herself that she needs to know what happened in order to reveal the truth. Writer Han asks Se Ri if she knows the truth about what is going on. Se Ri notes that Ae Jung constantly is being attacked by the public. Mina reads the newspaper and then looks at her baby. She apologizes to Ae Jung. Let me punch you in the face, Mina, and then I'll apologize to you.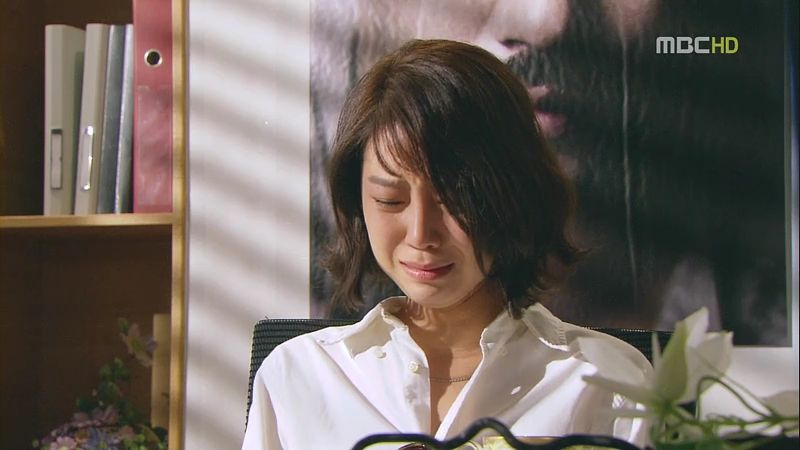 Ae Jung sits in the room and practices her speech to the media – she will apologize, explain that she has nothing to say, and that she will reflect on what she did. She starts crying as she repeats this statement over and over again.
Jin arrives at the agency and Agent Moon stops him, asking if he's here because Ae Jung wants to drag him through the mud with her. Jin says he came because he wants Ae Jung to drag him through the mud with her. Agent Moon says that it's not the end yet. Jin says that he wants to live, which is why he needs to jump into the mud with Ae Jung.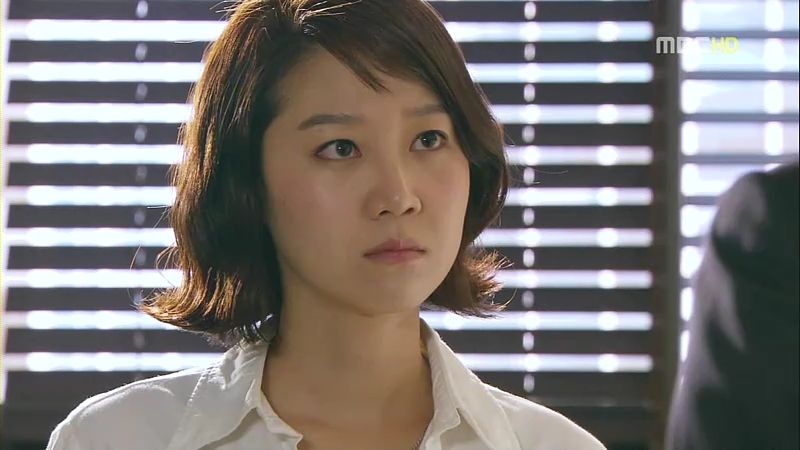 Jin goes to see Ae Jung right before her press conference. She asks why he's here? He tells her that she just has to explain their relationship to the public. If she says that she is Dokko Jin's woman, he will confirm it. She tells him not to joke, but he says he never jokes. Even if he tells her to marry him right now, he's not joking either.
Jin then says that if he says right now that he's very sick and could die, that is not a joke either. He tells her that he's critically broken, and might not be able to be fixed. The reporters congregate outside for the press conference. Ae Jung asks if Jin might die, so he's willing to reveal his relationship with her at this time.
Jin says that even if he has to leave this world, he will make it so Ae Jung can live in it. He tells Ae Jung to sell him out now in exchange for her future. He's going to give himself to her. He says that he wants to be Gu Ae Jung's man right now. Ae Jung yells at him to tell her that he's just joking. And……I'm officially all cried out now.
Thoughts of Mine:
What is the meaning behind Best Love or Greatest Love? Originally the title of this drama was called The Discovery of Affection, which is just a cute name that implies love blossoming. But the final title for the drama is much deeper IMO, and encompasses love beyond the romantic kind. I think the greatest type of love in the world is the selfless kind – the love where you put the needs, wants, and interests of the person you love above your own, be it your parent, your child, your significant other. It's not about love that makes me happy, it's about love that makes the person I love happy.
I think it's not a coincidence that Ae Jung's name literally means "love" in Korean, because her character is the most selfless one in the drama. To a point that it's borderline unrealistic, but I still buy it because Gong Hyo Jin sells her so well. For Ae Jung to accept 10 years of slings and arrows in the entertainment industry because she was protecting Mina upsets me, especially since Mina turned out to be such a spineless selfish wench.
But if Ae Jung represents love in its most selfless form, and Jin started off as the most self-absorbed of all characters, he's now understood what the greatest love of all means as well. Honestly, so many characters pissed me off in this episode. It's not that I don't understand their motivations, but I hate it when being selfish butts up against telling the truth. But I'm glad that Ae Jung knows about extent of Jin's heart condition now, so that she can make decisions not in a vacuum but with all the facts.
I'm done feeling bad for Pil Joo, because he's really not fallen in love with Ae Jung to the extent Jin has, so his suffering (however sad) feels like it's something he can endure and move past. I still like him lots as a character, but he's becoming a plot driver at this point to move along the Mina issue. I can't believe that between Mina and Se Ri I'm actually liking the latter more as a human being. Se Ri may be a brat, but at least she doesn't hide it wear a mantle of a victim.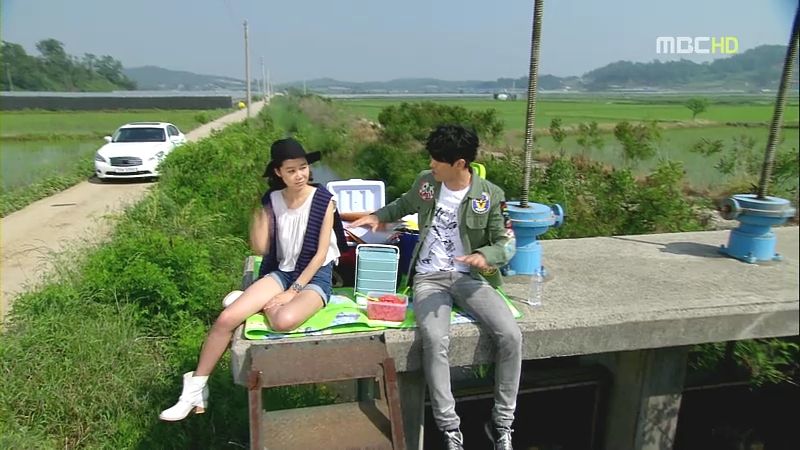 Jin and Ae Jung's date was just so adorable, with Ding Dong acting as the go-between. But it was their date by the rice paddy that really stood out for me how much Jin's changed since he met Ae Jung. The real umbrella he held over her was a giant metaphor from the Hong Sisters for himself being the fame umbrella that will shield Ae Jung from public censure. When someone received a potential death sentence, like Jin has, the first question asked is "how do I want to spend what little time I have remaining?"
Yes, Jin may live or die, but he's living his life right now praying for the former, but preparing for the latter. He is spending time with Ae Jung, and he is setting things up so that she is taken care of and protected should he not pull through. This is not noble idiocy at work. For all of Jin's exaggerated mannerisms and childish ticks, at heart he is a real man who dares to put everything on the line for the woman he loves. I love this love story, which has evolved from charming antics to a love so strong I can feel it radiating from both of them whenever I see them together onscreen.